Winter Flea
by The Cowl Editor on December 5, 2019
---
Campus
---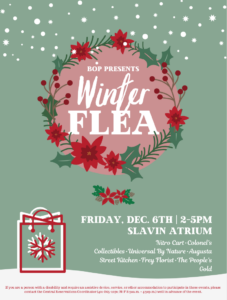 by Hannah Langley '21
News Co-Editor
With the season of Christmas and gift-giving upon us, Providence College's Board of Programmers (BOP) has invited several small, local companies from the Rhode Island area to attend their Winter Flea event this Friday, December 6. While BOP has held several of these indoor flea markets with local vendors before, this will be the first time the event is held just before the holiday season.
"The Winter Flea is a winterized version of our Friars Flea, which has been very successful in the past," commented Emily Mastroianni '21, one of the members of BOP running this event. She mentioned how this event in particular is extremely helpful around Christmas time, saying, "It's great for fun Christmas gifts or for giving yourself a break from the stress before finals week by buying yourself a little something as well."
The Winter Flea will host several vendors from the past, including Nitro Cart, Frey Florist and Greenhouse, and Colonel's Collectibles, as well as new additions, including Universal by Nature, The People's Gold, and Augusta Street Kitchen. With a wide variety of items, ranging from jewelry and plants to vintage comic books and baked goods, there is no limit to what you might find at this year's Flea.
Mastroianni emphasized the fact that she thinks this event is a great way to highlight the unique offerings found in the surrounding area, as well as a great way to promote shopping locally. "All proceeds from this event go to the vendors themselves, and I think it is important to support local and upcoming businesses," said Mastroianni.
This is the first year Mastroianni will be running the Winter Flea, and she has loved planning it. "I thought this event was such a different and cool idea after seeing it done so flawlessly in the past," she said, "and I am excited to see how the Winter Flea goes after planning it for so long."
Mastroianni also adds, "I hope that students are excited to see all that the Winter Flea has to offer, and that they get in the holiday spirit by coming. After all," she continued, "the holidays are right around the corner!"
The Winter Flea will be held from 2:00 p.m. to 5:00 p.m. in the Slavin Atrium. The whole PC community is invited to attend.