Tag:
women's track and field
Men's and Women's Track Team Aim For Higher Goals
by npatano on April 7, 2022
---
Friar Sports
---
Stephen Foster '22
Sports Staff
The Providence College Men's and Women's Track Teams have begun their spring track season. They have participated in two tournaments so far, the Raleigh Relays and the Black and Gold Invitational. 
Taylor Newman '23, who runs sprints for the PC Women's Track Team, described the team's goals this year, explaining, "This season, some goals for the team are to support one another every day and push each other to be the best athletes we can be. Continue to break our own personal records as well as school records. We hope to all stay healthy and avoid injury. Moreover, continue to foster the development of positive mental attitudes." 
The teams certainly seem to be on the right track with breaking personal and school records, as many times have been bested already across only two tournaments.
The Friars opened up their season at the Paul Derr Track and Field Facility in Raleigh, NC for the Raleigh Relays.
This season opening tournament was hosted by North Carolina State University on March 24-26. 
Notable performances by the men's team include AJ Ernst '22 finishing 12th in the 1,500 meters, David McGlynn '22 setting a personal record and moving into sixth place all-time in PC history with a time of 29:04.9 in the 10,000-meters, and Abdel Laadiel '25 breaking the Irish Junior record (which has been the same for 50 years) with a time of 29:33 in the 10,000 meters. 
Notable performances by the women's team include Nicole Borowiec '23 recording a time of 14.98 in the 100 meter hurdles to break the PC record, Niamh Gowing '22 finishing with a time of 56.87 in the 400-meters to move into third in the College's history, Hawa Grear '24 running a time of 12.61 in the 100-meters to rank second in PC history, and Meg Hughes '24 recording a time of 63:64 in the 400-meter hurdles to set a new PC record.
The Friars had a short break in the action before taking a trip to Bryant University to run in the Black and Gold Invitational this past weekend on Saturday, April 2. 
In this tournament, PC had 15 members of their program finish in the top five for their events. 
On the men's side, Liam Back '24 finished first and set a meet record in the 800 meters with a time of 1:52.21. Angus White '22 finished second, right behind Back, with a time of 1:53.74. The Friars finished in first, second, third, fourth, and sixth place in the 1,500-meters thanks to Michael Morgan '25, Patrick Thygesen '24. Ryan Gallagher '22, Josh Lewin '24, and Matt Lepine '22 respectively. Brett Lehman '25 recorded a time of 49.64 to place third in the 400 meters. 
On the women's side, Meg Hughes '24 broke her own school record in the 400 meters with a time of 61.34, just over two seconds faster than her previous time. Nicole Borowiec followed suit, finishing third overall and breaking her own school record in the 100 meters hurdles with a time of 14.90. Niamh Gowing '22 won first place in the 400 meters with a time of 56.74, and Alex O'Neill '23 won first place and set a meet record in the 800 meters with a time of 2:09.17. Halle Atkinson '23 and Kimberley May '25 ran close behind O'Neill, finishing second and third, respectively.
When asked what her takeaways were from the Black and Gold Invitational, Taylor Newman '23 emphasized how proud she is of her team for their effort and performance in the meet and how she believes they are only getting started. 
Newman detailed, "Some takeaways from the Bryant Black and Gold Invitational are that we showed some real promise with a number of the girls achieving personal best times so early in the season."
She also added, "We have time to improve in some areas, but it was a great start. As the weather gets warmer and we continue to train hard and put the time in, the team has the potential to make even more improvements on race times as the season continues."
The PC Men's and Women's Track Teams will host and participate in the Friar Invitational this Friday, April 8, held on Ray Treacy Track at Hendricken Field. 
This will be their only home meet of the season, and the Friars are looking to defend their home turf with vigilance. 
Newman shared her excitement for the tournament, explaining, "It will most likely be 10 to 12 of the top teams in New England and New York. The team hopes that everyone competes to the best of their ability, while supporting one another. It should be a great night in Friartown!" 
Track enthusiasts and fanatics can head down to Hendricken Field or tune in to FloSports (found on the Providence College athletics website) on Friday night at 5:00 p.m. to see the PC Track Team in action.
Wheeler and Coffin Set Pace for Friars Track and Field
by Joshua Lopes on April 15, 2021
---
Athlete of the Week
---
Runners Excel in Championship Races
By Joseph Quirk '23 and Cam Smith '21
Sports Staff and Sports Co-Editor
Last month, two Providence College athletes took their talents to the NCAA championships. Abbey Wheeler '20GS finished fifth in the 5,000-meter at the NCAA Indoor Track and Field Championships. Maria Coffin '21 placed 99th out of 253 runners at the NCAA Cross Country Championships. The Cowl sat down with each runner to reflect on their NCAA experiences, the challenges of racing in the COVID-19 pandemic, and their goals for the future.
Abbey Wheeler '20GS:
During her illustrious career at PC, Abbey Wheeler '20GS has been one of the most consistently dominant athletes on campus. Wheeler, recently named the United States Track and Field and Cross Country Coaches Association 2021 Women's Track Athlete of the Year, recently finished fifth at the NCAA Indoor Track and Field Championships for the 5,000-meter race.
The fifth place finish earned Wheeler an All-American nod, her third in her PC career. The championships took place in Fayetteville, AR, and Wheeler described the experience as both "wonderful" and "different" from other meets she had been to  because of COVID-19 protocols. 
"It's always so exciting to be at a meet where you're truly among the best of the best," Wheeler said. "That's always a bit nerve-racking, but also exciting where you get to test yourself in a field where there are no soft spots."
One would imagine that such a race would stir up a slew of emotions, but Wheeler kept herself composed, despite how difficult she said it could be. That would be needed, as she described the race itself as an "odd run" where the pack paced weirdly and stayed together for a lot of the race.
"It was really difficult to remain comfortable and composed with all those weird pacing things going on," Wheeler said. She added that "with everyone getting a little aggressive with pacing, everyone was pushing and in your head you're just trying to stay in it until the race actually gets going." Despite it being easy to lose focus and composure, Wheeler was able to hang on for a strong finish, passing multiple runners in the final lap when the pack finally began to split.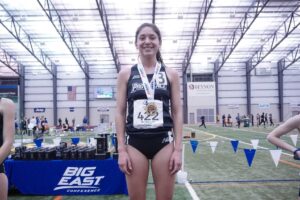 This was Wheeler's first appearance at the indoor track championships. She had previously competed in the outdoor championships and had qualified for the indoor race last year; however, it was unfortunately canceled. She said that the finish felt like a "long time coming," especially because she felt ready to make this breakthrough at last year's event before its cancellation.
When comparing it to previous 5,000-meter races she had run, she called it her "best performance at the national level. I definitely leveled up a bit there," Wheeler proudly said. "My last one I was second team All-American, so this was the first time I was first team All-American, so that was super exciting." She also pointed to a major difference between the indoor and outdoor versions of the 5,000-meter, citing that the indoor race only features 16 runners while the outdoor race features 24.
Following nationals, Wheeler proceeded to again finish fifth overall at the Raleigh Relays, one of the first races of the spring track season. Her finishing time of 15:46.87, as well as previous years' performances, should be enough to qualify her for the NCAA Outdoor Track and Field First Round in Jacksonville, FL on May 27-29.
When asked about the meet, the humble Wheeler mentioned her excitement about her time and possible qualification, before expressing a lot of happiness for her teammates who she also thinks could qualify following their performances. "It was nice to get a bunch of my other teammates to get times that can be competitive to qualify for that as well," stated Wheeler. "That was pretty much the goal of the meet."
Wheeler made sure to give credit to her coaches and teammates for keeping each other "grounded" throughout the season, especially with the challenges the COVID-19 pandemic held over both the school and the track season. This was especially important with a short season and a hard winter, making it difficult to stay ready and having less chances to qualify.
When reflecting back on her racing career here at PC, Wheeler noted something interesting. Aside from all the other accomplishments she has, one of her proudest moments actually came from overcoming adversity at a regional meet her junior season. "I was in the 5k and I wasn't in particularly fantastic shape, but I was racing to get a spot in outdoor nationals," she started. "And someone stepped on my shoe early on in the race and so I was running with my shoe kinda off. In the last mile I just kicked it off and I was running with only one shoe."
She said in those kinds of moments it is easy to give up on yourself, but vocal support from her teammates kept her focused and pushed her forward. She ended the race with a qualifying time, and while she said it was not her best race, overcoming that adversity made her really feel that she belonged competing at this level.
As for her goals for the remainder of the season, Wheeler is "just trying to run really fast, make the championship season, and make outdoor nationals. And if I can run fast there, that would be great."
Maria Coffin '21:
In October 2020, Maria Coffin '21 finishing in the top-100 at the NCAA Championships in March 2021 would have seemed improbable. After a summer of hard training, Coffin suffered a femoral stress reaction in October, which effectively shut down her training for the foreseeable future. When she was finally able to ramp back up her training in January 2021, the cross country schedule remained murky as COVID-19 regulations stayed in flux.
Nevertheless, Coffin persevered. Coming into her trip to nationals, she had just raced once, in the Big East Championships. Her performance there booked her a ticket to Stillwater, OK to compete with the best cross country runners in the nation.
The massive field of 253 runners, and a distinctly challenging course, made the event a grueling one for all parties involved. "It was a very difficult course," said Coffin. "Super windy, super hilly. I'd definitely say it's the hardest one I've run in my career."
Coffin's plan going into the race was to stay middle of the pack for the first half of the event, explaining that "in a course like that you can't really go out too quick, so I was trying to be conservative, stay in the middle, and then do most of my damage in the last half of the race."
Coffin did just that, passing 28 runners in the final 3,000 meters of the race. "When I finished, I really had no idea where I was," explained Coffin. "I was hoping I had gotten in the top 100 and luckily I just made that."
This was not Coffin's first trip to the biggest stage in the sport. In the 2017-2018 cross country season, her entire team qualified for the event, allowing her to participate in nationals in just her freshman year. That time around, Coffin placed 245th.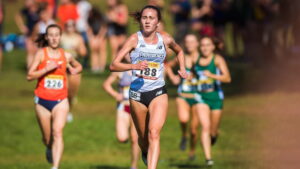 "That was definitely a tough race for me as a freshman," said Coffin. "I definitely did not do nearly as well [as this time]." Indeed, three years later, Coffin shaved off over a minute on her time, vaulting her up 146 spots. "It was cool to come back and really see that improvement," she added.
 As much as Coffin was thrilled to be able to finish top-100 at nationals, she also lamented the fact that her team could not be there with her. It was always going to be an uphill battle for the team, as the Big East Championship was the only time they could all compete together as a squad. "We have such a young team, it was pretty difficult for the freshmen without much race experience to jump right into the Big East Conference meet," said Coffin. "They still did really well there considering that was the first cross country race of their collegiate careers…I think that will help us next year having a few races under our belt."
 Coffin, a senior who will be returning as a graduate student next year, will get the chance to again lead her team in a season that will hopefully resemble a normal one. She has high hopes for a squad that she says will return more experienced and more confident. Coffin's goals: a Big East championship, an NCAA regional victory, and a whole team appearance at nationals.
For Coffin herself, "[I want] to improve upon my place and try to get around that All-American top-40 status at nationals." With a full slate of races next season, and an injury far in the rearview mirror, Coffin has what it takes to do just that.
Sports Shorts
by Joshua Lopes on April 15, 2021
---
Sports
---
Sports Shorts Week of 4/8-4/15
By Liam Tormey '22
Sports Assistant Editor
Men's Lacrosse:
Over the weekend, the Providence College Men's Lacrosse Team hosted St. John's University at Chapey Field at Anderson Stadium in a Big East matchup. The Friars dominated the contest, winning by a score of 19-9. Matt Grillo '22 and John Hoffman '23 led the way for the Friars. Grillo finished the evening with five goals, putting his tally up to 20 for the year, while Hoffman was right behind him with four. Toby Burgdorf '21 recorded 15 saves in the contest. The Friars are now 4-6 on the year and 3-5 in Big East play.
Men's and Women's Track and Field:
Last Friday, the PC Men's and Women's Track and Field Teams competed at the Ocean State Invitational. For the men, AJ Ernst '24 won the mile run with a time of 4:00.64, a facility record. Marcelo Rocha '21 also set a facility record, in the 5,000-meter contest. Rocha won the race and finished with a time of 13:55.98. For the women, Abbey Wheeler '21GS and Lilly Tuck '23 won their respective races. Wheeler set a personal best and won the mile with a 4:41.93. Tuck set a personal best in the 3,000-meter with a time of 9:24.11.
Swimming and Diving: 
The PC Swimming and Diving Teams competed in the Big East Championships in Geneva, Ohio. On the men's side, Justin Viotto '22 won the 200-yard butterfly event to secure the conference title. After being in third for the first 150 yards of the event, Viotto used the last 50 yards to claim a victory by one one-hundredth of a second with a time of 1:48.23. Kevin Hood '23 also won a title, winning the 100-yard breaststroke with a time of 55.52. On the women's side, Sally Alrutz '23 recorded a personal record in the 100-yard backstroke at 55.91, finishing fifth. Overall, the women's team came in fifth while the men secured fourth to wrap up the season.
Women's Soccer:
To finish out the regular season of Big East play, the PC Women's Soccer Team traveled to Queens, New York to face St. John's University. After being down 1-0 going into halftime, the Friars were awarded a penalty shot with just 10 minutes left to play. Christina Rodgers '21 stepped up to the spot and recorded her first goal of the season to level the Friars at one. The game went into overtime, during which neither team would score, and the game concluded in a 1-1 draw. The Friars finish the regular season 7-2-3 overall and 5-2-3 in Big East play.
Millie Paladino '19 Races to Success
by The Cowl Editor on March 21, 2019
---
Athlete of the Week
---
Paladino has Highest Finish for PC Since 1994
by Meaghan Cahill '20
Sports Coeditor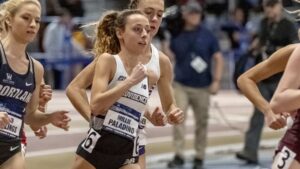 For the first time since 1994, Millie Paladino '19RS became the highest mile finisher from Providence College to place at the NCAA Indoor Track and Field Championships. Placing third in the nation in an event that only 16 people nationwide qualified for, Paladino ran a 4:38.44 mile, a time that also earned her First Team All-America Honors.
Having been told by Head Coach Ray Treacy that she could finish anywhere from eighth to first, Paladino says that she was "really happy and proud" of her accomplishment.
"It means a lot for me to do it for the school because it's one of our highest places in the last couple of years so I think it really puts the team and the program on the map in the NCAA, which is always really good to do," Paladino commented.
Her third place finish concluded a very tactical race in which Paladino reserved her energy by maintaining a solid seventh place position and then pulling ahead to third in the final 100 meters. To Paladino, the race was more mind over matter as she felt she had to prepare for it more mentally than physically.
"For prep…your physical prep is done [during the season]. You have to really work on telling yourself that you're good enough to do this and that you're prepared for this. The whole season has led up to this…I just have to tell myself that it's not worth it to step on the line if you're not confident in what you can do. Otherwise, why do it at all?" said Paladino.
Having transferred to PC from West Virginia University after her sophomore year because she felt that she would not get to be the best runner that she could be if she remained there, Paladino primarily chose to join the Friar family due to the success of Coach Treacy.
"He's the best in the biz!" praised Paladino when talking about Treacy's influence to come to PC. "I never looked back."
In her time with the Friars, Paladino has a number of top-three regular season finishes and has consistently been recognized by earning NCAA First Team All-America Honors. At the Big East level, Paladino recently won her third career Big East title when she was crowned 3,000-meter champion—the first Friar to win the event since 2015. She also set a school record for the 1,000-meter race this season with a time that is also the 12th fastest mark in collegiate history.
Paladino's continued success, especially within this current season, in what she describes as a "day-to-day" sport, has all added up to the U.S. Track and Field and Cross Country Coaches Association naming Paladino the 2019 Northeast Region Female Track Athlete of the Year.
And while Paladino recognizes that running is very much an individual sport, she does not believe she could have had any of her success without her team.
"I can only do so much on my own…I owe the whole world to [the team] honestly," says Paladino. "I think people really underestimate the people you are surrounded by and if I didn't have my teammates to train with throughout the season…I would never have gotten this far."
On the topic of her teammates, Paladino admitted that the cross country team's Big East Championship win her junior year is her favorite memory.
"I still wear my ring," she proudly admitted.
With the winter track season coming to a close, Paladino and the rest of the track teams are gearing up and heading outdoors with the start of the spring season, a season in which Paladino says the only main difference is that things are done outside.
"Mileages stay the same and your focus has to stay the same so your focus does not look that different even though it might," she comments on going from one season to the other.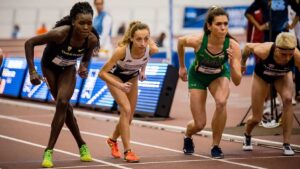 With a goal of finishing out her career at PC with an outdoor track Big East Championship title, Paladino also hopes to make it to Nationals again and just "make the most [of her final season]." And with the end in sight, she hopes to keep running and as she gets more "mature" in her running, she plans to up her distance, hoping to eventually run a marathon.
"But, I think that's so far in the future," she concludes.
Paladino will continue her distance running into the spring season, running both the 1,500 meter race as well as the mile as that is where her "strengths" are.
"Never give in," is how she would encapsulate her running career. "If it's really what you love and it's your dream, keep chasing it because you'll really surprise yourself."
Friars Compete at the John Thomas Terrier Invitational Meet
by The Cowl Editor on February 7, 2019
---
Friar Sports
---
by Jack Belanger '21
The cross country season is long over, but as the Providence College Track and Field Team heads into the midst of the winter track season, records are still being broken, and one runner has been making headlines. While it was Abbey Wheeler '20 who dominated in the fall, placing first in multiple races and being named both NCAA XC Division I National Athlete of the Week twice, Millie Paladino '18RS has led the team this winter.
During the John Thomas Terrier Invitational on Jan. 25, running on the indoor track at Boston University, Paladino broke the school record for the 1,000-meter run where she finished with a time of 2:42:13. Not only did her time break the 29-year-old school record, she also broke the New England Collegiate Record and her time is good for 10th best all-time in the NCAA.
Her time is also a huge improvement from last season. At the University of Rhode Island Sorlien Memorial Invitational on January 20, 2018, Paladino finished the 1,000-meter at 2:51:01. Earlier in the winter season she also set a personal best in the 800-meter run during the Penn Challenge, finishing at 2:08:94.
Two other Friars also came in first for their individual events. Brianna Ilarda '18RS won the 3,000-meter race with a time of 9:12:58. Regan Rome '18GS and Maria Coffin '21 were among the leaders for the entire 5,000-meter race. Rome managed to separate herself from the rest of the pack and win with a time of 16:27:34. Coffin finished strong, placing sixth with a time of 16:46:94.
This meet was the second time this winter that Ilarda and Rome have come first for a respective events. At the Penn Challenge, Illarda won the mile while Rome won the 3,000-meter race.
On the men's side, the Friars found their most success in the 1,000-meter run. Two Friars, Ryan Jendzejec '21 and Nick Carleo '19, finished in the top-20 as Jendzejec finished 0.02 seconds before Carleo. With times of 2:28:39 and 2:28:41, respectively, both runner qualified for the IC4A Championships.
Both the men's and women's teams will return to Boston University this weekend to take part in the Valentine Invitational. The team will have two more meets after the invitational to prepare for the Big East Championship at the end of the month.