Dr. Orquiza Explains Taste of Control
by The Cowl Editor on March 5, 2020
---
Arts & Entertainment
---
How American Colonization Impacted Filipino Cuisine
by: Arianna Weling '23 A&E Staff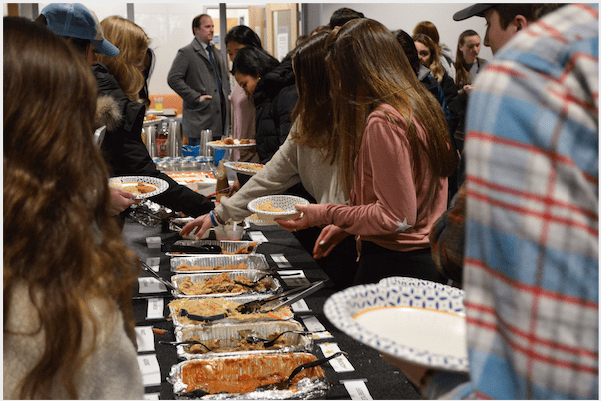 In the last 30 days, how many times have you eaten from or seen a Filipino food restaurant? Due to years of control and issues between Americans and Filipinos, specifically about cuisine, there are not many opportunities to delve into this delicious food, as explained during the discussion of Dr. René Alexander Orquiza's book, Taste of Control: Food and the Filipino Colonial Mentality under American Rule, on Friday, February 28.
Orquiza, a California-native, is both  a French-Filipino cook and an assistant professor of history at Providence College. Taste of Control, Orquiza's first full-length project, will be published by Rutgers University Press in July. The book examines the problems that surrounded the Filipino community and their cuisine from the Spanish-American War up until Filipino independence. 
Despite the Philippines' independence, Orquiza illustrates that American dominance left psychological scars and a negative stigma surrounding Filipino cuisine caused by years of American attempts to control diet, nutrition, and commodity consumption. 
Filipino cuisine, as described by Orquiza, consists of food of the indigenous, emphasizing it as "a transnational food," in its combining of other cultures and reimagining them. Filipino cuisine incorporates and adapts food from around the world, such as China and India.
The most popular Filipino food and, arguably, the national dish, is Adobo. Adobo is a chicken with black peppercorn and bay leaves. Orquiza is such a fan, he has it about twice a week for dinner. 
For the students at the event, food from a popular Filipino restaurant, JnJ Turo Turo, was catered for the event. Famous, delectable Filipino dishes ranging from Adobo, Lumpia, Pancit, and so many other unique dishes were offered. 
As for the desserts, there was a Make Your Own Halu-Halo station. Halu-Halo, meaning "mixed" in Tagalog, is a concoction of crushed ice, condensed milk, and other interchangeable ingredients such as ube halaya (purple yam); sweetened beans, coconut strips, ice cream, and more. 
For many attending, Orquiza's book talk was their first time trying this unique and mouth-watering cuisine. Nicole Sikora '22 stated, "This was my first time having Filipino food, and I had no expectations going into it. Overall, I thought that it was delicious, especially the Lumpia Shanghai."
One of the main points Orquiza addressed was the development of Filipino cuisine from their traditional state in the Philippines to the Americanized version. Since the Filipino population in the U.S. is large, and growing rapidly, Filipino food and culture are being integrated into society. 
Through his new book and his discussion, Orquiza has shed light on the struggles Filipinos faced in terms of control of their cuisine. His book notes that for years, Filipino food was undermined and adjusted to fit American standards.
These events are essential in exposing PC students to different cultures, learning about the rich history of other countries, as well as giving them a chance to try new and delicious food. 
Cupcake Wars: Sweet Campus Unity
by The Cowl Editor on February 13, 2020
---
On-Campus
---
by Arianna Weling '23 A&E Staff
We all know and love Taco Tuesday, but Providence College put a different spin on Tuesday: Cupcake Tuesday. The event provided the opportunity to decorate and eat some delicious cupcakes, enjoy watching campus clubs compete against one another, and even compete for a LaSalle Bakery gift-card, judged by Alumni Hall Food Court's very own Sue Valenti. 
The event featured the following clubs: Board of Programmers (BOP), Board of Multicultural Student Affairs (BMSA), Student Congress, Friars Club, and Campus Ministry. Each of the clubs competed in four rounds with designated themes: Friars, Holidays, Animals, and Emojis. With the stakes high for a Lasalle Bakery gift card, the clubs were out for blood. 
After rounds of icing and decorating, Friars Club and Campus Ministry ended up tying, causing a tiebreaker in which both clubs had to decorate a cupcake that best described their club in just a minute. Thinking quickly and creatively, Friars Club managed to successfully take the win.
Ultimately, the event generated positive feedback from students, participants, and Valenti. Nicole Gass '20 added, "It was really fun to see all the different clubs come together and to have Sue here judging."
The celebrity judge, Valenti, shared the same experience, noting, "The event was planned very creatively. All the organizers worked well together, and everyone had a good time." 
Events like Cupcake Wars are a great unifier among the clubs, emphasizing the Friar family mentality. Between class, club meetings, and the busy lifestyle of Friars, events like these are significant in bringing the student body together and being fun de-stressors.