The New Man in the Net
by The Cowl Editor on October 3, 2019
---
Athlete of the Week
---
Grad Transfer Aviza Finds New Home with Friars
by Jack Belanger '21
As faces came and went on the Providence College Men's Soccer Team, one remained constant: Colin Miller '18RS in net. After receiving numerous awards and accolades, such as the 2018 Big East Preseason Goalkeeper of the Year and 2018 All-Big East Second Team, Miller graduated and signed with Loudoun United FC in the United Soccer League Championship. That left the Friars with one important question for the upcoming 2019 season: Who would take over the goalkeeping duties?
That question was answered quickly as transfer student Austin Aviza '19 GS has followed in Miller's footsteps and has given the Friars another solid season from their goalkeeper so far.
Aviza graduated early from the University of Connecticut after a successful 2018 season where he went 9-3-2 as the starting goalie while also posting a 1.03 goals against average. He was granted a fifth year of eligibility as a graduate transfer by the NCAA and did not wait long to land a new home.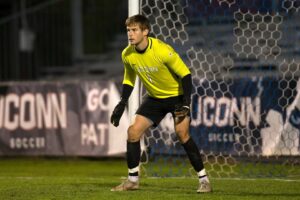 "Providence was really the only team on my radar," Aviza said. "As soon as the NCAA called me to tell me I was eligible for another season, I got into contact with Coach Stewart right away."
After finishing up school in Connecticut, Aviza came to the College for the spring semester and got the chance to practice with his new teammates. Although he was not able to play in games during the spring season due to NCAA eligibility rules regarding transfers, the semester gave Aviza the chance to get acclimated to the campus and his new teammates.
The results for Aviza have been spectacular this season. Through September he has already had six shutouts while posting a 0.70 GAA. After posting back-to-back 1-0 shutouts against Harvard University and Seton Hall University, Aviza was named to the Big East Weekly Honor Roll on Sept. 23, though he was quick to give his teammates credit.
"It is great to be named to the honor roll, but I think it's more of a team award," Aviza clarified. "We have a really good defense and the guys have been playing well."
When it comes to the differences in his experience from UConn, the goalkeeper focused in on two things: the style of play and home games. Aviza noted how PC's play style focuses more on possession and ball control to limit the opponent's opportunities.
As for the home games, Aviza explained how great the atmosphere has been playing at Chapey Field.
"It's really nice to see how many fans come out to support us. They really make it exciting to be playing here."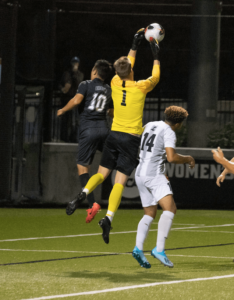 If there was any pressure to fill the big shoes left in goal, Aviza has certainly shown both on the field that he is ready for the challenge, and off the field he has made it a point to focus on his own game.
"Colin Miller was obviously really good, and it is not the easiest thing to follow up a guy like that. All I can do is focus on myself and do my best," said Aviza.
Aviza's path to PC has not been like that of his teammates. While the majority of the team has spent the entirety of their careers in Providence, the Friars will be Aviza's third team as he spent his first two collegiate seasons at Syracuse University before he went on to play for the Huskies. Joining his third team within four years has given him a chance to look at how unique his college career has been.
"I used to have a coach that told us everyone has their own paths in life. It didn't really hit me how different my journey has been until I came to Providence."
As their record stands at 6-3-0, PC is once again in the hunt to grab one of the top spots in the Big East. With the talent that is in front of him, Aviza believes the team has a chance to compete for a conference title and even make it back into the NCAA Tournament for the first time since 2016. The team has shown they can compete with some of the best teams in the country, such as tough one goal losses to No. 5 Georgetown University and No. 15 University of New Hampshire.
It may be his only season in Friartown, but Aviza has shown that he wants to finish his college career out strong by bringing this team deep into the playoffs and maybe even a championship.