Weekly Award Roundup: Four Friars Honored
by Jack Belanger on February 25, 2021
---
Friar Sports
---
Awards Announced on February 15
By Scott Jarosz '21
Sports Staff
Despite drastic changes as a result of the COVID-19 pandemic, Providence College athletics are now in full swing. Teams that would normally play in the fall are now playing in the spring, adding to the teams that usually play their games in the current season. With athletic teams from all seasons playing simultaneously, a plethora of PC athletes recently earned awards. On Feb. 15, Mary Baskerville '22, David Duke '22, Emma Bodmer '24, and Nick Poisson '24 all received awards in women's basketball, men's basketball, women's soccer, and men's hockey, respectively.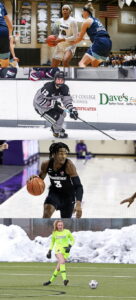 Baskerville was a star for the PC Women's Basketball Team during the week of Feb. 8, averaging 16.5 points, six rebounds, 4.5 steals, and three blocks over the course of two games. Baskerville's impressive numbers earned her a spot on the Big East Weekly Honor Roll. In the first game of the week against Creighton University, Baskerville recorded her fourth  double-double of the season, scoring 14 points and grabbing 10 rebounds. In the second contest of the week against Marquette University, Baskerville scored an impressive 19 points on nine of 13 shooting from the field. Baskerville will look to build off of this outstanding week as her and her team forge on through the remainder of the season.
David Duke, a guard for the men's basketball team, also earned an award on Feb. 15 after putting on two impressive performances. Across two games, Duke averaged 17 points, 9.5 rebounds, three assists, and two steals. These averages secured Duke the Big East Player of the Week award. This marks the second time Duke has been named Big East Player of the Week this season. Duke and the Friars played two games over the course of his award-winning week, the first being at home against the University of Connecticut, and the second being away at DePaul University. He scored 17 points in each game and also led his team to victory in both games. Duke hopes to maintain his high level of performance moving forward as he and his team eye a run in the Big East Tournament.
Another PC athlete who received an award on Feb. 15 was Emma Bodmer, the goalkeeper for the women's soccer team. Bodmer was named Big East Goalkeeper of the Week after her first collegiate appearance on Feb. 14 against the University of Rhode Island. Shw recorded three saves in her first game and did not allow a single goal. Thanks in part to her performance, PC came out victorious over URI by a score of 2-0. Bodmer's outstanding debut bodes well for the Friars, as she has big shoes to fill following the departure of former standout goalie Shelby Hogan '20RS after the COVID-19 pause. She has continued to fill in those shoes valiantly, as on Feb. 22, she was again named Big East Goalkeeper of the Week.
Nick Poisson of the men's hockey team was named Hockey East Rookie of the Week on Feb. 15 thanks to his strong performance in PC's game against UConn. He tallied two assists, guiding PC to a 4-0 victory over the visiting team. Poisson has recorded a total of four goals and six assists this season, and he will look to continue his strong rookie year play as the Friars wrap up their season.
Even though their seasons have been drastically impacted by COVID-19, PC athletes have adapted to the changes and have performed at an elite level. These four athletes in particular have proven that hard work pays off, especially during this unusual time in collegiate sports.