Election of 2020: South Carolina Primaries and Super Tuesday Results
by The Cowl Editor on March 5, 2020
---
National and Global News
---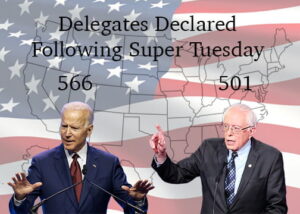 by Nicole Silverio '22 and Kyle Burgess '21
News Staff
Over the past several days, results from South Carolina's primary elections and Super Tuesday have created major developments for the upcoming decision of choosing a Democratic nominee.
Earning 39 delegates and nearly 50 percent of the vote, former Vice President Joe Biden and his campaign celebrated a major win in South Carolina over the weekend, resetting the entire race. 
On Saturday, February 29, South Carolina held its Democratic presidential primary where Biden won a major victory, sparking hope for his campaign. Currently with 54 delegates, Biden was almost tied with Senator Bernie Sanders who had 58 delegates, threatening Sanders' spot as frontrunner. 
With 54 delegates at stake in South Carolina, Biden achieved immediate success by earning 20 delegates with only one percent of the vote being reported. Prior to South Carolina, Biden had only obtained 15 delegates after having minimal success in Iowa, New Hampshire, and Nevada, but the  results in South Carolina had rescued his campaign. 
Biden's overwhelming support amongst black voters determined his victory, winning around three in five black voters. Two-thirds of voters over the age of 65 supported Biden. 
With South Carolina's large African- American population, Biden gained support for being Barack Obama's vice president, who is beloved by a majority of black voters in the state. One resident of Columbia stated, "He was Obama's vice president and he stuck by him." 
According to exit polls, 56 percent of the Democratic electorate was African American, adding to the significance of Biden's support amongst black voters in the state. A Fox News voter analysis found that Biden is the highest rated Democratic candidate on who can best handle race issues, attaining 38 percent.   
According to CNN, the favorable numbers amongst candidates in South Carolina overwhelmingly leaned towards Biden. According to the poll, 76 percent found Biden a favorable candidate with only 20 percent finding Biden to be unfavorable. Meanwhile only 53 percent favored Sanders, with the remaining 41 percent finding Sanders unfavorable. In regards to Mayor Michael Bloomberg, 26 percent of South Carolina voters found him to be favorable while 66 percent consider him unfavorable. 
After Biden's victory, other candidates began to lose hope in their presidential campaigns. That night, as Biden gave his victory speech, businessman Tom Steyer dropped out of the race. On the following day, Mayor Pete Buttigieg announced the end of his presidential bid. Senator Amy Klobuchar also dropped out of the race. Both Buttigieg and Klobuchar have following backed Biden since the results in South Carolina. 
The former vice president's success in the Palmetto State was mirrored across the South and elsewhere following the results of Super Tuesday.  Biden carried Alabama, Arkansas, Maine, Minnesota, North Carolina, Oklahoma, Tennessee, Virginia, and was even able to upset Senator Elizabeth Warren in her native Massachusetts.  Not to be outdone, Senator Bernie Sanders captured the biggest prize of the night in the California primaries, coupled with his victories in Colorado, Utah, and Vermont. 
These most recent results have effectively made it a two-horse race for the Democratic presidential nomination between Biden and Sanders.  Following his inability to "get it done" at the polls, former NYC Mayor Michael Bloomberg announced his withdrawal from the Democratic contest with Elizabeth Warren likely to follow suit.  Such concessions would follow in the footsteps of billionaire Tom Steyer, Klobuchar, and Buttigieg.