TDF Caps-Off Season with The Moors
by Kerry Torpey on April 26, 2018
---
Arts & Entertainment
---
by Blaine Payer '18
A&E Staff
Some may consider theater to be one of the most amazing artistic outlets in the world. Once the house lights go down, the audience is whisked away and spends the next couple of hours in different worlds and different times, all without ever leaving their seats. 
This past weekend, actors at Providence College transported audiences in the Angell Blackfriars Theater to the British moorlands of the 19th Century in Jen Silverman's The Moors. 
The slightly avant-garde dark comedy was full of surprises, from murder to multiple personalities and even a depressed talking dog. It was Into the Woods meets David Lynch and Samuel Beckett in all of the best ways, brought to life by a new modern coat of paint and a cast of PC's finest that left the audience speechless. 
The show follows the bizarre lives of two sisters, Agatha (Mireya Lopez '19) and Huldey (Brittany Price '18) who have just hired Emilie (Gabriella Sanchez '18) to be the governess of a young child. As soon as Emile arrives, however, she starts to think that she has bitten off more than she can chew and perhaps is not cut out for the mysterious world of the moors. 
There was also a talking mastiff (Thomas Edwards '20) who falls dangerously in love with an injured moorhen (Deirdre Lahiff '20), but that story never intersects with the main plot. No synopsis can do this beautifully complex plot the justice it deserves. 
Director Mary Farrell did not play it safe and wanted the audience to know that as soon as they walked in. The packed theater had two flanks of seats roped off and was full of furniture covered by white cloths, an unusual sight that immediately begged a slew of questions. 
The house speech, which was delivered in character by Marjory the Maid (Grace Dolan '20), offered no answers for the furniture, but instead served as proof to the audience that this was going to be no normal production. In the director's note, Farrell said, "In choosing to do The Moors as the last play I direct as a faculty member at Providence College, I wanted to provide my women students with an experience that was challenging, timely, and fun." 
The tale of sexual politics, love, and murder certainly checked all the boxes, especially due to its sophisticated and mature themes. It pushed envelopes that many are wary to even address, and did so with poise and grace. 
There are many aspects of the play to highlight, from the perfectly-timed dark comedy as Marjory to the spontaneous outbursts of song and meta-philosophical soliloquies of the mastiff (who can communicate only with other animals). Perhaps the finest moment of the play came in its denouement, during which the lovably dim-witted Huldey snaps in response to Agatha's harsh judgments of the writing in her diary, which she cherishes more than anything in the world. 
The resulting drawn-out act of sororicide was accompanied by a chilling music cue and a masterfully executed change in lighting, during which the stage was slowly enveloped in a deep, blood red. The following moments saw Huldey burst into song, with Price's killer vocals being projected through a microphone that had descended from the ceiling. It was a splash of ice-cold water in the already shocked and confused faces of the audience, but brilliant nonetheless. 
The Moors was an impressive coup de grace for Farrell, who has certainly left a lasting impression on PC's theater department. Bravo to the cast and crew, who time and again uphold the exceptional reputation that the Department of Theater, Dance, and Film has worked hard to achieve. 
John Krasinski Leaves Movie-Goers Speechless
by Kerry Torpey on April 19, 2018
---
Arts & Entertainment
---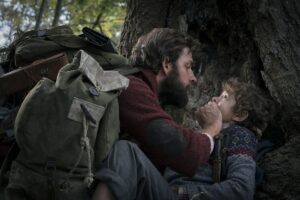 by Blaine Payer '18
A&E Staff
Do you hear that? That is the sound of A Quiet Place tip-toeing into the horror movie history books. John Krasinski's nearly silent directorial debut crushed the box office and charmed the critics last weekend, raking in $50 million and quickly becoming the No. 1 movie in America. 
With its innovative style and strong media campaign, A Quiet Place is likely to go down as a staple of the genre whose appeal stretches farther than unconventional gimmicks and Jim from The Office.
The first notable and untraditional aspect of this film was certainly its advertisement campaign, which surfaced several months ago. Rather than go the usual route and show its trailer on television and in movie theaters, Krasinski and his producers decided to turn to social media to garner excitement for the film. 
Erik Childress of Rotten Tomatoes calls A Quiet Place "a word-of-mouth monster," citing the social media campaign as an enormous factor in its success thus far. A similar tactic was used by Warner Bros. when campaigning for It, last year's underdog success story that has become one of the highest-grossing horror movies of all time. 
Krasinski's film is already the fifth film of 2018 to gross $100 million domestically and shows only a 34 percent drop in its second weekend, one of the lowest for a horror film in recent years. 
It also beat out both Steven Spielberg's passion-project Ready Player One for total domestic pull and was only narrowly outsold this weekend by Dwayne "The Rock" Johnson's critically lukewarm arcade game-turned-blockbusterRampage. With an audience score only 10 percent lower than its critical score, A Quiet Place also proves that even if audiences are showing up to see familiar names like Krasinski and Emily Blunt, they are leaving the theaters in awe and, likely, terrified. 
The film proves to be a rollercoaster of surprises from its opening moments right up until the credits roll. The tension is at times unbearable, in no small part aided by the overwhelming silence, and lingers for the duration of the film with very few exceptions. Making a film almost completely void of dialogue was a risky move by Krasinski and surely worried some would-be fans coming into the film, but his masterful and patient directing made it so that the film never dragged or exhausted the gimmick. 
The silence also had a profound effect on the audience, which, for the first time in years of seeing films at the Providence Place Mall, was completely silent the whole time. You could hear a pin drop in a packed theater, the sound of which likely would have caused much of the audience to jump and shriek. 
The final element that impressed me, besides Krasinski and Blunt's stellar performances, was the quality of the sound-hunting monsters. With a budget of only $17 million, it is clear that money was carefully allocated and spent where it matters. The largely computer-generated beasts never appeared cheesy or poorly done. Their presence was felt even when they were not on screen, and their image will surely remain with viewers long after the credits. 
Hopefully this does not turn out to be Dwight's most elaborate prank yet, since as of now A Quiet Place has the  potential to be Paramount Pictures' highest grosser in five years, as well as one of the best films of the year. 
Avon Cinema Hosts Annual Providence Children's Film Festival
by Kerry Torpey on February 15, 2018
---
Arts & Entertainment
---
by Blaine Payer '18
A&E Staff
Grab your kids, grab your wife, because they are showing all of the movies this weekend! It is Oscar season, which means it is the perfect time of year to get together with all of the youngsters and head over to Avon on Thayer Street. This year, they will be holding their ninth annual Providence Children's Film Festival (PCFF) between Feb. 16 and 25.
After a meal at one of Thayer Street's many eateries, get your tickets and prepare for 10 days of activities, filmmaking workshops, short films, and feature films made by local and international talent.
It seems as though there is never a shortage of fun things to do in the most artistic city on the East Coast. Whether you are in the mood for art exhibits, old-fashioned movie-going experiences, walks in the park, or eating at the best food trucks on the planet, Providence has got it all. It is the perfect size for an art-lover; big enough to hold major, mainstream events, but also small enough to indulge in things like the PCFF.
Alex Pollan '18, a Rhode Island resident and avid moviegoer, said, "It's good to see a local business giving back to the youth of their community," and that "hopefully the services provided by the festival will inspire kids to pursue their dreams." Given the current tumultuous political and social environment, it is likely that some of these films will serve to educate both kids and adults alike.
However, not all of the films are gracing the silver screen for the first time. Beloved classics like Snow White and the Seven Dwarves and Chitty Chitty Bang Bang will also appear in the lineup.
Snow White will hold a dual position, serving both as a throwback that every family has bonded over at least once, as well as the main event for a workshop entitled "Deconstructing Disney."
The most interesting event, arriving at the tail end of the festival, is the "2018 Youth Filmmaker Showcase," which will display short films made by kids, for kids. The feeling of pride any independent filmmaker experiences having their work shown is difficult to describe, never mind a filmmaker under the age of 13.
Stop by any night between Feb. 16 and 25 for great fun and even better movies. Just because they are kid's movies does not mean that they are just for kids. Invite your younger siblings and cousins, grab a burrito, and enjoy an evening of films made by some of the best artists in the world.
Meet Your Spring Concert: Galantis
by Kerry Torpey on February 8, 2018
---
Arts & Entertainment
---
by Blaine Payer '18
A&E Staff
Word of Swedish-based EDM duo Galantis taking the stage for the upcoming Spring Concert is spreading through campus like peanut butter jelly, and the students could not be more excited.
The Board of Programmers (BOP) announced the decision to invite Galantis following the two previous years' theme of transforming the Spring Concert into a massive dance party. If Galantis puts on a show half as fun and energetic as Rae Sremmurd did last year, then this year is sure to be a Spring Concert that will not soon be forgotten.
Cashing in on the ever-growing EDM scene in Europe, the duo, consisting of Christian Karlsson and Linus Eklöw, have been climbing the ladder of fame since their 2015 album Pharmacy. Presenting a new take on EDM music, Galantis focuses more on the musicality of their songs and tries to break the tired mold of never-ending dance loops that so many popular electronic dance artists display today.
After gaining international fame with songs like "Runaway" and "Peanut Butter Jelly," Galantis started touring the world and have since established themselves as top-tier EDM artists. "Our goal when we started planning was to have a fun, positive, and energetic concert that would exceed expectations, and I think this act can deliver all that and more," says BOP entertainment committee chair Ryan McSweeney '18. "What's unique about their act is that no one can resist dancing to their music."
Other students have been quick to respond to the inevitable dance party as well. Gabriella Reimer '18 remarked that "it's the perfect choice for PC," citing the popularity of EDM music and the fun vibe it sets as validation. Even a casual listener cannot help but tap a foot when "Peanut Butter Jelly" comes on, never mind hearing it in a concert venue filled with all of your friends.
Alex Pollan '18 displayed similar excitement. "I've known about Galantis for years now," he told The Cowl, "So I was really excited to find out that they will be coming here." Galantis is not PC's first A-list performer, either. Panic! At the Disco set a high bar back in 2015, a bar that only seemed to get higher with the Chainsmokers and Rae Sremmurd occupying the last two Spring Concert main stages.
Tickets will be going on sale soon, and if any of the last three years are indicators, it would behoove one to buy them as soon as they go on sale, for the limited supply goes fast. In the meantime, everyone should bust out their dancing shoes, start to stretch, and "visualize it," because Galantis is 'ace high and going all in' just for us, and they are  sure to bring the party with them.
Time's Up: Hollywood Flips the Script
by Kerry Torpey on January 19, 2018
---
Arts & Entertainment
---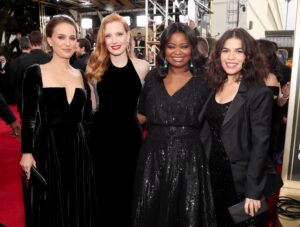 by Blaine Payer '18
A&E Staff
The 2018 awards show season started off strong with a Golden Globes that will not soon be forgotten. Arriving in the midst of one of the biggest and most widely publicized scandals in the history of Hollywood, the Golden Globes became a blank canvas on which the Hollywood elite painted "Time's Up" in big, black letters.
Spearheaded by household names like Reese Witherspoon, Laura Dern, Jennifer Lopez, Meryl Streep, and Oprah Winfrey, the Time's Up initiative that seemingly began as a silent, color-driven protest quickly began to dominate the night and occupy the center of attention.
"This is a moment of solidarity, not a fashion moment," Eva Longoria reported to the New York Times before the ceremony. "This time the industry can't expect us to go up and twirl around. That's not what this moment is about." Although some critics were skeptical as to whether or not the "wear black" initiative celebrities would follow through with the protest, Entertainment Tonight's red carpet coverage quickly silenced the nay sayers as scores of black-clad A-listers emerged from their limos.
Of course, the Time's Up warriors did more than just wear black at this crucial moment; they brought the fight to the stage. Right off the bat, host Seth Meyers allowed the audience to breathe a sigh of relief after he proclaimed that "It's 2018, marijuana is finally allowed and sexual harassment finally isn't. It's gonna be a good year."
As was to be expected, many were concerned about how Meyers, a notably innocent late night comedian-turned talk show host, was going to navigate through the tentative climate. Luckily, he chose the right side and produced an onslaught of pro-Time's Up jokes.
That was just the tip of the iceberg. The real moments of beautiful protest and self-expression came during the acceptance speeches for of Best Supporting Actress in a TV Series, Best Performance by a Supporting Actress in a Series, Limited Series, or Motion Picture made for Television, and of course the presentation of the Cecil B. DeMille Award.
Two-time Golden Globe winner Laura Dern pleaded for the creation of a culture in which victims can speak up without being reprimanded. Later, Academy Award winner Frances McDormand made note of the "tectonic shift in our industry's power structure," reminding the audience in attendance and at home that "the women in this room are not here for the food—we are here for the work." Regardless of how private many of these stars are with their politics, they made an exception that night and took part in history in the making.
The highlight of the night came when Oprah Winfrey delivered her best rendition of the Braveheart speech as she called women to arms to fight back against the patriarchy and remind them that "speaking your truth is the most powerful tool we all have." Winfrey, the first black woman to ever receive the Cecil B. DeMille Award, fully embraced the theme of change and empowerment in her speech, prompting the unsurprising outcry for a 2020 presidential campaign for the jack-of-all-trades philanthropist.
"For too long, women have not been heard or believed if they dared to speak their truth to the power of those men," Winfrey explained, "But their time is up. Their time is up." With such explicit activism and calls for change, the face and climate of Hollywood is sure to change, ushering in a new era led by female powerhouses of the industry.
Winter is Coming: Hollywood's Final Movies of 2017
by The Cowl Editor on November 2, 2017
---
Arts & Entertainment
---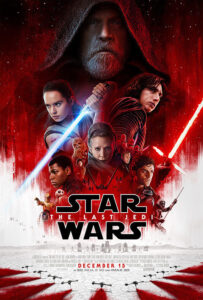 by Blaine Payer '18
A&E Staff
With the end of 2017 quickly approaching, movie lovers are eager to buy their tickets in hopes of ending this year in film with a bang. Now that they have survived what some may consider to be one of the most disappointing movie summers in years, it is finally time for Hollywood's final haul for the year where they release everything from superhero blockbusters to hopeful Oscar contenders.
To give credit where credit is due, not every movie from this past summer was a flop. For every King Arthur: Legend of the Sword and Pirates of the Caribbean: Dead Men Tell No Tales, there was a Guardians of the Galaxy Vol. 2 or Wonder Woman to pick up the slack.
Overall, there were many films that turned out to be all-hype and no payoff, leaving a sour taste in fatigued movie-goers' mouths by September. Luckily, September and October were redeemed by hits like Taylor Sheridan's neo-noir/western Wind River and everyone's new favorite horror movie, It—which boasts a horror movie record of $666.6 million worldwide.
However, come February when the Motion Picture Academy's votes for the 2018 Oscars are due, few members are going to remember films from September or anytime earlier. Late October to January is the prime time to release films for Oscar consideration. The previous two Best Picture winners, Spotlight (2016) and Moonlight (2017), were both released in November, assuring that they would be fresh in the voters' minds come January.
This year, Hollywood's art house sector is coming in full swing with star-studded coming of age stories like Call Me By Your Name and Greta Gerwig's directorial debut Lady Bird, both of which have already received a great deal of critical attention.
In an unsurprising turn of events, the Marvel, DC, and Star Wars universes are also dropping their payloads at year's end with three of the most highly-anticipated releases of the year. The Zack Snyder-helmed super-project Justice League has been three years in the making and plagued by setbacks and concerns, the greatest of which being Ben Affleck as Batman and Snyder himself dropping out as director halfway through shooting.
DC has yet to see the success that Marvel has had with its mega-hits like the Avengers series, leaving Justice League with some pretty big shoes to fill. Marvel is already dabbling in success this year with Spider-Man: Homecoming and the soon-to-be hit Thor: Ragnarok, which has been certified fresh on Rotten Tomatoes based on pre-screenings and is anticipated to make quite the global haul in the box office.
Despite whatever success Marvel and DC have this fall, it will unquestionably be dwarfed by Disney's Star Wars: The Last Jedi, set for a Dec. 15 release. 2015's Star Wars: The Force Awakens shattered expectations with a $1.7 billion run, successfully reigniting the fire of the Star Wars franchise for a new generation of movie-goers. While this year's Rian Johnson-helmed project may not have the same nostalgic impact of its predecessor, its odds of disappointing are low, for the series' fan base seems to keep growing everyday.
2017 has been a tough year in many ways, but at least now we can all look forward to enjoying the cream of the crop that Hollywood saves for the late fall. This fall is going to have something for everyone, so now all that is left to do is dig up our old lightsaber toys, bust out a box of tissues, and get ready for the best time of the year for movies.
Tomb Raider Returns with a New Face
by The Cowl Editor on October 5, 2017
---
Arts & Entertainment
---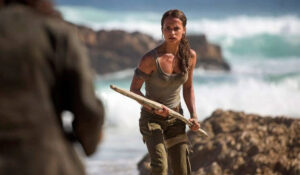 by Blaine Payer '18
A&E Staff
It has been 13 years since the video game heroine Lara Croft of Tomb Raider graced movie screens, and fans of the beloved franchise are ready to see one of pop culture's most iconic characters come to life once again.
Although a spandex-clad Angelina Jolie comes to mind when one thinks of Croft, Academy Award winner Alicia Vikander has accepted the challenge of filling her predecessor's tank top, and has not disappointed thus far. If the new full-length trailer can tell fans anything, it is that Croft appears to be back and better than ever, and yes—she is packing heat.
The Tomb Raider video game series first debuted in 1996 on a personal computer, PlayStation, and Sega Saturn platform to wide acclaim. The premise is simple: Lara Croft, an archaeologist and the titular Tomb Raider, goes on Indiana Jones-inspired adventures trying to find artifacts in ancient tombs and ruins.
In Crystal Dynamics' 2013 reboot, the video game introduced Trinity, an evil organization attempting to locate and acquire the artifacts that Croft's father discovered in order to use their supernatural powers to rule the world. The 2013 reboot is where the new film picks up, with Vikander playing a younger Croft embarking on her first adventure.
"Lara Croft was the financial benchmark of success," William Wilson of Forbes Magazine reports, "Tomb Raider was the first video game film to prove that the genre can be profitable and that female driven characters work." The original Jolie project, Lara Croft: Tomb Raider, raked in an impressive $274 million at the box office, setting off a chain of video game-to-film projects like Resident Evil (2002), Doom (2005), and Silent Hill (2006).
Recently, however, film adaptations based on videogames have performed poorly among critics and audiences alike. Last year's Assassin's Creed underperformed at the box office and was met with an abysmal 18 percent score on the review aggregate website Rotten Tomatoes.
Critics thus far appear optimistic about the franchise reboot, with some noting that Warner Brothers are taking the film down the same path they went with Christopher Nolan's The Dark Knight trilogy.
They took a well-known character—Batman— with a sturdy fan base and portrayed him in a more serious, action/drama light uncharacteristic of previous portrayals of superheroes. When viewed against the backdrop of 2001's Lara Croft: Tomb Raider, a campy action/adventure flick, the new film looks bigger, badder, and generally more dramatic than its predecessor.
A difference that many critics and fans have noted between the first look at Vikander's Croft and Jolie's, as well as the direction of the video game reboot, is that the new Croft has become less of a sex symbol and more of a tried and true action heroine.
Vikander, who has a notably different look than Jolie, one of Hollywood's most iconic sex symbols, has traded in Croft's spandex short-shorts for a smart pair of loose cargo pants. She also appears to be more proficient in using her hands, crafting weapons, and performing death-defying stunts, like jumping off the wing of an airplane onto the precarious perch of a nearby cliff.
Fans need not worry, however. Although Croft's look and style has changed, she still would not be caught dead without her trademark pistols, which Vikander kindly informs the gun salesman that she will take two of, paying homage to the 1996 video game cover.
Has Hollywood found a new female action star in Vikander, or will Tomb Raider meet a fate that has plagued so many video game adaptations in years past? Audiences can find out when Tomb Raider is released in June 2018.
Ha-Ha-Hump Day: Six Gents Kicks-Off a Year of Laughs
by The Cowl Editor on September 28, 2017
---
Arts & Entertainment
---
by Blaine Payer '18
A&E Staff
It's all fun and games until someone gets hit with an apple, and then it is even funnier. Six Gents, Providence College's premiere sketch comedy group, filled a packed Ryan Concert Hall with laughter on Sept. 20 during their first performance of the year. The group had some comically big prop shoes to fill after saying goodbye to five talented seniors, and they did not disappoint. With everything from coffee-themed trips down memory lane, angry fruit trees in the Land of Oz, and even a Providence College Men's Soccer cameo, Six Gents reminded everyone that when the going gets tough, it is best to just make fun of it in front of an audience.
Six Gents has always leaned towards the profane and controversial, garnering quite the reputation among members of the faculty and administration. While students may love to see caricatures of the names that clog up their email inboxes line up on a "Celebrity Jeopardy" stage, others may not find it so easy to laugh at. "This is parody," member Ivan Vukusic '18 remarked, "and in parody, you're just looking at reality because reality is funny, but it's only funny if people relate to it."
The ethos of the Saturday Night Live-esque group has always been to find something that everyone on campus has an opinion about and exploit it for laughs. The biggest topic to fall into their crosshairs was the newly christened Calabria Torch on Slavin Lawn, which has already gained quite the reputation around campus.
Nonetheless, the flame has brought students together to join in a common discourse. In fact, Vukusic believes that the most rewarding part of performing in the group is how comedy and laughter brings everyone together for a common cause. "We are part of the school, you know," Vukusic says, "And comedy is like, we just keep going on that road together even if it's bumpy."
The group's messages of inclusivity reached their climax when Men's Soccer star Colin Miller '18 made a cameo appearance as a newborn baby with an affinity for kicking strangers at the DMV in one of the highlight sketches of the night, "Kicking Babies." After he chased his rival off the stage, he made a brief statement about how he loves to support the arts as well as the sports at PC, and encouraged everyone in the audience to do the same. "It goes with every comedy group, they have their thing…but we like to include other groups if we can," Vukusic added.
Although returning audience members lost some crowd favorite recurring sketches like "PC Celebrity Jeopardy" and the wonderful adventures of Johnny, the legally deaf receptionist at a bouncy castle emporium, some heavy hitters stepped up to take their place. In one filler improv session, Vukusic starred as an apple tree who, upon discovering he is planted next to an orange tree, played by Six Gents President, A.J. Roskam '18, is appalled. Towards the end of the show, all of the upperclassmen in the audience went back in time to laugh at the tragic life of a goodie-two-shoes orientation leader and an all-too-excited incoming freshman as they square off against the cool OL that everyone wants to party with. It made us laugh, sigh, and cringe all at the same time.
With the acceptance of five new members after auditions on Sept. 24, the future is looking bright for the Gents. When asked what we can all expect over the next two semesters, Ivan took a sip of his coffee, smiled, and said, "Guaranteed free laughs."
Foo Fighter's Newest LP Concrete and Gold Proves Rock Legends Never Tarnish
by The Cowl Editor on September 21, 2017
---
Arts & Entertainment
---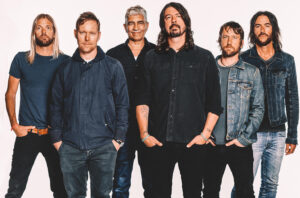 by Blaine Payer '18
A&E Staff
The Foo Fighters have managed, unlike many of their rock and roll counterparts, to not only stay relevant through a career lasting over 20 years, but also to get better and better with age. With its innovative production styles, poetic lyrics, slew of guest stars, and all of the pure rock and roll that all Foo Fighter fans know and love, Concrete and Gold is an impressive effort from a band that appears to have no intentions of slowing down any time soon.
Front man and rock legend Dave Grohl announced late last year that the band would be taking a break from touring and spending most of 2017 working on a new record. By April, they had begun playing previously unheard songs at live festival shows, often with the support of various friends-turned-guest stars like Alison Momson, the lead singer of the alternative rock group The Kills.
The first single off the album, "Run," was released on June 1 and garnered a good deal of radio time right off the bat. Jeremy Gordon of Spin said the unique sound of the record made it "meat-and-potatoes hard rock…a classic Foo Fighters song."
"It's clear these songs that we have are going from Foo Fighter's songs to something bigger than we've ever done before in our entire lives," says Grohl, the former drummer for Nirvana, in a mini-documentary about how the band's ninth studio record came to be. The musical style is reminiscent of the band's earlier records, like 2011's Wasting Light and 2007's multi-platinum hit Echoes, Silence, Patience, Grace, with its powerful and driving drum tracks to Grohl's trademark growls and howls.
Standout tracks like "The Sky is a Neighborhood" and "Make it Right" exemplify this growth, containing complex layers of sounds, gospel choirs singing backup in a blues/rock song, and some of the catchiest hard rock riffs of the year. The explanation for the new, more sophisticated sound, aside from the influence of Grohl's insatiable creative appetite for innovation and mastering his craft, can be found in producer Greg Kurstin.
With credits that include names like Sia and Adele, Kurstin began taking the music industry by storm in 2011 for his work on the Kelly Clarkson single "Stronger," which gained him his first number one song on the US Billboard charts and established him as an accomplished pop producer. While the rest of the Foo Fighters were skeptical about Kurstin's inclusion, Grohl insisted that he was key to elevating the album to heights that the band had never before reached.
Rolling Stone calls it the group's "most balanced record…both musically and emotionally," citing its new production style and masterful use of guest musicians as two of its strongest features. Grohl was particularly excited to reveal Justin Timberlake as the much-teased mystery guest, who he called possibly "the biggest pop star in the world" back in June.
Although his contributions are minimal and amount to little more than backing vocals on the track "Make it Right," his inclusion is exemplary of each guest's contributions. "I just started calling my friends and asked them if they wanted to be on the record," Grohl admits, "but Justin Timberlake actually asked me if he could sing on the record," which turned out to be a worthwhile decision.
Although the album certainly will not produce hits of the same caliber as "Everlong" or "The Pretender," Concrete and Gold proves that the Foo Fighters are still real, purebred rock stars. "We managed to do the one thing I really wanted to do," Grohl concludes, "[which was to] make this gigantic Foo Fighters record, but with Greg Kurstin's sense of jazz and melody and voila." Luckily for both Dave and all of his fans, the decision paid off and produced some of the Foo Fighter's best work to date.
Student Project Raises Eyebrows and Questions
by thecowl.ae on May 4, 2017
---
Arts & Entertainment
---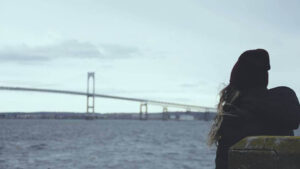 By Blaine Payer `18
A&E Staff
"Everything we are intersects with this landscape." This statement, delivered by Loren Spears, the executive director of the Tomaquag museum, perfectly encapsulates the sentiment of the documentary Our Sinking Bay, a global studies capstone project that premiered last Saturday at the Cable Car Cinema to a full house.
The five-month long project, conducted by Daniel Hentz '17, Rachel Krokenberger '17, Brooke Clark '17, and Kimberly Maida '17, sought to illustrate how the preservation of the Narragansett Bay is a community issue that affects everyone, not just people of native heritage or environmentalists.
The group went above and beyond the call of duty and transformed their research into a 30-minute long documentary that challenges viewers to be more aware of the environmental degradation occurring around them, and how everyone can play a small role in shaping a future characterized by a greater respect for both the land and the people on it.
As the school year draws to a close and everyone braces themselves for finals and heartfelt goodbyes, it is refreshing to see a group of students dedicate their time to improving the world around them in their own humble way. "We wanted to bring together the perspectives of environmental activists and Narragansett tribal members to show how each group is concerned with the environmental degradation of the bay and how each of them works to protect it," explains Maida, as she summarizes the project.
The group collectively interviewed nearly 10 different concerned parties, including Rachel Calabro, a representative from Save the Bay, as well as Cassius Spears Sr., a Narragansett tribal member who feels an especially close connection to the bay that he has spent his entire life on. Both were in attendance on Saturday, with Spears offering sentimental praise for the respectful ways in which the group presented his voice and respected his culture.
"This event truly was the culmination of my work as a global studies student," says Hentz, the primary cinematographer for the project. "The audience received it really well, and they made sure to let us know with a lengthy applause." Hentz goes on to say that, although the feedback from the audience and their global studies instructors was great, "It was Cassius Spears Sr.'s kind words that truly validated our efforts…that, that, was a moment I will never forget."
The last question that the film challenged both the interviewers as well as the audience members to answer was "What is your biggest concern for the future of the Narragansett Bay?"
Raymond Two Hawks Watson, the sachem of the Mashapaug Nahagansets, responded, "That people don't wake up," effectively showing the reason why projects geared towards social and environmental awareness like Our Sinking Bay are so important. Not only was the film a very successful showcase of five months of hard work by a very dedicated group, but it also woke up at least a movie theater full of people to the problems that everyone in the modern world seems determined to ignore.