Tag:
Brenna Cavallaro '23
The Ranch Reflects Small Town, Rural America
by The Cowl Editor on February 13, 2020
---
Film and Television
---
Ashton Kutcher Wraps Up Netflix Political Comedy Series
by Brenna Cavallaro '23 A&E Staff
After over three years, four seasons, and eight parts of comedy, tragedy, romance, and controversy, the Netflix original The Ranch has come to an end. The comedy starring Ashton Kutcher takes on the weight of political viewpoints and perspectives from small town Americans and Midwest ranchers that are often overlooked by politicians and liberal activists. Although the dry humor presented by old-fashioned conservative ranchers predominantly carries the show, modern day thinking and more leftist viewpoints are also presented as the seasons progress.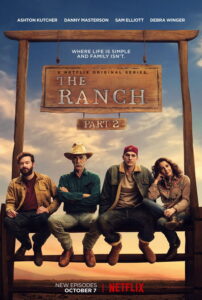 Kutcher plays Colt Bennet, a washed-up football star constantly getting himself into trouble who is the perfect romantic dope in the sitcom. You will somehow find yourself rooting for Colt's handsome looks and big heart despite his role as a close-minded, ignorant egotist.
Colt's brother Rooster is another egocentric character to look out for. Rooster adds comedic relief that cannot be replaced by any other character. The Bennet brothers' father, Beau, is certainly the star of the political comedy. His conservatism is either upsetting or hysterical depending on which side of the political spectrum one is on.
Aside from absolutely shredding the idea of being "politically correct," the Netflix original provides a sense of what "real" American families deal with day in and day out, especially with the modern world constantly changing. These harsh realities of life in a small town, not only as a rancher, but as a business owner, mother, father, political activist, immigrant, war hero, etc. could not be epitomized better than The Ranch's take on these ordeals.
People have to make decisions every day that are highly controversial or even detrimental, but when they live in their own little bubble, they cut off the devastating realities of others' lives. The Ranch provides this humble, eye-opening viewpoint that allows one to experience the "American dream" in a whole new way.
The underlying romance, along with the overarching theme of familial love, keeps eyes glued to the screen. Comedic relief from each of the characters allows for the audience to cope with the dramatic issues and harsh realities a small-town ranching family must face. Political issues in the modern world, from both a conservative and liberal standpoint, are explored throughout all eight seasons as the show reflects the highly discussed controversies in America today. 
Not only will Kutcher's charm keep you hooked on The Ranch, but this original is a must-watch because of the perspective it can provide to Americans as well as to all cultures around the globe. Plus, you will, without a doubt, find yourself longing for a life in a small American town when you complete the dramatic comedy.