Women's Ice Hockey Preview
by The Cowl Editor on October 28, 2021
---
Friar Sports
---
Friars with High Hopes Starting the Season
Stephen Foster '22
Sports Staff
The Providence College Women's Ice Hockey Team began the 2021-22 season on a high note with an exhibition win over the Boston Pride on Friday, Oct. 1, setting the tone for what looks to be a successful season.
They hope to build off of a 2020-21 season that saw them finish with a 12-8-1 record while spending 14 consecutive weeks in the top 10 for national rankings.
The Friars are currently ranked No. 11 in the USCHO Division I Women's National Collegiate PairWise Rankings and have started the season with four wins, one loss, and two ties. They have collected wins over No. 27 University of New Hampshire, No. 16 Northeastern University, and No. 26 Union College, while tying No. 6 Quinnipiac University twice and losing to No. 15 Rensselaer Polytechnic Institute.
Women's hockey has some major talent this year, with many of last year's most influential players returning again for the 2021-22 season. The players with the top two most points (total goals and assists) last year are returning as seniors this year, hoping to cap off their senior season on a high note. The Friars also added six new players to the team for the 2021-22 season.
Forward Sara Hjalmarsson '22 led PC in points last season with five goals and 12 assists. She is no stranger to competition, having played for Sweden in the 2018 Winter Olympic Games in Pyeongchang and winning bronze in the Women's World U18 Tournament in 2016. Forward Caroline Peterson '22 finished second in points for PC Women's Hockey last season.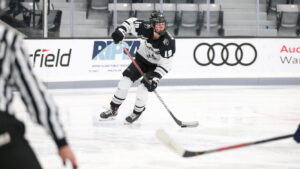 Her 15 points, with a team high of eight goals, trailed only Hjalmarsson. Peterson was awarded the Friars' Offensive Player of the Year Award for her efforts. She is also experienced in competitive play, having won four state championships across high school and club women's ice hockey before attending Providence College.
Forward Hayley Lunny '21GS is coming off a season where she totaled nine points on four goals and five assists, as well as 31 blocked shots, the second most on the team. She has scored four game winning goals and two game winning assists during her time at Providence College.
On the defensive side, the Friars are anchored by Brooke Becker '24 and Claire Tyo '24. Becker totaled 14 points on three goals and 11 assists in the 2020-21 season, ranking first on the team in points scored by a defenseman and second on the team in assists.
Tyo picked up the Rookie of the Year Award last year for PC. She had eleven points on three goals and eight assists. As the two defensemen are only sophomores this year, they should have much room to grow even better throughout the season.
Women's Ice Hockey is happy to have last year's goalkeeper Sandra Abstreiter '21GS returning to net again for the 2021-22 season.
Abstreiter is a graduate student who has consistently manned the goal for the Friars since her junior year in 2019-20. Last year she had a breakout season, totaling a career high 526 saves. Abstreiter is also used to performing well under the pressure of post-season hockey.
In the last two games against No. 1 Wisconsin in the NCAA Tournament on Mar. 16 and No. 2 Northeastern in the Hockey East Championship Game on Mar. 6, she recorded a career high 41 saves. Furthermore, the goalkeeper was awarded the team's Defensive Player of the Year Award and the Providence College athletic department's Female Athlete of the Year Award for the 2020-21 season.
PC's impressive lineup had them ranked high on preseason polls. In the Hockey East Preseason poll, the Friars were one of only two teams to receive a vote to finish first place in the Hockey East.
They finished second in the poll and are projected to finish behind Northeastern University, who lost in the NCAA Championship game last year. In National Polls, the Friars received three votes in the USCHO poll and 10 votes in the USA Hockey Poll.
So far this season, the team has been putting up impressive numbers. Lunny, Becker, and Lindsay Bochna '24 are currently leading the team in points with five each, and Tyo is right behind with four points. Lunny leads the team with three goals, while Becker, Bochna, and Tyo lead the team in assists with three each.
Lunny also leads the Friars in blocks so far with 12. Goaltender Albstreiter has been locked down in the net, winning the Hockey East Goaltender of the Week on Oct. 11 for her shutout performance over No. 16 Northeastern University. She recorded a combined 56 saves that weekend against Northeastern and No. 27 University of New Hampshire.
PC Women's Ice Hockey combines seasoned, experienced players with new players ready to step up and fill the spots vacated by graduates.
The returners have significant experience playing competitive, post-season hockey. Their success in clutch moments should translate well to a Hockey East league that is ready for some top-tier competition in the 2021-22 season.