Featured Friar: Caitlin Gleeson '22
by The Cowl Editor on October 1, 2020
---
Features
---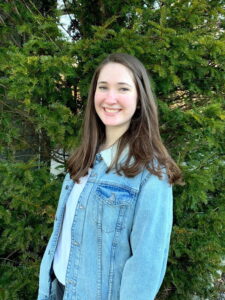 by Kyle Burgess '21
News Co-Editor
As the country grappled with the rapid increase of COVID-19 cases this summer, many Providence College students saw their internships and other extracurricular opportunities either replaced with remote experiences or canceled altogether.
This was the reality that Caitlin Gleeson '22 faced when she saw her internship with a non-profit organization in Boston terminated due to concerns with the COVID-19 pandemic. However, the Beverly, MA native decided to take up her grandmother's offer of a potential internship with the Haven from Hunger food pantry in June. "My grandmother had been president of the organization, and she is still friendly with the current director," Gleeson explained. "Everything happens for a reason."
Haven from Hunger merged with Citizens Inn, Inc. in July 2017 to combat hunger and homelessness in the communities of Peabody, Salem, and Lynnfield, MA. Gleeson's role within the Haven from Hunger food pantry revolved primarily around clerical work as part of her "internship" experience. The pantry was responsible for feeding between 150-170 people a day (70 pounds of food daily), and it was her responsibility to ensure that meals and groceries were sent to the right people.
In addition to working with the United Parcel Service (UPS) in coordinating deliveries, keeping track of food recipients across the three towns, and recording food temperatures and production numbers, Gleeson often got involved on the front lines in her spare time.
Alongside her "Haven family" of fellow volunteers, she would often travel to the many schools, libraries, and mobile parks that hosted distribution centers for 2,500 sandwiches and groceries weekly. "We were a very tight-knit group," Gleeson stated, "and we still check on each other today to catch up." Gleeson also frequently stayed at the pantry after her 7 a.m.–3 p.m. shift ended to assist with their dinner services.
The pantry offered a diverse family environment that was highlighted by the community coming together to share in a meal, albeit more spaced out than in previous years as a result of social distancing guidelines. Gleeson's time at Haven from Hunger also inspired her to pursue a Smith Fellowship position, which allows students to work with schools in Australia during this upcoming summer.
Back on campus, Gleeson likes to keep involved with the members of her Friar Family as well. As a prayer minister within Campus Ministry and Leadership, she is tasked with praying for all of the organization's members as well as fostering a campus environment conducive to growth in prayer. Her participation in the "mercy chaplet" is an example of such efforts as she leads PC students together in prayer via Zoom.
Gleeson also bonds with her classmates on stage as a member of the PC Dance Club and with her co-workers at the Concannon Fitness Center.
Upon graduating from PC, Gleeson hopes to continue working with a not-for-profit organization before eventually transferring to the field of immigration. She cites Dr. Rick Battistoni's philanthropy class that she is currently taking along with her experience at Haven from Hunger as major influences in her decision to dedicate herself to social justice.
When asked about how students can make equally-large impacts during their time at PC, Gleeson said that getting involved is the first crucial step.
"It's really important to find one thing that you are passionate about," she explained. "For me, it was Campus Ministry; I've met some of my closest friends through that program, but there are plenty of opportunities to make one that you are passionate about. New organizations like Friars For _____ and Friars Vote are examples of students who have done this and have been successful."
Despite the uncertainty of the last several months, Gleeson's internship experience and involvement on campus are a testament to how Friars continue to make positive impacts on their communities and rise to the present challenges.