MLB The Show Gives Pitchers a New Way to Prepare
by Joshua Lopes on April 22, 2021
---
Professional Sports
---
Chicago's Giolito Uses Popular Video Game To Study Opponents
By Ben Bilotti '23
Sports Staff
The 2021 Major League Baseball season is off and running, and so far, it has lived up to the hype. Players and fans alike are excited to be back at the ballpark. It is still early in the season, but the level of competition thus far has been high.
Despite being far too early in the season to determine the game of the year, the recent matchup between the Cleveland Indians and the Chicago White Sox will certainly be a contender. On April 13, the two teams faced off with each throwing their aces. The Tribe threw 2020 Cy Young Award winner, Shane Bieber, while the White Sox threw their ace, Lucas Giolito.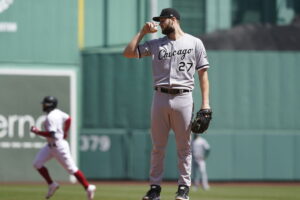 If you love a pitcher's duel, then this game was for you. Both players pitched extraordinarily well. In a dominant showing, Bieber threw nine innings and struck out 11, allowing just three hits and one walk. Giolito countered by going seven innings, striking out eight batters, and only giving up three hits and two walks.
One key to Giolito's success is a surprising one: video games. Specifically, MLB The Show, the most popular MLB video game on the market.
The 26-year-old ace has done several interviews with Rob Friedman, the Pitching Ninja. In these interviews Giolito breaks down his impressive pitching repertoire and pitch grips. He was also featured in a recent episode of the popular YouTube series Baseball Bits. 
The format of Baseball Bits is unique as it uses a video game aesthetic to break down interesting baseball storylines. It is the perfect mix of baseball statistics and fun. During his sit-down, Giolito was asked a question which first surfaced on the internet last season: "You use MLB The Show as preparation sometimes, can you talk about that?" Giolito lit up and responded, "Yeah, [before] pretty much every start."
During the video, Giolito talks in detail about his preparation for his starts. Every pitcher on a Major League roster is given scouting reports. These reports are extremely detailed and include information on everything from what pitch a batter does not like to what pitch a batter will swing at 60% of the time on a 1-2 count.
Indeed, it is an overload of information. Giolito explained that he has never enjoyed studying, dating back to his time in grade school. To maximize his preparation, the ace pitcher had to get creative, taking his friend's suggestion to utilize MLB The Show to prepare for starts. He now does exactly that before every game.
The day before a start, Giolito sits down with his scouting reports and fires up his PlayStation 4. He does his best to project what the starting lineup for both squads will be the next day. Then he loads up a game, playing as himself pitching against his upcoming opponents. As Giolito mows down virtual batters, he takes notes and uses his scouting reports. To make the game more realistic, he goes through both rosters and updates all of the settings and presets. 
Although his method is definitely abnormal, Giolito certainly has the stats to back it up. Since he began studying his scouting reports on the virtual diamond in 2019, his numbers have been stellar. His ERA is 3.38, and he has thrown four complete games, including a no-hitter. Based on Giolito's success, perhaps more pitchers will soon begin to incorporate MLB The Show into their game day routine.