Tag:
Christina Charie '25
All I Want for Christmas is Taylor: She Belongs with Friartown
by Christina Charie '25 on December 8, 2022
Opinion Editor
---
Opinion
---
With the Ticketmaster crisis casting a sense of despair over Taylor Swift's Eras Tour and the Christmas season, there is one way the Grammy Award-Winning artist can help her fans right here in Friartown. All Friars want for Christmas is for Taylor to perform at Providence College.
Not every college student can dish out thousands of dollars for a ticket to the Eras Tour, no matter how much one desires an unforgettable moment with Swift herself. The artist is angry with Ticketmaster's exploitation of her fame and popularity, but there are things she can do to help some of her loyal fans. Swift does not have to operate at the mercy of capitalism.
How can Swift simply ignore countless videos of loyal Friar basketball fans singing "You Belong with Me" during the Christmas season? PC has made national headlines regarding Swift's iconic song becoming an anthem at the Friars' Basketball games. Friartown is the perfect location for Swift to host a concert without Ticketmaster being involved.
Friars would wait hours in line for a chance to see Swift perform in person. With the cost of tickets soaring and limited availability because of Ticketmaster's monopolistic practices, not all Friars have the chance to attend one of the amazing concerts. PC has become linked with Swift's music, so it is simply fate. The best gift a Friar could open on Christmas morning is a ticket to a Taylor Swift concert.
The best way to spread Christmas cheer is singing Taylor loud for all to hear. Keep singing Friars; Taylor hears us!
The Elephant in the Room: Americans Have Spoken
by Christina Charie '25 on December 3, 2022
Opinion Editor
---
Opinion
---
The 2022 Midterm Election "Red Wave" is now a symbol of false hope for the Republican Party and former president Trump. Politicians on the right confidently proclaimed that November 8, 2022 would prove that Americans are frustrated with Democratic leadership. Inflationary pressures and attacks on gun rights could not save them from doom. Even though Republicans claimed some victories, given recent historical trends for midterms elections, the 2022 elections are largely a failure for the party. 
Despite competitive races in Pennsylvania, Georgia, Nevada, and Arizona,  Democrats have retained control of the Senate with the Warnock-Walker race still undecided. Republicans did gain control of the House, but only by a two-seat margin, with two races still uncalled. Even if Republicans win both races, a four-seat majority is nothing to celebrate. 
Historical data from Franklin Roosevelt to Donald Trump demonstrates that lower presidential approval ratings mean that his (or her) party will lose more House seats during the midterms. During President Obama's administration, Democrats lost sixty-three House seats in 2010, for instance, even though the president's approval rating was polled at 45%. The Democrats also lost Senate seats during both Obama-era midterm elections. Retaining control of the Senate is a major victory for Democrats. Even though President Biden's approval rating was 41.4% on Election Day, Democrats only lost nine House seats during this election cycle, creating an unprecedented situation. 
Reflecting on the 2018 midterm election results also demonstrates that the Democrats can consider the 2022 election cycle a success. Trump's 2018 approval rating was polled around 44%, which predicted that Republicans would lose 33 seats in 2018. The Republicans lost forty House seats during the 2018 cycle. The Democrats should have lost control of the House by a significant margin, which demonstrates that the Republicans have no one to blame but themselves.  
Whether Democrat or Republican, one must acknowledge that extreme right-wing decisions from the Supreme Court paired with the rise of Trumpism are not necessarily popular among the American public. President Biden is not the most popular president. Democrats are not necessarily saints. For many, they might be the lesser of two evils. 
If Republicans want to retain their influence, policy initiatives must reflect the will of the people. With yet another recent mass shooting in Colorado, the NRA is becoming a liability for the party. Republicans should not suggest a potential nationwide abortion ban given that it is highly unpopular. Ultimately, actions that ignore public sentiment could signal the Republicans' demise. 
However, the former president presents perhaps the largest challenge for Republicans to overcome. Even though some Americans continue to support former President Trump, there are many Republican voters who are quite frustrated with his actions pertaining to January 6, 2021. Without a meaningful bipartisan commitment to a full investigation of the President's response to the Capitol riot, the Republican Party will continue to lose influence in American politics.
Providence College Students Play Hardball: Chris Matthews Visits Campus for "Pizza and Politics" Election Discussion
by Sarah McLaughlin '23 on November 27, 2022
Editor-in-Chief
---
Campus
---
by Sarah McLaughlin '23 and Christina Charie '25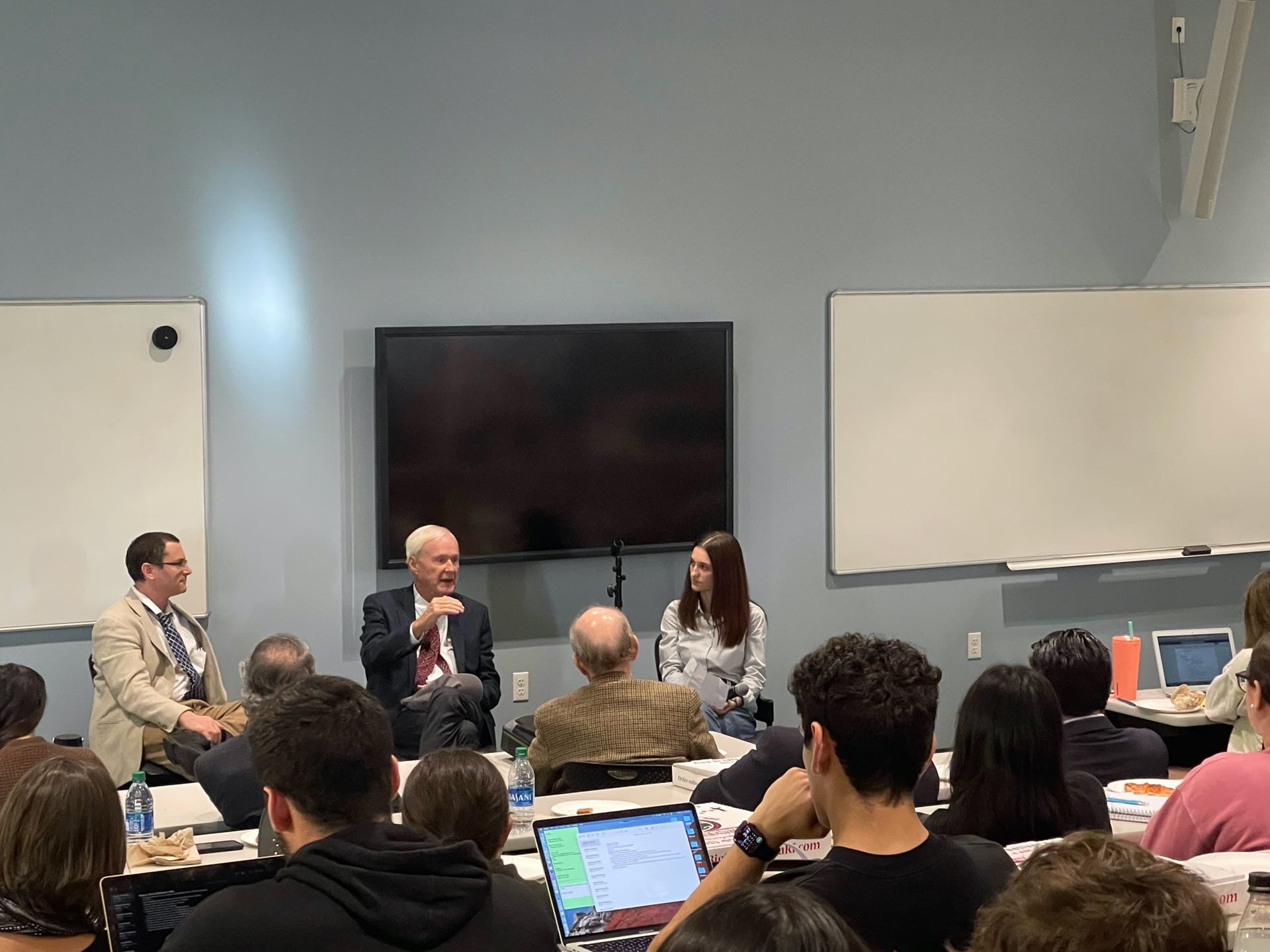 Former host of MSNBC's Hardball, Chris Matthews, came to campus on Wednesday, Nov. 2 to have lunch with Providence College political science students and faculty and participate in a "Pizza and Politics" event in the Guzman lecture hall. Matthews has also worked as a Capitol police officer, staffer for four Democratic congressmen, Carter's presidential speech writer, and Chief of Staff to Speaker of the House Tip O'Neill. In 2020, Matthews retired from his show following accusations of sexual harassment from former guests. He formally apologized for his actions and chose to step down. In September, he returned to MSNBC as a political analyst.
Matthews answered questions at the event facilitated by Dr. Adam Myers and Sarah McLaughlin '23. Following the facilitated discussion, students in attendance had the opportunity to pose their own questions to him.
The discussion largely focused on the 2022 Senate and Congressional elections, pre-election day. Dr. Myers opened with a general question of what to expect from this election cycle. Matthews emphasized the importance of a few issues in particular: interest rates, gas prices, food prices, and inflation.
Matthews also expressed strong opinions about various candidates running for the Senate, including Dr. Oz (R-PA), Herschel Walker (R-GA), and J.D. Vance (R-OH). Matthews voiced concerns about Oz's statement surrounding government involvement in abortion procedures. Though he thinks the cost of living will be a more decisive issue in this year's elections, Matthews believes that abortion will become a more prominent issue in subsequent elections as more people become impacted by bans instituted after the overturn of Roe v. Wade. Matthews referred to Oz as a "sleazeball" and noted how he is "from the shore," meaning the Jersey Shore, rather than being a native Pennsylvanian. However, he also pointed out how John Fetterman (D-PA) was not the best candidate choice for the Democratic party, especially considering his recent health issues.
Pennsylvania was one of the tightest races we're seeing this year in the Senate race, but Fetterman came out victorious with 51 percent of the vote and flipped the seat.
Matthews described Walker as "a joke" in his campaign against incumbent senator Raphael Warnock (D-GA), and he called Vance a "fraud." Georgia and Ohio were also key races in determining which party took control of the Senate. Vance defeated Tim Ryan (D-OH) with 53 percent of the vote in Ohio, while Warnock and Walker will face a runoff election on Dec. 6. since no candidate received over 50 percent of the vote. Matthews noted that this policy was historically intended to prevent African-Americans from winning elections in Georgia. This race between Warnock and Walker is the first Senate race in Georgia history between two black candidates from opposing parties.
McLaughlin asked Matthews if he had any thoughts on the tight race we're seeing here at home, in Rhode Island's 2nd Congressional district, between Allan Fung (R) and Seth Magaziner (D). Some Rhode Islanders have expressed concerns that Fung would cut social security, but Matthews believes these fears to be unfounded, as Fung would be "a fool to take it away" and lose the elderly vote, on which he relied. Magaziner has since emerged victorious in the race, receiving 50 percent of the vote.
Dr. Myers asked Matthews about how the media landscape has changed throughout his career. Matthews' insight into Washington is unparalleled given his approach to political commentary. The former broadcaster knows politicians from both sides of the aisle very well, given his willingness to present individuals from all viewpoints on Hardball. He argues that Americans could benefit from more programming like this today instead of shows like Tucker Carlson's, where TV personalities simply confirm the audience's preexisting viewpoints. Matthews noted that President Biden refused to appear on Hardball because he did not want to be challenged on his perspectives and actions.
McLaughlin asked Matthews about the changes he has witnessed in both the media and politics regarding diversity. Matthews noted how despite a lack of women's involvement in the past, women now constitute nearly half of the Democratic Caucus. He expressed optimism that "we should have a woman president soon."
Students also had the opportunity to ask questions towards the end of the discussion. Christina Charie '25 asked Matthews what type of barriers women face within American politics. Matthews noted that the number of women in the House of Representatives is rising. Additionally, women account for almost half of the Democratic Caucus. Matthews also noted that women perform well in coastal areas because their economies include industries that provide women the opportunity to prove themselves, such as merchandising and accounting. Ranching and mining economies do not necessarily afford the same chances for women, Matthews stated. Ultimately, Matthews believes that America should have a female President in the near future, noting that he believes Americans would have been satisfied with a Klobuchar presidency.
Matthews does draw the line regarding the 2020 Presidential election. During the discussion, he boldly declared that "anyone who is an election denier is unacceptable" as a political candidate. In Matthews' life, he cannot remember a candidate who refused to tell their supporters about losing an election. Americans still believe that former President Trump won the election because he refused to admit defeat in Matthews' assessment.
A prominent theme the discussion stressed was the importance of participating in our democracy: "If you [don't] vote, then why are you here?" Matthews asked the audience. He asked for a show of hands on who votes, and most students expressed that they had already voted or planned to vote in the midterm elections.
Debates and Laughs Required: Hardball and SNL Have a Place in the Current Political Climate
by Christina Charie '25 on November 17, 2022
Opinion Editor
---
Editorials
---
The term "fake news" is frequently used within the context of contemporary American politics. With heightened polarization, news programming often has an underlying bias running through an entire network's shows. Political candidates often publicly denounce stories that portray them in a negative light. As a result, the public blindly follows charismatic figureheads instead of developing their own convictions. Without critical debate and ironic comedy to point out the flaws in the system in an engaging way, the media is on the path to becoming the most dangerous threat to American democracy. 
Recently, Chris Matthews, the former host of MSNBC's Hardball, was invited to speak on campus about his experiences in political communications. Even though his career may have ended, America needs a space for bipartisan debate and analysis. By inviting guests from both sides of the spectrum (sometimes at the same time), Matthews ensured that politicians were held accountable in a format accessible to the public. No one is perfect. Americans should not expect perfection, but they should expect politicians to be held accountable. 
In addition to promoting bipartisan discussion, Matthews consistently challenged the politicians that appeared on his show. Lawmakers should not merely appear on television to talk about their successes. People watch certain news networks for affirmation of their preexisting beliefs. Instead, watching the news should allow Americans to question their convictions on crucial issues. Despite Matthews' blunt approach, he forces individuals to critically assess their political thinking rather than only focusing on the positive. 
While traditional discourse is imperative, there are moments when politics becomes overwhelming. In these cases, Americans need a comedic outlet. Saturday Night Live delivers with elaborate cold opens and its own "fake news" segment. The ridiculous and exaggerated nature of the sketches often helps to convey truths without the sophisticated understanding of politics that Hardball required at times. 
For some, the comedic approach might easily point out immoral behavior that might not be obvious from formal news communications. With the anxiety and tension surrounding politics in America, the people might need a lighthearted approach. Even those less interested in politics can laugh along with SNL's political satire. Once again, informal political criticism is accessible to Americans from the comfort of their homes. 
No party is spared from bearing the brunt of an SNL joke. For decades, SNL has created presidential impersonations. Former President Donald Trump and President Joe Biden are certainly not the first to be mocked, nor will they be the last. Laughing about politics is beneficial, but one must be aware of where the truth begins. 
Unlike social media, the essential features of sketch comedy help the public understand the nature of the performance. Actors resemble political figures, but no two people are identical. Of course, a comedy show should not replace news programming, but it can help point out the inconsistencies in American politics while keeping frustrated and disinterested audiences aware of current issues.  
Americans need brutal honesty during the polarizing political climate. However, not everyone is responsive to the approach that Hardball employs, which creates space for political satire. One approach cannot satisfy the interests and needs of each individual. America needs everyone to stay informed on imperative issues by taking information from multiple sources. One TikTok or Tweet is not gospel.
Why You Should Care About Iran
by Christina Charie '25 on October 29, 2022
Opinion Editor
---
Opinion
---
After a loose lock of hair fell into Mahsa Amini's face, the Iranian morality police detained the young woman for a dress code violation. She would never be released from custody. Officials claim that the healthy twenty-two-year-old woman died from a heart attack and a subsequent coma, but Amini's family is skeptical. Amini died while at one of Iran's reeducation centers, which are known for using physical and psychological torture, according to Dr. Sara Hassani of the Providence College Women's and Gender Studies Department.  
With women taking to the street in the form of protests, they risk facing the same abuse that resulted in Amini's death. Iranians are removing their hijabs and chopping off their hair. Young girls are yelling at school administrators. Even peaceful protest is met with deadly violence from the Iranian regime. 
However, serious misconceptions exist about Iranian women. Dr. Hassani notes that the government still allows women to receive an adequate education, with women outpacing men in many higher education fields. Iranian women are not simply housewives, mothers, and daughters. Despite this, the government irrationally regulates their social norms. 
Recently, the Iranian government has severely restricted Internet access within the nation in an attempt to suppress protests. Despite this, photographs and videos are still circulating on social media. 
Given the complex gender relations, Iran has given women the tools to speak out against the misogynistic prejudices they face. Women across Iran are calling for change, even if they might die for the cause.  
These compromises were not without protest from the theocratic parties. There have been attempts to eliminate the few rights Iranian women have left. 
Why is this acceptable to the international community? 
Unfortunately, foreign intervention within Iranian domestic politics eventually led to the current oppressive Iranian regime. Both the United States and the United Kingdom helped to decrease the Iranian Parliament's influence within Iran in 1953 when the nations ousted a democratically elected Prime Minister. The new Iranian monarchy created the secret police system within Iran, which has continued through the 1979 Iranian Revolution into modern times.  
The United States and other world powers need to adopt new policies that emphasize human rights protection and economic self-sufficiency for all instead of national interests. Furthermore, the international community is in part to blame for the human rights catastrophe in Iran, even if their actions did not have these intended consequences. Now, nations must apply this reasoning to future cases that arise to prevent more attacks on minority groups. Regime change is not an effective American foreign policy initiative. Therefore, the United States must shift its focus towards preserving human rights, promoting economic prosperity, and forming alliances with governments that uphold the will of the people. 
Even though women actively participated in the 1979 Iranian Revolution, the outcomes for gender reform were less than ideal. In fact, women were crucial to the movement's success. Once political groups competed for power, the theocratic and clerical parties emerged dominant. In fact, Margaret Atwood's The Handmaid's Tale is inspired by the 1979 Iranian Revolution. Many of the social restrictions Atwood emphasizes in her novel are like conditions for Iranian women: extreme dress codes, strict policing, and no tolerance for dissent. While Atwood's novel is not an exact historical account, it does provide a point of reference for Americans. 
Potentially the most chilling aspect of Atwood's novel is that it conceptualizes a dystopian future for the United States that parallels current conditions in Iran. Americans do not even realize the parallels that already exist. 
Severe gender discrimination might seem unimaginable in the United States. Dr. Hassani notes, however, that striking similarities exist between the Iranian Guardian Council and the American Supreme Court. Both have the power to veto legislation, which can be used to further oppress the masses. The Guardian Council blocks any reform-based legislation, even if it is highly favored by the Iranian people. The extreme political power combined with an extreme religious agenda contributes to the Guardian Council's oppression. Americans should look to Iran when considering how personal religious convictions influence the Supreme Court. The outcomes are certainly dangerous.  
The circumstances tackle the eternal question regarding the role of government in social issues. Given the spark in protests, Americans need to reconsider the restrictions legislation places upon various identity groups. Discrimination can occur anywhere. Iranian women supported revolutions, but they were neglected in the end. Women can speak out, but it does not mean society will listen.  
To avoid another human rights crisis, everyone must stay informed about the situation and listen when any minority group speaks up for their rights. Everyone has a responsibility to remain open-minded in the fight for unalienable rights.  
Read a news article or watch a video. Iranian women are risking their lives for freedom. If one values the liberties granted by the United States government, one should support Iranian women's struggle for freedom. Standing in solidarity is not a major inconvenience considering the deadly situation. When another video from Iran appears in your feed, stop scrolling and take a moment to support Iranian women. 
Just the Beginning: Historic Discourse "With Mutual Respect"
by Christina Charie '25 on September 29, 2022
Opinion Editor
---
Campus
---
Another normal Wednesday evening in the Providence College Slavin Center became a moment for respectful discourse surrounding abortion that is not often found in current American politics. With multiple Public Safety officers and crowds of students, one could feel the tension in the room. People generally struggle with listening to opposing viewpoints, especially given the prominence of the Dobbs v. Jackson Women's Health Organization Supreme Court decision.
Despite this, Anthony DiSpena '24 is "interested to see the audience's reactions to the discussion and the effect it will have on campus climate after." Ultimately, the discussion is the first part of a long path towards a more accepting campus culture.
The College emphasizes that the new discussion forum is not a debate with a winner and loser. While community members might believe PC should boldly declare the Catholic viewpoint on the issue as "correct," this strategy will not build an understanding and inclusionary community. The College should be proud of its Catholic and Dominican history, but as an institution that serves a variety of students in a country with freedom of religion, it should give students the space to comfortably speak about these issues as well. "With Mutual Respect" advances these goals by giving professors a voice surrounding sensitive topics.
The planning of "With Mutual Respect" demonstrates a necessary commitment to diversity of opinion on the College's part. According to Dr. Morgan, "from the outset the entire group—whose perspectives on the abortion issue ran from strongly pro-life to strongly pro-choice—were committed to this being an event that was an invitation to listen eloquently," as Professor Battisoni said in his opening remarks. Together, the PC community can overcome staunch ideological differences to collaborate in a meaningful way.
While Dr. Morgan emphasized the time commitment involving a meeting "every week for an hour starting in late May," the effort is certainly not without reward. As students, each individual must realize that discourse takes energy and time, but it ultimately builds stronger thinkers, listeners, and community members. Nothing worthwhile is ever easy.
Dr. Morgan, Dr. Coolman, Dr. Brooks, and Dr. Keating set a strong example for students about respectfully disagreeing with colleagues on prominent political issues, which is an invaluable skill in America's increasingly polarized two-party system. Simultaneously, the colleagues also identified common ground that students should highlight when discussing abortion.
Both sides acknowledged the challenging circumstances such as healthcare and economic inequality that impact the abortion issue, which is not always addressed in this type of conversation. Abortion cannot be examined in a vaccuum, separated from other parts of a person's identity.
Society is not perfect. Any legislation aimed at regulating or legalizing abortion might not perform exactly as intended. Even when the mother's life is threatened, doctors in particular regions wait to provide services because they fear the legal consequences, as Dr. Brooks noted. Even when abortion was legal in all fifty states, ninety percent of counties did not have an abortion provider as an indirect consequence of the Hyde Amendment.
On the pro-life side, Dr. Coolman also pointed out that many of the politicians that support abortion restrictions often do not support universal healthcare and welfare programs. She urges students to avoid contemplating complex legal and moral issues through a narrow two-party lense. Both perspectives, however, acknowledge the limits of the legislative system to fully address the issue.
After the event, Dr. Coolman emphasized that the "most important goal of this event was real disagreement that was also respectful and [she] think[s] it succeeded beyond expectation." In the end, as members of a community, disagreement is not always an obstacle.
Dr. Keating echoed similar sentiments, while adding that she has "been good friends with Dr. Morgan for many years and [they] were able to discuss a difficult topic while providing different perspectives." Each student should start to see past ideological differences and view disagreement as an opportunity to grow as a person. Politics should not define relationships with others, but in some cases, it does.
Does the abortion issue itself divide us? Is this another indirect manifestation of the two-party system's shortcomings?
After the event, Dr. Brooks is "hopeful that last Wednesday evening's panel edged [the College] closer to becoming a vibrant community that truly welcomes and strongly supports the flourishing of every human being in all of their diversity, inclusive of race, gender, gender identity, sexuality, ability, and age."
While the discussion shed light on a critical issue within the nation, students must put these ideals into practice. Whether it be in the form of a student-led discussion series, classroom conversations, or advocacy, it is time for students to take an active role in facilitating respectful discourse.
Students have genuine interests in politics, which is imperative in a representative government. Now, one must use the discussion as an example. The time has come to civilly bring opinions into the classroom to build a more inclusive PC for future generations of Friars.
Royally Obsessed: Why People Still Love the British Monarchy
by Christina Charie '25 on September 29, 2022
Opinion Editor
---
Editorials
---
Despite Prince Andrew's sexual assualt allegations and Meghan Markle's claims about racist members of the royal family, the British monarchy remains a cultural obsession. Accusations of this nature have toppled careers in many other prominent industries, but the crown still endures.
The public's interest in the monarchy does not decline over outdated rules, such as pantyhose requirements and rather interesting hats. While many practices scream of a bygone era, people still find themselves reading entire magazines devoted to royal news or watching a royal wedding.
The monarchy is ingrained in British society in a manner that Americans might not understand, even though many still engage in royal sensationalism. After hundreds of years, Britain cannot remember a time without a form of monarchy. The royal family brings about comfort and familiarity, an emotional attachment which often does not successfully preserve monarchies in other sovereignties. While many nations have overthrown their royal regimes, the United Kingdom has found a balance between democracy and tradition. This emotional connection allows the British public to overlook a long history of colonialism that has harmed indigneous populations and facilitated human rights violations.
The crown is ultimately a symbol of cooperation and subjugation. With the rise of the media, however, the royal family has taken on a new role in the realm of pop culture.
From the Netflix award-winning drama The Crown to Queen Elizabeth's cameos in the James Bond movies, the royal family has become a global sensation. While some aspects of the royal obsession involve copying Princess Catherine's dress, others involve demanding openness about how the royal family influences public affairs. In a sense, the media industry has forced the monarchy to open Buckingham Palace's gates to the world, even at times when the Windsors would prefer to retreat. The royals have become more relatable to the general public in recent years, which is central to the institution's survival in the modern era. Queen Elizabeth's cameo brings about a humorous and personal side to her image that is not conveyed during state functions.
People idolize the British royals. While many see a part of themselves in one of the figureheads, the royals also represent a high society lifestyle that many still want for themselves. With custom designer outfits and a multitude of palaces, the public does not see the significant downside that comes with royal life.
The media certainly has a darker influence. The press has often pushed the limits of its freedom when it comes to the royals. The global intrigue with Princess Diana arguably caused her tragic death 25 years ago. The public's need to snoop on highly personal matters within royal affairs goes beyond simple democratic principles. While The Crown is fascinating for viewers, inaccurate information can ruin interpersonal relationships within the royal family.
The royals may bring about their own demise in public opinion if they rely on tradition to save them. The public, however, may topple the constitutional monarchy through its obsession with the royals' private lives. The crown does not make the Windsors invincible to the power of the press. At the moment, public opinion still favors royal sensationalism.
Dissenting Women Ridiculed
by Christina Charie '25 on September 15, 2022
Opinion Editor
---
Opinion
---
Jennifer Lawrence and congresswoman Liz Cheney have more in common than one might assume upon first examination. Both have become the victims of "comedic" posts appearing on Donald Trump Jr.'s Instagram page.
As the self-proclaimed "Meme Wars General," Trump utilizes his social media to attack opponents using memes instead of promoting his own political opinions.
After Lawrence's recent interview with Vogue, Trump criticized the actress' discussions with her therapist regarding nightmares about Tucker Carlson in a meme. The graphic he posted also attacked Lawrence regarding rumors alleging she had an intimate relationship with Harvey Weinstein, ones that the actress has repeatedly denied.
Even though Lawrence criticizes Trump's political views, it does not give him the right to bully her. By making mental health and sexual assault part of the joke, Trump demeans the experience of those who struggle with either issue. For many, it is not a joke. Trump's ability to satirize these problems only further reflects his privilege.
While Lawrence has only recently become one of Trump's comedic targets, Representative Cheney has long been the subject of Trump's memes.
Frequently, Trump posts pictures with Miss Piggy's face super-imposed onto photos of Cheney in attempts to demonstrate the congresswoman's physical resemblance to the famous Muppet character. With two Instagram posts in August 2022 alone, the attacks are constant.
Trump is welcome to debate Cheney's views on key issues such as the January 6, 2021 attack on the Capitol. He is not welcome to blatantly ridicule her appearance through Miss Piggy memes.
Americans should not ignore Trump's behavior on social media. By failing to criticize his attacks on Lawrence and Cheney, society condones his actions. With his public position, Trump sets a poor example for addressing those with differing views. Unfortunately, this phenomenon is occurring within other right-wing groups.
Shannon Watts, the founder of Moms Demand Action, received death threats after the NRA encouraged followers to express their frustration with her online back in 2019. Some gun rights supporters even told Watts, "Maybe you should receive death threats."
What has our country become? Freedom of speech protects hate speech, but not gun control advocates. One should find this quite alarming. Death threats do not qualify as part of a policy debate.
More recently, Watts addressed a series of vulgar and threatening direct messages she shared on Instagram during the summer. After standing up for herself online, Instagram sanctioned Watts's account for a period of time for sharing direct messages because they were intended for her eyes only. Instagram should ban offenders before blaming the victim. Until social media platforms take action against cyberbullying, activists will continue to face unwarranted insults.
Instead of informed debate, Americans have reverted to baseless insults. With readily available accurate information at our fingertips, one should take time to learn about how political policy impacts daily life instead of sharing hurtful attacks on someone's political views or physical appearance. Without a populace truly engaged in politics, the attacks on activists will persist. While political discourse is the cornerstone of democracy, blatant insults and threats are unacceptable.
The Supreme Court is Not "Pro-Life"
by Christina Charie '25 on September 9, 2022
Opinion Editor
---
Opinion
---
As gunshots rip communities apart, one can hardly describe the Supreme Court as "pro-life." Despite the decision to overturn Roe v. Wade, on June 23, 2022 the nation's highest court struck down a piece of gun control legislation in New York State Rifle and Pistol Association Inc. versus Bruen that requires a substantial reason to obtain a concealed carry permit in New York State. This principle does not seem unreasonable when one must pass an exam to get a driver's permit or wait until age twenty-one to have a glass of wine with dinner. An enhanced background check for young adults before purchasing a gun is more than generous compared with other restrictions in the nation. The United States of America has higher rates of gun violence than similar foreign counterparts. Yet, the Supreme Court did not see the New York law as promoting the pro-life cause.
The Supreme Court not only found this restriction unconstitutional under the Second Amendment. The majority opinion used the case to affirm the right to carry a gun outside of the home for self-defense purposes at all times, with incredibly vague exceptions. While the principle certainly had practical value in the early days of America, the Founding Fathers had no knowledge of assault-style weapons when crafting the Second Amendment. The Constitution must remain a living document rather than a stagnant doctrine. Contextualization is imperative when attempting to apply writings from the past to create modern policies. Stifling progress that improves the quality of life within the United States is not pro-life.
The dangerous implications within the majority opinion will lead to many individuals carrying guns outside of the home for self-defense, which is loosely defined at best. Violence will only become more frequent with this extraneous component of the majority opinion.
If one believes the Supreme Court justices sincerely care about one's life, the court would have chosen the right to live without fear over the right to carry a gun. If life begins in the womb, as certain justices believe, then the Supreme Court needs to preserve the right to attend school without threats of school shootings looming over students and families. The justices cannot have one without the other.
While several of the justices would attribute the decision to their religiously motivated moral obligation, politics and personal faith should remain separate within a nation that supports freedom of religion. One individual's religious views cannot serve as justification for legal decisions that impact an entire nation. Since each American identifies with his or her own religious doctrines, the justices must recognize that the fallout of these decisions imposes their religion upon others. Failing to consider this will only intensify hatred and division between people.
The Supreme Court is leading the United States of America down a dangerous path fraught with inequality. History shows humanity has been at this crossroads numerous times. American democracy is still healing after the pandemic and previous election cycles deepened divides between political parties. The judicial branch of government is supposed to rise above partisan politics found in the other branches of government. The Supreme Court is intended to be a voice of clarity during tumultuous times. Instead, the nation's highest court crafts opinions to suit partisan political agendas rather than examining the true purpose of the Constitution after nearly three hundred years.
The public must bear in mind that complacent elected officials handed justices their robes. If individuals truly want to see progress and compromise, then filling out a ballot is imperative.
Speaking While Others are Shouting
by jmccoy3 on May 6, 2022
---
Campus
---
Speaking While Others are Shouting
The Need for Student Input in On-Campus Speaker Selection
Christina Charie '25
Providence College professors consistently encourage students to attend the Humanities Forum for academic enrichment and extra credit. On the College's website, it says "all are welcome" to the Humanities Forum. Therefore, topics discussed should reflect views of the entire campus community as a whole. To accomplish this goal, a student committee should form to assist the Humanities Forum in the speaker selection process. The background of professionals presenting on campus in recent months further demonstrates the need for student input. 
Speakers invited by the Humanities Forum have publicly expressed their misogynic views online, even though the College is currently promoting its Fifty Years of Women campaign. 
Recently, students received several emails about Peter Leithart's talk entitled "The Dawn of the Biosecurity State." Leithart's topic is a genuinely engaging and important discussion as technology usage continues to rise. The ethical debate is fascinating, but Leithart's other personal convictions might decrease student willingness to attend. After a quick search to discover more about his research and interests, an article and tweet by Leithart stated that "[he agrees] with Christians who today advocate for patriarchy." With fifty-five percent of the student body identifying as female, Leithart's statements have the power to create significant unease amongst the College population. A student committee can address the emotional impact statements of this nature has on the overall morale on campus. 
Leithart also describes the rejection of "heteronormativity and sexual difference" as "a war against God" on his Twitter account. There are many academics who research biosecurity across the nation. The Humanities Program did not have to select a figure who demeans members of the student body who identify with the LGBTQ+ community. With students struggling to find their place in the Friar Family, inviting such rhetoric to campus leaves certain students excluded. Students should not fear attending supplementary lectures because of bias and discrimination.