Men's and Women's Basketball Transfer Portal Update
by npatano on May 5, 2022
---
Friar Sports
---
Friars Look to Rebuild for Next Season
Justin Bishop '24
Sports Staff
Over the past few weeks, the Providence College men's basketball team has seen some talented players depart, while reeling in some high caliber talent through the NCAA college basketball transfer portal. Justin Minaya '22GS has decided not to use his sixth and final year of eligibility, he did have one remaining year due to the NCAA establishing that all student athletes have an additional year of eligibility due to COVID-19. Instead, Minaya, like Noah Horchler '22GS, Al Durham '22GS, and A.J. Reeves '22, has decided to declare for the NBA Draft,hoping to earn a spot on a professional roster.
Coming to the Dunkin' Donuts Center next year will be University of South Carolina freshman transfer Devin Carter '25 who had a standout freshman year and was ranked as the No. 26 best transfer. Carter set the record at USC for three-point-shots made in a season by a freshman, so he will be a prime candidate to fill Reeves' spot as the team's go-to three-point shooter.
Next is University of Connecticut freshman transfer Corey Floyd Jr. '26, who will still have four years left to play even after next season. Floyd was highly sought after coming out of high school but did not see the court at UConn because their coaching staff apparently thought losing was better.
After Floyd came University of Louisville graduate student transfer Noah Locke, who played three seasons at the University of Florida before transferring to Louisville and who will finish here in Friartown.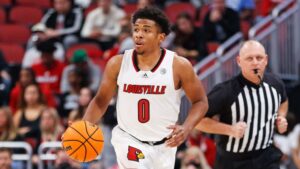 Next, Lasalle University graduate transfer Clifton Moore, who played two years at Indiana University before transferring to Lasalle, will play his final year here in Providence.
Lastly, the biggest transfer in recent years for the Friars, University of Kentucky sophomore transfer, Bryce Hopkins who played little time at Kentucky but will fit in perfectly as a three or four in the rotation. Hopkins was named 2021 Illinois Player of the Year in his last year in high school and also accumulated various summer tournament accolades.
This offseason, Friar fans could not have asked for a better transfer season from the National Coach of the Year Ed Cooley. Watching these players fit into the system with returning members Ed Croswell '23 and Jared Bynum '23 is going to be exciting.
On the women's basketball team's side, the team said goodbye to the team's second leading scorer this past season in Alyssa Geary '22, who transferred to Indiana University for her graduate year. Geary, who played all four years at Providence, was a consistent piece of the offense along with her defense as she finished her career with 128 blocks. They would also see Mary Baskerville '22 leave the team after four years to head to Quinnipiac University. Baskerville averaged 10.2 points per game in her four years as a Friar. An addition to the team next year is graduate transfer from the University of Iowa, Logan Cook. The 6'1 forward played all  four years at Iowa where the team was upset by Creighton University in the second round of the tournament. The team will look to bounce back from last season where they were bounced in the first round of the Big East tournament by Georgetown University.