Student Congress Update
by Kaitlyn Hladik '25 on April 28, 2023
News Staff
---
News
---
On March 28, Student Congress was happy to hear from Dean Tiffany Gaffney, the Assistant Vice President of Student Affairs and Associate Dean of Students. She shared her passion for Providence College's mission and described it as an imperfect place with a lot of potential and a motivated community that is driven to make the school better. Dean Gaffney, who is also the director of Community Standards and supervisor of the Title IX coordinator, primarily works with students in distress by supporting families and students. Gaffney is also a co-chair for the Campus Assessment, Response, and Evaluation Team, the College's behavioral intervention team. Their responsibilities include behavioral intervention, case management, and violence risk assessment.
Behavioral intervention is a place where students, faculty, or staff worried about another member of the Providence community can report specific behaviors or safety concerns. The CARE Team contacts students to connect them with the appropriate support. Case management provides ongoing needs and constant support during long-term, difficult situations. Violence risk assessments are an essential part of the CARE Team, as they are tasked with the responsibility to recognize and respond prior to providing treatment resources. The team also participates in intensive training over the summer on how to de-escalate violence and recognize potential signs of violence.
The CARE Team represents people from all areas of the campus community. Offices include the Dean of Students, the Personal Counseling Center, the Student Success Center, Residence Life, Community Standards, Chaplain, Sports Medicine, Health Center, and Public Safety.
To contact the CARE Team, students can look them up or scan the QR Code on the list of resources behind bathroom stalls under the "Need Help but Don't Know Where to Go" or "Mental Health" headings. Congress is grateful to have had Dean Gaffney come speak with us.
Dr. Illuzzi, the Development of Western Civilization program director and history professor, attended the following week. She shared the results of a survey which asked students their thoughts about the DWC program. Some of the positive feedback was that it created well rounded students, had lots of breadth, and improved critical thinking (50.31 percent improved), reading (58.49 percent improved) and writing (66.67 percent improved). The areas for improvement noted by the survey results include the heavy workload, a lack of consistency between sections, lack of diverse content, lack of purpose, and overwhelming lectures.
She discussed the plans for the program when moving forward. There will be a Trivium which focuses on grammar, logic, rhetoric, and conversations. She hinted at potential student focus groups coming this fall. She said that student support and activism for the DWC program are always encouraged and allows for creative ways to make the program better.
Dr. Illuzi then graciously responded to questions from the members of Student Congress. One member asked: Is there a plan to review the core curriculum and then restructure the program to fulfill the core proficiencies within the DWC program? Dr. Illuzi responded that the conversation about incorporating writing proficiencies within Civ has occurred, but writing professors are against this, particularly because Civ is not a writing course and professors that teach it are not focusing on helping students write well. If we restructured the curriculum to teach about grammar and logic, it would change the type of assignments students do in the Civ program.
Another member asked: Is the goal with the Trivium to have it occur during all semesters of Civ? The answer was yes, and there should be development along the college process, specifically targeted toward students' developing capabilities.
The next question asked was whether a name change is still being considered. Dr. Illuzi's personal dream is for a name change. There is a lot of resistance from the administration that believe an important tradition lies within the name. However, she suggested that changing the name means embracing tradition in a different way.
A member then asked: How can students help express support for the diversification of authors within the Civ program? Dr. Illuzzi suggested petitions and making your voices heard so that the professors are aware that the students want this change and feel strongly about it.
The next member asked: How would the wants of students and the wants of tenured faculty who get to structure the program work together to create a curriculum? She stressed that academic freedom and teaching material that engages students are not mutually exclusive.. It is difficult to change Civ, which is why it has not been altered since 2010. Another member asked: What is the process for a new colloquium to be developed? Any faculty from any department can propose a colloquium.
One member asked: What consistencies exist across sections? The program objectives are what keep the course consistent, but that is all. They are broad and vague: special attention to Catholicism, discussion of underrepresented groups, use of the library once, writing a certain number of words, and covering a certain amount of history, philosophy, theology, and English.
Over the last month, a significant amount of legislation has been passed, and a new Student Congress executive board has been elected. Student Congress recently rewrote the preamble to their constitution, made recommendations regarding safety concerns, and assessed club/organization budgets. Student Congress also recently hosted the Spring into Friartown event.
The new executive board consists of executive president Bryan McGinn, vice president Julia Rossi, treasurer Caitlin Ariel, and secretary Justice A'vant. Applications for the 74th Student Congress are open and elections are underway.
PC Wants the Airwaves: WDOM Continues to Grow in Popularity
by Jack Downey '23 on March 4, 2023
A&E Co-Editor
---
Arts & Entertainment
---
Most people you talk to will probably tell you that radio is a dead medium. However, Providence College students would tell you otherwise. The school's radio station, WDOM 91.3 FM, has been steadily gaining a reputation as a club to be a part of.
This year, the club hit a milestone: every single time slot for shows was filled. Seven days a week from 6:00 AM to 2:00 AM, the airwaves will be buzzing with different PC student shows. Whether they will be dealing with music, sports, comedy, or just about anything, they'll be heard on 91.3 FM.
Many of the shows are musically oriented. Fan favorites like The Coolest Beans, Rock and Roll for the Soul, and Deep Tracks bring listeners a wide array of rock and rock-related music. Other shows have themes that the hosts weave into the music that they play. For example, Tea Time (Taylor's Version) is, as the name suggests, a Taylor Swift-themed show. Another example is the Time Machine, which plays music from only a certain year while also providing the listeners with historical facts about that time period. Some shows also tend to go for music that isn't heard as often, such as the Great American Songbook, which focuses on jazz standards.
There are a plethora of talk shows to be heard on WDOM as well. Some of these, such as Go Long, Offsides, and Santis United discuss sports (football, hockey, and soccer, respectively). Other shows such as The Fellas are a bit more free form, where each episode features a different topic. One of the newer shows, Hepatitis Z, is a comedy show. The constantly expanding number of topics that are discussed on the air is a big reason for why the station is gaining more and more fans.
The overall atmosphere of the club is another reason. The ability to spend two hours every week either listening to the music that you want to hear or talking about something that you're passionate about is fun and therapeutic. Even during the most stressful of weeks, hosting a show is something that most people can look forward to. At the end of the day, even if people aren't listening, it's still an enjoyable experience.
Finally, the station's events have also increased awareness of and interest in the club. The two concerts that WDOM puts on each year, Tune In With WDOM in the fall and Stuartstock in the spring, are some of the biggest events on campus, highlighting not only student performers but also the work that the radio does. In recent years, more events have been added to the schedule, such as the silent disco that they co-hosted with BOP last year. The event was an unexpected hit that left attendees demanding a sequel, which is bound to happen sometime later this semester. There are also multiple karaoke nights, and there is even a Battle of the Bands in the works with BOP, so stay tuned! Also, be sure to check out WDOM and hear for yourself what the airwaves have to offer.
Reaching New Peaks at Mount Major: PC Outdoor Adventure Club Goes on Second Annual Hike
by The Cowl Editor on October 24, 2019
---
Campus
---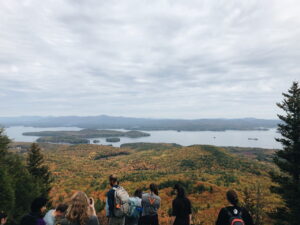 by Peter Mazzella '23
News Staff
This past weekend, a group of around 30 students ventured out of their comfort zones on a hiking trip to New Hampshire. The Outdoor Adventure Club traveled over two and a half hours to get to their destination Mount Major. 
Standing over 1,785 feet tall, Mount Major is home to many scenic overlooks, including one of Lake Winnipesaukee. This weekend's trip was the club's second annual fall hike. They will continue to plan more in the coming months.
The club made the most of their time by leaving at 7 a.m., hiking for three hours, then returning back to campus at 4 p.m. 
With a combination of perfect weather and great views, the trip could not have gone any better. The Outdoor Adventure Club does their best to plan around weather conditions, and give members the best scenery when the leaves are turning different colors.
With increased participation from previous years, there were certainly more responsibilities for people on the executive board. 
Club leaders made a point of enacting a buddy system that held people accountable for the safety and location of others to make sure everyone was with the group.
Outdoor Adventure Club  Vice President Lindsey Cartier '21 spoke on the different types of people that join the club on their fall hike, saying, "I would say members are a mix of experienced hikers and beginners. Most people seem to go on the trip for a nice escape off campus to enjoy the beautiful fall in New England. Those with more experience definitely help pave paths for beginners when we reach more challenging parts of the trail."
The incentive to go on a day trip to ease the mind and have some fun is one of the main reasons for the increase in participation, and is what made the fall hike even more of a success than last year.
Not limiting the experience to just experienced hikers eliminates barriers that would otherwise deter aspiring members. This mixture of experienced and inexperienced hikers is an effective way to develop new relationships as people can help others as they fall behind. 
With a focus on meeting new people, the Outdoor Adventure Club is a great fit for people looking for something different and exciting to do on a weekend.
With continuously growing numbers, the club brings an array of personalities from different walks of life. The easygoing culture also helps students to form bonds with each other. 
Cartier says, "My favorite part of the trip was getting to meet some of the underclassmen who just joined the club this year! It is always exciting to be able to plan trips that will hopefully become a part of their annual PC memories." 
The experience of meeting new people all while indulging in incredible views is something that is hard to turn down, and is one of the reasons why students stepped out of their comfort zones and went on this trip.
Taking a day to get away from the busy life of a college student can be extremely beneficial, due to the fact that hiking is one of the healthiest things one can do for the mind and body, and brings a sense of freedom once the peak is reached. The Outdoor Adventure Club is open to new members, which is why day trips on a weekend are so fun and bring with it new relationships.