Tag:
collegiate basketball hall of fame
Former Friar Named to Collegiate Basketball Hall of Fame
by The Cowl Editor on April 11, 2019
---
Friar Sports
---
Ernie D Becomes the Third Friar Inducted Into Hall of Fame
By Jack Belanger '21
Sports Co-Editor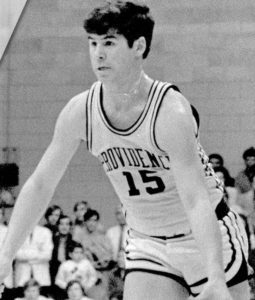 Last week, the National Collegiate Basketball Hall of Fame announced its Class of 2019 who will be inducted into the elite group on Nov. 24 in Kansas City, Missouri. Among the inductees this year will be former Providence College Men's Basketball guard Ernie DiGregorio '73. DiGregorio was a key part of the 1972-73 Final Four team that reached the national semifinals for the first time in the college's history. He led the team with 24.5 points per game and 8.6 assists per game.
"Ernie D" was born and raised just up the street in North Providence, where he won a high school state basketball championship in 1968. After high school, he came to his hometown Friars and started three seasons at the College from 1970-1973.
Known for his spectacular ball handling and passing abilities, DiGregorio holds multiple school records from his playing career including, field goals made in a season with 348, assists in a season with 267, and assists per game for a career with 7.7. He also averaged 20.5 points per game for his career, never averaging lower than 17.7 in a season.
During the 1972-73 season, DiGregorio, along with teammate Marvin Barnes '74, led the Friars to a then-program record 27 wins and brought the team to the national semifinals where they lost to the University of Memphis 85-98. After the season, DiGregorio was voted a First-Team All-American.
After his career with PC, DiGregorio was drafted by the Buffalo Braves as the third overall pick in the 1973 NBA Draft. His career lasted five seasons, four with the Braves, and one season split between the Los Angeles Lakers and the Boston Celtics.
He had an incredible rookie season where he led the league in free throw percentage at 90.2 percent and assists per game with 8.2 stats that led him to be named the 1973-74 NBA Rookie of the Year. He also set a record for most assists in a game by a rookie with 25, a statistic that has been matched by only one player.
DiGregorio is the third Friar of all time to be elected into the Collegiate Basketball Hall of Fame. Former player Lenny Wilkens '60 and DiGregorio's head coach, Dave Gavitt, are the other former Friars in the Hall of Fame.