Cross Country Team Takes On NCAA Championship
by The Cowl Editor on December 9, 2021
---
Friar Sports
---
By Liam Tormey '22
Sports Co-Editor
The Providence College Men's and Women's Cross Country team have completed their season, finishing off at the NCAA Championship in Tallahassee, FL on Saturday, Nov. 20. 
It was a journey to get to this spot, and it took a whole team effort. A first look begins at the Big East Championships which took place in Carmel, IN. The Friar men finished fourth at the Championship with 85 points and the Friar women placed fifth with 82 points.
For the men, Marcelo Rocha '22GS, from Peabody, MA, was first for the Friar men in the 10K, finishing fourth overall with a time of 24:22.7, beating his time and place from last year at the Big East Championship which was 23:33.4 and an eighth-place spot. Liam Back '24 also made the top 10, finishing eighth with a time of 24:32.2.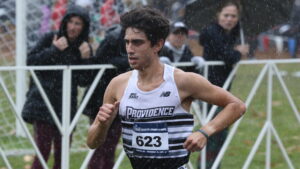 On the flip side, Maria Coffin '22GS led the Friar women in the 6K, finishing in an eighth-place spot in a time of 21:08.1, but Laura Mooney '24 was as close as you can get behind her, placing ninth with a time of 21:08.6.
Coffin, a fifth-year athlete for PC, said she came back with one overarching goal: "to help my team make nationals."
The Friars have been blessed with head coach Ray Treacy at the helm. He is one of the most successful coaches in the nation who has coached 65 All-Americans, seven NCAA individual champions, who have captured 15 NCAA titles overall, 45 Big East individual champions, who have captured 117 Big East titles, and 11 Olympians. His results speak for themselves.
Not only do those individual champions speak volumes, but his women's teams have won two NCAA Cross Country Championships.
For Coffin, she noted it was "disappointing" not to qualify for the NCAAs since her freshman year in 2017. She qualified for the NCAAs as an individual in 2020, but unfortunately her team just missed out. 
This year felt different, Coffin mentioned. "After our showing at the Wisconsin Nuttycombe Invitational, a national caliber meet, I knew we could do something special. We came back stronger this year and I knew we had the potential to qualify."
The Friars would finish eighth at the meet, placing higher than many of the nationally ranked teams. Their top three runners had a very tight spread placing 22nd, 24th, and 27th which was a very big achievement for a race of that magnitude with so many great runners.
"To see that our team, a younger team with less depth, could perform at such a high level against these bigger, older teams, helped our confidence going into the championship," Coffin explained.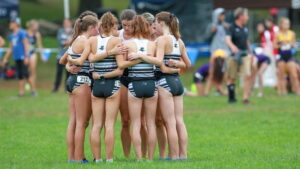 This would be the Friar women's 29th appearance overall at the NCAA Championship, but it marked their first since the 2017 season.
Maria Coffin said this appearance "is huge for the team going forward. The team is young and will only get better. Now that they have this experience, they know how to handle these types of races and make it back to NCAAs in the future."
The women finished 26th overall at Apalachee Regional Park, and Mooney placed 60th overall in the 6K course in a time of 20:13.1 and scored in the 49th spot. Coffin finished 89th in the same event with a time of 20:26.1, scoring in the 71st spot.
Head coach Ray Treacy said, "I am very happy with the way Laura and Maria ran," but he also added to what Coffin said on how helpful going to the championship was to other members of the squad: "For the younger members of the team, it was a great experience for them that they will learn from and bring to the Championship next year."
Looking at where the Friar women ranked among Big East competitors, they were second, ahead of Villanova University and Butler University, but fell short of Georgetown University.
Along with Mooney and Coffin, Shannon Flockhart '24 (128th and 20:51.6), Lilly Tuck '23 (167 and 21:12.9), and Kimberly May '25 (179 and 21:20.5) all raced for the Friars. It was a great experience for all to say the least.
On the men's side, Rocha was the only one to run. He raced in the men's 10K event and finished 61st in a time of 29:45.8.
Treacy commented, "It was a very good run for Marcelo today in the conditions. Marcelo held his position throughout the race. He will be looking to come back here next year and earn All-American honors."
Now that the cross country season has ended, it does not mean time off for both the men and women. They will be transitioning now into the indoor track season, and every runner will take on their own specialty events, unlike the 6K and 10K in cross country. 
Coffin says some of the younger girls on the team are "switching gears to focus on the shorter distance events like the 1K and the mile," while others, including herself, "are going to focus on the distance events such as the 3K and 5K."
After finishing the cross country season on such a strong note for the first time in several years, Coffin hopes to "carry the momentum from the cross season into the indoor season and then outdoor track to hopefully perform well in the Big East and have some national qualifiers." 
As Coffin mentioned before, she understands the high standards that Treacy sets for the program, and she says, "While making it was a huge step forward, we keep ourselves humble with the reminder that the Friars have taken home podium medals and National Championships in prior years, and that is something to strive for and completely within our reach." 
The search for those championships will begin with the indoor track campaign beginning in January and culminates with the championships in March. The Friars are hoping to make it to the NCAAs just like they did for the cross country season. 
Men's and Women's Cross Country
by The Cowl Editor on September 23, 2021
---
Friar Sports
---
A Big Season Ahead
Leo Hainline '22
Sports Co-Editor
The Providence College Men's and Women's Cross Country teams are off to a flying start, both winning the Friar Invitational that took place just outside state lines in Attleboro, MA at Mark Coogan Course. The Friar women dominated their race, scoring 18 points compared to competitors University of New Hampshire's 54 points and Stony Brook University's 67 points.
The women's success this past weekend was no surprise given that preseason polls ranked the Friars 26th in the nation and second in the Northeast region. Their roster is very international, with four women hailing from Ireland, two from New Zealand, one each from England and Canada, and the seven others being local products from the Northeast.
In addition to having a global team-makeup, the Friars are full of key members who have multiple years of eligibility remaining. Apart from Maria Coffin '21GS, who was the only Friar to qualify for last year's Women's Cross Country NCAA Tournament, the team is primarily led by juniors and a few underclassmen, which was highlighted in the Friars' performance on Sept. 10. PC's Laura Mooney '24 (Cappincur, Ireland), Lilly Tuck '23 (Sunderland, Canada), and Orla O'Connor '23 (Waterford, Ireland) took first, second, and third in the Friar's Invitational. Maria Coffin (Annapolis, MD) was not close behind, finishing fifth. Other Friars Alex O'Neill '23 (Ennis, Ireland), Kimberley May '25 (Auckland, New Zealand), and Holly Brennan '25 (Bettystown, Ireland) also finished in the top 10.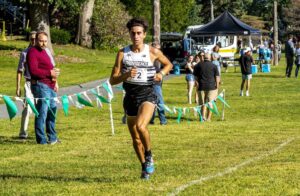 Coffin will look to lead this current squad as she is the only Friar to have qualified for the NCAA tournament in cross country this past year. Her qualification followed her fourth-place finish in the 2020/21 Big East Tournament race, which was the best out of any Friar. At the NCAA tournament, she was able to finish 99th out of 253 runners.
One of the main goals of the current squad is to make the NCAA tournament in Florida this November. Mooney, who topped the field in Attleboro two weeks ago, conveyed that "one of the key things for the team to achieve their goal is to work together." As a sophomore, she is particularly excited about the season as she has yet to experience one under normal conditions given that COVID-19 prevented the team from having a normal season during her first year in Friartown.
The men's cross country team was similarly successful in Attleboro, scoring 29 points to defeat Stony Brook (34 points), Boston College (77 points), and New Hampshire (102 points). The Friars, who are ranked fifth in the Northeast region, looked sharp with four runners listed in the top 10. Marcelo Rocha '21GS, the Friars' star runner from last season who had a fantastic spring track season as well, finished first in the men's side of the Friar Invitational. He dominated the entire race and finished over 30 seconds faster than second place, earning him Big East Athlete of the Week. PC also had three other runners finishing in the top 10, with newcomer David McGlynn 'GS taking third, Liam Back '24 finishing sixth, and Ryan Gallagher '21GS finishing eighth.
The Friars return many of their key members from last year's roster, with their top seven runners from last year's Big East Tournament all returning. In addition, many of these runners on coach Ray Tracey's squad are seasoned veterans. Rocha, who finished eighth in the tournament, Gallagher, who finished 21st, and David Rosas '21GS, who finished 32nd, were all seniors that season who returned to Friartown as graduate students. Matthew Lepine '22 is now a senior, as is Sean Meehan '22. The two finished 47th and 51st respectively. Shane Coffey '24 and Back were the two young guns on the roster who made valuable contributions. The foreigners, with Coffey from Ireland and Back from New Zealand, had a nice introduction to the states last year in regards to their performances and aim to grow into a bigger role their sophomore year.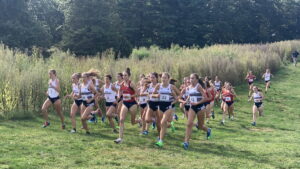 This Friday, both the men's and women's cross country teams will face tougher opposition in the Battle of Beantown, hosted by Boston College. The top five teams in the Northeast on the women's side will all be in attendance, including the Friars, University of Connecticut, Boston College, Syracuse University, and Harvard University, as well as over 20 other schools. As for the men, every top-five team in the Northeast is competing except for the top-ranked Iona College. In both competitions, the Friars will be the sole BIG EAST representative. This will be a prime opportunity to send a message from afar that PC is a force to be reckoned with on both the men's and women's sides. Last year, the men finished fifth in the Big East Tournament, while the women finished third. All signs suggest that both have notably improved since the previous season and should not be overlooked as title contenders.
Wheeler and Coffin Set Pace for Friars Track and Field
by Jack Belanger on April 15, 2021
---
Athlete of the Week
---
Runners Excel in Championship Races
By Joseph Quirk '23 and Cam Smith '21
Sports Staff and Sports Co-Editor
Last month, two Providence College athletes took their talents to the NCAA championships. Abbey Wheeler '20GS finished fifth in the 5,000-meter at the NCAA Indoor Track and Field Championships. Maria Coffin '21 placed 99th out of 253 runners at the NCAA Cross Country Championships. The Cowl sat down with each runner to reflect on their NCAA experiences, the challenges of racing in the COVID-19 pandemic, and their goals for the future.
Abbey Wheeler '20GS:
During her illustrious career at PC, Abbey Wheeler '20GS has been one of the most consistently dominant athletes on campus. Wheeler, recently named the United States Track and Field and Cross Country Coaches Association 2021 Women's Track Athlete of the Year, recently finished fifth at the NCAA Indoor Track and Field Championships for the 5,000-meter race.
The fifth place finish earned Wheeler an All-American nod, her third in her PC career. The championships took place in Fayetteville, AR, and Wheeler described the experience as both "wonderful" and "different" from other meets she had been to  because of COVID-19 protocols. 
"It's always so exciting to be at a meet where you're truly among the best of the best," Wheeler said. "That's always a bit nerve-racking, but also exciting where you get to test yourself in a field where there are no soft spots."
One would imagine that such a race would stir up a slew of emotions, but Wheeler kept herself composed, despite how difficult she said it could be. That would be needed, as she described the race itself as an "odd run" where the pack paced weirdly and stayed together for a lot of the race.
"It was really difficult to remain comfortable and composed with all those weird pacing things going on," Wheeler said. She added that "with everyone getting a little aggressive with pacing, everyone was pushing and in your head you're just trying to stay in it until the race actually gets going." Despite it being easy to lose focus and composure, Wheeler was able to hang on for a strong finish, passing multiple runners in the final lap when the pack finally began to split.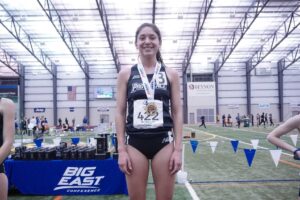 This was Wheeler's first appearance at the indoor track championships. She had previously competed in the outdoor championships and had qualified for the indoor race last year; however, it was unfortunately canceled. She said that the finish felt like a "long time coming," especially because she felt ready to make this breakthrough at last year's event before its cancellation.
When comparing it to previous 5,000-meter races she had run, she called it her "best performance at the national level. I definitely leveled up a bit there," Wheeler proudly said. "My last one I was second team All-American, so this was the first time I was first team All-American, so that was super exciting." She also pointed to a major difference between the indoor and outdoor versions of the 5,000-meter, citing that the indoor race only features 16 runners while the outdoor race features 24.
Following nationals, Wheeler proceeded to again finish fifth overall at the Raleigh Relays, one of the first races of the spring track season. Her finishing time of 15:46.87, as well as previous years' performances, should be enough to qualify her for the NCAA Outdoor Track and Field First Round in Jacksonville, FL on May 27-29.
When asked about the meet, the humble Wheeler mentioned her excitement about her time and possible qualification, before expressing a lot of happiness for her teammates who she also thinks could qualify following their performances. "It was nice to get a bunch of my other teammates to get times that can be competitive to qualify for that as well," stated Wheeler. "That was pretty much the goal of the meet."
Wheeler made sure to give credit to her coaches and teammates for keeping each other "grounded" throughout the season, especially with the challenges the COVID-19 pandemic held over both the school and the track season. This was especially important with a short season and a hard winter, making it difficult to stay ready and having less chances to qualify.
When reflecting back on her racing career here at PC, Wheeler noted something interesting. Aside from all the other accomplishments she has, one of her proudest moments actually came from overcoming adversity at a regional meet her junior season. "I was in the 5k and I wasn't in particularly fantastic shape, but I was racing to get a spot in outdoor nationals," she started. "And someone stepped on my shoe early on in the race and so I was running with my shoe kinda off. In the last mile I just kicked it off and I was running with only one shoe."
She said in those kinds of moments it is easy to give up on yourself, but vocal support from her teammates kept her focused and pushed her forward. She ended the race with a qualifying time, and while she said it was not her best race, overcoming that adversity made her really feel that she belonged competing at this level.
As for her goals for the remainder of the season, Wheeler is "just trying to run really fast, make the championship season, and make outdoor nationals. And if I can run fast there, that would be great."
Maria Coffin '21:
In October 2020, Maria Coffin '21 finishing in the top-100 at the NCAA Championships in March 2021 would have seemed improbable. After a summer of hard training, Coffin suffered a femoral stress reaction in October, which effectively shut down her training for the foreseeable future. When she was finally able to ramp back up her training in January 2021, the cross country schedule remained murky as COVID-19 regulations stayed in flux.
Nevertheless, Coffin persevered. Coming into her trip to nationals, she had just raced once, in the Big East Championships. Her performance there booked her a ticket to Stillwater, OK to compete with the best cross country runners in the nation.
The massive field of 253 runners, and a distinctly challenging course, made the event a grueling one for all parties involved. "It was a very difficult course," said Coffin. "Super windy, super hilly. I'd definitely say it's the hardest one I've run in my career."
Coffin's plan going into the race was to stay middle of the pack for the first half of the event, explaining that "in a course like that you can't really go out too quick, so I was trying to be conservative, stay in the middle, and then do most of my damage in the last half of the race."
Coffin did just that, passing 28 runners in the final 3,000 meters of the race. "When I finished, I really had no idea where I was," explained Coffin. "I was hoping I had gotten in the top 100 and luckily I just made that."
This was not Coffin's first trip to the biggest stage in the sport. In the 2017-2018 cross country season, her entire team qualified for the event, allowing her to participate in nationals in just her freshman year. That time around, Coffin placed 245th.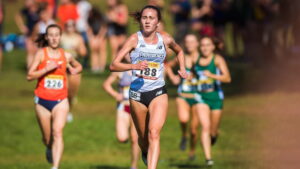 "That was definitely a tough race for me as a freshman," said Coffin. "I definitely did not do nearly as well [as this time]." Indeed, three years later, Coffin shaved off over a minute on her time, vaulting her up 146 spots. "It was cool to come back and really see that improvement," she added.
 As much as Coffin was thrilled to be able to finish top-100 at nationals, she also lamented the fact that her team could not be there with her. It was always going to be an uphill battle for the team, as the Big East Championship was the only time they could all compete together as a squad. "We have such a young team, it was pretty difficult for the freshmen without much race experience to jump right into the Big East Conference meet," said Coffin. "They still did really well there considering that was the first cross country race of their collegiate careers…I think that will help us next year having a few races under our belt."
 Coffin, a senior who will be returning as a graduate student next year, will get the chance to again lead her team in a season that will hopefully resemble a normal one. She has high hopes for a squad that she says will return more experienced and more confident. Coffin's goals: a Big East championship, an NCAA regional victory, and a whole team appearance at nationals.
For Coffin herself, "[I want] to improve upon my place and try to get around that All-American top-40 status at nationals." With a full slate of races next season, and an injury far in the rearview mirror, Coffin has what it takes to do just that.
Cross Country Takes on Big East Championship
by The Cowl Editor on November 7, 2019
---
Friar Sports
---
Maria Coffin '21 and Marcelo Rocha '21 Finish Big for Friars
by Joseph Quirk '23
Sports Staff
This past weekend the Providence College Cross Country Teams headed up to Kenosha, WI to compete in the Big East Cross Country Championships. While neither the men's nor women's team came in first, there were plenty of positives. Both teams were optimistic heading into the weekend.
The women's team has had a fairly up-and-down 2019 season that began with a third-place finish (out of three) at the University of New Hampshire Tri-Meet to start the season. They rebounded later on in September at the Coast-To-Coast Battle in Beantown meet hosted by Boston College. The meet featured several nationally ranked teams, and the Friars showed up with an eighth-place finish (out of 22). The women's team followed that up with a 26th place finish (out of 36) at the Nuttycombe Wisconsin Invitational at the University of Wisconsin.
The men's team entered Kenosha following a strong 2019 season in which they have had two first place finishes (UNH Tri-Meet and New England Championships) and a 12th place finish (of 21) at the Battle in Beantown meet.
Both squads placed well in the Big East championships, despite not winning the whole thing. The men's team placed fifth out of nine and the women's team placed fourth out of 10. The women's team was led by Maria Coffin '21 who placed fourth overall with a time of 21:56.5. Coffin was followed by 2018-19 All-American second teamer Abbey Wheeler '20 who finished seventh at 22:06.2, and Lilly Tuck '23 who finished 11th with a time of 22:19.0. Because of their incredible effort, both Coffin and Wheeler received All-Big East honors. This is the first All-Big East honor in Coffin's career and Wheeler's fourth.
For the men, Marcelo Rocha '21 led with a  22nd place finish overall and a time of 26:46.0. The next two Friars to cross after Rocha were Ryan Gallagher '21 who finished 26th with a time of 26:58.4 and Nick Carleo '20 who finished 29th with a time of 27:10.0.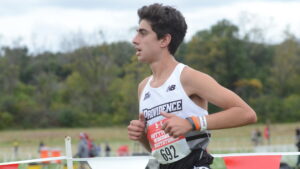 While the Big East Championships are over, the cross country season is not. Both squads will next compete Friday, November 15 in Buffalo, NY in the NCAA Northeast Regionals. If both teams have a strong showing, they will have a chance to qualify for the NCAA championships later this November.
Friars History: 2013 XCC Underdogs
by The Cowl Editor on February 7, 2019
---
Friar Sports
---
Coach Treacy Discusses Special 2013 Cross Country Season
by Eileen Flynn '20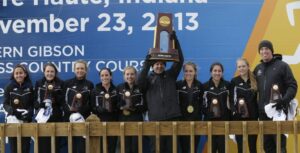 For the past 33 years, Providence College has been lucky enough to have one of the best cross country and track coaches in the nation. Ray Treacy '82 came back to coach in 1984, just two years after he graduated. The running program at PC has grown into a powerful dynasty, finishing on the podium in seven different seasons over the course of the last 30 years. I recently got a chance to ask Coach Treacy a few questions about his time at the College. When asked if the big wins and success stories of his former players help him return each year with the same energy, Treacy smiled thinking about the past. "It definitely keeps you motivated. There is a turnover every year, you lose some great runners and bring in others. The cycle has been pretty good to us over the years. Each group that comes into the program motivates you in a different way."
Although Coach Treacy enjoys every year, there are obviously some seasons that are more memorable than the rest. Luckily for the Friars, there have been two in the past 25 years that have been extra special. In 1995 and again in 2013, Providence College clinched the highest title in the nation and became NCAA champions. Treacy described the season leading up to the 2013 race and the hard work it took to come out on top. "We had the top-three runners in the country on our team: Sarah Law, Emily Sisson, and freshman Catarina Rocha. Our number five person, who is just as important as the number one person, was Grace Thek. Unfortunately, she didn't race that season until the week before the Big East." At the pre-nationals meet, PC and all the other contenders were out-raced by Georgetown. Without Thek, Coach Treacy appreciated the lack of attention his team received during the season. He wasn't nervous about losing a couple spots in the national ranking. In fact, he was grateful that it lightened the pressure on his athletes.
"After we introduced her at the Big East meet, and it went really well, we knew we had a really good chance of winning it."
Big East was first on the agenda and the athletes from the College were focused and prepared. "We dominated that day. We had three in the top four and Catarina finished in 7th while Grace was closely behind in 13th."
The confidence that came with winning the Big East helped the Friars in the national competition. Luckily enough, there were no injuries in between races. The three high-profile, all-American runners for Providence were ready to lead their team for one final race. Coach Treacy was grateful for the shortcomings in his 2011 and 2012 seasons because he thinks his team learned a lot from losing. On a very windy day in November, the Friars beat teams like University of Arkansas, Georgetown University, and University of Arizona and took the national title for the first time in over 15 years. "A fall could put an end to your chances of winning so it was all about staying on your feet and executing the race to the best of our ability and we knew we'd win if we could do that."
It takes a certain type of coach to lead a team to victory. When asked about his coaching style, Treacy gave some insight into how he manages his team. "It's a very individual sport and we treat everyone individually. You're a team until you step on the line, you're an individual from the time the gun goes off to the time you finish and you're a team again at the finish line. It's a matter of everyone doing their job on that day, and if everyone does their job than you're going to be successful." And successful these Friars were, in 2013 and in seasons since.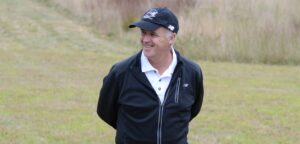 This past season was not exactly what Coach Treacy was hoping for, but even the Friars are allowed rebuilding years. "When you don't go to the NCAA for us, that's not good. A lot of things didn't come together for us at the end of the season. To be successful at that level, you have to be good, but you also have to have a little bit of luck as well." Looking forward, there is hopefully some luck in the future for the Friars. Although they will have a young team by normal standards, Coach Treacy is excited about the new talent joining the experienced group of runners. And with that Coach Treacy tells me, "I am just as excited about what I do now as I was 30 years ago." The PC family is forever grateful to have a coach and person like Treacy on campus, and will be expecting great things as he continues his coaching career.
Cross Country Women Secure Third at Big East; Men Finish Fifth
by The Cowl Editor on November 8, 2018
---
Friar Sports
---
By Scott Jarosz '21
Sports Staff
The Providence College Men's and Women's Cross Country Teams recently traveled to Carmel, Indiana to compete in the 2018 Big East Championships. The event took place on Friday, October 26 and consisted of a women's 6K race followed by a men's 8K race. The Friars went up against strong competition, and the women's team finished in third place overall and the men finished fifth.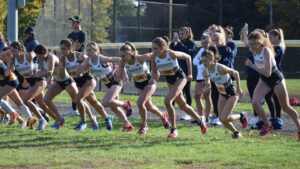 The women's third place finish is especially impressive given the strength of Big East competition. The most dominant women's team in the Big East is Villanova University, who ranks at number eight overall on the NCAA Women's Cross Country rankings.
The women finished with 76 points, just three points behind second-place Georgetown University who finished with 73 points. In first place was Villanova, who finished with 21 points and three runners in the top five. Leading the Friars was Abbey Wheeler '20 who had a strong performance and finished fourth overall among the women.
Wheeler finished with an overall time of 20:35.3 and a mile pace of 5:32. In the Central Connecticut State University (CCSU) Mini Meet the previous week, Wheeler placed second, which was good enough to lead the Friars to first place as a team and earn Wheeler the honor of Big East Female Athlete of the Week.
The next-best finisher for the women was Regan Rome '19G  who finished the 6K with an overall time of 21:22.9 and a pace of 5:45.
The men did not have quite as much success as the women in the Big East Championship, finishing in the middle of the pack at fifth place out of nine teams. The men finished with 117 points in the 8K, the same overall point total as Marquette University, who finished in fourth place. The lead runner for the Friars in the 8K was Ryan Gallagher '21. Gallagher led the Friars by finishing in 18th place overall with a time of 25:15 and a pace of 5:05. Gallagher's solid performance at the Big East Championship came just a week after finishing in second place at the CCSU Mini Meet and leading PC to first place as a team. Gallagher also earned the honor of Big East Male Athlete of the Week as a result, meaning PC swept the Big East Athlete of the Week honors for that week.
Next up for the Friars is the NCAA Northeast Regional, which is scheduled to take place on Friday, November 9 at the Audobon Golf Course in Buffalo, New York. The Northeast Regional is one of nine NCAA Regionals and consists of a women's 6K at 11 a.m. followed by a men's 10K at 12 p.m.
The women won regionals last year and will be in contention to repeat and punch another ticket to the NCAA championship. The men are looking to improve from their 12th place finish.
In order to qualify for the NCAA Championship the following week, the Friars must either finish among the top two teams overall at the Northeast Regional or receive one of 13 at-large bids. The top 38 individual runners are also selected to compete in the NCAA Championship.
The women have been working all year to make it to their seventh straight NCAA appearance and have the talent to do so. While it may be a lot to expect a young men's team to upset multiple teams in order to make to it to the championship, there is plenty of potential for the team to find themselves in front of the pack.
Cross Country Sprints Into Big East Championships
by The Cowl Editor on October 25, 2018
---
Friar Sports
---
By Jack Belanger '21
Sports Co-Editor
After coming off arguably their best performance of the year, the Providence College Men's and Women's Cross Country Teams are coming into form just in time for the Big East Championships on Saturday, October 27 in Carmel, Indiana hosted by Butler University. Both teams came in first place at their last race, the Central Connecticut State University Mini Meet.
The women's team had five runners place in the top 10 including Abbey Wheeler '20, who placed second overall in the race and first among collegiate runners. Wheeler's performance caused her to be named the NCAA Cross Country Division l National Athlete of the Week for the second time this year. Wheeler has been one of the most consistent runners for the Friars, finishing as the top collegiate runner at three meets this year. Regan Rome, a fifth year, and Maria Coffin '21 finished right behind Wheeler in third and fourth places overall respectively.
The men's team also had runners place second through fourth as they had four runners place in the top 10 of the race. Ryan Gallagher '21 took the top spot for the Friars, finishing second overall with Angus White '21 and Marcus Karamanolis '19 right behind him. Gallagher has come a long way from the beginning of the season, when he finished fifth on the team at the University of New Hampshire Dual Meet, and has worked his way up to being one of the team's top runners.
Coming into the season, Head Coach Ray Treacy had high expectations for the teams, specifically for the girls. "The expectations for the women's team was to make it back to nationals," said Treacy. "We made it 28 out of the last 29 years. Things seemed to be coming together very well last weekend so I'm much more optimistic about that goal going into the Big East."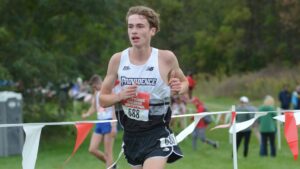 With Wheeler leading the way, the women's team looks to be one of the favorites at the Big East Championship. The Friars expect to finish in the top two, hoping to compete for first place along with Villanova University, who has been one of the top teams in the country. While it has been the strong races from the top runners like Wheeler and Coffin that has carried the team throughout the year, for the Friars to go back to Nationals they will need Alex Decicco '20 to continue her improvement from the start of the season. Her strong performance at Central Connecticut State University has given Treacy plenty of optimism.
"Alex Decicco made a huge improvement last weekend […]so if she can run like that for the last two meets for the Big East and Regional Meet, we will have a really good chance to make it back to regionals."
After winning the Northeast Regional Meet and finishing 16th at Nationals last season, having everyone running at their best has given the Friars not only a great opportunity to achieve the same results as last year, but potentially finish even better this year.
While Wheeler, Coffin, and Rome have been the clear leaders on the women's team, the men's team has lacked a true number one but has found success due to having strong depth. "The men's team has been very balanced this year," says Treacy. "We haven't had the same number one from one week to the next. Everyone is improving, we really have a solid 10 guys on the line this weekend."
It was hard to gauge how the men's team would perform this year because the majority of the team is comprised of freshmen and sophomore runners. Three weeks after finishing first at the University of New Hampshire Dual Meet, the team was hit by an illness that caused them to finish 33rd at the Nuttycombe Wisconsin Invitational.
The team eventually recovered and came back to finish first at Central Connecticut. For the team to have success in the next two races, Treacy says the team should accomplish their goals if they stay consistent. The team's training in the past three weeks has impressed the coach and gives him more hope for the team to vie for a top-three finish.
The men's race has a much more crowded field for the Big East race, icluding Georgetown University, Villanova, and the host Butler University, who returns a strong team from last year. "We want to finish in the top three if we can. We want to beat one of those teams and we would be quite happy going into regionals if we can achieve those goals"
There is plenty of motivation for the men to have a good race on Saturday, October 27. Last season the men finished fourth in the Big East and 12th at regionals. With about two weeks until the Northeast Regionals, the men have plenty of time to train and continue to build off of their last race.
Cross Country Off to a Great Start
by The Cowl Editor on September 13, 2018
---
Friar Sports
---
By Meaghan Cahill '20
Sports Co-Editor
On your mark, get set, go! The 2018 cross country season has officially begun for the Providence College men's and women's teams.
On Sept. 1, both teams traveled to Durham, New Hampshire to compete in the University of New Hampshire dual meet, which included both men's and women's teams from the College of the Holy Cross.
In a Northeast Regional poll taken just before the meet, PC's men's team was ranked No. 4 and the women's team was ranked No. 1.
The meet was a success; the men's and women's teams both captured their first wins of the season. The men gained a total of 15 points and swept the top eight spots. The women came in positions one, two, and four in the top six—they would go on to win the meet with a total of 22 points.
Abbey Wheeler '20 was the top runner for the Friars after gaining a lead early on and winning the entire race with a time of 17:21.37. Wheeler finished her previous cross country season in 10th place at the Big East Championship and earned All-Big East First Team Honors.
Finishing closely behind Wheeler, Maria Coffin '21 finished strong with a time of 17:21.45 to secure second place overall. Last season, Coffin was a top-eight runner for PC all throughout the season and was a member of the Big East Runner-Up team.
In the fourth and sixth positions were graduate student Regan Rome (17:50.58) and Alex DeCicco '20 (18:00.26). Much like Coffin, DeCicco was a consecutive top-eight runner last season for the Friars and she finished in the Top 50 at the Big East Championship.
The men's team finished in the top spots as well. Michael Wyman '19G finished his first race as a Friar in first place overall with a time of 15:05.63. Marcelo Rocha '21 finished three seconds behind Wyman with a time of 15:08.23. This was Rocha's first meet as a Friar. Less than a second after Rocha crossed the line, David Rosas '21 finished third with a time of 15:08.71. Rosas's time showed an impressive improvement, shaving off over 30 seconds from his time at last year's dual meet.
The men's team will be looking towards their seasoned runners to aid them the rest of the season. Austin Scola '19 is coming into his senior year after being a repeated top eight finisher for the men's team all throughout last year. He also finished 27th overall at the Big East Championships.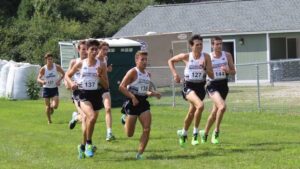 Along with Scola, Liam Harris '20, who won the UNH dual meet last year, was also a solid top eight finisher and placed 18th overall at the Big East Championships. Harris's cross country season concluded last year with him earning Big East Second Team honors.
While the men will be looking to their upperclassmen to guide them to a successful season, the women's cross country team will be looking down to their underclassmen.
Hanna Johnston '21, who redshirted last season, is expected to have a big inaugural season along with Hannah McReavy '22.
Prior to joining the Friar Family, Johnston, a Thunder Bay, Ontario native, was a member of the 2017 Canadian Junior Cross Country Team that finished sixth at the World Junior Cross Country Championships in Uganda.
McReavy, who is from Colorado, was the Tri-Peaks runner of the year for cross country two consecutive years in a row (2016 and 2017) and finished fourth overall in the Colorado State Cross Country Championships.
PC's men's and women's Cross Country teams will be competing next on Sept. 21 at the Coast-to-Coast Battle in Beantown Meet, hosted by Boston College.
A Year in PC Sports: Catarina Rocha Wins Cross Country Title
by The Cowl Editor on May 3, 2018
---
Friar Sports
---
PC Runner Caps Off College Career as a Champion
By Meaghan Cahill '20
Sports Co-Editor
Catarina Rocha '17GS may not be the most well-known athlete on Providence College's campus, but that does not diminish the outstanding performances she gave this year for the Providence College Women's Cross Country Team. Her individual achievements as a runner are what makes her stand out as having one of the best sports moments of the 2017-2018 year.
The Big East Cross Country Championships were a success for the women's cross country team, as they came in second place. However, Rocha was the star of the meet. She came in first place out of all of the female runners. Her placement earned her not only the title of the best runner in the Big East, but she was also awarded All-Big East First Team Honors. Rocha is the ninth Friar in history to win the individual Big East title.
Commenting on her success at the Big East Championships, Rocha claimed it was her "biggest sporting achievement to date." Rocha also confessed her win came as a "surprise," especially after being sidelined the year before due to an injury.
Head Coach Ray Treacy also commented on the four-time elected All-Northeast Regional Team member after her win saying, "I am especially proud of Catarina for winning the individual title. She has been a standout runner for us."
Rocha is also a member of the track team at PC and, during the winter season, was the Big East Champion in the 5000-meter race.
In her final year at PC, Rocha went out on top as she wrapped up her athletic career as the winner of the Paul Connolly Memorial Award. This award is given to the female athlete who distinguished herself among her peers through sportsmanship, courage, and honor.
Coach Ray Treacy Wins His Own Award
by The Cowl Editor on November 30, 2017
---
Friar Sports
---
By Eileen Flynn '20
Sports Staff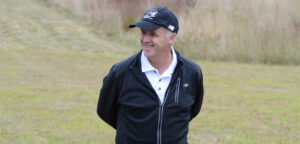 Ray Treacy is a respected and well-known name around Providence College's campus and in the Cross Country and Track and Field communities. The school was recently reminded of the coach's talents because Treacy was awarded the Northeast Region Women's Coach of the Year award for the second consecutive year. This season, Treacy guided the women's team to their third consecutive Northeast Regional Team Title and the fifth in the past six years.
Treacy graduated as a student-athlete from Providence College in 1982. He was the captain of the cross-country team his junior and senior years, while setting school records and collecting first place trophies. Treacy was a two-time New England Cross Country Champion and was successful in the indoor 5,000 meter race, winning the race at the Big East Championships three times. He was also the IC4A Champion in the 10,000 and 5,000 meter races during the 1981 and 1982 seasons, respectively.
Treacy was far from done with Providence College after his time as a student expired. As a proud alumnus, Treacy has dedicated his career to coaching and training the new runners that chose to attend Providence College. His successful attitude was contagious; since he became head coach in 1984, both the men's and women's cross country programs have advanced to NCAA Championships in 18 of the last 20 seasons.
Just recently, Treacy coached the women's 2013 cross-country team that won the NCAA Championship. Treacy has coached 63 All-Americans, seven NCAA individual champions who secured 15 NCAA titles overall. Treacy has accumulated an impressive legacy for himself and for the College's cross- country program. He is a valuable asset to our athletic staff and Providence College's alumni network.