A Quick Note
by Kathryn Libertini '23 on September 26, 2022
Portfolio Staff
---
FriarTire
---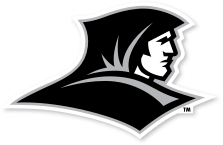 Dear First-Year Providence College Student,
If you are receiving this email, it is to inform you of a process you will otherwise be unfamiliar with as a new student. As I am sure you are aware, the dean of Student Affairs, , Dean Sears, is an extremely helpful, enthusiastic, and spirited member of the Providence College community. Perhaps by now, you have received one of his helpful, enthusiastic, and spirited emails which seek to appeal to a sense of school spirit and well-being. However, upon first glance, these emails may be intimidating, bewildering, or otherwise "out of pocket." This email intends to address any exciting sentiment or confusion experienced.
FAQs:
Do I have to do exactly what Dean Sears instructs in his emails?
No, it is largely meant to be a rhetorical and enthusiastic approach toward the PC community.
Even if it is suggested to "Go forth now: imagine and do!"
Yes, you do not technically have to do that, it is merely a suggestion.
How about "going outside and shouting, 'I Love God'"?
Seriously, these are just anecdotal recommendations from the school and the dean to encourage a sense of well-being among students.
Will there be an increase in emails around stressful periods in the semester?
Yes, in support of our students!
What should I expect if the basketball team is doing well?
Prepare yourself for the best emails yet.
If you have any other questions/concerns, please (do not) reach out!
Best,
Dean Sears' (Tired) Email Manager
Recapping the Friar 5K
by The Cowl Editor on October 7, 2021
---
Friar Sports
---
Fr. Humbert Triumphs Over Dean Sears
Liam Tormey '22
Sports Co-Editor
As the annual Providence College Homecoming was just getting underway, so too was the Friar 5K, a tradition continuing to be a massive hit.
The race has become a staple of Homecoming, a weekend which is already filled with so many great events for students, families, and faculty to be a part of the community.
Students, alumni, parents, family members, faculty, staff, and even the public were all invited to run or walk the 3.1 mile race. Racers were allowed to sign up individually or as a team to get in on the action.
Before the event, whoever pre-registered was given a free cotton race t-shirt. The event directors were also looking for female graduates or those running in honor of one to support the school with a donation towards the National Alumni Association Scholarship Fund. Each runner who made an additional gift received an upgraded t-shirt to celebrate 50 years of women at PC.
Every runner of the 5K received a ticket for a complimentary beverage at the Homecoming Friar Fest, an outdoor party held on campus which offered food, drinks, and a place to catch up and meet fellow Friars.
At Friar Fest, awards were handed out to the overall male and female winners along with the top three male and female finishers in each age category.
A wide range of ages spanned the runners of this year's event. The first group was 18-years-old and under. The second was 19-29, the third was 30-39, the fourth was 40-49, the fifth 50-59, all the way to group eight: those 80 years old and above.
The Friar 5K, which occurred on Oct. 2, courses around the PC community. The race begins right in front of Harkins Hall, travels through Eaton Street, up Enfield Avenue, down Naples Avenue, then turns down Sharon Street, goes back through Eaton Street, turns back onto the  campus, and finally finishes at the Ray Treacy Track at Hendricken Field.
To amp up the runners, the organizers of the event in recent years have set up a Friar 5K Spotify playlist, giving everyone who is running a chance to listen to past artists who have performed at PC and other popular hits to help motivate runners while they up their heart rates. .
Starting at 9 a.m. on Saturday morning, every racer was blessed with perfect weather for the event: sunny and neither too hot nor too cold.
This great event allows friends and family to connect over fitness and an enjoyable time. It is not often that all members of the Friar family are able to get together at once, but this race offers the perfect opportunity, and the chance to settle long rivalries.
Back in Nov. 2020, Dr. Steven A. Sears was named Vice President for Student Affairs and Dean of Students. Dean Sears wanted to take on an "unwavering commitment to [PC] students and their well-being" when he accepted the role. He has shown nothing but love and support to the PC community since he took over.
Sears, a U.S. Air Force veteran, isn't shy of competition, and neither is Father Humbert Kilanowski, O.P., an Assistant Professor of mathematics at PC. Since the moment the two met and disovered each other's running ability, they have fostered a runner's feud.
This year's 5K was no different, but there was a clear winner. Fr. Humbert came out victorious and said Dean Sears was not even close to him: "I never even saw him. He was behind me the whole time." Fighting words to say the least.
Fr. Humbert credits much of his success to Ray Tracey, Providence College's distinguished Cross Country and Track and Field coach. Coach Tracey inspired Fr. Humbert to pick up running and gave the Friar his personal training regimen. "I couldn't have done it without him."
The rivalry between Fr. Humber and Dean Sears has been gaining traction within Friartown. Commenting on the race, Fr. Cuddy stated, "Dean Sears has consistently beaten really fast runners half his age. But sadly it seems that the one foe he can't outrun is Father Time."
Fr. Humbert decided to continue the running feud by sending an email to his good friend Dean Sears, congratulating him on "winning his age group." So, as all can tell, this rivalry runs deep.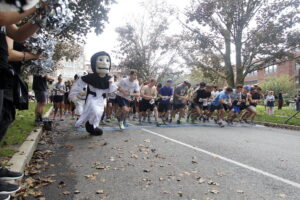 Dean Sears responded that Fr. Humbert has been "aiming for me since the day he arrived at PC."
He also says there might be an obsession on Fr. Humbert's part in wanting to beat him so badly. "Fr. Humbert has been training so hard for the past year to beat me, asking regularly 'how fast are you running?' 'What is your 10K and 5K time?' It seemed to be an obsession." Dean Sears seemed shocked at how much Fr. Humbert really wanted to beat him.
The Friar community knows how much Dean Sears loves everything that has to do with PC, and he wanted nothing more than to make Fr. Humbert happy. "I felt kind of bad so I decided to hang back this year so he could win," Dean Sears added.
"Watching him ahead of me was the greatest gift in this year's Friar 5K. I really enjoy seeing others happy. This was his one Friar 5K that I will allow this to happen."
In short, this victory may just be the start of an even deeper friendly competition between the two. Fellow Friars may see Dean Sears in the Concannon Fitness Center, or Fr. Humbert running along campus or in the streets, and no one should be surprised by Friars putting the work in.
Dean Sears also has a comment to make about future events: "I will have his name on the back of my shirt next year so he can see it while he is behind me. It may help him finish at a faster pace. It's on!"
Word is spreading throughout the PC community that next year's race should bring even more drama and that Dean Sears is determined to prove the 2021 race was only a fluke. Nick Braz '23, who was in attendance that Saturday morning and knows the Dean well, declared, "insider sources tell us Dean Sears is training harder than ever for next year's race. If you ever see him on campus, give him a thumbs up or a wave! Next year is your year!"
Either way, this year, Fr. Humbert got the better of Dean Sears. For the student body and everyone associated with PC, the Dean Sears and Fr.  Humbert Rivalry may be going on for years to come and may be a part of many Friar sports rivalries.
The Friar 5K is an opportunity for everyone to come together and show their love for PC. For some, it is the sparking of a rivalry that may only just be getting underway. Whether you are a new runner or a seasoned competitor with a longstanding rival, the Friar 5K is a fun and relaxed way for the Providence College community to come together as one. Go Friars!