Derek Chauvin Found Guilty for Murder of George Floyd
by The Cowl Editor on April 22, 2021
---
National and Global News
---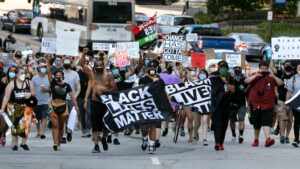 by Hannah Langley '21
News Co-Editor
On May 25, 2020, cries of "Black Lives Matter" and "No Justice, No Peace" were heard around the United States following the murder of George Floyd by Minneapolis police officer Derek Chauvin. After kneeling on Floyd's neck for over nine minutes, it was reported that a medical examiner concluded Floyd had died of cardiac arrest. 
Nearly one year later, Chauvin was put on trial for his involvement in the death of George Floyd, and on April 20, was found guilty of second- and third-degree murder, as well as second-degree manslaughter. It was reported that the conviction of second-degree murder meant that the "jurors unanimously agreed that Chauvin caused Floyd's death during the commission of a felony assualt."
Chauvin has not received his full sentence yet, but could receive as much as 40 to 70 years in prison. His final sentencing will take place in eight weeks. "Today, we are able to breathe again," said Floyd's brother, Philonise Floyd, following the verdict. 
Father Kenneth Sicard, O.P., released a statement following the verdict, as well, condemning the violence experienced across this country everyday. "As president of Providence College," he said, "let me state unequivocally that we must decry the callous loss of life that we see so often in our cities and on our streets." He continued, "I encourage all members of our community to pray for peace and for an end to this senseless violence, and to support one another in kindness and respect."
The email also included resources available to the Providence College community for support.
Many celebrate the fact that Chauvin has been held accountable for his actions, unlike the many police officers who have taken the lives of innocent men, women, and children over the years. This case will hopefully act as a precedent to keep police officers and others in power answerable for their misdeeds.