Friars Celebrate Día de los Muertos
by The Cowl Editor on November 12, 2020
---
Campus
---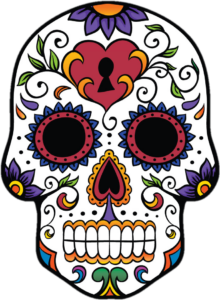 by Sydney Olinger '23
News Staff
Despite this year's restrictions on social gatherings, Halloweekend was still a great time to have fun while staying within pods. For many, the weekend of Oct. 31 was simply a time to wear costumes, take pictures, and hang out with friends, but for others, Nov. 1 has a different meaning.
Nov. 1, always the day after Halloween, is a day on which people within the Mexican and Latinx  community celebrate Día de los Muertos. The holiday, which translates to "Day of the Dead," is a time when people remember and honor their loved ones who have passed by conducting and taking part in a variety of different traditions.
One commonly known tradition is the setting up of ofrendas. On these small altars, families put out pictures, candles, food, and any other personal belongings of passed family members they are commemorating. The ofrendas are meant to welcome the beloved dead and honor them, even after their departure from earth. Jerusalem Castro '23 explained, "On my family altar we have immediate family, such as my grandfather. Even though I only met him once when I visited Mexico, the stories my mom tells me about him make me feel connected to him."
While away at college, trying to keep up with busy schedules, it is difficult for students who celebrate Día de los Muertos to be with their families on this day. And as if it was not already challenging enough, the current global pandemic did not aid in allowing students to be with their loved ones on such a special and important holiday. For this reason, two clubs on campus, the Board Of Programmers (BOP) and Organization of Latin American Students (OLAS), have worked together the past two years to make Día de los Muertos a memorable experience for the PC students who celebrate it.
Fiona Hoang '22, member of the BOP Diversity Committee, co-sponsored this year's virtual and in-person hybrid Día de los Muertos event with OLAS. Although the event was undeniably different from last year's celebration with COVID-19 social distancing regulations, both clubs worked diligently to make it as special and reverent as possible.
The event was a combination of virtual connection over Zoom, handing out in-person goody bags, and an ofrenda in the Center at Moore Hall. Over Zoom, members of OLAS gave a short presentation about Día de los Muertos and then watched a film called The Book of Life. The chosen film, though similar to the recent cartoon film, Coco, is more representative of the holiday and how it is celebrated in Latin American culture.
The goody bags contained Mexican candy and the supplies needed to decorate sugar skulls and candles, which are traditional Día de los Muertos activities. Lastly, the ofrenda set up in Moore Hall was decorated with flowers and candles, and any pictures of loved ones who had passed on. Students were given the opportunity to send in any photos of family members or friends they wanted placed on the altar.
This ofrenda was important in helping students to feel as though they could still carry out their family and cultural traditions while surrounded by a community of students, many of whom come from different backgrounds and celebrate various holidays.
"I remember the energy and community gathering that the event brought last year, surrounded by food, music, and people. This year we wanted to instill a similar feeling that was applicable for everyone whether students were on-campus, remote, or in quarantine," stated Hoang.