No Love Lost in Nashville: Trump and Biden Spar in Final Presidential Debate
by Kyle Burgess on October 29, 2020
---
National and Global News
---
By: Hannah Langley '21
News Co-Editor
On Thursday, Oct. 22, the United States waited in anticipation for the final presidential debate between President Donald Trump and former Vice President Joe Biden. Compared to the first debate, which CBS News called "a chaotic series of bitter exchanges and name-calling," this debate actually presented arguments and was "civil, calm, sedate, substantive (at times) and, almost, even normal," as stated in the New York Times.
Shannon Sullivan '21, co-president of PC Democrats, stated her concerns for the final debate, saying, "I really do hope that this debate is productive and engaging. However, I feel discouraged after watching the first debate because it felt more like a reality TV show than a presidential debate."
Kristen Welker of NBC News moderated the debate, making her just the second Black woman to moderate a presidential debate alone. Many praised Welker's handling of the debate as she was able to control the conversation well, despite initial fears of a repeated presidential shouting match. In addition to Welker having good control over the conversation, Trump and Biden's microphones could also be muted during their opponent's responses to avoid frequent interruption.
Welker began the debate on the topic of COVID-19. Trump emphasized that the country's mortality rate has gone down drastically since the beginning of the virus's spread in the U.S. He believes the actions he took early on in the pandemic, such as closing America's borders to China and other countries, as well as closing the economy, helped save the lives of hundreds of thousands of Americans. He also stated there will be a vaccine released very soon, even as shortly as in the next few weeks, claiming, "We're rounding the corner. It's going away soon."
Biden refuted these claims, arguing, "Anyone who's responsible for [the deaths of 220,000 Americans] should not remain as President." He also argued against Trump's claim that the virus will go away soon, saying that an estimated 200,000 additional people will die of the virus by the end of this year. "There's not another serious scientist that believes this is going to end soon," said Biden.
Trump also claimed that Americans are learning to live with the virus at this point, while Biden refuted, saying that people are not learning to live with the virus, but die with it, and encouraged the American people to continue wearing masks in order to prevent a greater spread.
The second topic of the debate was foreign relations, and specifically foreign interference with the current upcoming election. Biden stated, "Any country that interferes with American elections will pay the price." Trump said that Russian interference would not be tolerated and that "there has been nobody tougher on Russia than Donald Trump."
The conversation then shifted to both Trump and Biden's own personal relationships with countries such as Russia, China, and the Ukraine, to which both men accused one another of embezzling money secretly. Trump admitted to having foreign bank accounts from before his presidency, but claimed that these accounts were closed. He also stated that the records of his tax returns would be released soon, and that the search for them has been a "phony witch hunt."
Trump also spoke about the United States' relationship with North Korea. While Trump argued that the Obama administration has an unstable relationship with the North Koreans, he said the United States' relationship with North Korea is now very good and clearly there is no war, while Biden argued that Trump has been "pok[ing] his finger in the eye of all our friends" around the world.
Following this conversation, Welker shifted the debate towards health care. Trump claimed that the Affordable Care Act, informally known as Obamacare, needs to be remodeled, which is what he has been doing for the past four years. Although Trump has not been able to terminate Obamacare, he has been able to do several things, such as eliminate individual mandates for those who pay for health care. Trump also claimed that no one with pre-existing conditions would lose their health care.
Trump called Biden's plan for healthcare a socialized program that would cause the stock market to crash, but Biden argued against this claim. He stated that everyone should have the right to affordable health care.
Biden also stated, "I don't see red states and blue states. What I see is American, United States."
In their discussion about immigration and deportation, Trump made the argument that undocumented immigrants enter the country through illegal drug cartels, coyotes, and gangs, and only about 1% of those who are supposed to return to the border actually do so. Trump claimed that Biden did nothing to help immigrants except for building cages during the Obama Administration, but Biden promised to build a better immigration system, reminding viewers, "I'll be president of the United States, not vice president of the United States."
On the topic of race, Trump claimed, "Not since Abraham Lincoln has anybody done what I've done for the Black community" and that he was probably "the least racist person in the room." He cited how he has invested a "tremendous" amount in the Black and Hispanic communities and historically Black colleges and universities (HBCUs).
Biden, on the other hand, discussed how he recognized his white privilege, saying he never had to teach his children that they are "the victim no matter what." He also stated that the infamous 1994 crime bill was a mistake. While Trump argued that Biden did not do anything to fix the bill during his eight years as vice president, Biden gave his thoughts on punishment: "No one should be going to jail for a drug problem, they should be going to rehabilitation."
In regards to climate change, Trump claimed the U.S. has "done an incredible job environmentally" and that Biden's plan is "an economic disaster." Trump stated that Americans, especially Blacks and Hispanics, are "employed heavily" in the oil industry and removing these jobs, as Biden wants to do, would hurt the economy. Biden refuted this claim, however, saying his environmental plan has been backed by several environmental and labor groups, and his plan would create millions of jobs and trillions of dollars.
To conclude the debate, Trump stated that Biden's election would cause "a depression the likes of which you've never seen." Biden stated, "I represent all of you, whether you voted for or against me."
Both Sullivan and Charlie Dumon '21, president of PC Republicans, agreed that this debate went much more smoothly than the first one held back in September. "The President did a great job in Thursday's debate, and I think the moderator was much better as well," said Dumon.
Sullivan was also happy with the outcome of the debate, saying, "I think this debate was a lot better than the first in all aspects." She continued, saying, "I think I got much more out of this one and actually learned something about the candidates."
While this was the final debate before the official election on Nov. 3, Americans still have time to decide whether they will vote for Trump or Biden, either in-person or by mail-in ballot.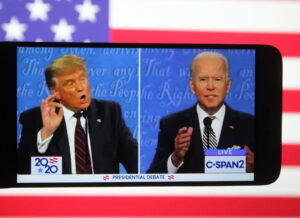 Candidate's Corner: Mail-In Voting Concerns
by Kyle Burgess on September 17, 2020
---
National and Global News
---
by Nicole Silverio '22
News Staff
With the 2020 presidential election less than two months away, the nominees are preparing to enter the final stages of their campaigns. Democratic nominee Joe Biden and Republican nominee President Donald Trump have both officially selected their running mates; Biden will be on the ballot with California Senator Kamala Harris, and Trump will be on the ballot once again with Vice President Mike Pence.
Although Election Day is on Nov. 4, early and mail-in voting are available options in many states. Early voting begins as early as September in several states, including Minnesota, South Dakota, Illinois, and Michigan. Many other states open for early voting in October. In addition to early voting, the majority of Americans are eligible to vote by mail.
To vote by mail, the United States Postal Service (USPS) recommends that voters request their ballots by Oct. 19 in order to ensure that they are delivered on time. Some states, however, have earlier deadlines for voters to request their ballots (including Rhode Island, which has a deadline of Oct. 13). Specific deadlines and guidelines for early and mail-in voting for individual states can be found online at states' websites or at Vote.org.
There has been some national discourse on the validity of mail-in voting. President Trump has raised concerns about the security of the process, tweeting: "With Universal Mail-In Voting (not Absentee Voting, which is good), 2020 will be the most INACCURATE & FRAUDULENT Election in history. It will be a great embarrassment to the USA. Delay the Election until people can properly, securely and safely vote???" (July 30) and "There is NO WAY (ZERO!) that Mail-In Ballots will be anything less than substantially fraudulent. Mail boxes will be robbed, ballots will be forged & even illegally printed out & fraudulently signed. The Governor of California is sending Ballots to millions of people, anyone…" (May 26).
Despite these concerns, the evidence seems to show that mail-in voting does not tend to lead to or allow for more fraud. The USPS and several other independent organizations, including the New York Times, NPR, and the Associated Press, have released findings stating that mail-in voting is largely safe, secure, and valid. According to the National Conference of State Legislatures, states with the highest rates of mail-in voting report low rates of voter fraud. Judd Choate, director of elections in the Colorado Department of State, says, "There's just very little evidence that there is more than a handful of fraudulent (vote-by-mail) cases across the country in a given election cycle."
The COVID-19 pandemic has complicated the voting process for many Americans. With widespread uncertainty on the safety of in-person voting due to the pandemic, the demand for safe and secure early and mail-in voting is far higher than it has been in previous elections. While submitting votes might be more complicated this year, the country has still made voting accessible to all people regardless of the circumstances, giving all Americans the ability to vote this upcoming November.
Voters should request mail-in ballots by Oct. 19 to ensure timely delivery. Photo courtesy of kunr.org.
Candidates' Corner: Covering the Democratic and Republican National Conventions
by Kyle Burgess on September 3, 2020
---
National and Global News
---
by Nicole Silverio '22
News Staff
The Democratic and Republican National Conventions were held during the past two weeks, officially nominating former Vice President Joe Biden and President Donald Trump as the presidential nominees. The Democratic Convention, held virtually from Aug. 17-20, included speakers such as John Kasich and Michelle Obama. The Republican Convention, Aug. 24-27, featured speeches from key figures including Donald Trump, Jr. and Kimberly Guilfoyle. 
It was evident during both the DNC and RNC that the two parties continue to clash on major issues, including race relations and law enforcement. The death of George Floyd at the hands of police officers on May 25 and subsequent nationwide protests demanding an end to systemic racism and police brutality were raised at both conventions. State Rep. Vernon Jones stated at the RNC, "Our police need more funding, not less—for frequent psychological examination, for nonlethal restraint technology, and for more de-escalation and use of force training. These are the common sense solutions that President Trump supports. True, sincere police reform."
 Meanwhile at the DNC, Philonese Floyd spoke of the tragic loss of his brother, George, as well as other victims of deadly encounters with police before observing a moment of silence.  "George should be alive today. Breonna taylor should be alive today.Ahmaud Arbery should be alive today. Eric Garner should be alive today. Stephon Clark, Atatiana Jefferson, Sandra Bland-they should all be alive today." Joe Biden also had the opportunity to speak with Eric Garner's mother during the DNC's segment on racial justice. 
In representing young conservatives, Charlie Kirk, founder of Turning Point USA, stood at the podium in honor of President Trump. "Trump is the bodyguard of Western civilization," Kirk claimed. "[He] was elected to defend the American way of life. The American way of life means you follow the law, you work hard, you honor God, you raise your kids with strong values, and you work to create a civil society." Kirk's message emphasized putting traditional American values first.
Both conventions included memorable speeches. At the DNC, former First Lady Michelle Obama's keynote speech "won the night," according to the Washington Post. Meanwhile, Maximo Alvarez's speech at the RNC was equally moving. A Cuban immigrant who escaped Fidel Castro's communist regime,  he explained, "I heard the promises of Fidel Castro, and I can never forget all those who grew up around me, who looked like me, who suffered, starved, and died because they believed those empty promises. They swallowed the communist poison pill." 
As expected, the messages from the conventions were like night and day. Many Democrats and even a handful of Republicans, the most well-known being Governor John Kasich (R-OH), spoke on the failures and incompetence of President Trump,      urging Americans to elect Biden for president instead.  
By the end of the conventions, both Biden and Trump accepted their nominations. Biden proclaimed, "United we can, and will, overcome this season of darkness in America. We'll choose hope over fear, fact over fiction, fairness over privilege… This campaign isn't just about votes, it's about winning the heart and the soul of America." President Trump gave his speech on the White House Lawn, declaring this election the most important election in American history.   Alongside mentioning record prosperity in the economy, calling for unity amongst the American people, and describing his fight against COVID-19, Trump optimistically spoke of the future of the U.S. saying "We will rekindle faith in our values, new pride in our history, and a new spirit of unity that can only be realized through love for our great country."
Election of 2020: President "Trumps" Impeachment
by Kyle Burgess on February 13, 2020
---
National and Global News
---
by Alexandra Huzyk '20
News Staff
After a four-month period of impeachment processes, President Donald Trump has officially been acquitted of both articles of impeachment drafted against him, as determined by the trials conducted by the Senate.
In September 2019, a government whistleblower issued a complaint against President Trump. Soon after, Speaker of the House, Nancy Pelosi, called for an impeachment inquiry against President Trump, claiming that he had betrayed his Oath of Office and the election process.
 The House Intelligence Committee was then tasked with investigation, and the Judiciary Committee drafted two articles of impeachment—one for abuse of power, and the other for obstruction of Congress. The House of Representatives approved both articles, which required a simple majority of votes.
The articles of impeachment were then passed on to the Republican-controlled Senate, which was responsible for conducting President Trump's trial. The trial included opening and closing remarks from the Democratic House impeachment managers and President Trump's team of lawyers, plus a 16-hour questioning period by senators. A super majority of 67 votes was needed to convict President Trump for each respective charge.
For the first article of impeachment—abuse of power—all Democrats and Independents voted guilty. All Republicans, with the exception of Utah Senator Mitt Romney, voted not guilty. The final tallies were 52 to 48 to acquit him of this first article.
Romney's vote to convict President Trump "marked the first time in American history that a senator voted to convict a president of his own party in an impeachment trial," as stated by NBC News. Romney defended his choice in a speech before the Senate, but continued to receive criticism from both President Trump and other members of the Republican Party.
For the second article of impeachment placed against Trump—obstruction of Congress—all Democrats and Independents voted guilty, while all Republicans voted not guilty. The final tallies were 53 to 47 to acquit Trump of this second article, split along party lines. 
After President Trump's acquittal, he promptly spoke out in a number of tweets. The first was a parody video illustrating his  decision to continue running for reelection, ending with the message: "Trump 4EVA." In a separate tweet, he claimed he would provide more commentary, "our Country's VICTORY on the Impeachment Hoax." President Trump will likely use the impeachment trial results to further vilify Democrats during his reelection campaign.
According to Gallup, a recent public opinion poll reported that President Trump's approval rating hit the highest yet, at 49 percent. The public remains highly divided along partisan lines.
This division was further exacerbated in President Trump's televised State of the Union speech on Feb. 4. After describing Democrats who support universal health care as socialists, President Trump urged Congress to support legislation to lower prescription drug prices. This was met with dissenting chants from Democrats.
President Trump also continued to emphasize policies aimed at helping black Americans, a group which overwhelmingly disapproves of Trump. 
However, in conflict with these efforts, President Trump awarded conservative talk radio host Rush Limbaugh the Presidential Medal of Freedom. This award is the nation's highest honor that a civilian can receive. In the past, Limbaugh has made precarious comments on race; particularly in regards to former President Barack Obama.
After President Trump concluded his State of the Union speech, he handed House Speaker Nancy Pelosi a copy of his speech. When she reached out to shake his hand, President Trump turned away. As Republicans cheered, Pelosi tore the copy of President Trump's remarks in half.
Both the impeachment trials and the State of the Union speech are emblematic of continued bipartisan tensions, likely to be echoed in the 2020 presidential campaigns and elections.
Bursting the PC Bubble: Impeachment Investigations Continue
by The Cowl Editor on November 7, 2019
---
National and Global News
---
by Maura Campbell '22
News Staff
On Sept. 24, Speaker of the House Nancy Pelosi announced a formal impeachment inquiry into President Donald Trump. This inquiry came as a result of allegations of a quid pro quo involving the president withholding aid from Ukraine until they agreed to investigate former Vice President and Democratic presidential candidate Joe Biden's business dealings there.
Quid pro quo, a situation in which one party offers an advantage or favor to another party in return for something else of value, is generally considered to be politically unfavorable and unethical. In particular, the Constitution of the United States says that "treason, bribery, or other high crimes and misdemeanors"—which is generally considered to encompass the concept of quid pro quo —are impeachable offenses.
These allegations, put forth originally by an unnamed whistleblower, resulted from a phone call between President Trump and Ukrainian President, Volodymyr Zelensky, during which President Trump encouraged Zelensky to investigate Biden in return for dispersing U.S. aid to Ukraine. This has been largely defined as a quid pro quo in which the President withheld aid in an attempt to tarnish his opponent and therefore advance himself politically.
President Trump has denied the existence of a quid pro quo during this phone call, releasing a rough transcript of the conversation and stating that he wanted Ukraine to investigate Biden due to worries regarding corruption in Ukraine, not in an attempt tarnish his political opponent. 
Despite this, Pelosi said on Sept. 24, "The actions taken to date by the President have seriously violated the Constitution," and that House committees would begin investigating these actions.
Over the next several weeks, six committees in the House of Representatives will investigate the allegations put forth against President Trump, and the Judiciary Committee will determine whether there is adequate evidence of wrongdoing. 
If the Judiciary Committee finds sufficient evidence of wrongdoing by the President, they will produce a list of articles of impeachment, about which the House of Representatives will then hold a vote on. If a majority of the House votes to impeach, the proceedings will move to the Senate, which will then hold a trial. In the end, the Senate would require a two-thirds majority vote in order to remove President Trump from office.
Since Pelosi's announcement of the impeachment inquiry, reactions from media and citizens have been mixed and largely divided across partisan lines. 
A recent poll by NBC and the Wall Street Journal found that 49 percent of Americans are in favor of impeaching and removing President Trump from office. In particular, 88 percent of Democrats support impeachment and removal from office, whereas 90 percent of Republicans oppose impeachment and removal from office.
This is a developing story, with new polls and updates being released daily. Students interested in keeping up to date with this process should be aware that the Phillips Memorial Library offers free student subscriptions to the New York Times and the Wall Street Journal, which can be accessed through their respective websites.
Bursting the PC Bubble: ISIS Leader Abu Bakr al-Baghdadi Killed By U.S. Forces
by The Cowl Editor on October 31, 2019
---
National and Global News
---
by Matthew Mazzella '20 
News Staff
On Sunday, October 27,  Abu Bakr al-Baghdadi, the leader of the terrorist organization ISIS, was found dead in northwest Syria after a raid by United States special forces. President Trump made the announcement of his death on Sunday morning and highlighted this as a win for national security. The President expressed enthusiasm about the result by saying, "Last night, the United States brought the world's No. 1 terrorist leader to justice. Abu Bakr al-Baghdadi is dead."
al-Baghdadi was said to have killed himself by detonating a suicide vest after the invasion of United States troops in a dead-end tunnel. He had been the leader of the terrorist organization since 2010, and the death of the ISIS leader is a huge step in the everlasting fight to end global terrorism. al-Baghdadi had been a top target for the United States for a long time, and there was even a United States offering of a $25 million reward for his capture. The Islamic States spokesperson and al-Baghdadi's right-hand man was also killed hours later with the help of Kurdish and United States troops in northern Syria.
This operation has been in the works for weeks now, after the U.S. was informed of al-Baghdadi's whereabouts. The United States ultimately got the go-ahead Saturday morning after receiving "actionable intelligence," according to Vice President Mike Pence. Donald Trump explained how the raid was executed, and said special operations forces flew into the compound in eight helicopters from an undisclosed location to reach the destination in northwestern Syria. After they reached his location, United States forces were met with heavy gunfire at the doors of the compound but were able to force al-Baghdadi down a tunnel with no escape route, where he eventually took his own life. No United States military personnel were injured, although one K-9-unit dog was hurt in the process.
President Trump watched the operation in the White House with his team, and the mission to take out the ISIS leader took about two hours. He was joined by Vice President Pence, National Security Adviser Robert O'Brien, Secretary of Defense Mark Esper, along with other military officials. This mission was a success according to the President, as he stated, "Last night was a great night for United States and for the world."
Evan Howells '20 shared his thoughts on the news that broke Sunday morning, expressing his optimism in the fight against terrorism. Howells stated, "I was relieved to hear about the al-Baghdadi news because of the implications it has on the war against terrorism. The United States taking out their leader will hopefully weaken the terrorists that wreak so much havoc in the world we live in. Quite honestly, it makes me feel a little bit safer that we are one step closer to putting an end to something so horrible."
While this is a step in the right direction for the war on terrorism, unfortunately the fight is not over. Through allies in the Middle East and the courage of United States troops, the battle on global terrorism will fight on in hopes of a safer world in the near future. al-Baghdadi's death marks a severe blow to ISIS, and it will help in the battle to end the horrible actions of terrorism around the world.
Bursting the PC Bubble: Trump Visits South Korea for Summit with Kim Jong-Un
by The Cowl Editor on March 7, 2019
---
National and Global News
---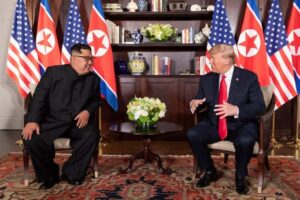 Kelly Martella '21
News Staff
On Feb. 27, United States President Donald Trump and Chairman Kim Jong-un of the Democratic People's Republic of North Korea met for a summit in Hanoi, Vietnam. This was the second meeting between the two leaders following the historic Singapore Summit in June 2018. 
The first meeting marked a new relationship between the countries as Trump and Kim agreed to work towards peaceful relations, including denuclearization and security protections. However, the recent Hanoi Summit did not end on such positive terms.
The summit abruptly ended on Feb. 28, after both sides failed to reach an agreement on denuclearization. Trump cited sanctions as the issue of contention; however, North Korea's Foreign Minister Ri Yong Ho claimed his country was willing to compromise on the issue. 
Despite the contradicting reports, Trump insists that there is no hostility between himself and Kim, calling the departure "very friendly." Trump further believes the summit was a productive step forward for United States-North Korea relations, tweeting on March 1, "We had very substantive negotiations with Kim Jong-Un—we know what they want and they know what we must have."
Although no policy changes were made, the meeting still made headlines. One of the most noteworthy moments was Trump's comments about Otto Warmbier—the college student who died in 2017 after being held in North Korean custody for attempted theft.
Trump, who was instrumental in Warmbier's return to the United States, seemed to divert from his originally harsh stance on the North Korean authorities. He said on Feb. 27, "I believe something very bad happened to him. I don't think leadership knew about it." 
The comment was met with criticism from both Republicans and Democrats, many of whom blame Kim for his involvement in the 22-year-old's death. 
Warmbier's family also expressed frustration with the President's moderate tone and reiterated that they hold the regime responsible. 
Upon his return to the U.S., Trump attempted to clarify his comment within the context of the summit. He called it a "very delicate balance," adding that "in one way I have to negotiate and the way I love Mr. and Mrs. Warmbier and I love Otto." Secretary of State Mike Pompeo, who accompanied the President to the summit, also clarified to the press that "the North Korean regime is responsible."
There are currently no plans in place for a future meeting, but neither country has ruled out the potential for another summit. Summing up his stance and future possibilities, President Trump tweeted, "relationship [with Kim Jong Un] very good, let's see what happens!"
Bursting the PC Bubble: President Trump Gives Controversial State of the Union Address
by The Cowl Editor on February 14, 2019
---
National and Global News
---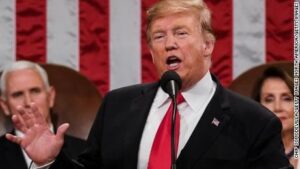 by Kyle Burgess '21
News Staff
On Tuesday, February 5, President Donald Trump spoke before Congress and the viewing American public in his annual State of the Union Address on Capitol Hill. 
The address was originally intended to be delivered a week prior during the time of the federal government shutdown, but Speaker of the House of Representatives, Nancy Pelosi, requested that President Trump postpone the event until the shutdown had concluded.
According to the president, Pelosi elected to delay his address because she "doesn't want to hear the truth," adding that the Democratic Party at large had become "radicalized" and "very dangerous." Cooler heads prevailed, however, and President Trump conceded to her plea.
With the backdrop of tense political antagonism and right off the heels of the longest government shutdown in the nation's history, many Americans had high expectations for President Trump's message.
The evening began in the same maverick fashion which helped Trump to gain a large nonconformist following, with the president immediately diving into his speech without pausing for an introduction by Speaker Pelosi to the joint session of Congress. 
Pelosi has since maintained that she did, in fact, introduce Trump and that no political slight occurred.
In ditching formalities, Trump attempted to begin his speech by reaching across the aisle to tap into the "unlimited potential" which could help to advance a nonpartisan agenda. He reminded those present that "millions of our fellow citizens are watching us now, gathered in this great chamber, hoping that we will govern not as two parties but as one nation."
His attempts at political unity were met with applause as he paid tribute to the courage and life of Joshua Kaufman, a Holocaust survivor and former Israel Defense Force member who embraced American ideals of equality and diversity when he moved to the United States. 
Trump received praise in highlighting the record number of women representatives serving in Congress, many of whom attended his address donning white clothes in commemoration of women's suffrage won nearly a century ago.
Over the course of his hour and 22-minute long speech, President Trump shared the legislations he hopes to enact over the remainder of his first term in office: the elephant in the room being the construction of a wall on the United States' southern border. While the president maintained that a wall would be raised with or without congressional approval, he amended his original promise of a concrete wall to a more effective see-through one.
President Trump also called for an end to the investigations led by special counsel Robert Mueller into possible Russian collusion within his presidential campaign launched back in May 2017, claiming, "If there is going to be peace and legislation, there cannot be war and investigation. It just doesn't work that way!"
Perhaps one of the more controversial topics President Trump addressed was a potential law which would ban late-term abortions. 
While very Republican in nature, these words seemingly contradict the opinions of a once "very pro-choice" New York businessman before bursting into the spotlight as the Republican presidential nominee. 
While a Democrat-controlled House would ensure such a law is not enacted for the foreseeable future, President Trump's stance served as a direct attack on the Reproductive Health Act in his home state which guarantees a woman's right to abort a child after 24 weeks of pregnancy if her life or health is at risk.
Other topics of discussion during President Trump's address included the passing of a bipartisan infrastructure bill, another scheduled meeting with Chairman Kim Jong-un of North Korea in late February, the necessity to lower the cost of health care and prescription drugs, and the protection of patients with pre-existing conditions.
Despite the president's attempts at promoting unity amongst Democrats and Republicans, his opposition was not very impressed, taking major issues with his remarks on abortion and insistence on a border wall in particular.
It would appear that President Trump's America continues to struggle in a state of disunity, one which he hopes to remedy during his remaining two years in the Oval Office.