Tag:
Dr. Kenneth R. Walker
In Memoriam: Dr. Kenneth R Walker
by The Cowl Editor on February 7, 2019
---
Features
---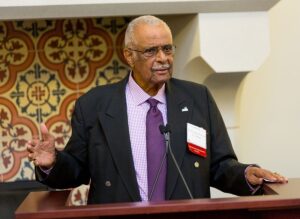 by Taylor Godfrey '19
Editor-in-Chief
This week, the Providence College community is mourning the death of Dr. Kenneth R. Walker, Sr. '57 & '83Hon. who passed away on Jan. 30. 
An East Providence native, Walker was an integral part of the PC community, graduating in 1957 with a degree in education and going on to work in urban education for the rest of his life. 
Walker worked in the East Providence school system before becoming a professor at both Rhode Island College and Johnson and Wales University. He also served on the Rhode Island Parole Board. 
At PC, Walker served on the Providence President's Council and was both a Big East men's basketball referee and a mentor to the Friars' men's basketball team. 
Walker was an important and esteemed member of the PC alumni community, receiving an honorary doctorate of social science degree in 1983 and the National Alumni Association's Exemplary Citizenship Award in 1993. 
Walker's legacy continues to be honored through the Kenneth Walker '57 Family Scholarship fund, established in 2008 by John Murphy. The fund offers scholarships for African-American students majoring in education at PC. 
Services for Walker were held on Wednesday, February 6 at the Faith Christian Center in Seekonk. Donations can be made to the Kenneth Walker '57 Family Scholarship Fund in his memory. 
The entire PC community sends its condolences to Walker's family. He will be remembered as a dedicated member of the PC community as well as a light in so many lives throughout Rhode Island.