Tag:
Elizabeth Jancsy '18
PC's Dance Company Shines in Spring Showcase
by Kerry Torpey on May 3, 2018
---
Arts & Entertainment
---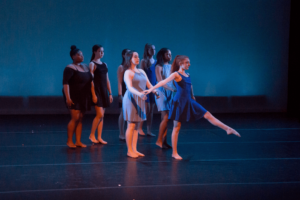 by Elizabeth Jancsy '18
A&E Staff Emerita
On Saturday afternoon in the Angell Blackfriars Theatre, the lights went down, the audience became silent, and dancers took their places on stage. To many dancers in the Providence College Dance Company (PCDC) it was just another dance show, but for the seniors in the company this would be their last time on PC's stage. 
From the beginning of the semester, PCDC has been preparing for their Senior Show. Every senior in the company has the opportunity to choreograph a dance as a final mark on the company that many of them have been a part of since freshman year.
Emotions were high but the passion was prevalent on stage. From more slow, modern pieces to electric tap numbers, the show offered a wide range of music and dance styles. As opposed to the fall show, this performance was all about the company dancers. The feelings of friendship and love were prevalent on stage. 
It is clear that these dancers are a family, and the trust and dedication they put into each other on and off the stage allowed them to put on a great performance. Each song reflected a group of dancers who were clearly working to create a piece of art that contains a message. The costumes allowed for the dancers to move fluidly on stage, and made every dancer shine in their spotlight. 
The choreographers were allowed to pick out the costumes themselves, making the piece even more in their control. It is clear that the dancers in this company have been training in dance long before their time here at PC. Featured in the program was a short bio for each dancer, and it was rare to not see a company member dancing before the age of 3. 
PCDC, an audition based company, selects some of the most talented and trained dancers on this campus to be a part of the company. The audience was blown away with the turns and leaps, and the dancers did not stop there. The dancers' athleticism was on full display during this show, as many dancers were in back to back songs. The show lasted two acts and displayed the dancers' energy and passion throughout.
The most memorable dance was the senior dance which closed the show. All the seniors danced together for one last time in a mass of beautiful lilac dresses. The lights illuminated the dancers, while the rest of the stage was bare. The women moved together in a very emotional and powerful way, reflecting the time they spent together in PCDC. It was a wonderful and touching way to congratulate the seniors on the work they have done. The final lighting cue was the PC crest illuminated on the stage, and as the seniors prepared for life after college, they took their final bow on the PC stage. 
Lorde of All Lords
by The Cowl Editor on April 12, 2018
---
Arts & Entertainment
---
Elizabeth Jancsy '18
A&E Staff
Grammy winning singer-songwriter and New Zealand native Lorde made her way into Connecticut on April 7 on the North America leg of her Melodrama World Tour. Playing over 70 shows in Europe, North America, Oceania, Asia, and South America, this is the second world tour for Lorde. 
Anyone who is familiar with Lorde's style of music one might expect very mellow and chill vibes at her concert, but. Lorde presented fans with an absolutely incredible, upbeat, over dramatic, and inspiring concert. From beginning to end, the audience was taken on a passionate and emotional artistic journey through song and dance. 
Opening with the hit "Sober," Lorde, along her backup dancers broke out on to the stage, covering the stage from all angles. Lorde showed off her dancing skills at her concert, which contained several dance routines that she participated in. The lyrical dance style complemented the songs very well. 
The songs, to no one's surprise, were just as good as they are blasting from one's speaker listening to the studio album. Lorde has a voice that is so rare in pop singers today, especially ones of her generation. She sings with strength and tone, and captivates an audience any time she performs. 
With the word "drama" in the album title, it is only fitting that Lorde be dressed like an actress in a Shakespearean production. She had two outfit changes throughout the night, which ranged from a simple matching top and pants to a more elaborate matching shirt and skirt outfit. Almost every outfit was in two pieces—avoiding dresses so that Lorde could get back to her songs and perform. When she was not jumping up and down on stage, she was flipping her hair and dancing beside the backup dancers. Although the stage was simple, what was unique about the show was the moving box that started on the ground of the floor and moved all the way to the top of the stage set. 
The box was used to hold dancers as they moved up and down on the set, looking as though they were dancing in mid-air. The band also assisted Lorde and acted as the backdrop to the rest of the set.
It is easy to get caught up in the entertainment of the concert, but Lorde did take time to thank her fans for helping her get this far, and for "getting her." She talked about how special this tour is to her and how it amazes her that she has support from all over the world. 
One of the more memorable moments of the show was after her speech, when she went into her slower songs, such as "Liability" and a cover of Frank Ocean's "Solo." This was an intimate moment for Lorde, and showed off just how versatile she is. If you were not dancing to her music, you were singing along with her. Either way, Lorde's Melodrama is an amazing act to witness.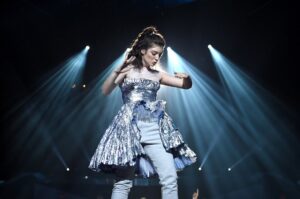 New Year's Hit, Lady Bird, Receives Postive Reviews at Premiere Showing
by The Cowl Editor on December 9, 2017
---
Arts & Entertainment
---
by Elizabeth Jancsy '18
A&E Staff
There is no better time than winter break to finally get to the movies to see this year's blockbuster hits before the ball drops at midnight. Lady Bird crept on the movie scene,  as it was released in select theaters on Nov. 3, but is now playing everywhere and is the talk of Hollywood.
A highly trained and regarded cast makes a big impact on the screen, as viewers cannot seem to get enough of this raw and truthful telling of a modern American family. This newcomer to the list of 2017 hits comes from female director, Greta Gerwig, and follows the life of one young woman and her struggles to adulthood alongside her stubborn, loving, and passionate mother.
"What Greta Gerwig has done—and it's by no means a small accomplishment—is to infuse one of the most convention-bound, rose-colored genres in America cinema with freshness and surprise," said the New York Times. 
The movie follows Marion McPherson, an overworked mother, and her relationship with her teenage daughter, who is equally as quick witted and strong willed as she is. Laurie Metcalf plays the role of Marion, while Saoirse Ronan plays the role of her daughter Christine, who calls herself "Lady Bird."
One of the break out stars in the movie, a rookie compared to her brother, Jonah Hill, is Beanie Feldstein. Feldstein pays the role of Julie Christine's funny, theatrical, and sassy classmate of Christine.
Feldstein told Vanity Fair, "Lady Bird is the best, which everyone's noticing, which is making me really happy. Sometimes when something is so warm and strange and small like that, you're worried that people are not going to get how special it is. But everyone's getting it. It's amazing."
Before shooting began, Gerwig took the cast back to her old hometown, giving them her journals and high school year book. The reason behind this, Gerwig told Vanity Fair, is she wanted the movie to act "like a memory."
This could be the reason viewers everywhere are running to the theaters to see it. It's a heartwarming tale, but one that is familiar and close to us. If one does not identity with is not Lady Bird, they find themselves in another character that was so beautifully portrayed on the screen. It is refreshing to see the relationships everyone holds in their lives portrayed in such an entertaining and moving way. Lady Bird is a must see this winter break.
Sam Smith Releases Newest Album, The Thrill of It All: Smith's New Songs Reflect His Recent Life Changes
by The Cowl Editor on November 16, 2017
---
Arts & Entertainment
---
by Elizabeth Jancsy '18
A&E Staff
It has been three years since our ears have been graced with the voice of Sam Smith following his chart topping, Grammy award winning album In The Lonely Hour. This previous release skyrocketed Smith's career to the top, earning him recognition around the world. The wait is finally over as Smith releases his highly anticipated sophomore album The Thrill of It All.
According to The New York Times the album is "about a man who turns his gaze outward." As Smith's music makes a comback on the charts, his fame is rising as well.
Smith's old sound is back. For those who love his soulful, smooth, and heartfelt chords, they will be happy to know he has not strayed from his original sound.
The Thrill Of It All, released Nov. 3, is Smith's second full-length studio album. Consisting of 14 new songs, Smith has listeners in a trance from the tear worthy ballad "Pray," to the feel good bop "Baby, You Make Me Crazy," the album has a vibe for everyone.
The album has already gained much attention from the first single Smith released this fall, "Too Good At Goodbyes," which jumped to the top five spot on Billboard Hot 100 upon release. It was clear based on that single alone that the album would be another milestone for Smith.
When describing the pressure of releasing a new album after such a successful first one, Smith tells Rolling Stone, "For the first two months, I really struggled because I realized I didn't actually like myself a lot." After touring for two full years, Smith moved back to London with his sister in 2015 to work strictly on his album out of the spotlight.
After receiving so much praise for his album, and much backlash for his incorrect statement at the 2016 Oscars about being the second openly gay person to win an academy award,  Smith decided it was time to work on himself, notably losing a lot of weight since he was last seen on tour. Smith is now back in the spotlight with what he describes to Rolling Stone as a "not so pretty album" that he likens to "a whiskey by yourself in a dark room, at night, thinking about life."
Smith continues by explaining, "I want this to be more gritty. I want it to sound older, a bit more uncomfortable," which reflects the changes Smith has made as a person and artist. Since its release date, The Thrill of It All has reached number one on the Billboard Top 200 Charts. Fans can purchase the album on iTunes or stream it on Spotify and Apple Music.
Do You Believe in Magic?
by The Cowl Editor on November 10, 2017
---
Arts & Entertainment
---
by Elizabeth Jancsy '18
A&E Staff
The beloved novel and blockbuster hit Practical Magic gets a new chapter to add to its story. Author Alice Hoffman recently debuted her newest novel The Rules of Magic, a prequel to the original tale.
Set in New York City in the 1960s, this novel follows the life of Susanna and her three children, Franny, Jet, and Vincent. Like many, Susanna has secrets about her family's past, but these secrets are not revealed to her children until they pay a visit to their aunt in Massachusetts.
Suddenly, everyone seems to know the truths to why they are who they are. Readers get the unique opportunity to follow the sisters of Practical Magic, Franny and Jet, before they became the beloved sisters of the best-selling original novel.
Last week, Hoffman spoke at Evening With Authors, an annual fundraiser for the Gloria Gemma Breast Cancer Resource Foundation hosted by Robin Kall at the Greenwich Odeum in East Greenwich. Hoffman, alongside two other authors, spoke about her newest novel and the work that went into creating something new for the fans.
From speaking candidly about her favorite bookstore to what book she is currently reading, Hoffman kept the audience entertained as they learned more about the author. Hoffman stated that she does not read when she is in the process of writing a book for fear that she will start to inhabit the mind of someone else's work, and she kept to this regime when creating the prequel.
Hoffman reminded those in the audience that because it is a prequel, no prerequisites are required. Allowing new readers to fall in love with these characters without having read her other work is the joy she has found in creating a prequel for the best-selling novel.
Hoffman also spoke about the making of the movie version of Practical Magic, which starred big Hollywood name Sandra Bullock and Nicole Kidman. Hoffman explained her role in the production, as she was very hands-on in making sure this story came to life in the right way.
Hoffman spoke lovingly about not only the actresses, but also of the set and production team. As they created "the best kitchen ever in a Hollywood film," it is safe to say every detail was covered in the world Hoffman created.
The Rules of Magic debuted on Oct. 10 and is already receiving a lot of attention from reviewers and readers, making it a celebration of past success and a gift to future lovers of the series.
The Earth Without Art is Just Eh…: Muse Paintbar is the Go-To Weekend Spot
by The Cowl Editor on November 2, 2017
---
Arts & Entertainment
---
by Elizabeth Jancsy '18
A&E Staff
One can never be bored in the city of Providence, from its thriving restaurants, to theatre, to unique shops and stores there is always something to do in this special place. Muse Paintbar is one way to up the fun on any  Friday or Saturday night.
The name says it all and yes, the Muse Paintbar is in fact a bar. Located on North Main Street in downtown Providence, the paint bar is a time to kick back, relax, enjoy a drink (or two), and put your painting skills to the test.
Founded in 2012, Muse Paintbar is a company that has opened its doors in 26 different locations with the intention of bringing the love of art and fun socialization to crowds around the nation. Locations range from Providence to Virginia, with each location promising a unique experience unlike a usual art class or bar scene.
The class starts with the instructor introducing the painting that will be taught that specific night at the paint bar. The painting is simple enough that anyone could do a decent rendition, but also hard enough to be entertaining to paint.
The instructor then goes step by step with the attendees on which colors to add and what shapes to draw with the right brush. All brushes and paints are supplied by the paint bar as well.
It is not a conventional art class in which attendees  sit around talking about the importance of the color orange; in fact, it was anything but. Music blasted from the speakers around the studio, people mingled with each other and got drinks at the bar.
The instructor would take breaks throughout the night so it was easy to forget that you were actually attending an art class. The instructor also reminded everyone that the painting did not have to come out like the model, meaning if you wanted to paint something entirely different you could.
Being able to drink, eat, talk to friends, and create a painting surely  made for an adult craft night. The aesthetic of the studio was very conductive to a bar vibe but also having fun with art.
Paintings line the walls and easels greet you from the door up to the bar. It may seem intimidating entering a studio without any art experience, but the employees make painting easy.
This past weekend one class painted a simple landscape piece with a and a few trees. The design was simple, but applying all the layers of color was the focus, clarified the instructor.
The class lasts approximately one hour, with a small break in the middle of the class. Just enough time to get out of the house and enjoy an evening out on the town.
After the class, paint bar goers are able to take the painting back home, a gift that not every bar in Providence can give out. If you are looking to tap into your creative mind, then Muse Painbar is the place for you.
The Center Will Not Hold Us: A Documentary on Joan Didion
by The Cowl Editor on October 26, 2017
---
Arts & Entertainment
---
by Elizabeth Jancsy '18
A&E Staff
Joan Didion one of America's most beloved authors, is finally getting the Hollywood treatment in a new documentary coming to Netflix, which show cases her career and personal life. Joan Didion: The Center Will Not Hold is a tell-all documentary about Didion, consisting of readings from her novels, rare home footage, and interviews with some of her closest friends and family about the impact she has left on the literary world.
The film is especially personal because it was produced and directed by Didion's very own nephew, Griffin Dunne. Adding a very honest and tender touch to the film, Dunne was able to showcase his aunt in a very relatable way, highlighting her humility even after all of her accomplishments.
Didion's rise to literary fame began in 1963 when she wrote her first novel "Run, River" while working at Vogue as a copywriter turned associate feature editor. The novel was an ode to her home state of California. Didion later went on to produce four more fiction novels, 13 nonfiction novels, and six screenplays.
In 2005 Didion accepted the National Book Award for Nonfiction for her novel The Year of Magical Thinking, which received high praise upon release. In 2013, Didion attended a ceremony at the White House where she received the National Medal of Humanities. Though she took a break from publishing beginning  in 2011, Didion recently released her latest nonfiction piece South and West in May 2017.
Although this is the first film about Didion, she is no stranger to the public eye. Aside from her own successful career, the author was married to the late John Gregory Dunne, an American novelist. The two often worked together to improve their writings. The couple also had an adopted daughter, Quintana Roo Dunne.
Didion experienced tragedies in 2003 and 2005 when she lost both her husband and daughter. Dunne passed away from a heart attack in 2003, and Quintana passed away from acute pancreatitis in 2005, leaving Didion to put her grief in her writing. She talks about losing her family members in her 2011 novel, Blue Nights.
Moments like these, and many other private and intimate details of Didion's life, are on full display in this new documentary. Having premiered at the New York Film Festival prior to its anticipated Netflix release, audiences got the first look at the life of a true American icon.
In an interview with Didion and Dunne, Vogue notes, "The documentary doesn't ignore her glamour, but, perhaps because it was made by family, it adds something new: a tender, life-size portrait of Joan Didion as a person. In their scenes together, she and Griffin have a touching rapport; when he recalls first meeting her as a young boy, she laughs at the memory and leans into him, entirely at ease."
They continue by explaining how Didion's "deep attachment to family" is unsurprising due to her extensive writing about the loss of her husband and daughter. The difference is that viewers "see her family and friends telling her story alongside the readings from her work is to make it all seem of a piece, to bring the whole of the life into focus."
In the same interview with Vogue, when asked about their thoughts on the film, Didion replied   "It was extraordinary, I thought I didn't want to look back on this stuff, but I did." Joan Didion: The Center Will Not Hold premieres on Netflix Oct. 27.
Death of a Salesman Resurrects at Trinity Repertory Theatre
by The Cowl Editor on October 5, 2017
---
Arts & Entertainment
---
by Elizabeth Janscy '18
A&E Staff
It can be hard to determine what makes a play a classic. Some may say it is in the characters and their development throughout the play, whereas others may say it is the writing and realism of the words spoken between characters. Arthur Miller's Death of a Salesman is one of those classic plays; not simply because of the characters or dialogues, but because of its chilling message that has touched audiences since 1949.
Death of a Salesman is a tale about Willy Loman and his desire to achieve the American Dream. Along with an intensely dark family dynamic, Willy becomes obsessed with success and wants nothing but the best for himself and his two sons. Willy soon finds out, however, that the finish line to success is miles away and the obstacles to get there are too great.
When this play first opened on Broadway in February 1949, it became an instant hit, winning the Tony Award for Best Play and the Pulitzer Prize for Drama. The show went on for 742 performances before later gaining buzz again in numerous Broadway revivals.
The reason this play was such a success then, and continues to be today, is the story of the play. The American Dream is something prevalent in everyone's lives and the desire to be successful is a universal feeling and, oftentimes, a universal struggle.
On Sept. 28, Trinity Repertory Company in Downtown Providence held the first preview of their production of the show, which is set to open in early October. The theater was buzzing as everyone took their seats, anxiously waiting to see Trinity's take on this theatrical staple. After witnessing all two hours and 45 minutes of it, it is safe to say it did not disappoint.
The most striking moments in the play were the scenes featuring Willy Loman (Stephen Berenson) and his son, Biff Loman (Matt Lytle). Both actors perfected the imperfect relationship between these two characters. The dynamic of the two lies between pure love and intense hate for one another. Willy wants what is best for Biff and believes he has so much potential, yet is frustrated by the fact that Biff seems to be throwing it all away. Biff, on the other hand, is confident in his plans for the future and wants nothing more than his father to mind his own business.
Both Berenson and Lytle played convincing parts, as they went back and forth with each other; the powerful intensity at which each challenged the other was clearly visible on stage. Most notable was the chilling scene towards the end of the play when, after the two men fight over Willy's unrealistic expectations for Biff, they hug and cry. Biff sees that Willy just wants what is best for him and Willy is finally happy that Biff recognizes his side.
Seeing this play in person and done so well by Trinity Rep makes it easy to understand why it has stayed in the theater world for so long. The scenes that moved people when it premiered brought tears to the audience's eyes. It is a play that still calls on the trials and tribulations of pursuing the American Dream, which is something that all Americans can relate to.
Point Street Reading Series Fosters Creativity
by The Cowl Editor on September 28, 2017
---
Arts & Entertainment
---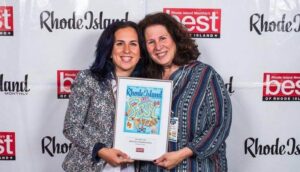 by Elizabeth Jancsy '18
Upon entering Bayberry Beer Hall on the West Side of Providence on a Tuesday night, you may be surprised to find people flooding the bar with drinks in hands and food flowing from the kitchen to the hungry and chatty guests, especially if you thought you were attending a book club.
Home of the locally famous Point Street Reading Series, this location breaks the mold of your mother's book club meetings. This fun, chic, and chill atmosphere makes you forget about the boring side of reading and reminds you of the thrilling and creative side of literature.
On the third Tuesday of every month, Robin Kall Homonoff, creator of the Reading with Robin website and podcast, hosts the Point Street Reading Series, a night celebrating authors and their work.
Every month, Homonoff invites four to five authors to visit Providence to speak about their work and read from their new novels, while guests of the event can mingle, eat, drink, and purchase the author's books.
In the past this event was held at Point Street Dueling, Piano Bar, which inspired the series' name, but this past Tuesday was the debut of its new home at Bayberry.
Though it had only opened its doors a few days prior to the Point Street Reading Series, Bayberry became the "hot spot" of the town Tuesday night when it hosted the authors of September's Reading Series picks. These authors included Robinne Lee (The Idea of You), Tova Mirvis (The Book of Separation), Danya Kukafka (Girl in Snow), Joe Berkowitz (Away with Words), and David Samuel Levinson (Tell Me How This Ends Well).
Unlike most book clubs, you do not need to do any prior reading for this one. The point of the series is for the authors to share their passion for their novels and why they wrote them, and to interest you in a sample of their work. Lee shared with the audience about the start of her career as a student at Yale who then went on to law school and then became an actress and later a writer.
"You know the saying everyone tells you when you say you want to become an actor: If you can imagine yourself doing something else, do that instead.' Well, they were right." Lee explained that her unconventional route to writing lead her to create a funny and intriguing story about a woman in her late thirties who falls in love with a young rock star.
Unlike Lee, Kukafka's road to writing took a straighter path. The debut novelist also happens to be an assistant editor at Riverhead Books, an imprint of Penguin Books. Kukafka detailed the calculated way she went about creating her novel, as she molded a story told from more than just one point of view, inspired, she said, after reading Jeffrey Eugenides' famous novel The Virgin Suicides. It was then that she created her story about a small town murder case told from the point of view of three different characters.
What is so genuinely entertaining about the Point Street Reading Series is that it is not about the authors reading from their books with their heads down and their mouths hovering over the microphone, but rather the truthfulness and vulnerability that comes with creating any type of art.
Each author went up and talked about his or her struggles and triumphs. They were not afraid to admit when things were hard or when they feared they could not make a career out of their passion.
Levinson shared his personal, rather dark relationship with his dad and how that inspired him to write his novel, while Mirvis explained her understanding of love and religion and how that impacted hers.
Attending the Point Street Reading Series became almost therapeutic, as one could not help but become inspired by the work and lives of these authors.
The authors celebrated not only the work that they have produced, but also the difficult paths they embraced in order to get to this point, is which truly left an impact on those who attended. The Point Street Reading Series is open to the public, and takes place on the third Tuesday of each month.
Review: The Importance of Being Earnest
by The Cowl Editor on September 21, 2017
---
Arts & Entertainment
---
by Elizabeth Jancsy '18
A&E Staff
As the audience adjusted in their seats to find a comfortable position, the lights dimmed and the actors took their places backstage. This was no longer a high school English classroom, but rather a live action lesson in the art of Oscar Wilde in the Sandra Feinstein-Gamm Theater's production of  The Importance of Being Earnest.
This past Thursday, September 14, the Gamm Theatre debuted its 33rd season with the opening of one Wilde's greatest work. The play originally premiered in 1895 in the heart of London and became an instant success. Wilde's commentary on British society and political issues was seen as brilliantly hilarious and groundbreaking work. It allowed Wilde to make a name for himself in the world of theater.
It is not uncommon to find this play on a class syllabus simply because it was such a revolutionary piece of work for its time. It can be even more common, however, to roll your eyes when you are forced to see an actual production of the play, as productions rarely do the work of Wilde justice. Like many of Shakespeare's plays, it can be hard to recreate a play that has been done so many times, fearing the chance that it is just like every other production done before it. This was not the case for the Gamm Theatre.
The second the first actor spoke, the audience was immediately thrown into the complex and hilarious worlds of Jack Worthing, Cecily Cardew, and Gwendolen Fairfax. The set design for the play was eye catching, realistic, and worked very well for the intimate black box setting that is the Gamm Theatre. No seat is a bad seat as the actors live in the space before you, in a set modeled after a living room in the period of the play.
Another gift of being so close to the actors was the ability to admire the costumes. The details and seams of these jaw-dropping pieces was on full display, as each piece truly lent itself to the time period and the personality of the characters. The character of Lady Bracknell, played by Deb Martin, truly shined in her costume, a metallic blue dress and detailed sun hat. Reflecting the god-like dramatics of her character, Lady Bracknell would not have made sense in a more simple dress like the one Cecily Cardew, played by Alison Russo, wore.
The true scene-stealers were Russo and Nora Eschenheimen, who played Gwendolen Fairfax. Only true professionals can master the witty banter that Wilde created for these two characters and both actresses proved that they were up to the task.
Both women kept the audience on their toes with their quick answers and subtle digs at each other. It is safe to say after witnessing this performance at the Gamm, one can finally understand why this play is regarded as one of the greats.