Tag:
Elizabeth Jancsy '18
You'll Be Eaton!
by The Cowl Editor
---
Arts & Entertainment
---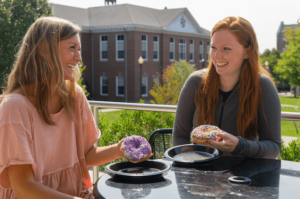 by Elizabeth Jancsy '18
A&E Staff
If you are from the Rhode Island area, odds are you are familiar with one very popular donut shop. Located in North Kingstown, Allie's Donuts has become a staple in the Ocean State, bringing in travelers near and far for their iconic classics, from eye catching rainbow sprinkles to donut cakes.
Established in 1968, this family owned bakery put up shop along a busy stretch of Route 2, not knowing just how far this dream would take them.
This fall, our very own Eaton Street Café broke the news that Providence College will now officially carry Rhode Island's favorite donuts right here on campus. Gone are the days of waiting in line for the yummiest treat in the state, now you just have to walk across campus.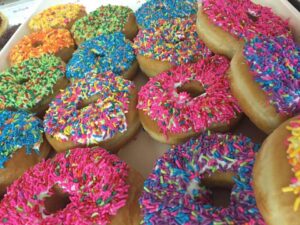 Ryan McSweeney '18 was very pleased with the donutdebut onto campus, saying, "Who knew some sprinkles on a doughy circle would make my mornings exponentially better. I want to find this 'Allie' woman and shake her hand for making this delightful creation and having the generosity to share them with [not only] the world, but most importantly with Friartown."
Along with many other students, Anna Haywood '19 is a fan, explaining, "I was not to sure about Allie's Donuts, but after seeing them and trying one at BOP's Provapalooza event on Friday afternoon, an Allie's donut from Ryan will for sure become a part of my regular morning routine."
The donut flavors change throughout the week, with options ranging from sprinkles to chocolate or strawberry to vanilla glazed. Make sure to get there early because once they are gone—they are gone! Not to worry though, you will just simply have to come back the next day, as The Eaton Street Café serves them Tuesday through Friday every week! You donut want to miss out on this sweet new PC treat!
Girlboss Brings Ambition to Netflix
by thecowl.ae
---
Arts & Entertainment
---
By Elizabeth Jancsy `18
A&E Staff
It is the year 2006 in sunny San Francisco, and a 23 year-old girl by the name of Sophia has found herself in a rut. She has no job, no respect from her father, and if she doesn't think of a way to earn money fast, she will have to move home. With little time and no money, Sophia turns to eBay, where she finds not only money for rent, but also her true calling.
This is the true story of Sophia Amoruso and the plot to Netflix's new series Girlboss. Amoruso is the founder of Nasty Gal, a popular retail website that, according to The New York Times,  has gained over 550,000 customers in 60 countries since its start in 2006. The website offers hot new clothes and current brands, but also stays true to its original work in one of a kind vintage finds. Along with Amoruso's success in her company, she has written a book entitled #Girlboss and started a foundation of the same name, granting scholarships to young women pursuing creative endeavors.
Although both the title of Amoruso's book and the debut series share the same name, they are lacking in similarities. Unlike Amoruso's book, that acts more as a "How To" guidebook in the world of entrepreneurship, the Netflix series provides a much more entertaining and comedic narration of Amoruso's rise to retail fame. Starring Britt Robertson (The Longest Ride) as Sophia, viewers follow along as a youthful, spunky, and determined young woman builds her own empire from the ground up.
At times, the characters and plot lines can be a little cheesy, clearly reflecting the scriptwriters' attempts to be funny and relatable, but they do warn viewers at the start of every 30 minute episode, "this is a loose telling of actual true events…very loose." One episode is based around Sophia having to personally deliver a vintage wedding dress to a bride moments before she has to walk down the aisle, simply so Sophia can avoid a bad review on her eBay account. It is moments like these that one can't help but appreciate the truer story line behind the comedic tale, and see the reflection of someone who worked very hard to make a dream come true.
Even if one isn't into fashion, the show holds something for everyone. There is love between Sophia and a potential boyfriend Shane, friendship between Sophia and Annie, and comical moments between Sophia and her neighbor Lionel, played by the famous RuPaul Charles.
One can also expect killer music, reflecting not only the early 2000s, but also Amoruso's love for music (as the name Nasty Gal was inspired by the 1975 album by Betsy Davis), and also beautiful snapshots of the city of San Francisco, where they filmed the series.
Although the series may not teach you how to run your own business and become the most powerful person in the business world, it does show you the trials and tribulations of a relatable young adult just trying to figure it all out.
A British Take on an American Classic
by The Cowl Editor
---
Arts & Entertainment
---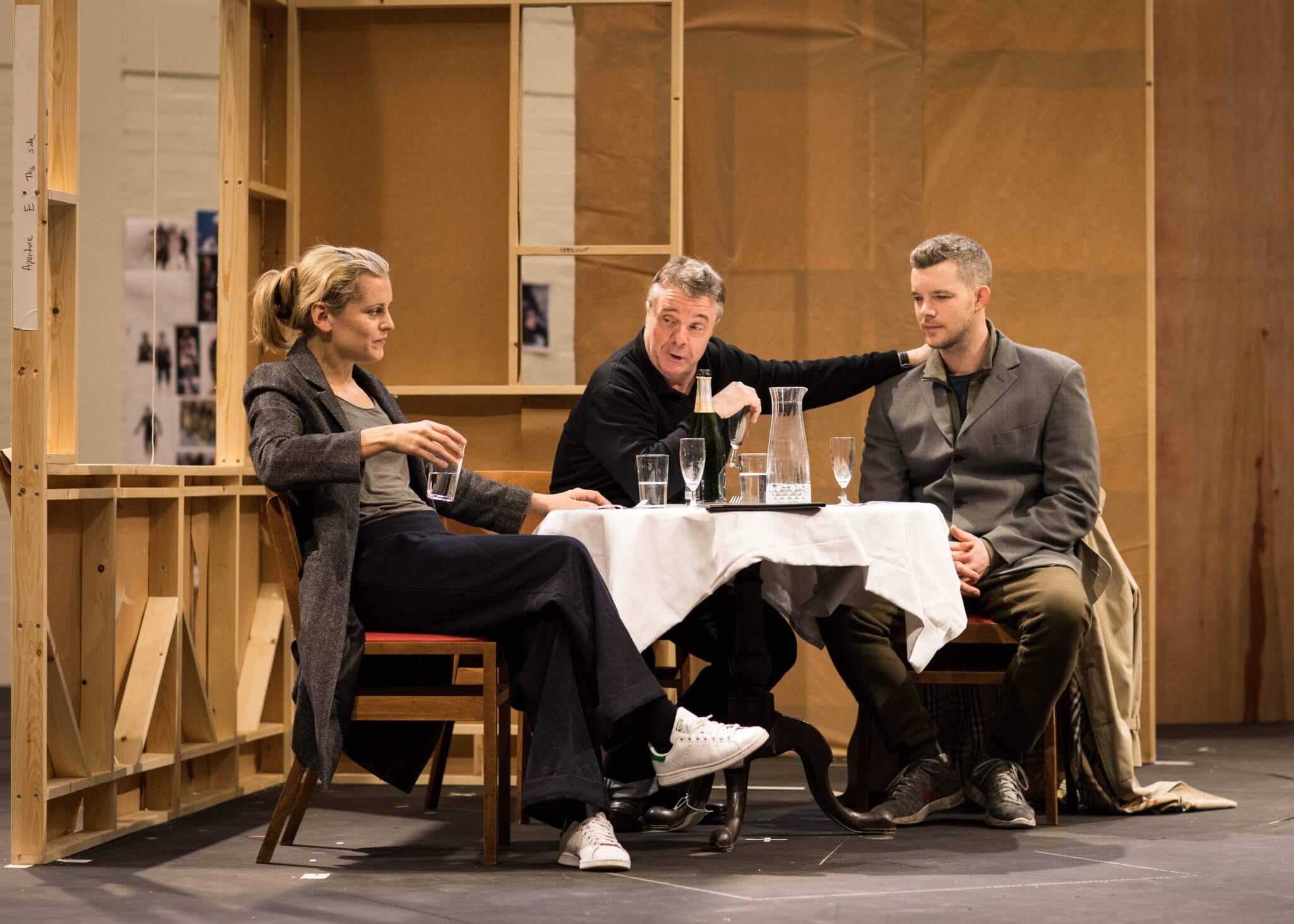 by Elizabeth Jancsy '18
A&E Staff
The American classic has made its way across the pond, as London's National Theatre prepares to open its doors for the premiere of Angels in America on April 11, 2017. Written by Tony Kushner, this Pulitzer Prize and Tony Award-winning play follows the relationships of two couples, Prior and Louis and Joe and Harper, in New York City, touching upon themes of homosexuality, AIDS, and the supernatural in the 1980s.
The entire two-part play debuted on Broadway in 1993, directed by George C. Wolfe, before becoming an HBO miniseries of the same name in 2003. Now, almost 24 years later from the original debut the play is returning to the stage in London.
Directed by two-time Tony Award winner Marianne Elliot, the National Theatre will have its turn at tackling the six hour production with only the best of the best on stage. The cast list consists of stage veterans such as Nathan Lane (Guys and Dolls, The Producers) and Andrew Garfield (Death of a Salesman), as well as Denise Gough (People, Places, and Things).
Upon the National Theatre's announcement of the production, Garfield released a statement to Playbill. "I feel tremendously grateful and healthily daunted at the prospect of being back in a rehearsal room at the NT to attempt to scale the mountain of Tony Kushner's masterpiece Angels in America," he said. Garfield will be playing the role of Prior Walter, a man suffering from AIDS, which ultimately affects his relationship with his partner Louis.
Unlike past stage adaptations, new elements will be added to the National Theatre's production of Angels in America; perhaps the biggest one of all is the chance to see it on screen. Along with the announcement of the show's stage dates, the National Theatre also released broadcast dates, revealing that the show will be filmed during a performance and screened around the world. This is a  new approach to enjoying live theatre; now the ones who were not lucky enough to obtain a ticket can watch it from the comfort of a movie theater reclining chair.
The need to reach a wider audience is not just simply because of the show's star-studded cast, but rather its message of toleration and acceptance. Nathan Lane, playing the role of Roy Cohan, a closeted lawyer, released a statement on the matter to Playbill. "I am very honored to be making my NT debut with such a distinguished cast under the direction of the brilliant Marianne Elliott in Tony Kushner's masterpiece," he said. "In light of recent political events here in the U.S., I can't think of a better or more timely play to be doing."
Although one cannot deny the giddiness in hearing names such as Lane and Garfield, the lessons learned in the play are far more important to take out of this opportunity. Garfield also added, "What a gift to work on and offer up this play that feels so urgent at this very moment, for all of our souls."
A play like Angels in America proves that the power of theatre can reach more than just one audience, for it has the power to reach the world. Part One of the play, Millennium Approaches, will be in cinemas July 20 and Part Two, Perestroik, will premiere July 27 in participating theaters.
This is…Suspenseful
by The Cowl Editor
---
Arts & Entertainment
---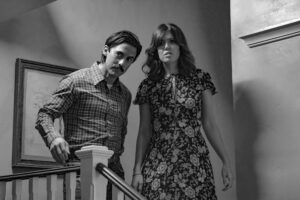 By Elizabeth Jancsy `18
A&E Staff
One of the most talked about shows this season is slowly coming to a close, as fans brace themselves for the upcoming season finale of This Is Us on NBC. The network's newest hit has taken its fans on an emotional roller coaster every Tuesday night, and now, with the season finale on the horizon, many are wondering what will finally be revealed before the end of the first season.
The show deals with a non-linear timeline, jumping from the current-day lives of siblings Kate, Randall, and Kevin Pearson, to the lives of their parents Jack and Rebecca Pearson in the '80s. This set-up allows for viewers to enjoy many different story lines, and also cry at least once for every single character on the show.
One of the first big questions viewers are dying to know the answer to is what will become of the different couples on the show. In the current day timeline, Kate is engaged to Toby, a man who struggles with his weight like Kate, but looks at life a little bit more optimistically than she does.
Oftentimes in the season, viewers see these two lovebirds get into heated arguments, but one has to believe that it is Toby's charm that Kate loves, and Kate's willingness to open up that keeps Toby around. Dan Fogelman, the creator of the show, told The Hollywood Reporter, "It's all part of the bigger story of Kate and Toby's relationship. It's a lovely and often romantic-comedy-esque relationship between them. Decisions got made really quickly, and they're very up and down. They continue to be struck by these obstacles that force their relationship to either move too slowly or too quickly."
One can never be too sure though, as things could really shake up in the last two episodes, and Kate could be saying goodbye to her one true love just like Kevin did with his ex-wife.
What felt like halfway through the season, the sweet talking, ladies' man Kevin, revealed he has an ex-wife who he is still in love with. Viewers are no strangers to Kevin's intimate life, as he has bounced around from artist to artist in his new home of New York City. What viewers were not expecting though, is that deep down Kevin was grieving the end of his relationship with his ex-wife who he cheated on and left for fame when he set out to become an actor. Hearing this, one may think that this relationship must be over, but writers may have viewers fooled, for it seems Kevin could be getting a second chance at love.
Of course, anyone who watches this show knows that the biggest question that needs answering is how the father, Jack, dies. Around the third episode it was revealed that Jack was dead, when Kate addressed it in the current day. Since then, each episode hints at how Jack passed away. Jumping back and forth between the current day and the '80s, viewers learn he died very young, while Kate, Randall, and Kevin were still in high school, and that Kate still grieves his loss.
Justin Hartley, the actor who plays Kevin Pearson, spoke to US Weekly about the passing of Jack. "You'll never guess it. It's unexpected and it's extremely heartbreaking and sad and deep and moving and, ugh, it's painful. It's painful. It'll stay with you." Fans everywhere have speculated about how the writers will create the demise of one of the most beloved characters on the show, but viewers are also wondering where does the show go from here?
Following the non-linear timeline is fascinating and interesting when viewers are learning and discovering things about these characters for the first time, but what happens when the viewers finally see how one of them passes away? Fans worry that the presence of Jack will no longer serve a purpose to the show, as viewers will know the fall of the heroic dad. How much of the past can be told about Jack before there is nothing left to share?
NBC has confirmed that the actor who plays Jack, Milo Ventimiglia, has already signed on for another two years of the show, meaning viewers will not have to say goodbye to Jack for now. But only time will tell how long viewers stay stuck in the past with Jack before the past simply just gets old.
Adele Won, Beyoncé Deserved
by The Cowl Editor
---
Arts & Entertainment
---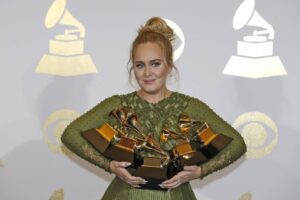 By Elizabeth Jancsy `18
A&E Staff
The biggest names in Hollywood and music packed the Staples Center Sunday night for the 59th year of The Grammy Awards. The show featured a variety of performances and a number of winners. However, it was clear there were truly only two contenders Sunday night: Adele and Beyoncé.
After a groundbreaking year for both female artists, as Adele and Beyoncé went head-to-head in four categories Sunday night. They were both up for for the coveted award of Album of the Year. Adele released her album 25 on November 20, 2015, featuring her hit single of the album, "Hello." The album was a massive success ,following that of her second studio album 21, which eventually became certified diamond and sold over 10 million copies in the US.
Beyoncé released her album Lemonade, along with a full visual album on April 23, 2016. In typical Beyoncé fashion, she released not only the recorded tracks but also a full music video to accompany each song, following in the style of her 2013 self-titled album. With hits such as "Formation" and "Hold Up," Lemonade sold over 1.52 million copies in the U.S.
Receiving such high praise for both pieces of work, it can be hard to judge which album is worth the most recognition from music's most prestigious awards ceremony. It seems The Grammy's didn't have a hard time deciding, as it became evident as the night progressed that Adele would snag each category away from Beyoncé.
Both women were nominated for Album of the Year, Song of the Year, Record of the Year, and Best Pop Solo Performance. Adele won every category and many people were not happy about it. Beyoncé is no stranger to losing the Album of the Year title, as she lost it against Beck in 2013 with her previous album. But after taking the loss again this year, many fans are questioning where the respect is that Beyoncé deserves.
Following the biggest upset of the night, The Rolling Stone released an article with an opinion on why Adele won Album of the Year over Beyoncé. They suggested reasons such as presentation becasue Adele released her album the old fashion way in a standard and non-downloadable way, while Beyonce streamed her music off the music site Tidal.
This relates to another suggestion that the Grammy voters are simply old and therefore are less connected to the powerful and culturally significant tracks Beyoncé put out, compared to the timeless messages of Adele. They also suggest it may have come down to facetime. Adele and Beyoncé both went on tour this past year to promote their albums, with Adele playing over 107 shows, as opposed tto Beyonce's 49. Nobody can say for sure the reasons why Adele was able to pull the win over the Lemonade movement; not even Adele wasn't sure how she beat 'Queen Bey'.
"But I can't possibly accept this award. And I'm very humbled and I'm very grateful and gracious.The artist of my life is Beyoncé. And this album to me, the Lemonade album, is just so monumental. Beyoncé, it's so monumental. And so well thought out, and so beautiful and soul-baring and we all got to see another side to you that you don't always let us see. And we appreciate that. And all us artists here adore you. You are our light," said Adele as she accepted Album of the Year.
It cannot be an easy task to decide between two of the greatest albums this generation has been exposed to, but there has been widespread agreement that Adele's win was Beyoncé's win. Adele dedicated her win to Beyoncé, and even broke off a piece of the award for her.
The Spearhead of Activism
by The Cowl Editor
---
Arts & Entertainment
---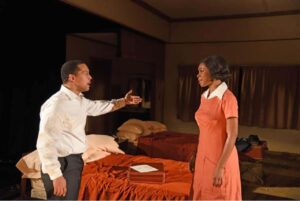 by Elizabeth Jancsy `18
A&E Staff
'The fourth wall,' the invisible barrier between actor and audience, is often thought a convention of acting. However, according to Actor Joe Wilson, "no-one pays attention to the fourth wall anymore." Wilson proved himself right, as he and his colleague Curt Columbus visited and spoke on their most recent play, The Mountaintop, with a Providence College Development of Western Civilization class.
On Tuesday, Jan. 31, Dr. Dana Dillon, Dr. Jennifer Illuzzi, and their DWC colloquium class welcomed Wilson and Columbus from the Trinity Repertory Company to speak and discuss both their play and the larger issues surrounding it.
Written by Katori Hall, the play portrays Dr. Martin Luther King Jr. the night before his assassination and consists entirely of a conversation between Dr. King and his maid. Despite this simplistic setting, the play focuses on and evokes reactions to substantial issues such as race, identity, and activism. With the presence of Wilson, who played Dr. King, and Columbus, the Artistic Director, the class was able to engage in a lively discussion concerning these topics from a variety of perspectives.
According to both the performers and the class, The Mountaintop put Dr. King in a unique light. A major point of agreement and emphasis among the group was that Dr. King was humanized in the play, making him seem more like a real man and less like a symbol. "He was just a man who had the courage to do a series of extraordinary things," said Joe Wilson.
Seeing Dr. King as "just a man" proved to be a powerful image for many in the class, and they voiced their common impression that with enough courage and determination every person could make a significant impact. Although some students conceded they were not sure what impact they would make, Wilson and Columbus claimed they utilized the theater as a medium for activism.
As evidence of this, Wilson referred to a momentous scene in the play in which Dr. King watches a montage of the accomplishments in and obstructions to racial equality up until the current cover of the New York Times. He said that it was special and a gift that he was able to "respond to a moment at a specific time." Both Wilson and Columbus also spoke on their role as performers in such a contentious time, calling the arts "the spear of activism."
Columbus made it clear that his theater attempts to confront the major current issues, saying, "We are trying to create a provocative space." Wilson reiterated this message and said that he never wanted to see an audience leaning back and enjoying pure entertainment. Rather, he said, "We want you to lean forward."
For those who still want an opportunity to "lean forward," there are still opportunities to see Trinity Repertory Company's production of The Mountaintop. The play will continue to be performed at The Dowling Theatre in Downtown Providence until Feb. 12.
Looking Forward with Oliver Penn
by The Cowl Editor
---
Arts & Entertainment
---
by Elizabeth Jancsy `18
A&E Staff
If you are Oliver Penn '17, your weekend might look a little different than the average college student's. Instead of just relaxing with friends,  your weekend plans would also include picking up your guitar, standing in front of an audience, and playing your heart out. As Penn set up for another night of rocking, the senior marketing major and full time musician had plenty to say about his passion for music and future in the business.
"My mom stuck me in piano lessons like everybody else, and I just loved it," said Penn, "and kept with it. I just wanted to play guitar and drums so bad and she was like you gotta start with piano!" Playing since what feels like forever for him, Penn fell in love with the many sounds of music, recalling his lessons in piano, as well as eventually learning both the drums and guitar.
Learning to play new instruments and being able to create new sounds, Penn started playing around with new styles, thus creating the label of his own music. "I used to put my music in a certain genre, I used to really want to do blues rock and alternative blues, but recently I have decided not to put a name on it. I've been collaborating a lot, but it will always be changing."
Penn remembers the start of his performance career, writing songs that he deemed "not good" in fourth and fifth grade. It wasn't until sophomore year of high school that things became more serious for him. "I played in school dances in high school, and some were originals but they wanted covers. I always tried to push my stuff. I wanted people to hear my songs!"
Penn notes that his recent move to do more collaborations has had an impact on his sound as well. "Certain artists rub off on you, so I think my sound evolves when I collaborate, but it's also myself as well. I live in Houston so I've gotten to work with some cool artists and I want to keep going with that."
Aside from performing live and working on collaborations with other artists, Penn is also no stranger to the intimacy of a studio. Releasing a few singles in the past, with the goal of releasing a full-length album soon, Penn prepares to pass his work around.
Deeming Chance the Rapper as one of his musical role models, Penn strives for independency in his music. "He basically has proven to young artists that you can release your own music for free and still make it," says Penn, "For me, my goal is to keep releasing it the way I want to release it. SoundCloud, Spotify. It's about learning from mistakes and tweaking it. Learning if I want to have it wider spread or anticipate it and promo it for a longer time. It's all about learning."
Penn's goal for the rest of the year is to release a few more singles before he finally compiles them all for his album. When asked if it will be hard to choose what makes the final album after completing so many singles, he said, "I'm working on just recording all of them, and then the day I actually have to pick I will just be like 'Okay these!' and just put them out there. There are songs that I always knew would be on the album, but the rest will just happen that way."
Penn seems confident in the road ahead, knowing that he will always have a hand in the approach to his music. From the business side to actual composition, Penn will always stay true to himself.
Alumni in the Spotlight: Mike Leonard `70
by The Cowl Editor
---
Arts & Entertainment
---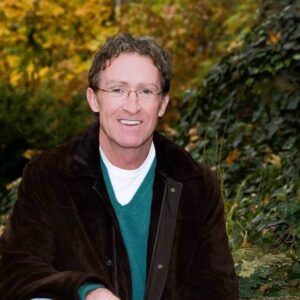 by Elizabeth Jancsy `18
A&E Staff
It is safe to say once the Civ classes are over and the diploma is handed out, you will still and forever be a Friar. We often hear about the great success of people who have paved the way in different work fields but often forget they were once like us, eating dinner at Ray or checking out a BOP event over the weekend.
It's empowering to know Providence College has a long list of successful and recognizable names of alumni and that they started out just like us. Mike Leonard '70, a proud Friar, is no stranger to the spotlight.
Leonard graduated from PC and began his career in journalism. Working on the Today Show for 31 years, Leonard was a feature correspondent and one that was known for his spunky and unique reports. Behind the scenes Leonard was also a producer, working with the production company Picture Show Films. Having a hand in huge networks such as PBS and ESPN, Leonard had his hands on the goldmine of television.
These were only half of the interests that Leonard pursued in his time after Friartown. Taking a break from the world of entertainment, Leonard went on a road trip of a lifetime that turned into a literary exploration. Traveling with his parents and his children, Leonard documented his RV trip across the country. Connecting with his family, reminiscing on the past and the present, Leonard created the novel that would soon be in the homes of millions.
The novel consists of many touching tales of Leonard's parents and their history, as well as Leonard's life and his children. This novel soon became a documentary series simiolarly named The Ride of Our Lives. Still containing the magic touch of entertainment, Leonard crafted the show to reflect the novel and its impact it had on him while documenting his journey.
Leonard eventually retired from the Today Show and his life in the journalism field, but like all Friars, he left an impact as a hard working and dedicated man. Being of so much wisdom and passion, Leonard created a career for himself filled with life and adventure, mimicking his personality.
Matt Lauer, one of the most famous journalists of our time, as well as the head anchor on the Today Show, had these words to say about Leonard on his last day on the job on the air, "Your stories…are a microcosm of you. They all have incredible heart, they're told with kindness, and hope, and modesty. They are understated and yet so powerful, and that is you in a nutshell."
Representing the true essence of what it is to be a Friar, Leonard touched the lives of many through his journalism and writing. Because of that, he was able to make an impact in the world of entertainment. From class in Feinstein to center stage on a national news station, Leonard has proven that Friartown is geared toward your future, and that this future is bright!
The Children's Hour at The Gamm
by The Cowl Editor
---
Arts & Entertainment
---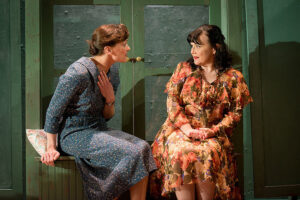 by Elizabeth Jancsy `18
A&E Staff
Upon entering Sandra Feinstein-Gamm Theatre in Pawtucket, Rhode Island, I saw the black box that has held countless breathtaking performances produced by the Game before. The atmosphere is comforting and familiar, yet what I was about to see was unlike any production I have previously seen.
The Children's Hour by Lillian Hellman is a play set in the 1930s, following a scandal that breaks out at an all-girls boarding school. The scandal consists of an alleged love affair between Karen and Martha, two female headmistresses of the respected boarding school. This scandal was conjured by the mischievous Mary, a student at the boarding school who is simply out to cause trouble. Spearheading the news, Mary not only creates trouble for these two women, but the school, the town, and herself.
Madeleine Lambert (playing the role of Karen) and Karen Carpenter (playing the role of Martha) have beautiful chemistry on stage, capable of captivating the audience while also portraying the heartbreaking struggle of dealing with homosexuality in the 1930s. During this time period, homosexuality was very much frowned upon in society, so when news broke that these two women were seeing each other, their lives changed dramatically.
The two women found themselves in constant question by their students and their parents, by their society, and by their loved ones as well. Although it is clear that Mary spreads this rumor out of spite, the audience begins to wonder about the true relationship of Martha and Karen. The text makes you question if there really is chemistry between these two women or if it is all simply made up. While your mind entertains this question, your eyes are also entertained by the sets and costumes of this beautiful production.
The set stays within the essence of the classroom, as though you are sitting amongst the students. Each student dons her own classic school uniform, consisting of plaid skirts and knee socks. It's arguable that the women who steal the show are the young schoolgirls, who add a bright and youthful touch to the production. Before Mean Girls and the Plastics, the girls of this boarding school formed the ultimate cliques.
It takes a wonderful director to create a team of young ladies who complement each other onstage as if they are seasoned pros at the age of 14. All fun aside, however, the audience must prepare for a rather devastating ending—one that will make you cry but also question the impact that we have on each other. This play made me think about the human approach to empathy and kindness.
As an audience member you grieve for Martha and Karen, but you also find sympathy for Mary. Each character has a struggle that they battle with, making the play very raw and real. If you are in the area of Pawtucket, I would recommend grabbing a ticket to this show. It is a truly remarkable tale, told by a wonderful cast and crew.