PC1G Celebrates National First-Generation Day
by Emma Strempfer '24 on November 27, 2022
News Co-Editor
---
Campus
---
Nov. 8 marks National First-Generation Day, and in celebration, the PC1G Initiative hosted a table in the Slavin Atrium last Tuesday. PC1G ran the table with help from the Student Success Center, the Office of Institutional Diversity, the Office of Public Safety, and the Peer Mentoring Program. They offered snacks, stickers, and free swag. 
A first-generation college student is generally defined as someone whose parents did not complete a four-year college degree. There are over 500 first-generation students at Providence College, and this year's freshman class has the highest number of first-generation students yet. 
Colleges across the nation celebrate this day in commemoration of the Higher Education Act (HEA) of 1965. The law was part of a larger domestic policy push of the Johnson Administration against poverty. It was intended to make college education more accessible by creating loan and grant programs. 
Emily Gonzalez '23G is studying higher education and was one of the members of PC1G running the table. She said, "We celebrate National First-Generation Day to signify the importance of access to higher education, particularly for lower-income students and students of color." 
Gonzalez was excited to spend the afternoon talking to students who came by the table to share her experience at PC with other first-generation students running the table. She also mentioned the importance of spreading the word about the PC1G peer mentoring program, which pairs each new student with an upperclassman mentor. This program is intended to build community and offer social and academic support. 
If you are interested in PC1G or the mentoring program, please contact the Center for Orientation, Transition, and Leadership or Emily Gonzalez at egonzal1@providence.edu. 
Providence College Graduate Starts Web Company
by Emma Strempfer '24 on October 27, 2022
News Co-Editor
---
News
---
Providence College graduate Mathew Carlson '20 spoke with 
The Cowl
this week to discuss his recently founded company and website, ParentPresents. Originally from Ramsey,
New Jersey, Carlson was a Business Economics and Finance major and President of the Golf Team at PC. 
Carlson's graduating year and start to his professional career were uniquely difficult, as the world was thrown into the relatively early days of the COVID-19 pandemic.  
Carlson always knew he wanted to be an entrepreneur, but the pandemic, remote work, and living at home gave him inspiration for his company. At the time, he had just started working for a consumer healthcare company.
"Living at home
, I realized that there was a sneaky amount of times young
adults with newfound
disposable incomes have to find a thoughtful gift for their parents— both
birthdays, anniversaries,
Christmas, and Mother's and Father's Day." Carlson suspected that many other college students and recent graduates felt the same pressure to find meaningful and exciting gifts. 
As stated on the
website, he wants the company to be "the go-to spot for Millennials and Gen Z to find "giftspiration" when it's time to buy presents for their parents." ParentPresents is dedicated to gift-giving just for parents.
For Carlson, having a smooth and easy-to-navigate website is essential. The site provides gift-giving guides tailored to specific interests that are constantly updated. "I want t
he company to be the authority in the gift-giving space—an intermediary between consumers and brands."
At this point, branding 
is the company's main objective. Carlson is working with Good Monday Productions, a New York-based professional video and marketing service. "They are great," Carlson says. "I got connected with them through one of my roommates at PC, Frank Cassisi '20." 
To effectively establish brand recognition amongst young adults, viral social media posts are the name of the game. Carlson and Good Monday Productions are working hard to produce click-worthy content on TikTok (@parentpresents).  
Carlson greatly values his time as a student at the PCSB. "My PC education helped me a ton—they exposed me to everything. Classes like organizational behavior and marketing are so relevant to what I am doing now." He was also able to develop a connection with a PC graduate and mentor. "Kevin Marzollo '07 has been an incredible mentor and asset," he said.
 ParentPresents can also be found on Instagram (@parentpresents).
Slavin Lawn Comes Alive for First Big BOP Event of the Year
by The Cowl Editor on September 29, 2022
---
Campus
---
On Sept. 18, Providence College celebrated Prova, hosted by BOP, with a fun carnival theme. There were a bunch of fun things to do scattered across Slavin Lawn, and great snacks to follow it up. Ice cream sandwiches, churros, and mini pancakes were available along with an assortment of carnival snacks like cotton candy and popcorn. There was even a mechanical bull for students to try their luck at!
As one of the first big events hosted by BOP this year, expectations were low. But due to disappointment at last year's Prova, BOP felt pressure to amp up the event. Myles Johnson '24, Chair of BOP's Social Committee, said, "We had less of a turnout than expected last year, so this year I wanted to put an emphasis on Prova, because I wanted to get people there and build momentum as we create new events. On BOP, we have a lot of responsibility to make sure the campus is lively and energetic, and I hope Prova did that."
BOP takes its first events of the year seriously because they are often the first experiences of student life on campus and the first impression ever for freshmen. Johnson said, "It's one of those events we rely on a lot to introduce who we are as a board, so I think in my perspective it serves as our welcome to the PC community every year. It's our first big event, it showcases what we do…A lot of freshmen are looking for their 'at home' moment, and I think that's what I wanted Prova to be."
One of the highlights of the event was the petting zoo area, which featured alpacas, bunnies, lambs, and goats. Students were able to play with the animals and feed them hay. The adorable animals were great for de-stressing students with those early semester jitters – there's nothing more relaxing than chilling with a bunch of baby goats! It was a great way to kick off the semester and say goodbye to summer.
Another moment that generated excitement was the dog show, which featured a variety of cute pups showing off their best tricks while winning every student's heart. The dogs performed a variety of stunts with the trainers, and students were impressed by their high energy and impressive skill. From obstacle courses to racing to frisbee-catching jumps, these dogs could do it all!
BOP also was selling Prova t-shirts at the event and there was a carnival game where one person could win a Squishmallow. There was a limited supply and they went fairly quickly, but it was still a fun game for students to partake in. One student from the Class of 2025 said, "It was a lot of fun! I love events that get everyone outside, especially when the weather is still nice out. The food was so delicious and really hit the spot. I went to bed feeling ready for the week to come."
Another student from the Class of 2024 said, "I love the food trucks; it lets students who have meal plans have other kinds of food. It's a real treat for the whole student body, and I think more events should have them! Seriously, I go to most events that have them."
Overall, students were happy and BOP was pleased with how the event turned out. "It was great! Everything was really successful and a lot of people came, and the food was really good," Johnson said. "We probably had around 500 people there, when in the past we probably had around 350. Slavin Lawn felt energetic."
A Discussion with Dean McInnis Following PC's Long-Awaited School of Nursing Announcement
by Emma Strempfer '24 on September 15, 2022
News Co-Editor
---
Campus
---
News officially broke of Providence College's plans to open a nursing program via an email from President Fr. Sicard on Sept. 12. The administration released its official plans immediately upon receiving approval from The Rhode Island Board of Nurse Registration and Nursing Education to establish a nursing program. The new school and subsequent programs will mean big changes for PC students, faculty, and physical infrastructure, and, as always, there is expected discomfort in the campus population warranting the uncertain effect this change may have.
Dr. Kyle McInnis, who is the inaugural dean of the new School of Nursing and Health Sciences and who has been integral in its formation, sat down with The Cowl to provide information on the new school and what it means for the student body, both current and incoming.
Speculation has been floating around campus for months now, and confirmation is finally here. Although information and involvement in the new school are just starting to pick up in the public sphere, a tremendous amount of thought and research has been put into this decision for years, with strong action being taken by Fr. Sicard in the last two years. "He had a vision," Dr. McInnis says, "and went about it in a very deliberate way."
The School of Nursing and Health Sciences will be made up of three bachelor's programs. Nursing and Health Sciences will be two new majors offered, and the Health Policy Management major and minor will be moved to the new school.
Introducing PC's nursing program is exciting not just for the college, but for the Rhode Island higher education community as a whole. According to a press release from the College, "The new nursing program will be the first such bachelor's degree program established in Rhode Island in ten years."
"An addition of a nursing school is a natural step forward for Providence College, especially as a Catholic institution," says Dr. McInnis. The Dominican Order has put an emphasis on nursing and caring for the sick as far back as the 12th century. Dr. McInnis emphasizes that PC should feel the importance of having a role in the education of the next generation of nurses. Because they will have a Catholic-based liberal arts education, they will be more well-rounded and better providers.
There are plans to grow the new school at a steady rate while maintaining intensely selective admittance. In its first year, the new school will accept 50 students for the nursing program and 50 students for the health sciences program, and will include all new and existing health policy and management students. The following year, the initial class size in both nursing and health sciences will grow to 75, and the incoming freshman classes are targeted to be 50 students each. The pattern will continue, and when the school is fully matriculated, by year five, there will be 600 new students on campus. This number is in addition to the students who enroll in the already existing health policy management major.
There are logistical questions on the minds of many students: where will all of these new students sleep, eat, and work?
PC is not in a position to expand its acreage. However, according to Dr. McInnis, there is much underutilized space, particularly on the east side of campus, that hasn't been updated, barring Shanley Hall, in decades. "80 to 90 percent of construction on campus has been to the west of Ray," he says. There is far less activity near Smith, Fennell, Koffler, and Howley. What the administration is attempting to do is to spread out activity across campus. The location for the new academic building is planned to be on the same footprint as Fennell Hall, the demolition of which will begin after graduation this spring.
Shanley Hall will solve the immediate necessity of finding housing for these new students. A pressing task for Dr. McInnis and the administration is to expand sleeping and eating arrangements for a growing school.
All academic programs at PC will feel the presence of the new nursing school. 600 new students will demand more faculty for core requirement classes and the Development of Western Civilization Program. Consequently, a hiring plan will not only need to focus on the development of the nursing school, but of the whole college.
While it is important the administration makes overtures about how this move is in lockstep with, and ultimately motivated by, the college's mission, there are certainly other outside factors at play. The second largest generational group in US history, the baby boomers, is beginning to demand more and more from healthcare institutions, while college enrollment is on the decline. So, PC, in an attempt to match peer institutions like Holy Cross and Fairfield, is seeking to draw as many students as possible from a limited pool to a growing and promisingly lucrative field. "The competition is intense," says Dr. McInnis. "This is the program in the highest demand, and it is predicted to be that way for the next decade."
According to the Bureau of Labor Statistics, employment in the healthcare profession is expected to grow 13 percent from 2021 to 2031, which is faster than the average for other jobs. The US government expects to see about 2 million new jobs in this field over the next decade.
Dr. McInnis says that students, both incoming and current, will be served by newly recruited faculty. Having conducted the first nationwide search for anatomy and physiology professors, he says, "We hope our other searches go as well as this first one." He emphasizes that PC is deeply respected as an academic institution.
Some students might be concerned about seeing an entirely new faculty for the new school. While Dr. McInnis recognizes that worry, he says with confidence that he has seen some cream-of-the-crop applicants that are experts in their field, and most importantly can embody the holistic approach to education that PC demands from its faculty. He mentions that what makes a new school so special is that it attracts particularly driven, enthusiastic, and creative men and women who wish to be trailblazers. "As the founding dean of the school, my biggest responsibility is to create a faculty composed of talented teachers and researchers who are aligned with the mission of the college and with who PC is."
Students who are not in the School of Nursing and Health Sciences will also benefit from the new academic space and faculty. Dr. McInnis feels particularly strong about the current difficulty some students face—for example, psychology majors—when they seek to take courses like anatomy and physiology, courses that are essential for concentrations after PC, like physical therapy school and PA school. "Providence is now able to provide a more open pathway to pursue careers in healthcare to students who are interested."
The School of Nursing and Health Sciences will not define the college. PC's culture, mission, and commitment to academic excellence will define it. PC nursing program graduates will be set apart from others in their field because of the liberal arts education they will receive here.
Construction Galore: How PC is Slowly but Surely Improving Campus for All
by Emma Strempfer '24 on September 9, 2022
News Co-Editor
---
Campus
---
Returning Providence College students have noticed changes to campus infrastructure. PC administration is working to improve the appearance and functionality of the College on all fronts. A growing student body and a commitment to an expansion in green space are driving the changes, both big and small.
PC's newest residence building, Shanley Hall, is undoubtedly the project that is on the minds of most PC students because of its auditory presence, particularly on lower campus. The 120,000 square foot residence hall will stand six stories high and will house close to 360 students.
Jill Parrett, PC's Director of Health and Safety, returned from a concrete pour on the north wall of the building to speak with The Cowl last Friday. "Shanley Hall is being built from scratch, and those involved with the project are taking care to be as sustainable as possible." Members of PC administration involved in the construction of Shanley Hall have been working closely with Rhode Island Energy and taking advice on how to create the most sustainably focused approach to heating, cooling, and building products and procedures. The work is being done by Dimeo Construction, a Providence-based company that is simultaneously working on an Amazon warehouse in Johnston and a building for Brown University.
Shanley Hall is on track to be completed in August of 2023, just 18 months after it broke ground.
Towards the center of campus, Raymond Dining Hall underwent some minor structural and cosmetic changes. Along with expanded seating indoors, PC has upgraded the outdoor space, making it more student-friendly. Ray is the main dining hall on campus and really the only cafeteria-style place to eat, so expanding seating there was a must, given the growing student numbers.
"Opening the college back up during the pandemic emphasized to the administration how essential green space is and what was revealed was a lack of green space in the center of campus," Ms. Parrett says. The administration hopes that students will congregate and enjoy the beautiful landscaping done outside of Ray.
Steps away from Ray, Feinstein continues to undergo minor changes. Towards the end of the 2022 spring semester, some necessary maintenance work was done on the west entrance of the building. This year, however, the changes are meant to have a direct impact on students. The administration noticed that the fourth floor of the building was being underutilized by students and there was little to no classroom space. As the college grows, making buildings more student-friendly and taking advantage of already established square footage is essential. So, there will be interior restructuring that will create more classroom space.
Towards the very edge of campus, Albertus Magnus Hall is also getting its fair share of construction work. Students agree that the Science Complex is undergoing constant renovation, and they would be right. "It is a five-phase project, and we have just completed stage four," Ms. Parrett says. Structural changes, like​​ the replacement of the brick parapets, window lintels, roof and windows, and exterior masonry work, are coupled with work on the inside to bring Albertus Magnus's capabilities to a new level via state-of-the-art research labs and facilities.
"Over the past few years, there has been a tremendous amount of shuffling people around," Ms. Parrett says. "Both students and faculty, even summer researchers have all been affected by this.
The changes will hopefully allow the building to meet the needs of the new nursing students."
Other, smaller projects include changes to the Library's Student Success Center and masonry work in front of the cemetery.
Looking Towards a Safer New Year: A Review of Semester Safety Updates with Chief Eric Croce
by awakelin on January 10, 2022
---
Campus
---
During the fall semester of 2021, several safety incidents left Providence College students both on and off-campus feeling unsafe and anxious. Looking back over the semester, a stand-out moment was on Oct. 5 when the 72nd Student Congress held an open forum with the Office of Public Safety where 350 students gathered and shared personal and general concerns surrounding safety on and off-campus. A day later, on Oct. 6, Public Safety sent a follow-up email to the PC community which outlined ways in which they planned to remedy safety issues. Now, two months later and at the close of the semester, The Cowl followed up with Interim Public Safety Chief, Eric Croce, to address some lingering questions among students. 
The conversation first addressed those concrete elements laid out in the Oct. 6 email. 
Early October saw the establishment of the Safety and Security Task Force, a coordinated effort, including faculty, staff, Providence police, and most importantly students, to maintain updated safety measures and improve communication with students. Chief Croce says that the task force has been successful in "evaluating the charge" and identifying the "areas that need to be looked into." The task force has met several times this semester and plans to continue its work into the spring. 
The Oct. 6 email detailed day-to-day programs pertaining to safety, such as Friar Nite Ride, self-defense classes, and officers assigned to each dorm. In his interview with The Cowl, Chief Croce wished to reiterate that these are not new programs, but rather practices that were halted because of the COVID-19 pandemic. As far as the success of the return of Friar Nite Ride and self-defense classes, Croce believes they are, "working well and are well-received." What is most important, he continues, is that they are "available for those who want them." He also notes that the late-night shuttle will be beneficial for safety during inclement winter weather.
Chief Croce plans that for the spring semester photographs of the assigned public safety officers will be displayed in the lobby of each hall, and officers will establish an even stronger relationship with hall directors and resident assistants. Students should feel comfortable approaching and seeking help from the officer who is there to do just that, according to Chief Croce. 
Throughout the month of November, it was difficult for PC students not to notice the increase in testing of blue light towers all over campus. Many students wondered why so many of them were being tested at once. Blue light towers provided 24-hour communication with public safety and were used in the case of crime or medical emergency. According to Chief Croce, the towers underwent a series of routine maintenance testing in November and it was discovered that some required repairs and updates. He says, "It is incredibly important to the Office of Public Safety that these towers are operational at all times."
The safety of on-campus students is just as important as those living off-campus. The Office of Public Safety works closely with the 02908 Club and Operations Manager Shannon Russell. The 02908 Club has hired private security and the Office of Public Safety is in weekly correspondence with the property owners. Chief Croce describes them as "very attentive" and maintains "strong communication" with them. When asked about advice for off-campus students, he reiterates the basics, "secure your doors and windows, lock your car, take out your AC units." 
When asked about general advice for all PC students, Chief Croce highlights three important factors that he believes will greatly reduce incidents. He identifies that most incidents occur in the late night or the early morning so at these times he advises students to not drink excessively, to travel in groups, and to be overly conscious of their surroundings. 
College is a uniquely celebrated experience in one's life, and fear for one's person or belongings can drastically impact that experience.
Then. Now. Next. PC Welcomes Members of the Class of 1973
by awakelin on January 10, 2022
---
Campus
---
On Monday, Nov. 8, the department of history and classics celebrated Providence College's 1973 graduating class, the first to include women. Students of the history department invited alums, Justice Maureen McKenna Goldberg and Dr. Karen Holland, to participate on a panel which was a part of a larger series honoring 50 Years of Women at Providence College titled "Then. Now. Next."
Justice Goldberg sits on the Rhode Island Supreme Court and Dr. Karen Holland is an assistant professor of history at Providence College, teaching courses in both Development of Western Civilization and early modern European history.
Both Justice Goldberg and Dr. Holland transferred from Salve Regina University to Providence College as juniors in 1971. They attribute their educational and career successes to the rigorous academic program and the caliber of the professors at PC.
Missing her first two years as a student at PC, Justice Goldberg especially regrets that she was not able to study in the DWC program. Dr. Holland, describing herself as a very serious student, mentioned that in the first four years of coeducation at PC, a sizable number of exceptional female professors were added to the English and DWC faculty.
When asked about ways in which PC disappointed her, Dr. Holland spoke up about an issue that still elicits feelings of injustice today. None of the women of the class of 1973 were able to graduate with honors at commencement.
The panel discussion was backdropped by digital images from the 1973 PC yearbook that set the scene of the arrival of the first women on campus. Both panelists remember their attendance at PC as a time of turbulence for the United States and immense social change sweeping across the nation. The recent assassination of Rev. Dr. Martin Luther King Jr., the pushback against the war in Vietnam, the Watergate Scandal, and the Kent State shooting, meant that Justice Goldberg and Dr. Holland did not feel as if their attendance at Providence College was the only groundbreaking event of the decade.
Justice Goldberg opened the panel event with a story that was the cause of great amusement for the audience. She remembers the opening of Aquinas Hall to women in 1970 and some of the structural changes made to accommodate them. The copious amount of urinals that littered walls and bathrooms were replaced with ironing boards. This good-hearted attempt represented how the PC administration was eager to welcome women onto the campus, but had to refocus the way they saw them. The pamphlet "When the Girls Come," written by Father Lennon (OP) and distributed to the Class of 1973 upon arrival, was mentioned by Justice Goldberg as evidence of this. Some administrators were truly concerned about women frequently crying to their professors and campus-wide menstrual cycles. Dr. Holland remembers that professors continually addressed the class as "gentlemen." Though not discouraged by this, she had to announce herself with an "I'm here, too."
The panel's student hosts concluded by asking for advice on behalf of young women attending PC today. Justice Goldberg said that women should not veer away from law. As a pillar of the legal profession in Rhode Island, she says that many women with whom she works graduated from the College and she believes PC, with its emphasis on liberal arts education, to be an amazing place to start a law career. Dr. Holland's advice was less specific but equally compelling to the audience. She suggested that any collegiate or career interest should be given follow-through. If a young woman is interested in something, she must give it a follow-through and seek out people who can support her in it.
Providence College Welcomes Dr. John Schwenkler in Recent Humanities Forum
by The Cowl Editor on October 21, 2021
---
Campus
---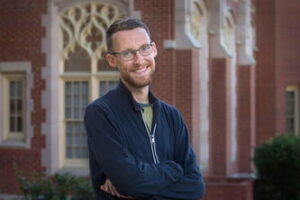 On Friday, Oct. 15, a sunny fall afternoon on PC's campus, students and faculty gathered in Ruane 105 to attend a lecture given by Dr. John Schwenkler titled "Doing the Truth: G.E.M. Anscombe and the Atomic Bomb." Schwenkler is an associate professor of philosophy at Florida State University and specializes in philosophy of actions and ethics.  
Schwenkler's talk was about Elizabeth Anscombe and her time as a research fellow at Somerville College, located in Oxford, England, during the postwar era of the 1940s, '50s, and '60s.  
Schwenkler opened his lecture with a quote from a warning to the dons of St. John's College, Oxford: "The women are up to something in Convocation…we have to go and vote them down." The women in question were, of course, led by Elizabeth Anscombe.  
In 1956, she had embroiled herself in massive controversy as she voted against Oxford's intention to award Harry S. Truman with an honorary degree for his leadership during and after WWII. One of the few women in her field, as well as a mother to seven children, she received little support and open contempt from her academic community.  
Anscombe knew her protest would not stop the establishment of Oxford College from bestowing an honorary degree upon Truman, the man who "ended" WWII. Her aim was that "he (Truman) would not receive this award without opposition expressed." Why did she oppose the honor? She believed Truman was responsible for the mass murder of the Japanese in Hiroshima and Nagasaki.  
Schwenkler brings Anscombe's life to PC because she was one of the great Catholic moral guides of the 20th century, developing "action theory" in her 1957 book, Intention. Action theory can be described succinctly through the example of Anscombe herself. As she is sitting in her office using a pen on a piece of paper, an observer would conclude that she is writing. Her intentions can be discerned through the observation of her actions.  
Through her application of "action theory" to Truman, Anscombe held that the murder of Japanese citizens was not the byproduct of an attempt to end the war, but the heart of Truman's intention in dropping the atomic bomb. His intention was not to end the war directly, but rather to end the lives of innocent people with the ultimate agenda of ending the war. For Anscombe, Truman's actions and the suffering, pain, and destruction of the Japanese fall squarely into the definition of murder.  
Anscombe also fought against the extremely popular notion of the time that Truman chose the option with the best outcome. Pulling from Thomas Aquinas and other Catholic doctrines, she says that in the Christian faith certain things cannot be done, no matter the consequences, and one of these things is murder.  
According to Anscombe and Schwenkler, we must calculate what is best only in the context of obedience to God's commandments. To step outside of the commandments is to step outside of trust in God's plan for the universe and its inhabitants, or divine providence.  
The lecture was followed by a highly insightful question-and-answer session. Students took the opportunity to delve deeper into the life of Anscombe and argue about the different schools of philosophy that could be applied.  
Following Schwenkler's presentation, attendees moved into the Great Room in Ruane for refreshments where students and faculty continued their lively conversation.  
The Humanities Forums are a time to come together at the end of the week to reflect upon and consider the big questions of humanity.  
Those who were unable to attend the lecture can access Schwenkler's short essay "Untempted by Consequence: G.E.M. Anscombe's Life of 'Doing the Truth'" on the Commonweal Magazine website.