An Entertaining Season Ahead in the English Premier League
by The Cowl Editor on September 23, 2021
---
Professional Sports
---
English Premier League Update
Leo Hainline '22
Sports Co-Editor
The 2021/22 English Premier League season is off to a competitive start and is shaping into one of the most intriguing title races in recent years. There are four clubs that could be argued as title contenders: Chelsea, Liverpool, Manchester United, and Manchester City. Each has made improvements to their squads during the summer and currently hold four of the top five spots in the EPL table.
Chelsea look poised for a run at the Premier League title, especially after signing striker Romelu Lukaku from Inter Milan for $135 million. The Belgian goalscorer is making his return to Stamford Bridge after starting his time in English football playing for the Blues back in 2011. Lukaku was a key factor in Inter Milan's success the previous season, winning Serie A and ending Juventus' dominant streak of nine consecutive league titles. His game matured during his two-year stint in Italy, and he returns to English football as an established world-class talent. Lukaku has scored three goals in four Premier League matches this season. 
The Blues are also coming off a successful 2020/21 season as they claimed their second ever Champions League title. Manager Thomas Tuchel, who took over for Chelsea-playing legend Frank Lampard midway through the season, deserves much credit for their recent triumphs. He turned a talented but inconsistent Chelsea roster into a dominant force that can consistently compete with Europe's best.
Chelsea sits at the top of the Premier League table with Liverpool and Manchester United, each winning four and drawing one through five matches. Liverpool and Chelsea drew against each other on Matchday 3 in a highly entertaining 1-1 draw that saw Chelsea hold on against a relentless Liverpool attack after going down to 10 men in the first half. Liverpool added depth to their defense by adding Red Bull Leipzig's Ibrahima Konate, but unlike the other title contenders, decided not to sign any player that would notably alter their starting XI. The team is fairly similar to their 2018/19 Champions League winning squad and the one they fielded during their 2019/20 record breaking season. They will continue to rely on Mohamed Salah and Sadio Mane to create scoring chances and Dutch center-back Virgil van Dijk to lead the defense.
Manchester United, on the other hand, added to their squad multiple world-class players whom they will rely on to bring glory back to Old Trafford. Of course, Cristiano Ronaldo headlines this list. The five-time Ballon d'Or winner, who established himself among the footballing greats at Manchester United from 2003-2009, has already asserted his presence since arriving from Italian club Juventus, scoring four goals in his first three matches. He is also reunited with former teammate Raphael Varane, who the Red Devils also acquired this summer. Varane and Ronaldo won four Champions League trophies at Real Madrid and will hope to claim more silverware together soon.
United also signed 21-year-old English winger Jadon Sancho from German club Borussia Dortmund. Sancho returns to Manchester having played his youth career for rivals Manchester City. Despite his $100-million price tag, Sancho may not establish himself as a consistent starter in manager Ole Gunnar Solskjaer's starting XI, as the Red Devils have arguably the deepest squad in the Premier League. They have backups in every position that would start on nearly any other team in England's top flight.
Manchester City round out the title contenders. The defending champions made headlines this offseason in their pursuit of Englishmen Harry Kane and Jack Grealish. They were only able to acquire the latter, signing the Aston Villa winger for $139 million. Kane, who plays for Tottenham and captains England, would have been an even heftier price tag. City decided against matching Tottenham's asking price, leaving a void in their attack after the departure of club-legend Sergio Aguero and lack of an elite no. 9 on their roster. This weakness proved to be detrimental earlier in the season, with City losing to Tottenham 1-0 and dropping points at home to Southampton in a 0-0 draw. However, they are only three points back from the league leaders, and manager Pep Guardiola is an established winner who can get the most out of his players, expecting nothing less than another trophy.
Simply put, this will be the most entertaining EPL season in years. The number of legitimate title contenders and pure talent influx into the league this offseason has already made for must-watch entertainment, and the stakes will only get higher as the season persists into its later stages.
English Premier League: Worth the Watch
by The Cowl Editor on November 12, 2020
---
Professional Sports
---
By Leo Hainline '22
Sports Staff
With the conclusion of the NBA, NHL, and MLB seasons, American football may seem like the only sport to watch on TV these days. However, this is the perfect time to tune into the English Premier League (EPL). Watching the EPL is the perfect way to start a Saturday or Sunday morning, and this season looks to be one of the most intriguing ones yet.
The defending champions, Liverpool F.C., sit at the top of the table, but unlike last year, the Reds will not be completely invincible. Liverpool has already looked vulnerable at times and endured a shocking 7-2 defeat to Aston Villa F.C., a team that narrowly escaped relegation from the Premier League last season. Star centerback Virgil van Dijk suffered a season-ending ACL injury in the Merseyside Derby on Oct. 17, and midfielder Fabinho is out with a hamstring problem until late November. However, new signing Diogo Jota has helped carry the Reds since manager Jurgen Klopp inserted him into the starting lineup. The 23-year-old Portuguese striker has scored seven goals in six games for the club.
Liverpool's inter-city rivals Everton F.C. have also gotten off to a hot start, winning their first four matches. Manager Carlo Ancelotti, who took over the squad halfway through last season, has brought out the best in players such as Dominic Calvert-Lewin and Richarlison. The summer signing of former Real Madrid and Bayern Munich midfielder James Rodriguez has also helped to elevate the team to the next level. Everton appears to be a threat in the EPL, and if they continue their strong play, a Champions League appearance is certainly a possibility.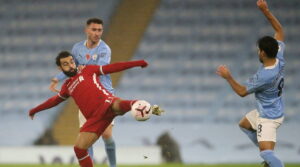 Tottenham Hotspur F.C. has also looked dangerous this season. Currently sitting around the top of the table, the Spurs could easily be league-leaders had they not conceded last-minute goals against Newcastle United F.C. and West Ham United F.C. Harry Kane and Heung-Min Son have been the most impactful duo in the league. Kane leads the league in assists with eight, which is four more than any other player. He also has scored six goals, while Son has scored eight. The return of Gareth Bale to North London has also brought a new sense of excitement to the team, as manager Jose Mourinho now has plenty of attacking options to dissect any defense.
Manchester has been host to two of the biggest disappointments in the EPL. Manchester City F.C. sits in the middle of the table and has underperformed against teams they were expected to beat. However, Manchester United F.C. has been the real disaster. The Red Devils are closer to the relegation zone than the top of the table and have suffered embarrassing losses, including a 6-1 home defeat to Tottenham. Their wild inconsistency has now put manager Ole Gunnar Solskjaer on the hot seat.
Ultimately, there is a long way to go in the season, but the EPL is reaching a critical juncture where the top four are beginning to shape up. This is important as the top four qualify for Champions League football. Most clubs are still in contention to obtain the finish in the table that they desire. However, for clubs like Manchester United, that window is closing fast. Clubs like Liverpool and Tottenham aim to grab all three points week in and week out to separate themselves from the pack. Manchester City aims to assert themselves into the title race too, while Leicester City F.C. will also attempt to gain the points needed to qualify for Champions League football.
Indeed, this year is shaping up to be one of the most entertaining seasons yet for English football.