PC's Erik Foley Goes Pro
by The Cowl Editor on April 12, 2018
---
Friar Sports
---
By Sam Scalon '19
Sports Staff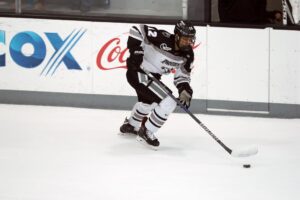 Twenty-seven seconds is all that stood in the way of the Providence College Men's Ice Hockey Team getting a chance to top the Notre Dame Fighting Irish in the NCAA Tournament East Region Finals on March 24. Unfortunately, the end of another successful Friars Hockey season came to a crashing halt as Notre Dame stunned the Friars with a late third period goal to win the game 2-1.
With the conclusion of the season, PC not only says goodbye to the five graduating seniors, including Friar superstar Brian Pinho '18 and the lone graduate transfer Tommy Davis, but we also lose a top forward in Erik Foley '19. Foley has decided to forego his senior season with the Friars and sign an entry-level contract with the St. Louis Blues, but will report to the San Antonio Rampage, the AHL affiliate of St. Louis, on an Amateur Tryout (ATO). Foley's three year entry-level deal with the Blues will be in effect at the start of the 2018-19 NHL season.
Foley was originally selected to the Winnipeg Jets in the third round of the 2015 NHL Entry Draft, but his rights were shipped to St. Louis at this year's trade deadline. Foley was a part of a package deal that included NHL veteran Paul Stasny and a handful of prospects and future draft picks.
The Mansfield, Massachusetts native and product of Tabor Academy in Marion, Massachusetts spent a year in Cedar Rapids, Iowa with the Cedar Rapids Roughriders of the USHL prior to his freshman year at Providence College. Foley has excelled in his three years as a Friar, as he has posted 88 points on 38 goals and 50 assists in his 110 games played as a Friar.
Foley's production increased each year, as he posted career highs in points (35), goals (16), and tying his 2017 mark in assists (19) this past season. His efforts were enough to lead the team in points and tie for the team high in goals with Kasper Björkqvist '20. Foley has emerged as one of the nation's most dangerous scoring threats, and his offensive presence is going to be missed at the forefront of the Friar's lineup.
His production this season did not go unnoticed, as he was named the Hockey East Player of the Month in November and had 14 points during a seven-game point streak throughout the month. Foley was also named as a Hockey East First Team All-Star for this season, joining teammate Jacob Bryson '20 and four Northeastern Huskies.
In his three years, Foley was no stranger to winning, as he plotted a 73-31-13 record. Also, Foley was a part of the historic USA IIHF World Junior Championships team in the 2017 Tournament who won the Gold Medal in dramatic fashion over Canada.
His big physical presence on the ice as well as scoring touch are going to be missed at Schneider Arena next season. Nonetheless, congratulations to Erik Foley on both a fantastic collegiate career and the start of a successful professional career.