Once a Friar, Always a Friar
by The Cowl Editor on September 26, 2019
---
Friar Sports
---
An Interview with College Basketball Hall of Famer Ernie DiGregorio '73
By Jack Belanger '21
Sports Co-Editor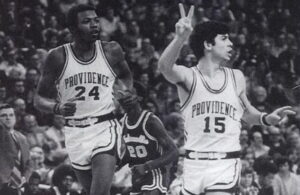 Former Boston Celtic point guard Bob Cousy was asked if anyone currently in the NBA reminds him of how he used play back in the 50s and 60s. Cousy responded, "Not really, because everyone has their certain way they play, but only in one case, Ernie DiGregorio. The way he saw the floor and passed was like me." To fans who watched Ernie DiGregrio '73 play basketball back in the early 70s, he was much more than just a great floor general for the Friars—he was one of their own.
Nearly 50 years after scoring 37 points in his high school championship for North Providence High School at Alumni Hall, the man nicknamed "Ernie D." is still one of the most recognizable and talked about PC athletes. Despite graduating from the College in 1973, he has lived in Rhode Island for his entire life and made headlines this spring when he was named to the National Collegiate Basketball Hall of Fame Class of 2019 for his fantastic career at PC. He will be formally inducted at the College Basketball Experience located in Kansas City, Missouri this November.
"I was home when I got the call that I was named into the Class of 2019, and I said, 'That's tremendous,'" recalls DiGregorio on the day he got the call. Two months later the announcement was made to the media and outlets such as ESPN brought it onto the airwaves.
"I went to Stop & Shop and everybody is telling me congrats. I usually walk six and a half miles every morning and people were coming up out of their cars to congratulate me. It's a very humbling honor and I could not have gotten there without a great coach in Dave Gavitt."
Ever since he stepped into Alumni Hall, DiGregorio was embraced by the fans and the entire city of Providence. His roots as an Italian kid who grew up just 10 minutes down the street and loved basketball more than anything else gave everyone a hometown hero to root for along with teammate Marvin Barnes '74. 
Stories of his incredible work ethic and dreams to play basketball professionally just added to his reputation as a local legend.
"When I was 10 years old, I came home from school and told my mother I wanted to become a professional basketball player and she laughed. I knew if I practiced 8-10 hours a day and did it for years, I could be a great player. I used to get my basketball at six in the morning and I would just start dribbling," said DiGregorio. There were also times he would go out in the middle of winter and shovel off snow at Evans Park to practice in North Providence.
Despite receiving scholarships from colleges such as Indiana University and University of California-Los Angeles, DiGregorio never bothered to visit any school other than PC.
"I wanted to play in front of my family and friends. When I got to do that and see them enjoy that, I thought what's better than that. I wanted to be part of the PC tradition,"said DiGergorio.
Not only did he become part of the tradition, DiGregorio helped create it. He spent three seasons playing for the Friars, setting records such as most assists in a season and highest career average for assists per game, but he will always be remembered most for leading the Friars to their first Final Four appearance in 1973.
While PC had a strong program before the '70s, it was the 1972-73 team that would change the course of PC basketball for years to come. That year would be the first season the Friars would play their home games at the then Civic Center, now the Dunkin' Donuts Center, in downtown Providence. DiGregorio, Barnes and Kevin Stacom '74 gave the Friars three future pros on the roster with the Hall of Fame coach, Dave Gavitt on the sidelines. That season, DiGregorio would score 24.5 points per game and dish out 8.6 assists per game.
The team went 23-2 during the regular season, with one of those losses coming against the eventual champion UCLA. With such an extraordinary amount of talent on that team, Coach Gavitt never had to draw up any plays according to DiGregorio.
"We knew how to play, plain and simple," said DiGrgerio. "We were always trying to get layups and he knew Marvin would grab every rebound and throw it up to me. He trusted me with the ball to attack the defense and make the right play."
The Friars used the fast break to their advantage and ran themselves into the Final Four where they would face the Memphis State Tigers (now Memphis University). The Friars managed to grab an early 16-point lead before Barnes went down with a knee injury that changed the momentum of the game.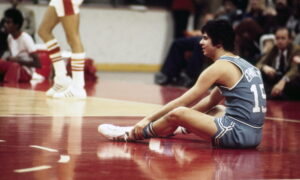 "He stepped on someone's foot, twisted his knee, and that was it. They began to grab all the rebounds and we couldn't run our fast break. They grabbed more offensive rebounds and we ended up losing that game."
To this day, DiGregorio still believes they could have beaten UCLA in the title game had they gotten there. He finished with 32 points and seven assists in his final game in a Friars uniform.
Despite the loss, the magical run brought new national attention to PC as one of the best basketball programs in the country. That team, according to DiGregorio, "changed the culture forever at Providence."
While DiGregorio was looking forward to continuing his career in the NBA, he knew he would miss his coach with whom he had built a sepcial bond.
"He would never yell," DiGregorio said of his coach. "I missed playing for a guy like Gavitt. He had no ego and would let me play my game. I loved playing for Providence College. They were the greatest years of my life."
DiGregorio would go on to have a five-year career in the NBA with the Buffalo Braves, Los Angles Lakers, and Boston Celtics. During his first year, he won the Rookie of the Year and lead the league in assists per game. He also set a rookie record for assists in one game with 25. Knee injuries ultimately pushed him out of the game, but not before getting to experience a special moment in his final game with the Celtics and future Hall-of-Famer John Havlicek.
"Havlicek was the best," said DiGregorio. "I remember his last game. He got a seven-minute ovation from the crowd. It was so emotional."
DiGregorio and Havlicek will forever be connected as the former Friar fed Havlicek the ball every time he was in and even assisted Havlicek for his final bucket ever. After the game, Havlicek wrote on a picture, "Ernie D, one more pass, John Havlicek." This would be one of DiGregorio's most special memories as a professional basketball player as both men were able to go out on top with a special moment.
After his career was over, DiGregorio returned to Rhode Island and stayed involved with the game by coaching high school and younger kids. The game remains a part of him and he will consider himself a basketball player "till the day he dies."
Even though his career ended sooner than he wanted it to, DiGregorio remembers the positives of his career and the special moments he shared with others. He will forever remember seeing the local fans who had never been to a basketball game come out to support the team when he was there.
When he reflects on his career and how much he treasures it, DiGregorio reminisces about a time when he went over to Gavitt's house after he retired.
"I told him, 'If I could've dreamt how great my career was going to be at PC, reality surpassed the dream.'"