Providence College Graduate Starts Web Company
by Emma Strempfer '24 on October 27, 2022
News Co-Editor
---
News
---
Providence College graduate Mathew Carlson '20 spoke with 
The Cowl
this week to discuss his recently founded company and website, ParentPresents. Originally from Ramsey,
New Jersey, Carlson was a Business Economics and Finance major and President of the Golf Team at PC. 
Carlson's graduating year and start to his professional career were uniquely difficult, as the world was thrown into the relatively early days of the COVID-19 pandemic.  
Carlson always knew he wanted to be an entrepreneur, but the pandemic, remote work, and living at home gave him inspiration for his company. At the time, he had just started working for a consumer healthcare company.
"Living at home
, I realized that there was a sneaky amount of times young
adults with newfound
disposable incomes have to find a thoughtful gift for their parents— both
birthdays, anniversaries,
Christmas, and Mother's and Father's Day." Carlson suspected that many other college students and recent graduates felt the same pressure to find meaningful and exciting gifts. 
As stated on the
website, he wants the company to be "the go-to spot for Millennials and Gen Z to find "giftspiration" when it's time to buy presents for their parents." ParentPresents is dedicated to gift-giving just for parents.
For Carlson, having a smooth and easy-to-navigate website is essential. The site provides gift-giving guides tailored to specific interests that are constantly updated. "I want t
he company to be the authority in the gift-giving space—an intermediary between consumers and brands."
At this point, branding 
is the company's main objective. Carlson is working with Good Monday Productions, a New York-based professional video and marketing service. "They are great," Carlson says. "I got connected with them through one of my roommates at PC, Frank Cassisi '20." 
To effectively establish brand recognition amongst young adults, viral social media posts are the name of the game. Carlson and Good Monday Productions are working hard to produce click-worthy content on TikTok (@parentpresents).  
Carlson greatly values his time as a student at the PCSB. "My PC education helped me a ton—they exposed me to everything. Classes like organizational behavior and marketing are so relevant to what I am doing now." He was also able to develop a connection with a PC graduate and mentor. "Kevin Marzollo '07 has been an incredible mentor and asset," he said.
 ParentPresents can also be found on Instagram (@parentpresents).
Tiff and Earl
by The Cowl Editor on November 19, 2021
---
Features
---
Dear Tiff and Earl,
Should I break up with my boyfriend to feel the pain of Taylor Swift's new album? I just feel like it would make listening to Red a surreal experience (and fit the vibe). 
Sincerely,
Not Too Well (Taylor's Version)
---
Dear Not Too Well, 
If you are asking this question, you have already arrived at the right answer. But let me make one suggestion as to a method of proceeding from this point: make sure he knows that you asked good old Tiff and Earl this question. If he has a smackerel of sense, he'll understand, and graciously allow you to be the dumpee, not the dumper. It's much better that way. Let him tear up your relationship. It's obviously not a masterpiece. It's a Bob Ross painting. 
Cheers! 
Tiff 

---
Dear Not Too Well (Taylor's Version),
In order to get the full and proper effect of Red (Taylor's Version), you can't be the one to break up with your boyfriend—he must be the one to dump you. If your man has a proclivity for attending indie music concerts on a weekly basis, owns a million-dollar couch, and incurred your father's disapproval when he failed to show up at your 21st birthday party, the good news is that he should be breaking your heart any day now! 
Don't let him keep your scarf from that very first week, even though it reminds him of innocence, and it smells like you.
Earl
Listomania
by The Cowl Editor on October 21, 2021
---
Features
---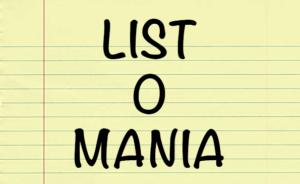 Ways to de-stress during Midterms
Count your ceiling tiles

Count the squares in the wall

Talk to your cinderblocks

Take a walk down Chad Brown

Smell markers

Go Halloween decoration shopping and get scared by some of the ones in Target that jump out at you

Start manifesting

Start knitting

Sleep on top of your textbooks to absorb info via mitosis (wait…it's osmosis)

Read

The Cowl

Go on Yik Yak

Re-read Dean Sears' emails
Tiff and Earl
by The Cowl Editor on October 21, 2021
---
Features
---
Dear Tiff and Earl,
None of my professors can ever find dry-erase markers. Where have they all gone?
Sincerely,
Weekend Whiteboard Worrier
---
Dear Weekend Whiteboard Worrier, 
Your professors know exactly where those markers are. This is a power play. When your professor is fumbling at the podium, and her eyes start darting crazily, and she drops to the floor and starts crawling, you had better wake up. (She might be under your chair in a moment.) When she springs back up with the marker she's pulled out of her shoe, you will be relieved, but still a little scared. You didn't know what she would have done without that marker. You were worried. Yes, now she's got you. Or, when your professor begins to look sheepishly all around, and his shoulders begin to sag, and his eyes begin to get a little shiny, you will be touched. Raging against the vicious marker-removing forces, you will pity him, vow to defend him. Yes, now he's got you… 
Cheers!
Tiff

---
Dear Weekend Whiteboard Worrier
Haven't you heard of PC's Underground Whiteboard Reclamation Movement (UWRM)? This group of revolutionaries takes to the classrooms of Ruane, Ryan, and more in the dead of night to liberate the whiteboard markers of Providence College from their use as weapons in the crusade of academia. Every Saturday night in an undisclosed location, they meet and put these markers to their true use—drawing cute pictures of puppies. I fear that I've said too much. If I go missing, you'll know why.
You didn't hear anything from me,
Earl
Listomania
by The Cowl Editor on October 7, 2021
---
Features
---
Who Should Perform At Late Night Madness?
Strictly Speaking

Special Guest

Anaclastic

Friar Dom and Huxley as a duet

The Yodeling Kid (Mason Ramsey)

The Wiggles

Dixie D'Amelio

Trisha Paytas

Lil Nas X's baby

The PC Pep Band

Father Shanley

Alabama sorority girls

Fifth graders doing the Whip and Nae-Nae

The Hype House
Tiff and Earl
by The Cowl Editor on September 30, 2021
---
Features
---
Dear Tiff and Earl,
Rumor has it that Jack Harlow is performing at Late Night Madness this year. How do I secure front row seats, and how do I also secure Jack Harlow?
Sincerely,
Jack Harlow's (Industry) Baby
---
Dear Jack Harlow's Baby, 
Step one: purchase a ticket and a grappling hook. Step two: research as necessary to devise an airproof fake identity. Allow me to recommend the guise of Jack Harlow's mother, who misses her darling son with all of her tender heart. Step three: have a snarling, slobbering fit at the entrance to Late Night Madness and explain through your sobs that there has been a terrible mistake and you were supposed to surprise your baby boy in the front row. Show baby pictures, maybe a lock of hair and a tooth. (Everyone trusts a mother with a tooth.)  Once you're in the front row, use your grappling hook to secure the package. 
Now run. 
Cheers! 
Tiff

---
Dear Jack Harlow's (Industry) Baby,
To answer your first question, there are two possible ways to get front row seats at Late Night Madness. The first is to enter the arena, Hunger Games-style, prepared to fight everyone from the men's basketball team to Dean Sears for that privilege. The second way to do so would be to bribe The Cowl's Arts & Entertainment editors into giving you a ticket. Rumor has it that they accept bribes in the form of cash, candy, or Taylor Swift merchandise. To answer your second question, if by secure you mean steal, then Hunger Games-style combat should again do the trick. If you mean romance, keep on dreaming.
May the odds be ever in your favor,
Earl
Tiff and Earl
by The Cowl Editor on September 23, 2021
---
Features
---
Dear Tiff and Earl,
It's that time of the year—the squirrels are starting to gain awareness again and have begun pummelling our heads with acorns. How should we wage war against them? I think we might want to get the pigeon involved.
Sincerely, 
Fallen Soldier
---
Dear Fallen Soldier,
You are right to revolt. We must rise up. But don't be hasty. If the pigeon is of sound moral character, he'll join us in our fight, and I suspect he may be the key to our victory. But let's not put all our eggs in one bird nest. First we must establish whether we can trust our beaked brother. He's not a bird you want to meet in a dark alley. Your first mission is to determine where his loyalty flies. Should he prove trustworthy, your second mission is to enlist him and arm him (wing him?). Three words: Concealed carrier pigeon. Now three more: We will overcome. The squirrels will never know what hit them.
Warmly,
Tiff

---
Dear Fallen Soldier,
You're absolutely right: in this years-long, hard-fought, violent battle between the defenseless students of Providence College and the malicious squirrels that seek to threaten our very way of life, the pigeon is our last best hope. Since all pigeons are obviously government drones planted with the intent of spying on the unsuspecting public, we'll need to hijack the FBI's database. Let's just hope we can save some of the computer science majors from the squirrels before it's too late.
Your comrade-in-arms,
Earl