Thank You, Tom Brady
by Connor Flynn '25 on February 9, 2023
Opinion Staff
---
Featured Slider
---
The Greatest Football Player of All Time Gave Us Years of Incomparable Joy and Memories
My earliest memory of a Super Bowl is quite grainy. I remember being at a family friend's house, the open living room packed with dozens of people intensely watching a large flatscreen TV on the wall. I remember the snacks from that night well, since I was nine years old, as well as the general excitement in the air, the kind of excitement that can gather a whole community in one room on a cold Sunday night. Soon enough, curse words coated in Boston accents filled the air. This once lively living room of friends was, to put it lightly, pissed off. On that night, Feb. 5, 2012, the New England Patriots lost Super Bowl XLVI to the New York Giants in a crushing fashion. Another one just by the hairs…in the worst possible way. In hindsight, the cries of the many faithful New England fans in the room that night were due to the loss of our beloved football franchise, the Patriots, along with the pride of New England: Tom Brady.
I consider that night to have been my first real viewing of Tom Brady playing football. A pretty bad start, yes, but it was the first football game I actually felt interested in. Of course, some pundits speculated that perhaps, after being without a Super Bowl ring since 2005, the Patriots dynasty of the early 2000s was over. Looking back, it's comical how many times commentators counted out the man who could never really be counted out. Now, 11 years, four more Super Bowl rings, and an endless amount of records later, Tom Brady has done the one thing that he's never really done before: retire from football, permanently.
In many ways, it's hard to even imagine a world in which TB12 is not taking the field every Sunday. Over the years it's been a common unspoken expectation among New Englanders: when the weather gets a bit chillier and the leaves start changing, you can always expect number 12 to be taking the field. It's as automatic as the seasons themselves, be it in Foxborough, MA or Tampa Bay, FL. Personally, I literally do not know what the world is like without Brady playing. Many people don't. I was born on Tom's 25th birthday, months after his first Super Bowl win in his second year in the league. Nearly everyone in my generation cannot recall a time when Tom Brady was not a starting quarterback. Of course, his unparalleled gift for playing football makes him, among all serious observers, the undisputed greatest of all time. He holds the records for passing yards, passing touchdowns, completions, Super Bowl wins, Super Bowl appearances, and dozens of other categories. Any other player would be praised for leading in any one of those categories, but with Brady, excellence was expected. He normalized the abnormal and created a standard that will likely never be fulfilled again.
What many casual fans don't know, however, is that Tom Brady was never supposed to turn out this way. Drafted 199th overall in the 2000 NFL draft as a skinny backup, Brady was the ultimate underdog from the beginning. He got his big break in September 2001 after starter Drew Bledsoe went down and Brady never looked back, leading the Patriots to an improbable Super Bowl victory that season, sparking one of the greatest sports dynasties of all time.
Aside from his on-field greatness, it was truly Tom's example, his way of life that makes him not only an excellent competitor but an inspiration for fans and foes alike. Dubbed the "TB12 Method," Brady's way always pushed the limits, and time and again left detractors and doubters dumbfounded. It's a way of life that strives for excellence, built on the internal challenge to be better than the day before. A way of life that builds others up, rejects blame and earns the respect of opponents. It's a way of life that makes it possible for the 199th overall pick in the 2000 NFL draft to retire as the undisputed greatest to play the game in 2023 at age 45. Through this, Tom Brady gave us crazy comebacks, precious community traditions, jubilant Boston streets in February, personal inspiration, and a lifetime of joy. Like many, some of my best childhood memories are attached to Brady. Through thick and thin, with family and friends, neighbors and strangers, we always pulled for 12, because in so many ways 12 represented us. An era has ended and reflection has begun, but looking back now on the legacy, the joy, and the memories, to quote Brady himself, "I wouldn't change a thing." Thank you, Tom, for everything.
Super Bowl LIV: A PC Perspective
by The Cowl Editor on February 6, 2020
---
Campus
---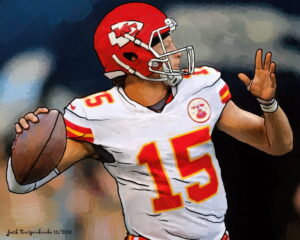 by Will Devaney '23
News Staff
The Kansas City Chiefs won their first Super Bowl in a 31-20 victory over the San Francisco 49ers this past Sunday after a stunning second half comeback. 24 year-old quarterback Patrick Mahomes was named Super Bowl MVP for his late game heroics that earned the Chiefs their first ever Lombardi Trophy.
The 49ers struck first with a field goal early in the first quarter, but the Chiefs responded with a one-yard touchdown to give them a 7-3 lead to end the first quarter. The second half began with lockdown defense from the 49ers. With some seemingly unending pressure from the 49ers defensive line, combined with Jimmy Garoppolo's solid passing game, San Francisco began to shut down the Chiefs, leading them 20-10 at the end of the third quarter. 
With the game on his shoulders, Patrick Mahomes threw for 138 yards and two touchdown passes in the fourth quarter alone, leading the Chiefs to a 31-20 victory.
Far away from the action in Miami, Providence College students got to enjoy the big game at McPhail's Super Bowl Game Watch. The event was hosted by the Office of Student Activities and Cultural Programming (OSA-CP). 
Students had the chance to win gift cards through picking squares, as well as enjoy complimentary pizza and wings. The game itself was entertaining and memorable, but for many here at PC, Super Bowl Sunday just did not feel the same without some familiar faces on the gridiron.
The New England Patriots' rare absence from the championship game was a hard pill to swallow for the large New England fanbase at PC. "It just doesn't feel right, you know?" said New Hampshire native Jared Burns '23. "Tom should be out there, Jules should be out there, It doesn't feel right." 
With the Patriots out of contention, New England fans were faced with a decision that they are not used to making: who to cheer for. A common answer was the 49ers. The logic behind this choice had a lot to do with the man under center for San Francisco. 
Garoppolo spent his first three seasons with the Patriots, playing as backup for Tom Brady until he took the starting job as quarterback for the 49ers in 2017. Many New England students wanted to see just how much the "Baby Goat" learned from the six-time Super Bowl champion during his time with the Pats. 
Those from outside the New England fanbase held similar views. Brian Cantin '23 of California said, "Probably the 49ers because they're in California, I didn't care that much though." 
Some other non-Patriots fans wanted the Chiefs to win, particularly those with longstanding grudges against anything Patriots- related.
Despite the seemingly awkward absence of Tom Brady and the Patriots from February football, the PC community was still able to share food and fun on Super Bowl Sunday.