Sit-down with Friars Head Coach Ed Cooley
by npatano on May 5, 2022
---
Friar Sports
---
A Reload for Next Season
Liam Tormey '22
Sports Co-Editor
We are now into the month of May, and it has been over a month since the Providence College men's basketball team had their historic year come to an end against the eventual champions, Kansas University. 
It ended with the first Big East regular season title in program history, the first Sweet Sixteen in 25 years, a couple of shots and stops away from an Elite Eight, and head coach Ed Cooley winning the Naismith Coach of the Year. 
The 2022-23 season will be Ed Cooley's 29th in coaching. He began at University of Massachusetts Dartmouth as an assistant in 1994, then made his way to Stonehill College, University of Rhode Island, and Boston College before grabbing his first head coaching job at Fairfield University in 2006. Since 2011, Ed Cooley has had the chance to coach the team he grew up rooting for as a kid from South Providence.
Last season was a dream for Ed Cooley and the Friars. He spoke about what it meant for him and his program: "Any time you have team success, it starts at the top. Coaches win games, administration wins championships. Everyone was aligned, the stars were aligned with our personnel."
All Friar fans know the additions of Al Durham '22GS and Justin Minaya '22GS propelled this group to the next level this year. Cooley commented, "I thought our staff did a great job of identifying players that fit our style of play. I thought everything fell in place at the right time."
A 13-1 start to the season for the Friars made it feel like everything was in the right place at the right time. 
"The players were hungry and eager. We never had one issue on or off the floor. It was just one of those special seasons that came together at the right time."
Cooley and the program will now say goodbye to Durham, Minaya, Nate Watson '22GS, Noah Horchler '22GS, and A.J. Reeves '22 –  the entire starting lineup from last year. This particular starting five left a legacy for a lifetime.
 "When you're in the locker room with us this season, we always used to write on the white board before the game, 'Leave Your Mark.' I think that's something they did. Not many times can you hang a banner, wear a ring. This group left a mark. This group left a legacy. This group left an impression on all of Providence College. What a special season and what a special group that will be talked about for years to come."
The Friar fanatics made the special season what it was. Every game at the Dunkin' Donuts Center was loud, energetic, and everything the program wished for before going 16-1 at home. Cooley knew how important the fans were: "What it did for Providence College, not just for the city, but the state–how it was just energized at the Dunkin Donuts Center. Everywhere you would go in our area, they knew about Providence College men's basketball. As the coach, from someone who's from here, I can't be more proud to represent Providence College at that stage."
From the iconic sing along to Taylor Swift's "You Belong With Me" late in the second half to the court storming after defeating Creighton University to win the first regular season Big East title, the Dunk' was at a different level, "I go back years of being a Friar basketball fan and seeing the crowd there and all the things that have happened as a head coach, but the energy this year was a different level." Cooley went on to say, "The fan participation from our students, thank them a million times over. They created an atmosphere, and thankfully it's for years to come, and it was set by the 2022 class."
Cooley also added: "It was amazing — the energy that our students brought. They were the identity of the Dunkin' Donuts Center. There was a total shift this year in energy and I hope it continues into next season."
When looking at the season to come, the Friar fans are not going to be expecting a down year. With the transfer portal having over 1,400 college basketball players in it, Cooley and his staff were all over bringing in the right personnel, and quickly. The Friars have already added Noah Locke '23GS, Corey Floyd, Jr. '26, Clifton Moore '23GS, Devin Carter '25, and Bryce Hopkins '25, the definition of a reload. 
Just like last year, Cooley admitted he wanted to add players who were going to be good fits for his program, but also fit for representing Providence College. He said, "We hope whoever we bring in they understand it's about the team, it's about representing Providence College at the highest level. We want whoever follows moving forward, and I think we've had some continuity and consistency, we want whoever we bring in to have those values which last team's year set."
Many within college sports have the belief the transfer portal is way out of control. Cooley says it has been "disruptive" and has taken away from those in high school, and although he doesn't have the answers to the problem, what he does know is "We're doing the best we can to adjust. No matter what my opinions are, and I don't know what I can do about it as a single coach, and we will make the adjustments necessary to be competitive in the Big East and on the national scene."
With five players coming in through the portal, a few left the Friars as well. Matteus Case '25, Brycen Goodine '23, and Legend Geeter '25 all entered the transfer portal to find a new home. 
But with Jared Bynum '23 and Ed Croswell '22 returning for another season, Cooley is going to lean on them to help in the transition of the newcomers. 
He says, "We need those guys to be leaders. We need them to be demanding. We need them to do the right thing, say the right thing, carry themselves the right way. I want them to talk to our players who are not here yet and have them be engaged in our community, in the dorms, in Ray dining hall, in Alumni hall, have visibility, be approachable, say please, say thank you, appreciate the people you're in school with because one day you never know, you may work with that person, you may marry your person you just never know where relationships build."
The Friars will also have two freshmen, Quante Berry '26 and Jayden Pierre '26, coming into a team with expectations for next year. Breaking into the rotation with the addition of transfers is tough these days in college basketball, but Cooley commented that, "Whether it's Quante, or Jayden, or any player coming through the portal, we have to have guys who are totally bought in to having a common goal of success for the group. If we do that, we'll find ourselves with a good shot at success." 
He added, "The biggest expectation I have for any player, regardless of class [year], is to hold them to the standard. They have to meet the standard and exceed it if they can. Buy in. You have to buy into success. You have to buy into your role, buy into the team, buy into the community, buy into preparation." It will take some meshing with the addition of seven new players to the Friars program, but this is what college basketball has become in today's age. 
As he should be, Cooley is excited about the upcoming season, but he also expressed some of his own personal goals for the future. Providence College will remain in his DNA forever, and he wants to give back. 
"I still want to see Providence College grow. I want to be connected to Providence College as long as I can. I want to give men and women, regardless of religion, ethnicity, the belief that you can be special, you can do it. There are so many times people dwell on the negative and the past, but I want them to look at the present and look to the future because there's something bright ahead of you, you just have to be chugging along. There's going to be disappointments and failures, but the more I can have a presence and inspire young men and women to take care of the present and look at opportunity, I want to stay connected to Providence College as long as I can in whatever capacity that may be."
He knows it is a grind, but he still loves what he's doing as the head coach of the Friars. "I'm starting my 29th season in coaching next year and you do get burned out, you do get tired. I'm not there yet, but just like anything else, there comes a time and a place where it's hard to say goodbye, yet, you're going to say hello to something different."
Providence College men's basketball is what it is at the moment because of Ed Cooley and his staff. He is the man that lives and breathes Providence College, and everyone on campus and beyond knows who he is. With the most successful season in 25 years for the Friars program, Cooley and the rest of the Friar family will hope this is just the start of a long run of success.
Men's and Women's Basketball Transfer Portal Update
by npatano on May 5, 2022
---
Friar Sports
---
Friars Look to Rebuild for Next Season
Justin Bishop '24
Sports Staff
Over the past few weeks, the Providence College men's basketball team has seen some talented players depart, while reeling in some high caliber talent through the NCAA college basketball transfer portal. Justin Minaya '22GS has decided not to use his sixth and final year of eligibility, he did have one remaining year due to the NCAA establishing that all student athletes have an additional year of eligibility due to COVID-19. Instead, Minaya, like Noah Horchler '22GS, Al Durham '22GS, and A.J. Reeves '22, has decided to declare for the NBA Draft,hoping to earn a spot on a professional roster.
Coming to the Dunkin' Donuts Center next year will be University of South Carolina freshman transfer Devin Carter '25 who had a standout freshman year and was ranked as the No. 26 best transfer. Carter set the record at USC for three-point-shots made in a season by a freshman, so he will be a prime candidate to fill Reeves' spot as the team's go-to three-point shooter.
Next is University of Connecticut freshman transfer Corey Floyd Jr. '26, who will still have four years left to play even after next season. Floyd was highly sought after coming out of high school but did not see the court at UConn because their coaching staff apparently thought losing was better.
After Floyd came University of Louisville graduate student transfer Noah Locke, who played three seasons at the University of Florida before transferring to Louisville and who will finish here in Friartown.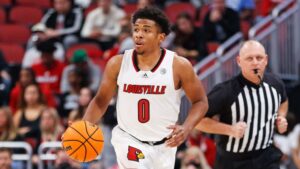 Next, Lasalle University graduate transfer Clifton Moore, who played two years at Indiana University before transferring to Lasalle, will play his final year here in Providence.
Lastly, the biggest transfer in recent years for the Friars, University of Kentucky sophomore transfer, Bryce Hopkins who played little time at Kentucky but will fit in perfectly as a three or four in the rotation. Hopkins was named 2021 Illinois Player of the Year in his last year in high school and also accumulated various summer tournament accolades.
This offseason, Friar fans could not have asked for a better transfer season from the National Coach of the Year Ed Cooley. Watching these players fit into the system with returning members Ed Croswell '23 and Jared Bynum '23 is going to be exciting.
On the women's basketball team's side, the team said goodbye to the team's second leading scorer this past season in Alyssa Geary '22, who transferred to Indiana University for her graduate year. Geary, who played all four years at Providence, was a consistent piece of the offense along with her defense as she finished her career with 128 blocks. They would also see Mary Baskerville '22 leave the team after four years to head to Quinnipiac University. Baskerville averaged 10.2 points per game in her four years as a Friar. An addition to the team next year is graduate transfer from the University of Iowa, Logan Cook. The 6'1 forward played all  four years at Iowa where the team was upset by Creighton University in the second round of the tournament. The team will look to bounce back from last season where they were bounced in the first round of the Big East tournament by Georgetown University.
Men's and Women's Track Prepare for Big East Championship
by npatano on May 5, 2022
---
Friar Sports
---
Both Teams Look to Finish the Year on a High Note
Joseph Quirk '23
Sports Staff
The 2022 Providence College spring track and field season is off to a fast start. Both the men's and women's squads have hit the ground running since they opened their season on March 27 at the Raleigh Relays.
The Raleigh Relays are a collegiate track and field event hosted by North Carolina State University in Raleigh, NC. For the men, the event represented an opportunity for many athletes to achieve new personal bests. Liam Back '24 and Angus White '22 both ran personal best times in the 1,500-meter, running 3:43.78 and 3:45.15 respectively. Matt Lepine '22 ran a PR of 14:27.73 in the 5,000-meters event. But perhaps the greatest bunch of accomplishments from the men's team at this event came in the 10,000-meters race. Shane Coffey '24 ran the race for the first time in his collegiate career, finishing with a solid time of 30:11. David McGlynn '22 ran a time of 29:04.9, which not only was a personal best for himself but also placed him at No. 6 in the College's history. Abdel Laddjel '25, from Lucan, Ireland, ran a time of 29:23, breaking the 50-year-old Irish Junior records.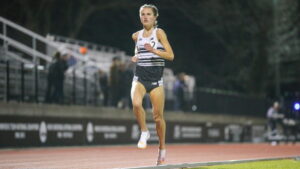 Things were just as historic on the women's side. Lily Tuck '23 ran a personal best time in the 5,000-meters with a time of 16:02. With a time of 14.98, Nicole Borowiec '23 broke the PC program record for 100-meter hurdles. Niamh Gowing '22 also entered the record books, running a 56.87 second time in the 400-meter which was not only a personal best but good enough to put her at No. 3 all-time in Providence College program history. Hawa Grear '24 also entered the record books, running a 12.61 second time in the 100-meters, food for No. 2 all-time in PC program history. Taylor Newman '23 also became No. 2 all-time in program history for her 25.19 second finishing time for the 200-meters. Meg Hughes '24 set a school record early in her career as well with a 400-meter hurdle time of 63:64 seconds. Along with previous years performances, McGlynn, Back, AJ Ernst '22, Tuck and Shannon Flockhart '24 all earned a qualification for the NCAA First Round, which will be hosted in Bloomington, IN from  May 25-28.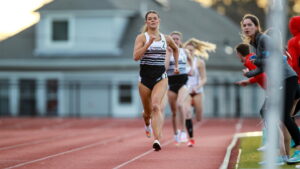 The Friars continued their hot start when they went to the Black and Gold Invitational, which was hosted across town by Bryant University on April 2. Nicola Calabrese '22 and Grear both recorded personal bests in the 200-meters. Gowing had a personal best performance in the 400-meters, landing her in second place. In the women's 400-meter hurdles, Meg Hughes not only had a first-place finish and a new personal best time, but also broke her own school record with a time of 61.34.  Borowiec also broke her own school record in the 100-meter hurdles, giving her a third-place finish. The Friars men's team claimed the first four finishes of the 1,500-meter race with Michael Morgan '25, Patrick Thygesen '24, Ryan Gallagher '22, and Josh Lewin '24 finishing in that respective order. Back and White also claimed the first two finishes of the 800-meters (respectively) with Back setting a meet record with a time of 1:52.21.
Following their strong return to Rhode Island, the track and field team decided to take the heat to their own turf, right at Ray Treacy Track. On April 8, Back ran the first sub-4-minute mile of his career, with a first-place finish and a personal record time of 3:59.06. The time was also the first sub-4-minute mile at Ray Treacy Track and beat the previous record by over 4 seconds. Ernst and White were not far behind him with 4-minute flat miles and third and fourth place finishes. Gallagher took first place in the 5,000-meters, an event which also saw McGlynn and Lepine hit new personal bests. Lewin had a nice first place finish in his heat of the 800-meters. In impressive fashion, Thygesen had a second-place finish, with a time of 8:54.07, in the 3000-meter steeplechase. Brett Lehman '25 had a second-place finish for himself in the 400-meters. And Chris Johns '25 had himself a first-place finish in the high jump. As for the women, sophomore Laura Mooney '24 dominated 5,000-meters, with a personal best time of 16:09.43, which was over 17 seconds faster than the runner up. Flockhart came in second in the mile, Gowing came in third in the 400-meters, and Alex O'Neill '23 came in first while setting a facility record in the 800-meters. Following the Friar invitational, Back earned a Big East men's track athlete of the week honor.
The Friars continued to rack up records in subsequent meets. At the Penn Relays, Mooney broke the Irish U23 National record and placed sixth all-time in Providence College history for the 10,000-meter. A team of Kimberly May '25, Halle Atkinson '24, Flockhart, and O'Neill also set a Providence College record for the 4×800 meter relay. In their most recent event, the Brown Springtime Invitational, O'Neill broke a 32-year-old Providence College record in the 800-meters. O'Neill, along with Lewin, made a good case to qualify for the NCAA first round.
The Friars will look to continue their historic record breaking season May 13-14 when they head to Storrs, CT for the Big East championships.
Softball Heads Toward End of Season
by npatano on May 5, 2022
---
Friar Sports
---
Big East Tournament Set for Next Week
Stephen Foster '22
Sports Staff
The Providence College Softball Team is approaching the end of their 2022 season. They have an overall record of 24 wins and 19 losses and a conference record of 10 wins and 11 losses. Coach Jill Karwoski mentioned that one highlight from the season so far was winning in extra innings over the University of Connecticut, who is in first place in the Big East Conference, to snap their nine-game win streak.
Karwoski had many great things to say about the graduating seniors, especially their resilience and the impact that they have had on the PC softball program. This group of seniors had to go through a lot to get where they are today, including much of their college career being interrupted by the COVID-19 pandemic. She explained, "Every year we get to this point in the season and look at our soon to be graduating seniors and say, 'I can't believe it's been four years.' This year is no different, however, I would be remiss to not acknowledge that this year's seniors' careers were filled with unique ups and downs, Covid pauses and cancellations and nontraditional seasons. These past few years have been everything but 'normal' and I am extremely proud of their ability to overcome, persevere, and prevail. Each senior, whether they had been with our program for one year or four, will have left with us a foundation of resiliency and a path to success for years to come."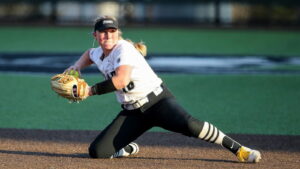 The Friars' softball coach also highlighted the significance of the freshmen on the team this year, explaining, "So many first-year players have been making an immediate impact on the field. And those not on the field have been equally committed to our culture and continue to improve weekly as well as positively influencing our program every day. This is both rewarding this season as well as for the future of our program." With seven freshmen on the team this season, it is important that they commit to the team culture and continue to improve as they grow to play greater on-field roles over the next three years.
The team has a three-game home series against DePaul University before the regular season comes to a close. They play Friday, May 6 at 5:00 p.m. and Saturday, May 7 at 1:00 p.m., and finish the series off with Senior Day on Sunday, May 8 at 12:00 p.m. Following this series, the Big East Tournament begins on Thursday, May 12 and goes until Saturday, May 14. Regarding the Friars' potential in making the tournament, Coach Karwoski explained, "We are still looking to qualify for a tournament berth. The Big East Tournament takes the top four teams and it's a dogfight for the last three spots. UConn has clinched but Villanova, Butler, DePaul, and us are still in the race. It may come down to our last home series next week vs. DePaul, but we have to take care of business today vs. Butler."
The Providence College Softball Team managed to pick up one win out of three games against Butler this past weekend, bringing them in need of some wins down the final stretch against DePaul University. Karwoski highlighted, "This upcoming last home series vs. DePaul will be the biggest weekend for us yet with likely playoff implications. I encourage all Friar fans to come out in full force Friday night. Saturday we will welcome back our Alumni, and Sunday we will celebrate our Seniors. We know there is both power and magic to competing in Friartown, so I thank everyone who has come out thus far to cheer us on and hope to see everyone this weekend. Go Friars!" Make sure you find your way to Glay Field this upcoming weekend to cheer on the Providence College Softball Team as they take on DePaul with hopes of securing a spot in the Big East Tournament.
Sports Shorts
by npatano on May 5, 2022
---
Sports Shorts
---
Sports Shorts
Luke Sweeney '24
Sports Shorts
Coach Gabrielli Resigns
Providence College lacrosse head coach Chris Gabrielli announced on Wednesday, May 4 that he would resign. Gabrielli served as the Friar lacrosse coach for the last 10 seasons. Gabrielli said, "I'm grateful for the opportunity I was provided to lead this program, especially when the College transitioned to such a high commitment level toward lacrosse." Bob Driscoll says the Friars will "begin a national search immediatley." The Friars were 27-37 over Gabrielli's final five years.
Track and Field:
The Providence College track team traveled across the city to Brown University on Sunday, May 1 for a meet. There were 12 Friars who found first place finishes at the event, making it an extremely successful dayl. Alex O'Neill '23 was the star of the day as she broke the 30-year-old PC record for the 800-meter with a finishing time of 2:06.07. Meg Hughes '24 finished first in the 400-meters once again. In the men's division, Sam Lagan '24 of Natick, MA was one of many who finished in first with a time of 59.60 in the 400-meter hurdles.
Softball:
Over the weekend, The Providence College softball team suffered a loss to Butler University in a Big East matchup. The Friars were in the lead entering the seventh inning when Butler's Ella White hit a walk off three run homerun to win the game 5-4. For the Friars, Tori Grifone '24 of Sussex, NJ earned her 18th start and pitched a little over three innings. This Saturday, the Friars will host DePaul University for their final regular season Big East series of the year.
Other:
Providence College hosted the Annual All-Sports Gala on Monday, May 2. For two years the event has been held virtually because of the COVID-19 pandemic. During this event, all PC student athletes, staff, coaches, and administrators gathered in person for the prestigious event. For the second year in a row, Nate Watson '22GS took home the Athlete of the Year for Team Sports Award due to his outstanding performance during the Men's Basketball team's historic March Madness run.
Men's Ice Hockey Season Comes to an End
by npatano on March 24, 2022
---
Friar Sports
---
Michael Callahan Signs Entry Deal with Boston Bruins
Justin Bishop '24
Sports Staff
The Providence College Men's Hockey team fell 4-2 against No. 11 University of Massachusetts Amherst on Saturday, March 12 in the Hockey East Tournament Quarterfinal after beating the University of Vermont 2-1 on Wednesday, March 9. The team entered the third period down 3-1 after Riley Duran '25 scored his 10th goal of the year late in the second, but UMass put one in the empty net before Matt Koopman '21 potted his fifth of the year to cut the deficit to two with only 1:30 left. The Friars' season comes to a disappointing end, and it seems they will just miss out on the NCAA Tournament again. Last year they were a COVID-19 bubble team but ended up not playing despite two teams dropping out due to positive tests. The team ended this season with a respectable record of 22-14-2 but finished 12-11-1 in conference play, putting them in seventh out of eleven in the Hockey East Conference. The Friars finished with the second most wins (22) in the conference next to Northeastern University which finished with 25 and were ranked first in the conference and No. 10 in the country. To put it simply, the Friars did not have a bad season; other teams in conference play just did better.
Bright spots this season for the team included winning 22 games. The Friars finished the season with both a top-10 Power-Play Percentage (PP%) and top 15 Penalty-Kill Percentage (PK%). Sophomore Brett Berard '24 led the team in Goals (18), Points (38), and Penalty Minutes (37). Five Friars scored at least 10 goals this year, and 13 Friars had points in double digits. Jaxson Stauber '23 had a stellar year and posted a 21-14-2 record while having a 2.10 Goals Against Average (GAA) along with a .921 Save Percentage (SV%) and put up four shutouts. The team defended Schneider Arena well with a 14-4-1 at home record.
However, the biggest news came out on Sunday, March 13, night as the Boston Bruins signed the captain of the Friars, Michael Callahan '22, to a two-year entry-level contract. Callahan, who grew up in Franklin, MA, was a three-year captain of Providence and finished his college career with 73 points in 138 games. He was selected back in the 2018 Entry Draft where the Arizona Coyotes originally drafted him in the fifth round. The local kid will spend time in the Bruins American Hockey League affiliate, the Providence Bruins, so he does not have to get acclimated to a new city just yet.
This team has a bright future with a young core in Berard, Duran, Nick Poisson '24, Cody Monds '25, Guillaume Richard '25, and Chase Yoder '24, who all were major pieces this past season. They will look to veteran leadership in Patrick Moynihan '23, Jaxson Stauber, and Parker Ford '23. The Friars will have at least eight drafted players on the team next year, and possibly more with the NHL Entry Draft occurring this summer. The Cowl will highlight the newcomers for next year's season next fall, but names to keep an eye on this summer are Brady Berard, brother of current Friar Brett Berard from East Greenwich, RI; Chase DaFoe from Beverley, MA; and Cole Pelc out of Buffalo, NY. With a mix of experience from the current players along with the incoming talent, the team is preparing for a deep run next year to establish themselves as not only a Hockey East powerhouse, but also have a national presence.
Sports Shorts
by npatano on March 24, 2022
---
Sports Shorts
---
Sports Shorts
Margaret Maloney '23
Sports Staff
Men's Basketball
The Friars men's basketball team began the NCAA Tournament in brilliant fashion starting Thursday, March 17 against the number 13 seed, South Dakota State University. The Friars came out victorious 66-57 with Al Durham '22GS and Noah Horchler '22GS scoring 13 points each. In the Round of 32, the Friars faced the number 12 seed, Richmond University. Ed Cooley's team dominated, winning 79-51 with 16 points from Horchler. On Friday, March 25, the Friars will play Kansas University in the Sweet 16.   
Women's Basketball
The Friars' women's basketball team competed well in the first round of the Big East tournament, where they fell short to Georgetown University in the first round.  An important highlight to note from this game is Emily Archibald '25 hit her career high 21 points in the game.  The team has a lot to be proud of this season, especially two players who earned All Big East recognition, Janai Crooms '23 and Kylee Sheppard '25.  The Friars conclude their season with an 11-19 record.
Men's Ice Hockey
The No. 20 Providence College men's hockey team landed 47 shots on goal but came up short in a 4-2 Hockey East Quarterfinal loss to No. 12 ranked University of Massachusetts Amherst on Saturday, March 12 at the Mullins Center. The Friars had a great season and should be proud.  They finished the 2021-22 year at 22-14-2 overall. Moreso, Brett Berard '24 and Max Crozier '23, who were named to the Hockey East third team.
Women's Ice Hockey
The No. 7-seeded Providence College women's hockey team was defeated by the No. 2 seeded University of Vermont, 4-1, in the quarterfinal round of the Hockey East Tournament on Saturday, Feb. 26. An important shoutout goes to the goaltender Sandra Abstreiter '22GS, who was named to the All-Hockey East Second Team as announced by the Hockey East on Friday, Feb. 25.  Abstreiter has made 779 total saves and had three shutouts this season. She was recently announced as a semifinalist for the Women's Hockey Goalie of the Year Award. The Friars conclude the 2021-22 season at 16-14-6 overall.
Providence College Investigates
by npatano on March 3, 2022
---
PCI
---
Who Will Win the Big East Tournament?
Will Murphy '23
Sports Staff
Providence Friars
As March Madness rapidly approaches, one of the most highly anticipated conference tournaments this year is the Big East Tournament, taking place in Madison Square Garden March 9-12. 
The Big East has been one of the premier conferences in college basketball all year and is projected to have upwards of six NCAA Tournament teams. That should make for an action-packed week in New York City. 
The Providence College Friars enter the tournament atop the conference, as regular-season champs. The Friars have been one of the best in the nation in close games down the stretch. Many analysts have attributed this to luck, but the experience of the Friars has benefitted them time and time again. 
The Friars will also be riding high on the momentum from winning the Big East regular-season title for the first time in program history. 
Graduate transfer Al Durham '22 has run the point for the Friars with the calm demeanor necessary to win close games in the always competitive Big East. 
Big man Nate Watson '22 has been one of the best centers in the country all year for the Friars, and his physicality wears our opponents. 
AJ Reeves '22 is another experienced Friar, one who has the potential for an offensive explosion each game. His three-point shooting will be key in the Big East Tournament, as the offense opens for the rest of the team when he can knock down threes. 
Jared Bynum '23 has come on incredibly strong, recently winning Big East Player of the Week twice during conference play. His presence off the bench will also be key for the Friars as he provides instant offense that few other players within the conference can match. 
Noah Horchler '22 is another crucial player for the Friars whose experience will be invaluable during tournament play. His defense has improved significantly from last year, and his rebounding should help the Friars limit their opponents to only one shot per possession in the tournament. 
Justin Minaya '22 is one of the best defensive stoppers in the nation. His versatility on defense has been a significant factor to the Friars' success, and his ability to guard the opposing team's best player is a reason the Friars are such a threat to win the tournament. 
Ed Croswell '22 is another player  who has made great improvements since last year's campaign, and his energy has been critical to the team's success all year. 
Overall, the Friars' combination of depth, experience, and defensive prowess will result in them being crowned the Big East Regular Season and Tournament champions.
Luke Sweeney '24
Sports Staff
Villanova Wildcats
Tuesday, March 1 marks the official end of the historic 2022 regular season for the Providence College Men's Basketball team. In their final game, they faced off against the Villanova Wildcats at the Finneran Pavilion in Villanova, PA. In a close contest once again, the Wildcats came up victorious, 76-74, to sweep the season series. 
For those who have followed Big East basketball this season, Providence and Villanova have consistently been on top of the pack and have proved that they have the players and team ability to go head-to-head with some of the toughest teams in the nation. Coach Ed Cooley and the Friars made history on Saturday when they beat Creighton University to win Providence's first Big East regular season championship in program history.
Despite the unprecedented season by the Friars, Villanova is still a dangerous team which has the potential to go far in both the Big East Tournament as well as the NCAA Tournament in mid-March. With a stacked lineup of extremely efficient shooters, including the NBA prospect Collin Gillespie, it is hard to find a team in the NCAA that the Wildcats cannot keep up with.
One of the biggest elements of tournament play in men's college basketball is experience. A team with age and experience in big-time games is almost as important as a team's record in the current year. Experience is something that Villanova seldomly lacks, year in and year out. Fifth-year point guard Gillespie was last year's Big East Player of The Year and has a national championship under his belt. Fellow fifth-year and Massachusetts native Jalen Samuels also has a national championship ring and has had an outstanding year defensively. If they can use their age and depth in the right ways during the Big East Tournament, it is hard to imagine a scenario where the Wildcats won't win it all.
Head coach Jay Wright has had an incredible career with Villanova thus far, and hopes to add to his trophy collection when he and his team travel to Madison Square Garden this year. Since his first year as head coach, he has achieved a 490-189 record (72.2 winning percentage), including a wildly impressive 30-15 record in the NCAA tournament. He will without a doubt be inducted into the College Basketball Hall of Fame by the end of his career.
Lastly, the Villanova Wildcats have played out the no. 4-ranked strength of schedule during the 2021-2022 regular season, including hard fought battles against top-ranked opponents such as PC and Purdue University. It will most definitely be interesting to see how the Big East Tournament pans out, but I am picking the Villanova Wildcats to hoist the trophy. 
Sports Shorts
by npatano on March 3, 2022
---
Sports Shorts
---
Sports Shorts
Stephen Foster '22
Sports Staff
Men's Basketball
The Providence College Men's Basketball Team won three games last week, bringing their record to 24-3 overall and 14-2 in Big East Conference play. They defeated Butler University 71-70 in overtime on Sunday, Feb. 20 and were victorious over Xavier University with a score of 99-92 in triple overtime on Wednesday, Feb. 23. The Friars clinched the Big East Regular Season Championship on Saturday, Feb. 26 for the first time in history with a dominating 72-51 win over Creighton University. Fans young and old stormed the court to celebrate the victory and stayed to watch players and coaches cut down the net in celebration. The Friars wrapped up conference play at Villanova University where the Wildcats came away with a victory in a tight contest 76-74. The final record for the Friars in conference play was 14-3.
Women's Basketball
The Providence College Women's Basketball Team went 0-3 in three games this week, bringing their record to 11-18 overall and 6-14 in Big East conference play. They were defeated 62-68 in overtime by St. John's University on Sunday, Feb. 20, lost 51-57 to Marquette University on Friday, Feb. 25, and struggled against No. 7 University of Connecticut on Sunday, Feb. 27, losing 31-88. The Friars begin the Big East Tournament on Friday, March 4 at Mohegan Sun Arena in Uncasville, CT.
Men's Ice Hockey
The Providence College Men's Ice Hockey Team won two games this week, bringing their record to 21-13-2 overall and 12-11-1 in conference play. They defeated University of Maine in both home games, winning 4-2 on Friday, Feb. 25 and 3-2 in overtime on Saturday, Feb. 26. The Friars play their last game of the regular season and host their senior night on Friday, March 4 in an exhibition match against the U.S. NTDP Under-18 (USA Hockey National Team Development Program). Their run in the Hockey East Championship begins soon after.
Women's Ice Hockey
The Providence College Women's Ice Hockey Team went 1-1 in the Hockey East Tournament last week, bringing their season to a close. They defeated the College of the Holy Cross 3-1 on Wednesday, Feb. 23 at home. However, they could not overcome the strength of No. 2 University of Vermont on the road, losing 4-1 on Saturday, Feb. 26 in the quarterfinals. Lily Hendrikson '25 scored the lone goal for Providence. The Friars end their season with a record of 16-14-6 overall and 12-12-3 in the Hockey East conference.
Men's and Women's Hockey Ready for Second Half of Play
by npatano on February 7, 2022
---
Friar Sports
---
Friar Hockey Looks to End Season on High Note
Luke Sweeney '24
Sports Staff
The Providence College Men and Women's Hockey Teams have been fighting through the cold winter months as they both sit at the 17th rank in the nation in their respective seasons. 
All of Hockey East would enjoy a few weeks off before the grind of the rest of the season came back underway. For the Friars, after the Christmas holiday, they would head out to Milwaukee, Wisconsin to play in the Kwik Trip Holiday Faceoff. 
In their first game, the Friars played Bowling Green State University, and coach Nate Leaman's team picked up where they left off before the break. They would defeat Bowling Green 6-2 behind Jamie Engelbert's '23 natural hat trick and Patrick Moynihan's '23 four-point night.  
The following night, the Friars battled against Wisconsin University in a tight contest. The game officially ended in a 2-2 tie, but the Badgers claimed the Holiday Faceoff title with a 2-1 win in the shootout.
Jaxson Stauber '23 made 37 saves in the contest.
The Men's team has their work cut out for them heading into the final stretch of the season, going 2-2 in the month of January so far. The boys finished up last week with two wins against the Boston College Eagles.
Great goaltending and goal scoring alike contributed to the past two wins over BC, as their first matchup on Jan. 21st ended in a 7-0 blowout with the Friars dominating all corners of the ice. Nick Poisson '23 racked up two goals and an assist after four shots on goal during the game. Although coming off a few tough losses from the 19th ranked Merrimack College, the Friars were able to overcome their issues and collect themselves for a positive win and tie against Boston College the next week.
The Friars will be on the road this weekend with games at #9 University of Massachusetts Amherst on Friday and Boston University on Sunday.  
In recent news for the Providence College Women's Hockey Team, the girls suffered two hard-fought losses to the powerful 12th ranked University of Vermont this past week. 
On New Year's Eve, the Catamounts and Friars faced off at Schneider Arena where the Friars picked up a 3-1 victory. Sara Hjalmarsson '22 scored a pair in the second period and Lily Martinson '25 netted her first collegiate goal to secure the win for the Friars.  
Although it has been a tough season for the women Friars this year, they have earned big wins scattered throughout the season that has allowed them to remain in the top 20 teams in the country, including wins against Boston College, University of New Hampshire, and University of Vermont.
Additionally, the girl's season has been riddled with cancellations and postponements due to the recent outbreak of the new COVID-19 strain. Four of their seven games over the winter break were postponed due to COVID-19. All said and done, the Friars have played extremely well given the hard conditions of playing in a COVID-19 season.
This week, the girls played Boston College on Tuesday in Chestnut Hill. After taking an early 1-0 lead heading into the second period thanks to Hayley Lunny '22GS, the Friars were not able to hold on and after three third period goals from the Golden Eagles, the team fell to 8-10-5 on the season. 
Their season continues this coming weekend with two home games at Schneider Arena against the University of Maine for a Hockey East battle.