Students Encouraged to Shop Locally: BOP Holds Friar Flea Market
by The Cowl Editor on April 11, 2019
---
Campus
---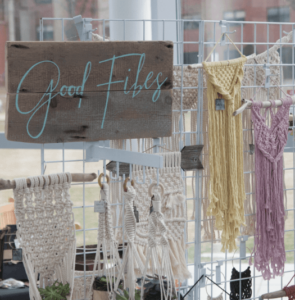 by Matthew Mazzella '20
News Staff
In what was an action-packed weekend for the Providence College  Board of Programmers (BOP), the Social Committee hosted its second annual "Friar Flea" in the Slavin Atrium this past Friday, April 5 from 2-5 p.m. 
The event, which was organized by BOP, brought vendors from across the New England area for students to sample and shop.
The leader of this event was Corrie Traverse '20, who has run the event for two years now. Traverse shared her excitement about the event and was very pleased with the way it turned out this year.
When asked about the flea market, Traverse explained, "My goal was to get as many local vendors and artisans to campus to give students a sample of what is available locally. I was so happy with the way it turned out and going forward I'm hoping for next year to even bring in some of our own talented PC students to sell their own products!"
There was a great variety of vendors this year, including Augusta Street Kitchen, Frey Florist, Colonel's Collectables, Skvngr's Hoard Jewelry, Good Fibes, and a Friar favorite, Nitro Cart, a local nitrogen coffee company in Providence.
With such great companies coming to campus, there was a big turnout of Friars who came out and enjoyed the opportunity to shop for such unique items. 
Traverse was very satisfied with the number of students who came by to experience the event and considers the market a huge success.
Matthew Williams '22 was a huge fan of the event and took full advantage of the great vendors on campus. Williams spoke about his experience, stating, "As a freshman, I look to participate in a lot of campus sponsored events. It was great to see all the local companies that came to campus. My favorite part was getting lunch from Augusta Street Kitchen. The food was amazing. What a way to start off the weekend!"
The event was not only a big hit, but it has solidified its place in Friartown for years to come. The hope now is to get more PC students involved as vendors, selling some of their own creative pieces at events in the coming years.
This event gave students a taste of some of the hidden gems in the area, encouraging students to venture off campus and take advantage of the various shops Providence and the surrounding New England businesses have to offer.