FF: Christina Roca '21: Learning to Make a Change at Home and Across the Globe
by The Cowl Editor on March 4, 2021
---
Features
---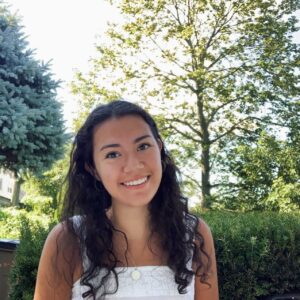 by Sydney Olinger '23
News Staff
Christina Roca '21, a global studies and sociology major, is a first-generation college student and daughter of two immigrants. She has dedicated much of her time at Providence College to studying immigration and helping to create an easy transition for others in her position. Like many first-generation college students, she has been committed to taking full advantage of all of the incredible opportunities a college education has to offer. 
Before coming to PC, Roca attended high school at Miss Porter's School in Farmington, CT, which is a small all-girls boarding school, adding yet another adjustment for her to make before college. After Roca made the decision to attend PC, she registered and took part in the Transitions pre-orientation program, which benefited her in many ways.
In this program, Roca became more comfortable with PC's campus and met her peers, faculty, and other key individuals. Though she did not know at the time, she would later become a dream coach in PC's Transitions program, and this year, a Head Dream Coach, where she would be a role model for other incoming immigrants and first-generation freshmen. In her role, she helped create the program application and schedule and handled other complicated logistics. 
Roca has been an integral part of many clubs and organizations on campus since her freshman year. As a part of the Feinstein Fellows cohort, she spent two semesters creating curricula to help 360 high school seniors navigate the college application process. By her third semester as a Feinstein Fellow, she became the social media manager at the Genesis Center. In this position, she helped create the content highlighting community members, make announcements, and improve digital presence. 
Roca also plays a major role in the Board of Multicultural Student Affairs. She joined the board as a sophomore and was on the social committee, where she planned events within BMSA. She has stuck with the organization since sophomore year and is now on the executive board of the Providence Immigrant Rights Coalition.
A program that has had one of the largest impacts on Roca, however, is the global service learning course and Global Border Crossings program, which she became part of during her freshman year. Through these, she was able to work with Esperanza International, a non-profit dedicated to providing poverty alleviation for families and community members in the Dominican Republic, where she learned all about historical and contemporary functions of borders and migration patterns.
Eager to continue working with the people in these organizations who were such an integral part her freshman year, Roca applied to be a student leader for the global service learning course her sophomore year. After being accepted, she became responsible for duties like developing a course syllabus, facilitating class discussions, spearheading fundraising initiatives, and coordinating logistics with Esperanza International's program coordinator. 
"My life was quite literally transformed after participating in the global service learning course," said Roca. "After taking a few courses surrounding the topic of immigration, my understanding of its complexities expanded exponentially within just two semesters." 
These courses focused on immigration led to her decision to study abroad in Rabat, Morocco. The immigration issues along the Mediterranean and Strait of Gibraltar that she studied in Global Border Crossings made her even more passionate about studying abroad in Morocco. She did this through the School for International Training's Migration and Transnational Identity program in fall of 2019. 
Though many students in the past year have been unable to travel due to the COVID-19 pandemic, Roca is grateful that she was able to make the most of her study abroad. She conducted an independent study which consisted of comparing Mexico and Morocco's migration themes as transit nations and forthcoming host nations. Her host family made her experience even more memorable and allowed her to fully immerse herself in Moroccan culture. 
Upon her return to campus, Roca continued to study immigration and became the vice president of PIRC. As VP, she helped to plan events and meetings and was a voice for students. Currently, she is the president of PIRC, and the coalition has expanded their outreach and has committed to making Zoom meetings a safe space for students. This year, while the whole country has faced extreme challenges and uncertainties in terms of politics and immigration rights during this pandemic, the coalition as a whole has gathered resources for individuals of migrant backgrounds. 
Roca shared that PIRC will soon be introducing their website as an easy and effective way for immigrant students to find resources on campus and even national resources to help in navigating college careers post-graduation. Roca has truly taken full advantage of her time here at PC, and though the last few semesters have certainly been different, it has not stopped her from playing a major role on campus. She has been a crucial part of the change in making the transition to college as a first-generation student as comfortable as possible for all college students to come.