Tag:
harold Anderson invitational meet
Swim Team Wins Key Meet
by The Cowl Editor on December 5, 2019
---
Friar Sports
---
Freshmen Shine in Victory
By CJ McCartin '20
Guest Writer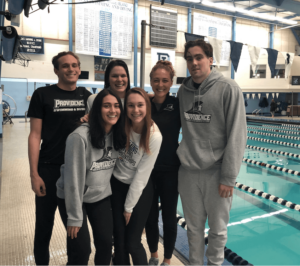 From Friday, November 22 to Sunday, November 24, the Providence College Men's and Women's Swimming and Diving Teams competed in the annual Harold Anderson Invitational, a three-day, six-session meet held at the University of Rhode Island. The meet was full of tough competition, featuring notable New England teams such as University of Maine, College of the Holy Cross, University of Vermont, Assumption College, and University of Rhode Island. The Friar men placed first out of four men's teams, while the women placed sixth out of seven women's teams.
Freshmen standouts Aidan Hughes '23 and Sally Alrutz '23 dominated the backstroke events, both breaking program records. Hughes set records in the men's 100-yard and 200-yard backstrokes, finishing first in both events with the times 0:50.84 and 1:50.91 respectively.
Alrutz shaved off nearly a second from the previous women's 100-yard backstroke record, touching the wall first in a time of 0:56.31. Reflecting on her first collegiate invitational, Alrutz said, "It was really cool to see the whole team come together and support one another throughout the weekend. Swimming is so much more fun when you have a family, like our team, to support you during practices and meets as well as off the pool deck." 
Other top finishers on the men's side included Andrew Ferrell '21 and  Justin Viotto '22.  Ferrell swept his individual events with first place finishes in the 200-yard individual medley, the 100-yard butterfly, and the 200-yard butterfly. Viotto swept the distance events, placing first in the 500-yard freestyle, 400-yard individual medley, and 1650-yard freestyle. 
Top female finishers were Lauren Zawacki '21 and Maddy O'Connor '23. Zawacki placed third in the 100-yard freestyle, competing in a final full of tough talent. Murray also had a solid performance, placing fourth in the 1650-yard freestyle.
Reflecting on the meet, co-captain Chris Centrella '20 said, "Harold is the flagship meet of our first semester. Typically, kids hunt down Big East cuts or season bests to set the bar for the rest of the season. The team had an excellent performance, and I am proud of everyone, top to bottom, for stepping up and competing with heart."
The Friars will return to campus on Dec. 28 to prepare for their training trip to San Juan, Puerto Rico in January. The next home meet will be Jan. 11, when the women host Assumption College.