Business and Innovation Minor: PC Offers New Minor Help Students Gain an Edge
by The Cowl Editor on November 1, 2018
---
Campus
---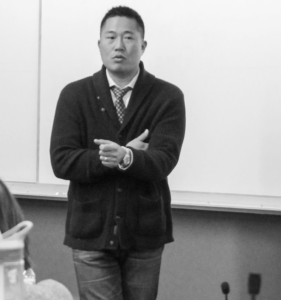 by Hannah Langley '21
In today's fast-paced work environment, college students are recognizing more and more that they need various skills in different areas of study coming out of college. Because of this, Providence College has created a business and innovation minor, which allows students to branch out into the business world and learn skill sets beyond their chosen major.
The minor, which is available to all non-business majors beginning with the class of 2020, consists of four concentrated tracks: organizations and entrepreneurs, global engagement, applied science, and design thinking.
According to Eric Sung, associate professor of photography, director of the business and innovation program, and sponsor of the design thinking track, of the six courses, students in any track included within the minor must take ACC 103 (Introduction to Accounting and Finance), CSC 120 (Applied Data Analytics), and ART 205 (Design Thinking & Innovative Problem Solving).
The four concentrations target specific interests of different majors, including psychology, sociology, biology, chemistry, global studies, economics, history, and political science in particular, according to the PC website. The minor is also available to undeclared students.
Each track has its own sponsor, or advisor, who is a professor in the field of study most closely related to the specific track. These sponsors will work with students in their designated track, guiding them to take course options which best match  their own needs and interests.
The faculty sponsors include Dr. Eve Veliz-Moran, associate professor of sociology and sponsor of the organizations and entrepreneurship track, Dr. Tuba Agartan, associate professor of health policy and management and sponsor of the global engagement track, Dr.  Kathleen Cornely, professor of chemistry and sponsor of the applied sciences track, and Sung.
Following the completion of six courses, students must choose a capstone, which, according to  Sung, "celebrates what you have learned." The capstone allows students to work directly with companies or non-profit organizations, in which the students will be graded on their performance.
One of the main reasons for creating this minor, according to Sung and Veliz-Moran, was the overwhelming prevalent need for students to have a broader skill set to compete in the workforce today.
"More and more employers are looking for people who can think outside the box," said Sung, "there is a greater need for people not necessarily trained to do one thing very well." 
Veliz-Moran added to this, commenting, "To compete in the 21st century, we need interdisciplinary programs."
Sung suggests that students should be able to adapt quickly to a world that is evolving rapidly. This minor, he says, is very adaptable, as it gives students a wide range of courses to choose from that can apply to almost any major. "You can bridge what you know into something more applicable and practical," said Sung.
One thing Sung emphasized was the liberal arts foundation of the minor, keeping with the PC educational tradition. According to the page on PC's website for the minor, business and innovation "combines the best of a liberal arts education with contemporary courses in business." Sung added to this idea, saying the minor "promotes how a liberal arts education can be applicable for anything out there."
Sung also stressed the point that this minor is new and, therefore, very flexible to change, just as the workforce is constantly changing. Talking to a group of PC students, Sung commented, "It's possible that a job you will have in the future doesn't exist right now," but this minor helps students prepare for the changing world. He also advises students who declare this minor to work closely with the faculty members in order to help the minor improve over time. 
The business and innovation minor gives students in the arts and sciences an opportunity to delve deeper into the business world, which Sung thinks is an important part of the college experience. Sung encourages students to not narrow their thinking to one job, profession, career path, or study. He addressed the idea that if a student wants to do something, they should make it happen, and this minor gives them the opportunity to do so.
For more information about the minor, students can contact professor Sung at mastersung@providence.edu.