Swim and Dive Update
by npatano on February 10, 2022
---
Friar Sports
---
Big East Championships Approaching
Leo Hainline '22
Sports Co-Editor
The Providence College Swimming and Diving team took on the University of Connecticut on Saturday, Feb. 5 in a dual meet, the final chance to clock in official times ahead of the Big East Championships occurring later this month.
PC's men's and women's teams raced under different circumstances, given that UConn has recently cut their men's program. Many on the men's team utilized this meet as an opportunity to receive more practice under race-like conditions, although they were racing against the clock rather than an opponent. As for the women, this meet gave them the opportunity to swim in events needed to qualify for the Big East Championships scheduled for Feb. 23-26. For some of the seniors, this meet was their final time competing for the Friars. 
The implications of the UConn meet varied for the individual swimmers across the Friars' program, but those who needed these races to qualify for the Big East "suited up," a swimming term referring to wearing a technical race suit to increase performance, and swam with the pressure of knowing these races could conclude their individual seasons or collegiate careers. Mike Hawkins '22 and Elizabeth Murray '23 both delivered big performances this past weekend and qualified for Big East due to their times.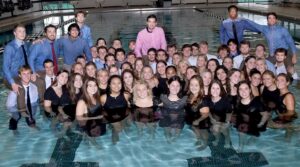 Angela Brillantes '22, one of the swimmers who will be competing in the coming weeks in East Meadow, NY, is confident that this past weekend has provided a good prelude to the Big East for the Friars: "After last year's huge wins, the expectations are definitely pretty high and I think we're in a good position to do some great things. The energy from this weekend was insane, watching the entire team support swimmers trying to qualify or finish up their careers. The energy levels and emotion were crazy, seeing everyone step up for each other this weekend, and it's exciting to think that it'll just be a million times crazier at Big East." 
Over the next coming weeks, the Friars will be fully focused on ensuring that they are in the best condition for their biggest meet of the season. Unlike over winter break, during which the teams trained twice a day to build up their conditioning and speed, the swimmers will lighten their schedules so their bodies are fully rested ahead for  late February. 
Last year, the Friars impressed at the Big East Championships, setting a total of 21 program records. Coach John O'Neill won Big East Coach of the Year: his first time receiving the honor. Justin Viotto '22 won the 200 Fly with a school record of 1:48:23, and Kevin Hood '23 also set a school record in his first-place finish in the 100 Breaststroke, with a time of 55:52. These student-athletes constitute two of the three Big East Champions in program history. 
Both Viotto and Hood, as well as the entire Friars program, will hope to both replicate and expand on the success that they enjoyed in the 2021 Championships. With many returning swimmers who contributed to the Friars' success during the previous season in the meet, do not be surprised if the team  claims multiple accolades at the Big East Championships. 
Swim Across America Rhode Island
by The Cowl Editor on September 16, 2021
---
Sports
---
PC Swim Team Continues to Raise Money for Cancer
Liam Tormey '22
For the past 12 years, Swim Across America has hosted an annual charity swimming event in Rhode Island. The organization, dedicated to raising money for cancer research at the Women & Infants Hospital of Rhode Island through swim-related events, has been around since 1987.
Providence College Swimming and Diving head coach, John O'Neill, has been a part of Swim Across America Rhode Island since the beginning. He was a part of the initial consultation to start it in Rhode Island.
"It's a great organization to be partnered with," O'Neill said. "The most well-known research centers in the country partner with SAA like Dana Farber, John Hopkins, and Sloan Kettering. The doctors and researchers I've met are fantastic."
There are open-water swims all across the country, but the director wanted to open one in Rhode Island, O'Neill said, and from there, everything grew and he became a board member with SAA-RI.
O'Neill wanted the event to be open to as many schools as possible to help such a great cause. "I suggested we could expand the participation to college teams and we invited every college within an easy driving distance to come."
Swimming and Diving athletes from schools like Brown University, Bryant University, Roger Williams University, the University of Rhode Island, and Providence College were all featured in the event.
Last Saturday, Sept. 11, at Wheeler State Beach in Narragansett, RI was the host of the 12th annual SAA in Rhode Island.
Coach O'Neill said, "It winds up being a celebratory day and the start of the college season."
This is an important event that is not just about kicking off the college season. "The cause is still the cause," as O'Neill points out. "There aren't too many families I know who don't have a cancer situation within the family."
Being able to help out in any sort of way is important to O'Neill. "It wasn't personal on my level, my family is all healthy, thank goodness, but we get into the extent we're not unlike anybody else as we've had family members with cancer. Our team, our families, and our alumni have embraced this beyond anything I could have imagined."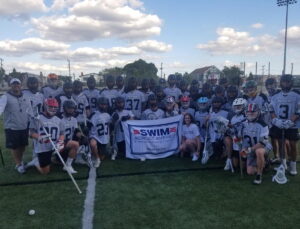 In speaking about why O'Neill felt passionate about this specific method of service, he explained, "I felt very strongly about targeting an organization we can make a big impact on."
Spreading the word has been the most beneficial way to receive donations for SAA. Athletes, families, and alumni register online and spread the word through social media and family members.
O'Neill wanted to find a way to keep his alumni a part of their alma mater. He said, "I wanted our alumni to be a part of something special. We're bringing the Friar Family back."
As of three days before the event, the Friars had already raised $53,000. Since the swim was founded, the Friars have raised over $260,000 altogether. The Facebook Fundraiser tool, along with Instagram and other forms of social media, have been key to raising awareness.
The day starts early for athletes, but "When the teams get off the buses and see everyone, it just becomes this electric event. You've been swimming with your teammates for a bit, but it's like flipping a switch. The competitive juices come out and everyone's energy is really high."
Student-athletes will have an enjoyable experience while still bringing their competitive nature out. Even for alumni, the case remains the same.
"Although some will race, it's not a race. A lot have been out of competitive swimming for a while, but they're recreational health swimmers and it helps them to get going again."
Last year, the event was canceled in-person at the beach due to COVID-19. However, the Friars still managed to find a way to keep it going in their own pool.
"We broke it up into pods," O'Neill said, but "it wasn't about money, it was just about staying engaged."
Even in an off year, the Friars still managed to raise $25,000, which is an outstanding result considering the tough circumstances.
The seniors were the only class before Saturday who had experienced what they call "the beach." Before the COVID year, the 2019 event was canceled due to a hurricane. This only meant the excitement and atmosphere surrounding being in person was so much higher this year.
On the day of the event, the athletes and participants in the event get off the bus and head to registration. Each registrar is given an ankle chip that tracks their swim both for safety and timekeeping while in the water.
Groups will go out in waves into the water and the event is then underway.
In asking Coach O'Neill how he and his team will continue to help the great cause after the event is over, he chimed in to say, "Our kids become walking billboards for Swim Across America. The towels they get, the shirts they get, they have an enormous amount of pride in."
All across America, any location you can think of, holds a SAA event. The events begin in the spring and continue throughout the rest of the year. Last Saturday, both Rhode Island and Seattle hosted their event. 
Coach O'Neill was also appreciative of another team on campus: Coach Gabrielli's Lacrosse team.
Gabrielli and his team were there last Saturday to help out in all the background scenes that make the event so successful.
"We couldn't be more appreciative of them. Just a really, really great thing they're doing."
The team woke up very early and arrived at the beach before everyone else to help set up.
"It's one thing to walk across campus and watch a game, but it's a whole different story when they're waking up at five in the morning to come and help us." It's the definition of Friars helping Friars, and Coach O'Neill couldn't be more grateful for their support.
The event this past Saturday was blessed with beautiful weather and a perfect atmosphere to raise money for a great cause.