PCI: Best Sports Moment of 2017
by The Cowl Editor on January 18, 2018
---
Professional Sports
---
Kyrie Irving to Celtics
By Max Anderson '18
Sports Staff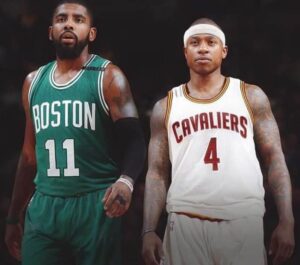 I am going to take a different route than most would and say that the best sports moment of 2017 was when Danny Ainge crafted a trade that shipped star point guard Kyrie Irving up to Boston.
  The trade was originally agreed upon on Aug. 22 of last year.The original details of the trade stated that the Celtics would send Boston icon Isaiah Thomas, Jae Crowder, Ante Zizic and the unprotected 2018 first round pick of the Brooklyn Nets in exchange for Irving.
However, after Thomas failed a physical upon arrival in Cleveland, the Cavaliers demanded more compensation, even though the Celtics stated they had been upfront with the Cavs about the severity of Thomas's injury. Eight days later, on Aug. 30, the Celtics agreed to add a second-round pack in the 2020 draft, and the trade was finalized.
   This was the best sports moment of 2017, not only because it sent shockwaves throughout the entire sports world-nobody thought the Cavs would have traded Irving, especially not to a rival like the Celtics- but also because it improved the competition of the NBA.
Before this trade, fans and executives alike were already penciling in a fourth straight Warriors-Cavs Finals matchup.  However, shortly after this trade, people soon began to wonder if maybe, just maybe, the new-look Celtics could potentially upend the reigning Eastern Conference Champion Cavaliers.
    Flash forward to the beginning of 2018 and not only are the Celtics atop in the Eastern Conference with a 34-11 record, but they are 7.5 games ahead of the Cavaliers, who currently sit in fourth place.
   This trade has not only benefitted the Boston Celtics but the entire Eastern Conference alike and will give all teams a fair shot at the Eastern Conference crown, potentially sparing sports fans from watching the same finals matchup witnessed the past three years.