Listomania: Artists We Should've Had For Spring Concert
by The Cowl Editor on April 8, 2022
---
Features
---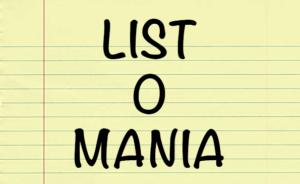 Artists We Should've Had For Spring Concert
Pitbull 

The Rock 

Will Smith (ft. Chris Rock) 

Machine Gun Kelly 

Frank Sinatra (hologram version)

Macklemore 

Doja Cat 

Kanye West (featuring Skeet)

Travis Scott 

Dr. Taylor Swift 

Shawn Mendes (post breakup tour?)

Rihanna (post hiatus tour?) 

Ed Sheeran 

My Chemical Romance 

Big Time Rush (without Dixie D'Amelio) (sans Carlos)

R. Kelly (from prison)

The Hillbilly Thomists
Listomania: Petition for a New Mascot
by Elizabeth McGinn on April 22, 2021
---
Features
---
The koi fish
The Flame
Paul Rudd 
Dean Sears
A White Claw
A pong ball
A positive COVID-19 test
An image of Dean Sears's email
The green check mark
A white square
Jesus
Adidas slides
Lululemon leggings
A missing AirPods case
A singular AirPod
A missing PC ID
Dot and Fran, but as one person
Listomania: Best Places to Use Our Free Foldable Friars' Chairs
by Elizabeth McGinn on April 15, 2021
---
Features
---
By the trash behind Ray
In the koi pond
Lane 4 on the track
The Friar Development Center (until you get caught)
In Ed Cooley's office
In line for Dunkin'
Deep in your closet
On the roof of Ray
In Father Sicard's backyard
Sunbathing outside the Marriott 
In the flame
In the Suites' elevator 
In line for your COVID-19 test
Outside Mondoz (waiting patiently for it to reopen)
The Eaton St. bike lane…oh wait 
Anywhere other than outdoor classes
Listomania: Best Ways to Raise Your Midterm Grades
by Elizabeth McGinn on March 25, 2021
---
Features
---
Turn your grade upside down
Convert it to the metric system
Give your professor a little gift *wink wink*
Cram on your Wellness Wednesday
Give an expository interview to Oprah about your teacher
Round it up to an A
Send your professor a death threat
Have Daddy pay your professor off
Perform a ritual to the flame
Ask Paul Rudd for help
Sign up for a late night tutoring session
Send tasteful nood(le)s
Just don't, drop out of school and start an OnlyFans page instead
Listomania: Signs that it's Spring at PC
by Elizabeth McGinn on March 18, 2021
---
Features
---
The return of the wannabe lax bros 
Playing spike ball on the quad (or any lawn game of your choice) 
The friars are showing their ankles
Soccer and lax games every weekend 
Everybody bringing back the folding chairs from September
Country music on the AQ lawn
Darties
The smell of trees and grass combatting the stench from Ray
Midterm madness
Dogs!
More fake spray tans
New Dunkin' flavors (Irish Creme!)
Max levels of senioritis
Daffodils
Transitioning from hot to iced coffee…never mind, we drank that through the winter anyway
Listomania: Places to Eat at PC When the Dining Hall is Closed
by Elizabeth McGinn on March 4, 2021
---
Features
---
Koi pond (with some sushi)
The one chair outside of your professor's office
Your car 
Outside of Ray with the sweet aroma of garbage 
Cowl office (if you're lucky)
Friar Development Center
Testing center (before taking a swab)
The tunnels 
The priory 
The center of the torch 
Around the fire pits (during snowfall)
Coach Cooley's office 
Your dorm's laundry room 
The labyrinth at Hunt-Cav
Your roommate's bed 
The dirt
Listomania: Reasons You Will Not Have a Second Date
by Elizabeth McGinn on February 11, 2021
---
Features
---
Forgot to wipe
Didn't show up
Brought your mom as a chaperone
Talked about your 12 cats
Mentioned the spider that whispers sweet nothings into your ear
Confessed your love for Father Shanley
Knew too much personal information
Asked for their banner ID instead of their phone number
Communicated solely via PC Mobile
Thought they resembled Mitch McConnell
Said they smell like your mom
Brought your date home to your Lightning McQueen race car bed
Ordered off the kid's menu
Dined and dashed
Ordered chocolate milk at the bar
Brought your guitar (and already wrote a song about them)
Said "I love you"
Asked them to be your entree à la Armie Hammer
Listomania: Reasons to drop a class during add/drop period
by Elizabeth McGinn on February 4, 2021
---
Features
---
My ex is in it
It's hard
My professor gives A's starting at 94 instead of 93
It has pop quizzes
The textbook is too heavy for me to carry
It's a non lab-based class with a lab
Someone has already tried to ask me out
It meets in-person
My professor is too hot to handle
It's at 8:30 a.m.
I'm the only one who signed up
I used up all my excused absences already
My professor doesn't socially distance
The person I sit next to thinks their mask is a chinstrap
Someone took my unassigned assigned seat
Listomania: Things I Wish I Didn't Do Halloween Weekend
by The Cowl Editor on November 12, 2020
---
Features
---
Die
Start a COVID-19 outbreak
Go to an Eaton Street party
Sleepover at Guz
Dress up as Friar Dom instead of Huxley
Overdose on candy corn 
Hookup with my ex twice (they were in different costumes)
The Monster Mash
Dress up like a doctor
Get a pumpkin stuck on my head 
Go to a school-hosted event (stuck in the Escape Room)
Wear the wrong costume in a matching set
Hang out with the demons my neighbors were conjuring
Listomania: 2020 Halloween Costumes
by The Cowl Editor on October 29, 2020
---
Features
---
Carole Baskin
Guillotine-decapitated Marie Antoinette
The fly on Mike Pence's head
Father Shanley
Among Us characters
My midterm grades
Ruth Bader Ginsburg
COVID-19 vaccine
Murder hornet
Whipped coffee
Sourdough bread
Sexy postal worker (#buysomestamps)
A ballot
Andrew Cuomo
Fran and Dot
Anything respectful of other cultures