Jimmy Fallon: The Star that Keeps Rising
by The Cowl Editor on January 26, 2017
---
Arts & Entertainment
---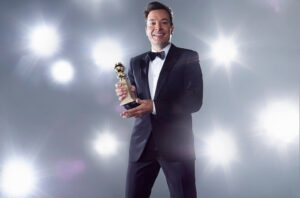 by Luis Alves `19
A&E Staff
The name Jimmy Fallon may be familiar to many people. He is known for a variety of roles: being a stand-up comedian, a cast member on Saturday Night Live early in his career, and now the host of The Tonight Show Starring Jimmy Fallon, which he began in 2014. Although he may constantly have projects such as his late-night show, Fallon has recently embarked on various smaller projects that continue to display his creativity within the entertainment industry.
After replacing Jay Leno as the permanent host of The Tonight Show, Fallon introduced different segments from time to time which were sure to make viewers laugh. He had done similar segments while hosting Late Night with Jimmy Fallon, and continued to enhance them taking over from Leno. These segments may be as small as thank you notes during each taping of the shows, or as quirky as Lip Sync battles with each of his guests.
Some of the most iconic celebrities Fallon has had lip sync battles with include Ellen DeGeneres, Justin Timberlake, and Emma Stone. The Lip Sync battle that he performed with Stone currently has over 77 million views on YouTube alone. Recently, Fallon had rapper Big Sean on the show as well as former First Lady Michelle Obama. Obama's appearence was a pleasant surprise for fans, as she spoke in person about her journey as First Lady of the United States.
In addition to the show, Fallon hosted the 74th annual Golden Globe Awards on Jan. 8. He started the show with a skit replicating the movie La La Land, with celebrities making appearances and performing their own parts. Fallon also won People's Choice Award this year for "Favorite Late Night Talk Show Host," which he also won in 2016.
He regularly makes appearances of his own, like recently appearing on The Ellen Show with Ellen DeGeneres where he spoke to her about his plans for the future. He played "Speak Out" on The Ellen Show, where he had to put in a mouth piece and try to speak out words that were on a card for DeGeneres to guess.
Fallon also announced on the same interview with DeGeneres that he would have a theme park ride at the Universal Studios in Orlando, Florida. When Fallon took over The Tonight Show from Leno, with being at NBC Universal, he wanted to create a ride to replicate the experience of being on The Tonight Show. After nearly eight years, Universal Studios has finally decided to agree to Fallon's proposal and is creating a ride after himself and the TV show.
The ride is a virtual reality simulator where anyone can go to The Tonight Show and ride Go-Karts with Fallon, go through the subway, eat pizza, and see some skits he has created in the past. The ride is detailed enough that one could smell pizza being cooked. Universal Studios also gave Fallon his own souvenir shop which is called "The Tonight Shop" and is in the theme park. The shop is a part of the ride which has been under construction for almost two years and will be called "Racing Through New York Starring Jimmy Fallon." The grand opening of the ride has been set for April 6 of this year.
Beyond the Lines of Entertainment
by The Cowl Editor on January 19, 2017
---
Arts & Entertainment
---
by Luiza Alves `19
A&E Staff
Entertainment may come in a variety of modes and forms of expression during this new year. YouTube channels—and specifically YouTubers—are evidence of  this as they continue to progress within the entertainment industry. One of the most prominent examples of Youtubers' success is Joseph Sugg, a British YouTuber, better known as Joe Sugg, or by his YouTube channel name: "ThatcherJoe."
Sugg began his YouTube channel as a hobby when he was 19 years old. He planned on thatching roofs as a career, and while he completed his apprenticeship, he made videos to pass the time. He borrowed equipment from his sister, Zoe Sugg, who also had a YouTube channel, and began to expand his repertoire of videos. What began as a hobby has now turned into a career for the 25-year-old living in central London.
Sugg currently has over 12 million subscribers combined on all of his YouTube channels. Not only does he create content ideas, produce, film, and edit his own videos for "ThatcherJoe"— his main YouTube channel which has nearly seven million subscribers–but also "ThatcherJoeVlogs" which has 3.5 million, and "ThatcherJoeGames" with 1.6 million.
The content for "ThatcherJoe" varies from pranking his friends and family, to specific video challenges. His most viewed video on the channel has over 17 million views, as he lets his sister do his makeup. Other popular videos with over 10 million views each include games with his friends, revenge pranks on his former roommate, and impersonations.
As if that was not enough for a few laughs, Sugg also films on "ThatcherJoeVlogs," which comprises "a day in the life" videos where viewers can follow him on his daily routines. In addition to the other two channels, he also films himself playing different video games on "ThatcherJoeGames." Sugg has played The Sim 3, Grand Theft Auto V, as well as Frozen Salon where he completes a makeover on Elsa.
Sugg has also expanded his love for making people laugh to the big screen. He has completed two movies where he and his former roommate, Caspar Lee, make a road trip to Europe in the first movie, and the U.S. in the second, completing odd jobs. With creatives coming and going in the industry, Sugg continues to demonstrate how all one needs to entertain is an idea and the moxie to follow through with it.