Women's Hockey Comes Out Strong
by The Cowl Editor on November 9, 2017
---
Friar Sports
---
By: Jeremy Perrigo '18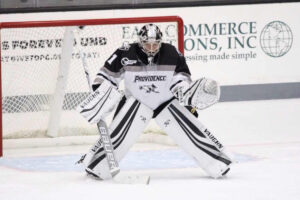 Sports Staff
    The Providence College Women's Ice Hockey Team, after finishing the 2016-17 campaign 17-17-3, is off to a strong start this season with a record of 6-3-2.
     The Friars swept the Northeastern Universty Huskies in a home-and-home over the weekend of Oct. 28 with 2-1 and 6-4 victories. This was an impressive accomplishment considering the Huskies finished last season with a record of 22-12-3, beating the Friars in all three of their previous meetings.
  The Friars' early success has been made possible through the contributions of players such as  Madison Myers '19 (Colchester, Vermont), who was awarded Women's Hockey East Goaltender of the Month for October. Myers has started all 11 of the Friars' games this season, sporting a save percentage of .914 and a goals against average of 2.34.
    This is Myers' first Hockey East monthly award. She was also previously awarded Hockey East Defensive Player of the Week on Oct. 30, largely for her contributions against the Huskies, where she put up 40 and 38-save performances in the back-to-back games.
  Myers, who said she models her game after Montreal Canadiens' goaltender Carey Price, stated that it is "quite the honor" to be recognized with the award. When asked about her recent success and if she has made any changes to her game that have allowed her to grow as a player, she mentioned her previous season's work she said, "I actually changed my game last year with the help of my head coach Bob Deraney. He helped me become quicker and more reactive and I think that really helped my game improve for this year."
  Hockey goaltenders are often considered some of the most superstitious players in the game, and many have rigorous pre-game rituals. Myers says she does not share these beliefs and likes to start each game without a specific routine.
  The Providence goaltender is now in her third year with the team, and when asked about how her role has developed off the ice with her teammates she mentioned that she used to be the one going to her fellow goaltenders with questions, and now that she has become an upperclassman, finds herself answering rather than asking more of those questions.
  Most recently the Friars suffered a setback, dropping  by a 7-4 decision Friday, November 3, to the No. 2 ranked Boston College Eagles. When asked about what she liked in her team's performance Myers said, "I think we had a pretty bad game which says a lot about our team," noting that the recent loss was a big step up from past games against the Eagles. "I think it is definitely an improvement and they are definitely beatable, so that should give us a lot of confidence," expressing how she feels about the direction in which  the team is heading in.
    PC  looks to bounce back as the teams travels to Orono, Maine on Friday to face off against the University of Maine. The Black Bears have a record of 6-5-0 and are scheduled to play a game Tuesday, November 7 against the same Northeastern Huskies that the Friars swept two weekends ago.
  The Friars went 3-0 against Maine last season, recording wins of 3-2, 6-4, and 5-2. Christina Putigna'19 leads the team in points (6G, 9A) followed by Brooke Boquist '18 (6G, 3A), and Cassidy MacPherson '19 (2G, 7A). Look for these players as they attempt to build on their success against the Black Bears.    The Friars are off to the best start in recent history, and key contributors like Myers are being recognized for their success. It will be exciting to see how the team plays moving forward.