Business Students Given New Study Abroad Opportunity: Students Can Now Study in Shanghai
by The Cowl Editor on November 15, 2018
---
Campus
---
by Malena Aylwin '22
News Staff
 Beginning in 2020, Providence College will offer a new program to study abroad in Shanghai, China with a group of Providence College School of Business (PCSB) students for the spring semester. 
The program will guarantee an English-speaking internship placement in one of the world's leading financial hubs — Shanghai. Also, with their acceptance into the Spring 2020 program, students will be rewarded with discounted and free housing.
Business students will have the opportunity to study in the local East China Normal University with their PCSB group and with people from all over the world. They will be in classrooms filled with students of different nationalities and ethnicities, attending classes taught by local Chinese teachers and experts.
PC students can look forward to living in a two-bedroom dorm with a kitchen and laundry on the same floor. They will also have accessibility to campus amenities. 
Some of the standard classes students can take include International Marketing (MKT 426), International Finance (FIN 419), and Global Workforce Managment (MGT Major Elective). Other additional courses specific to this study abroad opportunity include Intro to Chinese Philosophy, Contemporary Chinese Literature, Contemporary Chinese Cinema, and different levels for learning the Chinese language.
Also, students will be able to get a taste of real world jobs, work with colleagues, and perform duties based on their business major.
Students are guaranteed an internship with one of four different brands in one of the world's leading industries. 
The study abroad opportunity in Shanghai is a completely new experience available to PC students, where they can learn a new language, meet new people, get a taste of what Shanghai is like, and so much more. Dean Jacqueline Elcik, one of the leading advisors of the program, stated, "It is a great once-in-a-lifetime experience to be able to work in such a diverse environment and at the same time pursue your goals."
If you are interested in applying for the Shanghai 2020 spring abroad program, the deadline is Dec. 3.
For any other questions, contact pcstudyabroad@providence.edu, Dean Jacqueline Elcik, or Dean Joe Stanley.
Bursting the PC Bubble: Anti-Semitic Shooting at Pittsburgh Synagogue
by The Cowl Editor on November 9, 2018
---
National and Global News
---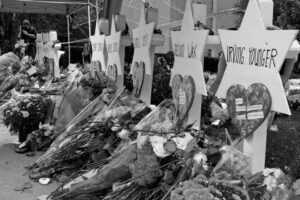 By Malena Aylwin '22
A mass shooting occurred in Pittsburgh on the morning of October 27, 2018. While Shabbat morning services were being held at the Tree of Life Synagogue, 11 individuals were shot to death, and seven were injured. 
The victims included Irving Younger, Melvin Wax, Rose Mallinger, Bernice and Sylvan Simon, Jerry Rabinowitz, Joyce Feinburg, Richard Gottfried, Daniel Stein, and Cecil and David Rosenthal. 
At 9:50 a.m., a shooter described as a "hairy, heavy-set white male" entered the building and supposedly yelled, "All Jews must die!" before opening fire and "shooting for around 20 minutes." He was equipped with four self-loading rifles, each of which he discharged, as indicated by experts. 
An individual from the Jewish Federation of Greater Pittsburgh told correspondents that somewhere in the range of 60 and 100 individuals were inside the synagogue attending Shabbat morning services. 
Some minutes later, police started receiving calls from individuals inside the building regarding the assault.
A couple of minutes after, the police arrived at the synagogue. The shooter started firing towards the police from the synagogue, injuring two officers. Officers and an investigator returned the shots, making the shooter withdraw into the building. 
A SWAT group entered the building and was again shot at by the shooter. Officers returned fire and injured him, driving him to withdraw to a room on the third floor of the synagogue. In the trading of gunfire, two SWAT individuals were injured, one critically. 
Nevertheless, after an hour or so, the shooter stepped out of the room where he was hiding and surrendered. 
As he got medical help in police care, he supposedly told a SWAT officer that he needed "all Jews to die" and that Jewish people were committing genocide to his people. 
The 46-year-old suspect has been identified as  Robert Bowers. He attended a local Pennsylvania school which he later dropped out of and started working as a truck driver. A man thought to have been Bowers' dad killed himself when Bowers was around six years old. Bowers was reported to have been involved in far-right websites such as "Gab" and had promoted anti-Semitic conspiracy theories online through social media.
In the weeks prior to the shooting, Bowers made anti-Semitic posts directed toward the Hebrew Immigrant Aid Society (HIAS). He asserted that Jewish people were helping Central American troops move individuals towards the United States border and alluded to individuals from those trains as "invaders."
Shortly before the assault, in a clear reference to immigrants of the United States, Bowers posted on Gab that, "HIAS likes to bring invaders in that kill our people. I can't sit by and watch my people get slaughtered. Screw your optics, I'm going in." 
Bowers was charged by the U.S. Department of Justice with 29 federal crimes and 36 state criminal counts. 
Acts of anti-Semitism have increased exponentially in recent years. The Anti-Defamation League (ADL) reported that anti-Semitic incidents increased nearly 60 percent in 2017 compared to 2016. The U.S. Jewish community has expressed heightened concerns about this. 
We may never be able to change the psyches of individuals who send pipe bombs or enter a sanctuary with weapons blasting. Be that as it may, we can prevent them from influencing others. 
One lesson the U.S. can learn from this act of violence is anti-Semitism is an on-going issue in today's world, and should be taken more seriously not only around the world, but in our own country as well.
Featured Friars: Alex Teri '19 and Grace Moynihan '21: PC Students Create Their Own Spray Tanning Businesses
by The Cowl Editor on November 1, 2018
---
Features
---
by Malena Aylwin '22
Providence College is full of self-made businesswomen, such as Alex Teri '19 and Grace Moynihan '21, who, in just a few months, have used their entrepreneurial spirit to create their own spray tanning businesses at  PC. 
Moynihan commmented on the fact that since a young age, she has always been "business-oriented" and has always had success with her "self-made" businesses. 
She considers herself a very focused individual and has always loved selling things to people. This past October, while self-tanning, Moynihan realized that doing it yourself is very hard. "Just putting on self-tanner myself is probably the hardest thing."
"All my friends would complain about what a hassle it is to self-tan," she stated. And that is when she came up with the idea to start her business called PC Tans. 
She started planning and checking her availability throughout the week and the cost of investing in equipment and materials.
"So I found time on my schedule and I decided to research a little more about it and the next thing you know I was making it a business," said Moynihan. 
At first, she started trying it out on her friends, and little by little she began to get more and more clientele. 
"I just love making businesses, but I also love self-tanning. In the winter, we tend to get extremely pale, and sometimes you just want to be a shade darker or you have an event coming up and you wish you were less pale, but you know it's a mess and a hassle doing it yourself. So that's why I'm here."
The business was started less than a month ago and has already grown to over 400 followers on Instagram. "It's been almost a month, and it's so crazy because I really didn't think my business would get this big so fast." 
As of today, Moynihan is completely booked, saying, "Up until Senior Ring Weekend, I have about 60 people, my schedule is completely booked through these weeks and up until Senior Ring Weekend," she said, "and I'm happy my business has jumped off so much and I'm very excited to help the girls for Senior Ring Weekend." 
Moynihan plans on continuing this up until her senior year. 
Just like Moynihan, Teri has been very business-oriented since she was young. She started developing the idea of her own businesses during her junior year of high school. 
"I had to take a course and then I started working at a tanning salon," said Teri. 
She took a course sponsored by Norvell, which lasted a few months. "It took a lot of training, we practiced so much," she stated. 
After that, Teri went to college and during her junior year, some friends started complaining that they needed spray tans. 
"I went on Amazon, researched a little bit, and bought the whole kit." Teri stated that she was not planning on creating a full operational business at first, saying,  "I was just doing it for my friends and posting it on Instagram and slowly more and more people started reaching out to me."
 After a few months the business kept on growing. "Usually these weeks are very busy," she said. 
With Senior Ring Weekend and Halloween coming up,  Teri  has over 70 customers in the upcoming weeks. 
Teri stated that men are welcome to make an appointment, "I've taken on very few boys, but all of them have loved it, so don't be shy and book an appointment."  
"I feel like this business has made me a lot more independent because I earn money that I use to buy food and other things and at the same time makes me think twice when I buy something." 
"Also," Teri added, "it has taught me time-management skills and it's way better than staying at home sitting in my bed." 
Both equally determined women have created huge businesses on campus. Follow Teri's Instagram @notyouraveragespraytan and Moynihan's @pc_tans, for more information. 
PC Galleries Unveils Murals in Fargnoli Park
by The Cowl Editor on October 18, 2018
---
News
---
by Malena Aylwin '22
News Staff
On Oct. 14, Providence College Galleries (PC-G) and the My HomeCourt activity unveiled Providence craftsman Jim Drain's remarkable floor wall painting on the basketball courts of Fargnoli Park in the Elmhurst neighborhood of Providence. 
PC-G, with the help of the Departments of Art and Art History at PC, presents displays and open projects concentrating on contemporary art, creative aesthetic practice, and interdisciplinary social movement. 
"Working inside two exhibition spaces, PC-G supports the educational, service and community-oriented mission of the College with dynamic visual arts productions," states the PC-G website
Set up by Friends of Friar Basketball, an organization that brings together former and current members of the PC basketball team in order to better the community, my HomeCourt is an activity that restores public basketball courts. The project was also aided by PC-G and the City of Providence Parks. 
By reviving run-down courts and transforming them into brilliant, show-stoppers, collaborating organizations can make dynamic social events that become a source of pride for neighborhoods. 
Working with lead funder, Friends of Friar Basketball, and City of Providence Parks and Project Backboard, PC-G Director and Curator Jamilee Lacy and other My HomeCourt teammates intend to transform nearby open ball courts into centerpieces through the span of the next couple of years. For this first court at Fargnoli Park, Lacy appointed Providence local and acclaimed craftsman Drain to make an outline for a basketball court. 
Drain is a mixed media craftsman situated in Providence, Rhode Island. He graduated with a BFA in Sculpture from the Rhode Island School of Design in 1998. 
Drain was an individual from Forcefield, a group that investigated the converging of music, execution film, and performance fill into one stage. He has had various solo and gathering displays, including at Various Small Fires in Los Angeles, California; University of Florida, Gainesville; Beetle Projects in Miami, Florida; amongst many others. 
Drain was one of two recipients of the 2005 Baloise Prize and was recently recognized with craftsman Bhakti Baxter for making some of the best public art in the country. 
Drain  and craftsman Naomi Fisher received various awards for their craftsman-run space, The Bas Fisher Invitational, most outstandingly two from the Knight Foundation. Drain's success just keeps growing. 
Lacy, alongside the craftsman and understudies, invested a very long time in correspondence with Elmhurst occupants and players who most often utilize the courts at Fargnoli Park. 
The final design mixes Drain's unique mark of multicolored shading and shapes with thick geometric examples, propelled by athletic clothing design and beautiful styles found all through the world. 
The court painting is then administered by the broadly acclaimed Project Backboard, a non-profit organization situated in Los Angeles. 
Many volunteers from the city of Providence, PC's undergraduate and graduate programs, and Friends of Friars Basketball all met at the court to help paint. The continued care and upkeep of the courts is bolstered by volunteer individuals from Friends of Fargnoli Park.
The official court unveiling was held on Sunday, October 14 at Fargnoli Park, 945 Smith St, Providence, Rhode Island.  For more information about PC–G shows and occasions, visit http://pcgalleries.providence.edu.
New Club on Campus: Friars For _____.
by The Cowl Editor on October 4, 2018
---
Campus
---
Gabriela Short '18 and Aura Reach '20 enjoying the Puerto Rico fundraiser in 2017. Photo courtesy of news.providence.edu
by Malena Aylwin '22
News Staff
Whether it be fundraisers, charity donations, natural disaster aids, or more, Providence College's new on-campus club has got you covered. 
"Friars For _____ " was founded by Aura Rexach '20, Maria Elena Santos '20, Adriana Santos '21, and  Natalia Bauermeister '21. 
The idea for the club surged last September when Hurricane Maria struck Puerto Rico, the home of the founding members, leaving country-wide devastation: 100 percent of the island was without power and millions of homes were destroyed.  
Seeing how their loved ones and beloved island was suffering due to loss of communication and shortage of food, they decided that even though they were not in Puerto Rico, they could still help and make a difference. 
"After the hurricane hit Puerto Rico we decided that we wanted to do something to help everyone out back in the island," Maria Santos stated. 
The four organized a fundraiser that was held on Smith Lawn on Sept. 28 to aid in the hurricane relief. They organized a band and also provided local Puerto Rican food. 
"It was a huge success. After that, we saw all the support that we got from everyone and we decided that if we were able to do this for our island and for our families, why wouldn't we be able to do this for people all over the world?" said Maria Santos. 
The club is not just limited to specific disaster aids; it hopes to cover everything from poverty, to education, to disaster relief, and many more. 
If approved by the council, the first activity the club will hold is called Operation Christmas Child. 
The club's goal is to get donations from students, including toys, clothes, school supplies, and other basic necessities. They will have a workshop later that month where people can wrap the donated gifts. The wrapped gifts will then be shipped off to different countries where children tend not to get Christmas presents. 
They also want to hold smaller fundraisers, like cookie and grilled cheese runs, to help with other causes such as the victims of Hurricane Florence and other natural disasters. 
"Basically, it's planning different events to raise funds and create awareness for different causes that are important to us and other members of Providence College," added Adriana Santos. 
"I think the club will be a success because we know that everyone here has something they would like to spread awareness or help out and we think this is the perfect club for it," said Maria Santos. 
The founders are hopeful that the club will be able to find endorsements easily, as they will be working with PC faculty, staff, and students directly. 
"Some of the values ​​that a Catholic school has taught us is service to others. A club that is dedicated to helping the ones in need which is basically what Providence College stands for," stated Bauermeister.
"Any contribution, no matter how big or small is accepted.Change starts with you and with all of us joining together to make a difference," said Rexach.
For anyone interested in raising awareness, the club is not limited to any cause. If you have a cause that is important to you or would like to join the club, please feel free to contact nbauerme@friars.providence.edu.
PC Debate Team Competes in Novice Competition
by The Cowl Editor on September 27, 2018
---
Campus
---
By Malena Aylwin '22
This past Friday, Boston University held their first debate competition of the season, Boston University Novice. Brown University, Harvard University, Boston University, Tufts University, Brandeis Univeristy, and Providence College were amongst the participants in the competition. Over 100 students came to represent their schools. The PC team consisted of just under 30 novice competitors, since the competition was held for new members.
"The more experienced debaters helped us and mentored us through the whole process and I think that helped boost our confidence," recalled former novice Alexandra Chaparro '22.
Because it was a novice competition, seasoned members were not allowed to participate directly, giving novice members of the PC Debate Society a taste and feel of what a public debate is all about.
"I think it was a little intimidating at first because I'd never done debate before and you could tell that there were kids that had in their schools. But what I think really helped me was knowing that at least a good amount of them had never debated before and that gave me the confidence I needed," Chaparro said. 
The competition was a great opportunity to get accustomed to the style and arrangement of the discussions, and it was also a good way to receive input from experienced debaters.
Although there might be some pre-debate jitters, Chaparro recalls that "After a while you pick it up quickly, you just have to get confident in what you are saying." 
In their first competition, four students came very close to participating in the finals round. Malik Alwani '22 and  Micaela Freeman '20 went 3-1 at the tournament and Mallory Maryzek '22 and Danny Strother '22 also went 3-1, making their mark in the first of many competitions this season. 
Even though the College did not make it to the finals, the team agreed that they had tripled in size and that it was a great learning experience.