Cross Country Team Takes On NCAA Championship
by The Cowl Editor on December 9, 2021
---
Friar Sports
---
By Liam Tormey '22
Sports Co-Editor
The Providence College Men's and Women's Cross Country team have completed their season, finishing off at the NCAA Championship in Tallahassee, FL on Saturday, Nov. 20. 
It was a journey to get to this spot, and it took a whole team effort. A first look begins at the Big East Championships which took place in Carmel, IN. The Friar men finished fourth at the Championship with 85 points and the Friar women placed fifth with 82 points.
For the men, Marcelo Rocha '22GS, from Peabody, MA, was first for the Friar men in the 10K, finishing fourth overall with a time of 24:22.7, beating his time and place from last year at the Big East Championship which was 23:33.4 and an eighth-place spot. Liam Back '24 also made the top 10, finishing eighth with a time of 24:32.2.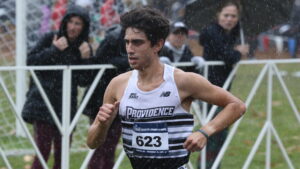 On the flip side, Maria Coffin '22GS led the Friar women in the 6K, finishing in an eighth-place spot in a time of 21:08.1, but Laura Mooney '24 was as close as you can get behind her, placing ninth with a time of 21:08.6.
Coffin, a fifth-year athlete for PC, said she came back with one overarching goal: "to help my team make nationals."
The Friars have been blessed with head coach Ray Treacy at the helm. He is one of the most successful coaches in the nation who has coached 65 All-Americans, seven NCAA individual champions, who have captured 15 NCAA titles overall, 45 Big East individual champions, who have captured 117 Big East titles, and 11 Olympians. His results speak for themselves.
Not only do those individual champions speak volumes, but his women's teams have won two NCAA Cross Country Championships.
For Coffin, she noted it was "disappointing" not to qualify for the NCAAs since her freshman year in 2017. She qualified for the NCAAs as an individual in 2020, but unfortunately her team just missed out. 
This year felt different, Coffin mentioned. "After our showing at the Wisconsin Nuttycombe Invitational, a national caliber meet, I knew we could do something special. We came back stronger this year and I knew we had the potential to qualify."
The Friars would finish eighth at the meet, placing higher than many of the nationally ranked teams. Their top three runners had a very tight spread placing 22nd, 24th, and 27th which was a very big achievement for a race of that magnitude with so many great runners.
"To see that our team, a younger team with less depth, could perform at such a high level against these bigger, older teams, helped our confidence going into the championship," Coffin explained.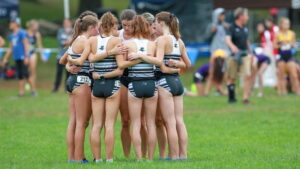 This would be the Friar women's 29th appearance overall at the NCAA Championship, but it marked their first since the 2017 season.
Maria Coffin said this appearance "is huge for the team going forward. The team is young and will only get better. Now that they have this experience, they know how to handle these types of races and make it back to NCAAs in the future."
The women finished 26th overall at Apalachee Regional Park, and Mooney placed 60th overall in the 6K course in a time of 20:13.1 and scored in the 49th spot. Coffin finished 89th in the same event with a time of 20:26.1, scoring in the 71st spot.
Head coach Ray Treacy said, "I am very happy with the way Laura and Maria ran," but he also added to what Coffin said on how helpful going to the championship was to other members of the squad: "For the younger members of the team, it was a great experience for them that they will learn from and bring to the Championship next year."
Looking at where the Friar women ranked among Big East competitors, they were second, ahead of Villanova University and Butler University, but fell short of Georgetown University.
Along with Mooney and Coffin, Shannon Flockhart '24 (128th and 20:51.6), Lilly Tuck '23 (167 and 21:12.9), and Kimberly May '25 (179 and 21:20.5) all raced for the Friars. It was a great experience for all to say the least.
On the men's side, Rocha was the only one to run. He raced in the men's 10K event and finished 61st in a time of 29:45.8.
Treacy commented, "It was a very good run for Marcelo today in the conditions. Marcelo held his position throughout the race. He will be looking to come back here next year and earn All-American honors."
Now that the cross country season has ended, it does not mean time off for both the men and women. They will be transitioning now into the indoor track season, and every runner will take on their own specialty events, unlike the 6K and 10K in cross country. 
Coffin says some of the younger girls on the team are "switching gears to focus on the shorter distance events like the 1K and the mile," while others, including herself, "are going to focus on the distance events such as the 3K and 5K."
After finishing the cross country season on such a strong note for the first time in several years, Coffin hopes to "carry the momentum from the cross season into the indoor season and then outdoor track to hopefully perform well in the Big East and have some national qualifiers." 
As Coffin mentioned before, she understands the high standards that Treacy sets for the program, and she says, "While making it was a huge step forward, we keep ourselves humble with the reminder that the Friars have taken home podium medals and National Championships in prior years, and that is something to strive for and completely within our reach." 
The search for those championships will begin with the indoor track campaign beginning in January and culminates with the championships in March. The Friars are hoping to make it to the NCAAs just like they did for the cross country season. 
Men's and Women's Cross Country
by The Cowl Editor on September 23, 2021
---
Friar Sports
---
A Big Season Ahead
Leo Hainline '22
Sports Co-Editor
The Providence College Men's and Women's Cross Country teams are off to a flying start, both winning the Friar Invitational that took place just outside state lines in Attleboro, MA at Mark Coogan Course. The Friar women dominated their race, scoring 18 points compared to competitors University of New Hampshire's 54 points and Stony Brook University's 67 points.
The women's success this past weekend was no surprise given that preseason polls ranked the Friars 26th in the nation and second in the Northeast region. Their roster is very international, with four women hailing from Ireland, two from New Zealand, one each from England and Canada, and the seven others being local products from the Northeast.
In addition to having a global team-makeup, the Friars are full of key members who have multiple years of eligibility remaining. Apart from Maria Coffin '21GS, who was the only Friar to qualify for last year's Women's Cross Country NCAA Tournament, the team is primarily led by juniors and a few underclassmen, which was highlighted in the Friars' performance on Sept. 10. PC's Laura Mooney '24 (Cappincur, Ireland), Lilly Tuck '23 (Sunderland, Canada), and Orla O'Connor '23 (Waterford, Ireland) took first, second, and third in the Friar's Invitational. Maria Coffin (Annapolis, MD) was not close behind, finishing fifth. Other Friars Alex O'Neill '23 (Ennis, Ireland), Kimberley May '25 (Auckland, New Zealand), and Holly Brennan '25 (Bettystown, Ireland) also finished in the top 10.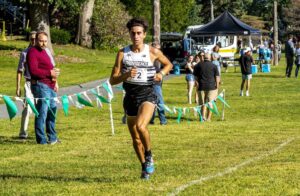 Coffin will look to lead this current squad as she is the only Friar to have qualified for the NCAA tournament in cross country this past year. Her qualification followed her fourth-place finish in the 2020/21 Big East Tournament race, which was the best out of any Friar. At the NCAA tournament, she was able to finish 99th out of 253 runners.
One of the main goals of the current squad is to make the NCAA tournament in Florida this November. Mooney, who topped the field in Attleboro two weeks ago, conveyed that "one of the key things for the team to achieve their goal is to work together." As a sophomore, she is particularly excited about the season as she has yet to experience one under normal conditions given that COVID-19 prevented the team from having a normal season during her first year in Friartown.
The men's cross country team was similarly successful in Attleboro, scoring 29 points to defeat Stony Brook (34 points), Boston College (77 points), and New Hampshire (102 points). The Friars, who are ranked fifth in the Northeast region, looked sharp with four runners listed in the top 10. Marcelo Rocha '21GS, the Friars' star runner from last season who had a fantastic spring track season as well, finished first in the men's side of the Friar Invitational. He dominated the entire race and finished over 30 seconds faster than second place, earning him Big East Athlete of the Week. PC also had three other runners finishing in the top 10, with newcomer David McGlynn 'GS taking third, Liam Back '24 finishing sixth, and Ryan Gallagher '21GS finishing eighth.
The Friars return many of their key members from last year's roster, with their top seven runners from last year's Big East Tournament all returning. In addition, many of these runners on coach Ray Tracey's squad are seasoned veterans. Rocha, who finished eighth in the tournament, Gallagher, who finished 21st, and David Rosas '21GS, who finished 32nd, were all seniors that season who returned to Friartown as graduate students. Matthew Lepine '22 is now a senior, as is Sean Meehan '22. The two finished 47th and 51st respectively. Shane Coffey '24 and Back were the two young guns on the roster who made valuable contributions. The foreigners, with Coffey from Ireland and Back from New Zealand, had a nice introduction to the states last year in regards to their performances and aim to grow into a bigger role their sophomore year.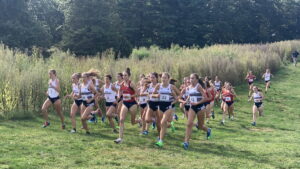 This Friday, both the men's and women's cross country teams will face tougher opposition in the Battle of Beantown, hosted by Boston College. The top five teams in the Northeast on the women's side will all be in attendance, including the Friars, University of Connecticut, Boston College, Syracuse University, and Harvard University, as well as over 20 other schools. As for the men, every top-five team in the Northeast is competing except for the top-ranked Iona College. In both competitions, the Friars will be the sole BIG EAST representative. This will be a prime opportunity to send a message from afar that PC is a force to be reckoned with on both the men's and women's sides. Last year, the men finished fifth in the Big East Tournament, while the women finished third. All signs suggest that both have notably improved since the previous season and should not be overlooked as title contenders.