Remembering Mark Adams
by The Cowl Editor on November 29, 2018
---
Friar Sports
---
By Cam Smith '21
Sports Staff
Mark Adams '15RS always wanted to go to Providence College. Ten schools recruited the Boxford, Massachusetts native during his time with the Chicago Steel of the United States Hockey League, but only one ever had a chance of landing him. "He was hell-bent on going to Providence from day one," explained his father, Mark Adams Sr. "That's where he wanted to go."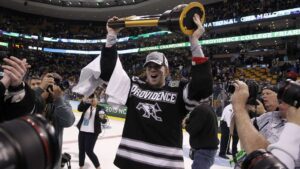 Adams, more affectionately known by his nickname "Roo" after the Winnie the Pooh character, appeared in 98 career games for the Providence College Men's Hockey Team. The smooth-skating defenseman battled injuries for most of his career, limiting him to only seven appearances in both the 2012-13 and 2013-14 seasons. Though frustrating, his scattered appearances allowed Adams to receive a medical redshirt to skate for a fifth season, a season which would culminate with the first national championship in PC hockey history.
As a redshirt senior, Adams appeared in 32 games for the championship Friars, notching a goal and two assists in addition to his shutdown defensive play. To top off the thrill of the victory, Adams was able to lift the championship trophy at TD Garden, in front of family and friends. The Friars defeated Boston University 4-3. "That was great for him, especially being in Boston, too," said his brother Jack Adams. "It was a once-in-a-lifetime opportunity for him."
Following his graduation, Adams signed a contract with the Los Angeles Kings, but recurring knee injuries forced him to retire from the game he loved. Instead, he entered into the world of business, and moved to New York to work for a hedgefund. However, the allure of the Bay State proved too strong, and Adams soon moved back to Boston. When his father's company, Cambridge Therapeutic, expanded, Adams was offered a position running the pharmaceutical division.
Most days, Adams was up at 4 a.m. for a conference call with his associates in China. If someone walked into his office during one of these calls, they might see Mandarin scrawled across the whiteboard. Adams was teaching himself the language for an upcoming business excursion overseas. "People don't realize how brilliant he was," Jack Adams said. "He did a great job for us," commented Adams Sr. on his son's work. "He was very mature for his age. It was nice, as a dad, to watch that development. He's 10 times smarter than I'll ever be."
It was one of these early mornings when tragedy struck. On Sept. 17, at the age of 27, Adams passed away after suffering a heart attack.
The 2014-15 PC championship team had already lost one of their members when they heard the news about Adams: forward Drew Brown '16 passed away in November 2017 after a battle with bone cancer. Once again, this close-knit team had to look to each other for support as they grieved the loss of another beloved teammate.
Adams' teammates mourned the passing of a man whose impact on the team went far beyond his stellar performance on the Schneider Arena ice. "Roo was one of those teammates that would do anything for another guy on our team," remembered Kevin Rooney '16, a member of the championship-winning squad. "Almost every single day he would ask the guys to come over to his place for dinner. It got to the point where sometimes we had to say no because we felt bad not buying any of the food." Rooney recalled a time where Adams hosted the entire team at his apartment in downtown Providence for a Christmas party.
"Roo's (passing) kind of came out of nowhere," remarked Mark Jankowski '16, another key player for the 2014-15 team. "It's tough any time one of your good buddies passes, never mind two of them," Jankowski said referring also to the passing of Brown. "They were both 'one of the boys' and it's now tough knowing you won't be able to see them again."
The Adams family held a celebration of Mark's life at Turner Country Club on Sept. 24. Five hundred people attended, while an additional 200 were turned away because the room was well over capacity. Another 80 people sat in the side rooms listening to the service over a speaker. "It was pretty amazing that many people came. I love hearing all the reflections of stories about relationships he had," said Adams Sr. "…he definitely cared and wanted to do things for other people."
On Friday, November 30, the Friars will host "Roo Adams Night" for their home game against the University of New Hampshire. There, the Most Outstanding Teammate Award, given annually, will be renamed in Adams' honor.