A Year for the Books: An Overview of COVID-19 at PC This Academic Year
by The Cowl Editor on May 6, 2021
---
Campus
---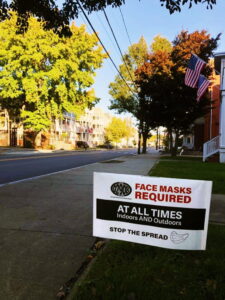 by Hannah Langley '21
News Co-Editor
Since the formation of this committee, PC students have become all too familiar with emails and text notifications for daily screenings, weekly testing schedules, and other updates. 
An email from Dr. Sean Reid, provost and senior vice president for academic affairs, explained the mix of classes that would be offered going into the fall semester. The mix of in-person, hybrid, split, hy-flex, and remote classes gave faculty the ability to choose the way in which they wished to teach their classes. It also gave students who decided to remain remote and not return to campus greater flexibility. 
Not long into the fall semester, a COVID-19 outbreak occurred. On Sept. 17, Fr. Sicard announced that the College would be shifting to "total remote learning at least through September 26" after over 80 students tested positive in the span of two days. On-campus students were directed to not leave campus, and stay-at-home orders were put in place for all off-campus students. By Sept. 19, the number of cases rose to about 138 positive students. 
On Sept. 25, Fr. Sicard announced that remote instruction and stay-at-home directives for students would last until Oct. 3. Just a few days later, the date was extended to Oct. 8 for on-campus students and Oct. 12 for off-campus students. 
The outbreak led to several initiatives by the College, including weekly testing for all students, consistent messaging about remaining in one's pod, a restriction on any non-essential travel, and more. Rising cases in the state by November also caused Governor Gina Raimondo to make several announcements, restricting group gatherings to 10 and setting curfews. 
Following winter break, students began to return with point-of-origin tests the week of Jan. 18. With classes resuming on Jan. 25, weekly COVID tests also resumed. Not long into the spring semester, though, a smaller COVID outbreak occurred. Students both on and off campus were sent to the Providence Marriott Downtown and Davis Hall to quarantine and isolate. The Continuity Task Force announced that PC had an approximately 2% positivity rate, leading to further restrictions from the President's Office.
This second outbreak led to the decision to have students tested twice a week. For the remainder of the semester, students were asked to go for testing either Mondays and Wednesdays or Tuesdays and Thursdays, leaving Fridays for faculty and staff testing. 
As cases began to decline, more and more restrictions and precautions began to ease. McPhail's reopened on Thursdays, Fridays, and Saturdays for seniors. Attendance of outdoor games began to be permitted. Acceptable outdoor group gatherings increased to 50 people. Club sports were able to resume. An in-person commencement with two guests per graduate was approved to be held on May 20 on Hendricken Field. 
Vaccines were also made eligible to all Rhode Island residents 16-years-old or over. Friars off campus began getting vaccinated towards the end of March, and the College held a vaccination clinic for all students, faculty, and staff on April 28. 
Fr. Sicard reflected on the year by saying, "I think that one of the best decisions that we made was to reopen in person." He continued, "During the first year of my presidency, I have been deeply moved by the commitment I have seen from our faculty, staff, and students. So many went above and beyond in caring for each other, in helping our students succeed, and in keeping each other safe and well."
Ann Manchester-Molak, executive vice president, commented as well, saying, "In the 40+ years that I've worked here, I honestly can say that I have never experienced such a spirit of collegiality, involving so many faculty, staff, and students who joined together to somehow maneuver the highs and lows of a pandemic that has affected us all so acutely." She commended the work of faculty, staff, and students who each did their part to persevere this academic year. 
 While masks are still required on campus, social distancing is still enforced, and students are still getting tested twice per week, there has been a significant change in COVID protocols since the fall semester began in August. Both Fr. Sicard and Manchester-Molak noted their excitement at the opportunity to have an in-person commencement for the class of 2021 to conclude the year. 
The PC community has faced many trials and tribulations in dealing with COVID-19, but actions being taken and certain restrictions being eased show that there is a light at the end of the tunnel and a promising future for the next academic year. As Manchester-Molak stated, "Someday we will be able to look back at this year and realize that the goodness of ordinary people—doing extraordinary things—was all around us." 
Vaccinated Americans Get Breath of Fresh Air: Biden Removes Mask Mandate for COVID Vaccine Recipients
by The Cowl Editor on May 6, 2021
---
National and Global News
---
by Sydney Olinger '23
News Staff
As of Tuesday, April 27, President Joseph Biden, alongside the CDC and Dr. Anthony Fauci, released new guidelines regarding the wearing of face masks. Biden addressed the immense progress America has made in reducing the number of COVID-19 cases and deaths by continuing to wear masks, social distancing, and now getting vaccinated. With full vaccination comes many new privileges, one of which is the freedom to not wear a face mask outdoors.
Experts have determined that wearing face masks throughout this pandemic has been one of the most effective ways of controlling virus transmission. 
This new mandate has been up for debate for a few months; however, since the release of the vaccine. Because many people are now getting the vaccine and most COVID-19 transmission occurs indoors, it was finally decided that a fully vaccinated person does not have to wear a mask outdoors. These new perks of not having to wear a mask in certain places will hopefully be an incentive for every person to get out and get vaccinated.
"So, for those who haven't gotten their vaccination, especially if you're younger or thinking you don't need it, this is another great reason to go get vaccinated," Biden said. People are considered fully vaccinated by the CDC two weeks after the second dose of the Pfizer/BioNTech or Moderna vaccines or two weeks after the single-dose Johnson & Johnson vaccine.
Unfortunately, though the vaccine certainly makes it much less likely that vaccinated people  will test positive for COVID-19 or experience symptoms, there is still a small chance that a vaccinated person could carry the virus and possibly transfer it to an unvaccinated person. It is also important that those who received the Moderna or Pfizer/BioNTech vaccines remain especially cautious, wear a mask, and socially distance before their second dose.
Coronavirus cases have decreased by 16 percent in just the last week as the amount of people in the U.S. who have received the first dose of the vaccine surpassed 140 million people. This means that 32 percent of the population is now fully vaccinated, with 44 percent having received one dose of the two-shot vaccine. Despite the high numbers of vaccinated citizens, many more will need to receive the vaccine before the country can return to normal life.
There has been hesitancy surrounding the vaccine, mainly as a result of fear of possible long-term effects. However, the vaccines were developed over a fairly long period of time, ruling out the majority of possible risks. Moreover, as of right now, there have been very few extreme negative reactions to the vaccines. It is important that we trust the experts and health professionals who worked diligently to find the most effective way to prevent the spread of the virus that we have faced for over a year now.