Men's Lacrosse
by npatano on April 21, 2022
---
Friar Sports
---
Season Update
Leo Hainline '22
Sports Co-Editor
After dropping their first three conference games, the Providence College Men's Lacrosse Team has an opportunity to return to winning ways this weekend at home against No. 13th ranked University of Denver. 
The matchup against Denver will be Senior Day for the Friars, who will be playing their final game at Chapey Field this season. 
PC Lacrosse has faced a challenging schedule and are 5-7 thus far. The Big East is one of the best conferences in men's lacrosse, with three of its six members currently in the nation's top 25; Georgetown University is ranked third and Villanova University is ranked No. 23.
Coach Gabrielli's men played competitive out-of-conference games, hosting Bryant University, a team that was ranked in the top 25 at the time, and Ivy League powerhouse Brown University, who are currently ranked ninth in the nation. 
Saint Joseph's University, another top 25 team, traveled up to Providence earlier in the season as well to compete against the Friars. Unfortunately for the Friars, they fell short in many of these early-season tests. 
One of the highlights of the season, however, came from PC's matchup against Hofstra University, a back-and-forth contest that went into overtime thanks to Jack Horrigan's '25 game-tying goal. In overtime, Michael Chabra '24 grabbed the winner, capping off a four-goal performance from the sophomore. 
As the team's schedule suggests, men's lacrosse is one of the most competitive and difficult sports in terms of qualifying for the NCAA Tournament. Apart from the 10 automatic qualifiers, claimed through winning conference tournaments, only eight at-large bids are awarded. 
The Friars' 0-3 start to their in-conference schedule has made qualifying for the Big East Tournament, which only takes the league's top-four teams, highly unlikely. Denver, Villanova, and Marquette University are all tied for second place with 2-1 records. 
Georgetown remains undefeated in Big East play. St. John's University, who the Friars will play in their final game, sits at 0-3.
In the Friars' game this past weekend at Villanova, the team fell into an early hole, trailing 4-0. The first quarter ended with the Wildcats leading 5-1. 
However, PC stormed back with goals from Chris Cusolito '24, Patrick McAleavey '25, Chabra, and Albert Paniccia '25 to make the game level. 
Villanova responded with a run of their own and the home team led 9-6 at half-time. 
The Wildcats were able to maintain their lead from then-on, claiming an 18-13 victory.
Faceoffs were a key difference between the two sides, Villanova winning 22 out of 35.
Although this year has not necessarily gone as planned, the Friars can certainly finish the season strong. The Friars are competitive against the nation's top teams. Despite their results, they show quality on the field and have individual talents that can act as game-changers.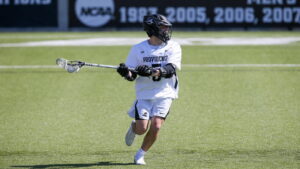 Attackman Matt Grillo '22 leads the team in goals, tallying 29 this season. Midfielder Evan McGreen '22GS has also played his part, scoring 19 and providing 11 assists thus far. Statistically, these are both players' best years since their freshman seasons. 
Friartown also has a bright future with multiple underclassmen making significant contributions. Freshman midfielder Ryan Bell '25 tops the team in assists with 27 on the season. His tally is more than double compared to the team's second highest assist leader. 
Midfielder Michael Chabra has also been an impact player as the Friars' second-leading goalscorer, racking up 20 goals on the year. 
Fellow sophomore midfielder Chris Cusolito has filled the stat sheet with eight goals and 22 assists.  
Attacker Jack Horrigan is another young player to watch out for. The freshman has the best shot percentage amongst regular starters and has contributed 14 goals on the year. He scored a hat-trick in his last game against Villanova. 
Each player taking the Friars' faceoffs is an underclassman. Quinn McConnaughey '25, Richie Hughson '25, and Tom Fegley '24 are the three players in PC's rotation. Experience this season should work to their advantage in the coming years. 
A win on the Senior Day against the University of Denver, where the team's eight seniors and two graduate students will be honored, would demonstrate great in-season growth for the Friars. The veterans will need to bring their top performances to knock off the Rocky-Mountain powerhouse, but they have shown stretches of quality that can turn into a winning performance. 
The game will be held April 23 at noon on Chapey Field. 
Men's Lacrosse Back Underway
by npatano on February 17, 2022
---
Friar Sports
---
Taking It One Day At a Time with Big Goals in Mind
By Justin Bishop '24
Sports Staff
The Providence College Men's Lacrosse Team is beginning their season and looking to rebound after last year's Big East Conference tournament semifinal exit to the then-ranked No. 9 in the country, Denver University. The team is entering this season with 33 returners from last season, along with 16 guys representing the black and white jerseys for the first time. Head coach Christopher Gabrielli named Matt Grillo '22, Evan McGreen '21GS, and Mike O'Grady '22 captains for the 2022 season. Grillo was named to the Preseason All-Big East Team as an attackman. The attackman is a critical piece in the Friars' offense, as Grillo led the team in goals last season with 22. The Friars are projected to finish fifth in the Big East this year from the Big East Coaches poll, whereas Georgetown University is projected to finish first in the conference. "You always come into the season with those lofty goals of winning that Big East title and making the national tournament," said coach Gabrielli, "but we take a daily approach to goal setting where we take it one day at a time."
The team has already played two games this season as of Thursday, Feb. 17 and currently has a 1-1 record. The first game was a 16-9 win over the College of the Holy Cross, in which captain, McGreen, had six goals and two assists, responsible for half of the Friars' total points. "We have great leadership from Evan McGreen," coach Gabrielli added. "Evan is one of the best midfielders in the country and a little bit underappreciated." Another player who lit up the score sheet was Ryan Bell '25, who tallied two goals and five assists. Coach Gabrielli said, "Ryan Bell is as talented a freshman that we have had around here since Tate Boyce '19." The comparison of Bell to Boyce says a lot about the potential of Bell, as Boyce earned All-Big East First Team in his freshman year. The ceiling is high for the high school All-American freshman out of Port Jefferson, NY. 
With regards to the Feb. 5 game against Holy Cross, the Friars were "ultra-aggressive" according to coach Gabrielli and captain McGreen "set the tone for the rest of the team" with his play. "We needed to be tougher on ground balls," coach Gabrielli added, saying that Holy Cross played more resilient in the second half. He continued, saying, "We need to execute clearing the ball better, we failed five times in the third quarter." This is something the team will work on in practice.
The Friars had their home opener at Chapey Field on Saturday, Feb. 12 with an Ocean State rivalry against No. 20 Bryant University, who coach Gabrielli described as "a very exciting opponent." The Friars got out to a 2-1 start, and it went downhill from there, resulting in the Bulldogs strong-arming the team to a gut punching 7-19 loss. A bright spot for the team was when seven individual Friars scored. Bell led the team in points with two (assists). Despite the 10-4 score at the end of the first half, Providence played a solid technical game. The team went 11-12 on clearing the ball, something that coach Gabrielli said they needed to work on, along with only turning the ball over six times, compared to Bryant's nine.
This is Gabrielli's 10th season as head coach for the Providence Friars, and he has nothing but good things to say about his team. He spent six years with Duke University's lacrosse team as their defensive coordinator and helped them reach the Final Four six times, the national title game twice, and total victory in 2010. 
It is safe to say that Gabrielli knows how to win and what a winning culture looks like. He has had plenty of good lacrosse players come through Huxley gate, but the two that stand out are Jared Neumann '17 and Boyce, who both play professional lacrosse in the Premier Lacrosse League and National Lacrosse League. 
Coach Gabrielli and the team have been itching to play, with him saying, "We've had 40-something practices and you only get 14 games, and we just want to play the game." 
Gabrielli is looking for leadership that starts with the older guys: "guys like Evan McGreen, Drew Edwards, Mike Harris, Mike O'Grady, Matt Grillo, and Matt Gould who are really great leaders." These are names to watch out for this season to see the impact they make on the field and the interactions they have with the rest of the team on the sidelines during games. 
A group of younger players that Gabrielli says are "poised to fill the shoes of" key pieces of last year's team of Ryan Nawrocki '20, Tim Hinrichs '20, and Daniel Axelson '20, are "Chris Cusilito '24, Michael Chabra '24, Ryan Bell '25, and Wynton Bastian '23," coach Gabrielli stated. Nawrocki led the team in points last year and Axelson, Hinrichs, and Nawrocki were all selected to All-Big East teams. "Chabra and Cusilito got a ton of experience and learned a lot playing with [Axelson, Hinrichs, and Nawrocki] and their ceilings are tremendously high" coach Gabrielli said, praising the sophomores for their play last year and their expected play this season. PC may not have the heaviest bodies on the field, but something that they use to their advantage is their speed in the midfield. Coach Gabrielli said the speed of the players allows the team to control and adapt to the speed and tempo at which each game is played.
Coach Gabrielli also praised the athletic department and the College for highlighting not just basketball or hockey, but all sports in their new athletics commercial. "Most people think that it's just people in Rhode Island that see that commercial, but that's a national commercial," Gabrielli explained. "I think it's a statement for how our athletic department highlights all athletics, and it's really cool we were included in that." 
For context, McGreen is depicted in the commercial in lacrosse gear, standing next to Friars volleyball player Sammie Ruggles '24, in front of the Ruane building.
PC lacrosse takes on Siena College in New York on Saturday, Feb. 19 and then is back at Chapey Field to play St. Joseph's University on Saturday, Feb. 26. Tickets to the home games are free, so be sure to come support your Friars.