Silk Road Ensemble Offers a Path to Understanding
by The Cowl Editor on February 2, 2017
---
Arts & Entertainment
---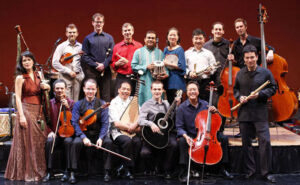 by Meaghan Dodson `17
News Co-Editor
Over 2,000 years ago, a network of trade routes known as the Silk Road allowed for the flow of goods and materials throughout Europe, Africa, India, and Asia. The Silk Road, however, was not just used to exchange goods—it was also used to exchange ideas and traditions between people of different cultures.
Today, this idea of cultural exchange and learning is embodied in the Silk Road Ensemble, a musical group founded by the cellist Yo-Yo Ma. The goal of the group is to "explore how the arts can advance global understanding," featuring musicians from diverse cultural backgrounds.
Providence College welcomed The Silk Road Ensemble on Friday, January 27. The ensemble offered a workshop for students earlier in the day, and at night they performed for the PC community at a concert held in the Smith Center for the Arts.
The Ensemble was introduced by Ed Sweeney '77, a musician/recording artist and a member of the organization. Sweeney was PC's first music major—in fact, he even helped write PC's program and hire its professors!
After graduating from PC, Sweeney tried to start his musical career but was met with little success. He became a salesman, and it was in this profession that he really learned how to be a musician. He was hired by the Silk Road Ensemble because he knew the financial and business aspects of the music industry, and he loves playing and work-shopping with his fellow musicians.
Sweeney encouraged the audience members to look at each new opportunity as a gift. "Allow yourself to explore all your passions and allow them to change," he stated.
Sweeney then invited the members of the Silk Road Ensemble to share their own musical journeys, with each musician's story being as unique as the instruments he or she plays.
Shaw Pong Liu, the Ensemble's violinist, has been playing for over 30 years. Having spent time studying and living in Beijing, she picked up the Chinese equivalent of the violin—the erhu—which is made from the skin of pythons.
The group's percussionist, Shane Shanahan, began his musical journey playing the drums in local garage bands. He was trained in classical styles of percussion but, wanting to experiment with different sounds, he decided to collect and learn percussion instruments from around the world.
Sandeep Das is a Grammy-nominated tabla player. He learned his art in India, where he lived with and studied under a guru for 12 years. The guru taught him how to draw rhythms from nature, and although he was never formally taught how to read music, Das can play thousands of compositions from memory.
Finally, Yang Wei is the Ensemble's pipa player. He revealed that, although the instrument's silk strings and bamboo frets are testaments to over 2,000 years of Chinese history, the pipa was originally from the Middle East and brought over to China via trade routes.
Together, these musicians create distinctive and original music that speaks to the different cultures from which they draw their inspiration.
Reflecting on both the workshop and the concert, TJ Harper, chairperson of the music department, stated, "We were fortunate that the Silk Road Ensemble could come share their stories. The Development of Western Civilization program teaches students a more Western perspective, so this experience with the East  contributes to students' musical growth and adds cultural and artistic depth to the College."
World News Briefs: Division in D.C.
by The Cowl Editor on January 27, 2017
---
News
---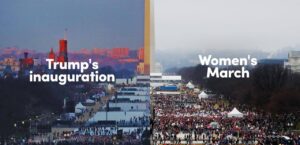 by Meaghan Dodson '17 and Tait Becker '19
News Staff
Presidential Inauguration
Donald Trump was officially sworn in as the 45th President of the United States on Friday, January 20.
The Obamas were there to greet the Trumps at the White House,  with President Barack Obama stating, "Mr. President-elect, how are you? Good to see you. Congratulations." Hillary Clinton, who lost the recent presidential election despite winning the popular vote, was also in attendance at the ceremony with her husband, former president Bill Clinton.
Trump then proceeded to the Capitol where, at noon, he officially took the oath of office and addressed the nation for the first time as the President of the United States.
A sizable crowd came to witness the swearing in, but the exact number is still being determined. White House spokesman Sean Spicer stated that the crowd was "the largest audience to ever witness an inauguration." Others, however, observed that the crowd looked noticeably smaller than the crowd for Obama's inauguration in 2009.
"From this day forward, a new vision will govern our land,"  President Trump stated. "From this moment on, it's going to be America first."
Concluding his inauguration speech, he stated, "Your voice, your hopes, and your dreams will define our American destiny. And your courage and goodness and love will forever guide us along the way. Together, we will make America strong again. We will make America wealthy again. We will make America proud again. We will make America safe again. And yes, together, we will make America great again."
Women's March
Less than 24 hours after President Trump's inauguration, people around the world stood in solidarity with those marching in The Women's March in Washington, D.C. Protests occured everywhere from London to Antarctica to Sydney in an effort to demonstrate feelings of discontent after the inauguration of President Donald Trump.
Marchers walked through the streets of Washington, D.C., with signs reading, "Girls Just Wanna Have Fun-Damental Human Rights," and "We Shall Overcomb."
Many of the protests aimed to target issues that the marchers believe will be threatened during the Trump presidency. Ending violence against women, reproductive rights, and workplace equality were among the most prominent of these issues.
In addition to many women's issues that were brought up, Brexit, gay and bisexual protection, and nuclear weapons were all topics of controversy for these groups of individuals.
Katy Perry, Cher, and several other celebrities were present at the march, while many others shared their support via social media. Gloria Steinem and America Ferrera, meanwhile, were just two of the event's speakers.
President Trump responded to the march via Twitter, stating, "Watched protests yesterday but was under the impression that we just had an election! Why didn't these people vote?"
Although the exact numbers are still being determined, some analysts suggest that the march had three times more people than President Trump's inauguration.
Remembering Rev. John S. Peterson, O.P. '57
by The Cowl Editor on January 19, 2017
---
News
---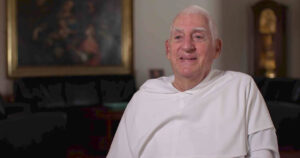 by Meaghan Dodson '17
News Editor
Fr. John S. Peterson, O.P. '57, a beloved member of the Providence College community, passed away on January 11, 2017, at the age of 81. He is remembered for his dedication to the College, his thoughtful and kind manners, and his generous heart.
Fr. Peterson grew up in Newark, New Jersey, and he attended PC from 1953-1955. He was ordained a priest in 1962, and he dedicated over 50 years of his life to serving PC.
During his time, he held positions as a theology professor, assistant bursar/assistant treasurer, College treasurer, and assistant dean of admissions. He also spent time serving as the director of both the work-study program and the pre-ecclesiastical program, as well as the moderator of the Figure Skating Club. He also founded and was the first director of the Office of Student Financial Aid.
Most recently, he spent the past ten years serving as the National chaplain of PC's National Alumni Association, where he ensured that the Friar family remained an integral part of graduates' lives even after their four years on campus.
In all of his positions, Fr. Peterson strived to see each student as an individual who has a unique and wonderful story to share with the College.
Fr. Mark Nowel, O.P., dean of undergraduate and graduate studies, has nothing but fond memories of Fr. Peterson. "Fr. Peterson was devoted to the Church, the Dominican life, and Providence College," he stated. "His compassionate heart was especially sensitive to those who were grieving the loss of loved ones, which was demonstrated most clearly in the consolation he gave the families of the students lost in the Aquinas Hall fire in 1977."
Dr. Richard Grace '62, professor emeritus of the history department and PC's official historian, agreed, stating, "Fr. Peterson was one of the human treasures of the College, for his devotion to PC, for his warm friendship to students, alumni, and colleagues, and for his quiet, humble, and generous spiritual ministry. He had a gentle sense of humor, which ran through his talent as a story-teller. So he was a great repository for stories which illuminate the history of the College."
Fr. Peterson was the brother of Rev. Thomas R. Peterson, O.P., the College's ninth president. During his 14 years as president, Rev. Thomas Peterson oversaw the welcoming of women to the College campus, and he provided PC with leadership and comfort in the wake of the Aquinas Hall fire of 1977.
Fr. Peterson's wake was held on Tuesday, January 17 in the Priory Chapel, and the funeral mass was held the following day in St. Dominic's Chapel. He was laid to rest in the Dominican Friars' Cemetary on campus.
To honor Fr. Peterson's memory, donations to the Fr. John S. Peterson, O.P., Scholarship Fund are being accepted by the Office of Financial Aid. The scholarship was founded in 2005, and it provides financial assistance to incoming students.
Friar Flashback: A Century of Friar Fashion
by The Cowl Editor on January 19, 2017
---
News
---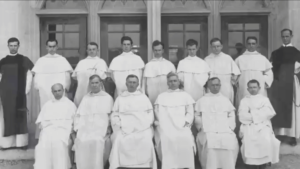 by Meaghan Dodson '17
News Editor 
Over the past 100 years, Providence College has undergone major academic, architectural, political, and social changes. Among the most radical of these transformations, however, has been the evolution of PC fashion.  Friars have paved the way in everything from mascot outfits to religious garb, and as the College enters into its centennial year, it is important to recognize these groundbreaking achievements! Take a look at just a few of the standout style icons who have dominated the College's fashion history!
Friar basketball has achieved victories both on the court and on the runway. Ray Flynn '63 and Vinnie Ernst '63 (left) boldly led their team to two NIT chamionships in the 1960s. Equally bold, however, were their fashion choices, as here the two sport mid-calves, short-shorts, and T-shirt style jerseys. Lenny  Wilkens '60 (center), was a three-time Naismith Memorial Basketball Hall of Fame inductee, and it is easy to see why. With his black T-shirt jersey and soft smile, Wilkens undoubtedly intimidated his competitors with his looks as well as with his basketball skills. Finally, during the 2014 Big East Tournament, Bryce Cotton '14 (right) showed off the latest in Friar fashion. Cotton looked calm and confident with his black sleeveless jersey and knee-length shorts, and he seemed to play as effortlessly as he looked, leading the Friars to their second ever Big East championship. Cotton was named the tournament's MVP, and he went on to finish his college career as the College's fourth all-time leading scorer.
Friar Dom has had perhaps the most radical style evolution in the College's history. Friartown's mascot made his first appearance in 1963, and since then has repeatedly made headlines as one of the most iconic mascots in the NCAA.  Often claiming the top spot as "America's creepiest mascot," Friar Dom has energized Friartown with his enthusiasm and dance moves for over 50 years. From his simple 1963 origins (outside left), Friar Dom later adopted a more mature look with an age-lined face and receding hairline (inside left). In recent years, he coupled a more youthful appearance with a white hood that framed his famous face (inside right). In January of last year, however, this avant-garde Friar changed his appearance yet again: rocking a black hood and wider-set features, the newest Friar Dom will continue to make a name for both himself and PC.
And finally, although fashion trends may come and go, fashion lovers should know that Friars are forever. The Dominican Friars have been sporting a timeless look since the day the College's doors opened in 1917. In preparation for the centennial celebrations, the current family of PC Friars (right) recreated a photo of the founding Friars (left) in front of Harkins Hall.  What more can be said? White habits, Birkenstock shoes, and, of course, the Good News of the Gospel never seem to go out of style.