Minor League Baseball: A Hopeful Start for Change
by The Cowl Editor on October 28, 2021
---
Professional Sports
---
MLB Providing Housing for Players
Ben Bilotti '23
Sports Staff
On Oct. 17, 2021, ESPN reporter, Jeff Passan, reported that Major League Baseball will now require all teams to provide housing for minor league players starting in 2022. MLB has yet to lay out a formal plan, but many teams are already forming their own arrangements.
Over the years, Minor League Baseball players have complained about rough working and living conditions. Players and fans alike have criticized organizations for low salaries that leave many players living below the poverty line. Low salaries and insufficient housing provisions are the main causes of players living below the poverty line.
This new rule is a huge step for Minor and Major League Baseball. The executive director of Advocates of Minor Leagues, Harry Marino, was quoted saying, "This is a historic victory for Minor League Baseball players."
This truly is a historic victory; when housing is provided, players are able to focus more on their development on and off the field. The extra money saved can go towards training, healthier meal options, and overall better well-being.
Up until last year, MiLB players were criminally underpaid. One story is of Shane Kelso, a Low-A player in the Los Angeles Angels organization. Kelso retired in the middle of the 2021 season. Kelso claimed that he was losing $1,000 a month and would be broke by the end of the season. Kelso was receiving a salary of $1,600 a month, earning less than $26,225 a year. A person cannot comfortably live with a salary this low.
There is a serious mental strain that comes with living in poverty. Many players live together with four or five roommates in one-person apartments or even camper vans. There are not luxury utilities in the minors like there are in the majors.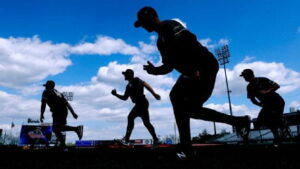 Players have to find ways to pay for rent, gas, groceries, and every other necessity. With little money, players often find themselves unable to eat or train right, especially at the lower levels of the minors.
The total cost for a team to provide housing for minor leaguers is less than $1 million. Not all organizations treat their minor league players the same.
For example, this season the Houston Astros provided furnished homes to all of their minor league players. The Astros are the first team to do so, and many believe they paved the way for this new rule. While no other team previously provided housing, the Yankees, Mets, Rangers, Phillies, Nationals, Giants, and White Sox all provide housing stipends, pay for extended spring training, and provide two to four meals per day.
Major League Baseball says they are seven months into a plan that will improve the conditions and pay for minor leaguers. Salaries have already been raised from 38-72 percent for 2021; however, this is still not enough money for some players to live above the poverty line. Providing housing allows more leeway for players to be paid less.
This is just one example of the new rules and programs that Major League Baseball is coming up with to improve the Minor League lifestyle.
Vice President and Special Assistant to the commissioner, Billy Bean, said that MLB is working on a mental health initiative called Ahead the Count. This program will foster dialogue in the clubhouse and provide mental health resources to Minor Leaguers. These are all great steps, but MLB has a long way to go with regard to improving their organization.