McPhail's Hosts Huxley Hangout: BOP and Campus Ministry Collaborate on a Memorable Event
by Kaitlyn Hladik '25 on February 10, 2023
News Staff
---
News
---
McPhail's had a "pawty" on Tuesday night co-sponsored by the Board of Programmers and Campus Ministry: "Huxley Hangout," an event that included stuff-a-Hux, doggy bags, Scooby snacks, and "pupcakes."
The event was a major hit and many people were able to adopt stuffed Huxley plushies or take part in some painting activities. McPhail's remained crowded for a couple of hours with people from all around campus. Campus Ministry was represented by several Peer Ministry groups at the event that were advertising the kickoff of the second semester of Peer Ministry on the week of Feb. 6.
Stuff-A-Hux was a major draw to the event. Everyone who was able to receive a Huxley was excited to leave with their new pup. The fact that they ran out so quickly is a testament to how successful the event was.
Attendees also enjoyed sweet treats from DeLuise Bakery, located on Chalkstone Ave. in Providence.
Chris Azar '24, a member of BOP and Campus Ministry, spearheaded the event.
"While I worked really hard on this event and I've been planning this event for several months, I never expected such a great turnout," Azar said. "I am so honored by the love and support I received from the PC community for my event, and I am looking forward to planning more events in the future that celebrate friendship and fun!"
Student-made doggy bags proved to be popular amongst attendees. On the table were Huxley keychains, curly straws with pawprints, and snacks. One student expressed that she was especially excited about the Scooby Doo doggy treats, as they brought a sense of nostalgia to the event.
A member of the Class of 2023 who attended the event said, "I think this event was very meaningful to help better understand the traditions here at PC, as well as a great time to hang out with my friends."
The tradition of Huxley dates back to the use of Dalmations in the Dominican tradition, stemming from a dream St. Dominic's mother had of a dog with a torch in its mouth setting the world on fire prior to his birth. BOP and Campus Ministry were able to make an enjoyable event drawing on these historical traditions.
Nurses Striking Worldwide
by Olivia Coletti '24 on February 10, 2023
News Staff
---
News
---
Currently, there are massive nursing strikes and hospital walkouts in both the US and the UK. Though the reasons for these international nursing strikes correlate, the circumstances differ. These differences stem from healthcare systems, as the UK has universal healthcare, and the US does not.
Both the strikes in New York and in London have to do with post-COVID-19 working conditions. Staff shortages make for unsafe working conditions, and excessive patient input and cyclical staff sickness weigh heavily on the healthcare community. In the UK, hospitals have tremendous staff shortages and are overworking their nurses, who demand higher wages. One UK protester said, "With the high stress and skill that our work represents, we desire the wage we give" (Daily).
Although British and American nurses are striking for similar reasons, it is important to consider the different healthcare systems between these nations. In the US, hospitals are mainly for-profit organizations; therefore, healthcare becomes expensive. Although there are non-profit hospitals in the US, they usually charge the same as for-profit hospitals. Providence Hospital (a non-profit) serves as an example of why nonprofits are similar to for-profits: "Providence turned to the consulting firm McKinsey & Company. The firm's assignment was to maximize the money that Providence collected from its patients" according to five current and former executives (New York Times). They often juxtapose their purpose against their profit prioritization. They might as well just call themselves for-profit. But how else would they compete with for-profits?
Also, due to the privatization of hospitals in the US, travel nurses and healthcare workers get paid far more. In the US, nurses get paid the highest in the world (not factoring in their higher student debt—the US nursing debt average is 44,999 USD, while the UK nursing debt average is 27,295 pounds). In the UK, all nurses get paid roughly the same depending on their education level (30-45k pounds). This is far less than the national average of $82,750 in the US. Because of the higher pay, the US nurse labor force is larger and, on average, provides higher quality care. Also, privatized hospitals in the US can move nurses around to avoid staff shortages and unsafe
labor conditions. The US pays travel nurses more. The UK does not have this ability because their universal healthcare system pays nurses the same.
This divergence in pay and quality can be seen in various aspects of healthcare. For example, ambulances in the US have an average fee of USD 1200, whereas in the UK, they are entirely free in an emergency. The US sees frequent fatalities because people want to avoid the cost of calling for help. However, this price discrepancy does not account for the significant disparity in the quality of care. In the US, the average ambulance comes in around 8 minutes. This is minimal compared to the record-low average in the UK of 60 minutes in 2022.
These strikes are historical, as the COVID-19 pandemic shook global health and gave the world a new appreciation for healthcare. The different systems in the US and UK may foster different circumstances for these strikes, but internationally, it is undeniable that without nurses, the physical and emotional health of patients would be disastrous.
Monument Dedicated to Martin Luther King Jr. is Met With Contention
by Kaitlyn Hladik '25 on January 29, 2023
News Staff
---
National and Global News
---
Jan. 13 marked the unveiling of "The Embrace," a monument in Boston dedicated to Dr. Martin Luther King Jr. and Coretta Scott King. The sculpture by Hank Willis Thomas was inspired by a hug the two shared after Dr. King won the Nobel Peace Prize in 1964. The 20-foot-tall statue sits in the Boston Common, where Dr. King led a civil rights march 50 years prior.
According to The New York Times, Thomas said that "with so many monuments dedicated to war, he [wanted to craft] a sculpture that spreads a message of love and reiterates the Kings' message of nonviolence and solidarity." He also shared with the Arch Paper, "The Embrace is a testament to what we can achieve when we come together, "… the sculpture embodies people's capacity for love, change, and hope for the future."
Despite its heartwarming origins, the monument has sparked country-wide controversy. Some online sources cite the controversy as stemming from the abstract nature of the statue. The statue only forms their arms, which led people to view it as "disrespectful," according to CNN, and shared that, although unintended, there were suggestive undertones.
Martin Luther King III, Dr. King's son, defended the statue, sharing that he did like it and admired that others could witness the love story of his parents. Others were grateful for the message of unity it encapsulated. However, Seneca Scott, Coretta King's cousin, shared that she disliked the artistic interpretation of the expensive monument.
As with most art, the audience is expected to release varying opinions based upon individual tastes and preferences. The controversy this sculpture evoked attracted a lot of attention to the statue, and may inspire people to think about the messages intended and the history behind "The Embrace."
Featured Friar: Maggie McKenna '20
by The Cowl Editor on December 5, 2019
---
Campus
---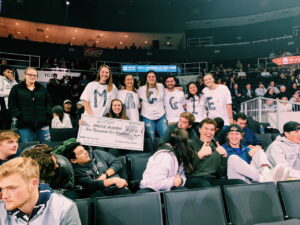 by Kyle Burgess '21
News Co-Editor
According to ESPN, the odds of making a half-court shot on a basketball court are roughly one in 100. However, for Maggie McKenna '20, all it took to be that one was her closest friends, her lucky sweater, and a dream.
The road to this moment began five years ago and almost 1250 miles away in her hometown of Orlando, FL. Having seen her older brother leave the Sunshine State to attend Syracuse University, McKenna wanted to follow in his footsteps to attend college out-of-state and set her sights on universities in the Northeast. She credits her father as the one who put Providence College on her radar, as he believed that her decision to enroll there would be based on the men's hockey team's success against Boston University for the championship title in 2015; the rest was history.
"In addition to the luck and destiny of the hockey team's success, I truly fell in love with PC after experiencing its culture of family, Dominican spirit, and all-encompassing curriculum at Accepted Students Day," McKenna added. "In the end, I chose PC because it was the only place that felt like home despite being over 1,000 miles from my hometown."
Since then, McKenna has made the most of her experience at her home away from home. She is extensively involved in many organizations such as Admissions Ambassadors, freshman orientation staff, and women's club basketball. McKenna is also a member of the liberal arts honors program and has travelled with fellow honors program students to the settings of her DWC books like Florence, Italy.
Aside from her club basketball commitments, McKenna boasts a growing collection of intramural t-shirts, already having won four this semester alone. Additionally, McKenna feels fortunate to have made so many friendships in her four years at Friartown and take in all it has to offer. "Some of my favorite PC memories include living on second floor Ray as a freshman, finding my accounting study squad as a sophomore, going to the Big East Tournament at the Garden as a junior, and living on Eaton Street with my six best friends as a senior."
McKenna plans to spend big this holiday season with her recent winnings. "The first thing I'm spending my $5,000 on is Christmas presents for all my family and friends. The rest is going into my postgrad savings account." 
When asked about potential strategies for future shot-takers, McKenna responded, "Wear your lucky sweater, imagine you're shooting anywhere but the Dunk, bring all your best friends to cheer you on (it helps a lot with the nerves), and, most of all, believe in yourself!"
While reflecting on her PC experience, she wished to offer underclassmen some sage advice to get the best out of their own four years. "My best pieces of advice for underclassman are to be patient and understand that while the four years can sometimes be tough (especially academically), as years go on everything gets so much better—friends, memories, possibilities, etc. I encourage all underclassmen to get involved in as much as you can and soak up every last experience as it goes by faster than you could imagine. "
Following her graduation from PC this May, McKenna plans to travel the world as well as her home state of Florida while preparing for her CPA exam. She will then trade in balmy beach days for northeastern winters once again when she moves to the tri-state area with her PC roommates in anticipation of working as a public accountant at RSM International.
EcoPC Hosts America Recycles Day
by The Cowl Editor on November 14, 2019
---
Campus
---
by Matthew Mazzella '20
News Staff
The Environmental Club of Providence College (ECOPC) and the Sustainability Representatives will be hosting an America Recycles Day Celebration on Nov. 15, which will take place on Slavin Lawn from 3:30–5:30 p.m. The event is in tangent with the nationwide celebration of "America Recycles Day," and will dedicate the day towards educating students about recycling and sustainability.
The event will host numerous activities to encourage students to stop by and learn more about making the Earth a cleaner place. The America Recycles Day Celebration will feature games and activities designed to educate the community about the importance, logistics, and benefits of recycling. The event will also offer snacks and prizes.
Payton Morse '20, co-president of ECOPC, has always been passionate about recycling and is really looking to improve environmental conciousness around campus. 
Morse stresses the importance of being environmentally conscious by saying, "We are focusing on recycling awareness at our event. We want the PC community to get a solid grasp on how to 'recycle right', because has an awesome and very accessible mixed recycling program that we want to take full advantage of."
Another serious issue on campus is the disposal of trash in designated recycling bins. If there is any trash in these bins, the products will end up in a landfill. 
Morse expresses her concern regarding this issue, stating, "Here at PC we often get truckloads of recyclables sent to the landfill because our recycling is so contaminated that it cannot be recycled. It is either contaminated with food or non-recyclables such as plastic bags and trash. This is why we want to raise awareness about recycling correctly!"
Lindsey Cartier '21, marketing executive for ECOPC, believes recycling can be easy for students to adopt and implement into their lives. 
In anticipation for the upcoming event, Cartier says, "The goal of the Environmental Club of Providence College is to spread awareness and educate our college community on ways to live a more sustainable life while on campus and post-grad! I think this event will be a great opportunity to spread awareness to PC students about how important and easy it is to recycle, and more importantly to recycle correctly!"
Jack Carson '20 has always taken sustainability seriously, and always makes an effort to cut back on using any resources he knows he can cut back on. 
Carson speaks on sustainability on campus by saying, "I always try do my part when it comes to helping out the environment. Whether it be turning off the water when I brush my teeth, separating my trash from recycling, or simply turning off the lights after I leave my room, I know even the smallest actions can make a big difference when it comes to sustainability. I admire the Earth we live on and its beauty, so I try to do my best to keep it that way by recycling and conserving resources, and I hope this event will teach others the importance in doing so."
ECOPC hopes to have a big turnout on Friday as they look to spread awareness about the environmental issues that are taking place on campus and will look to educate students on ways they can help. The club hopes attendees of the event will learn that doing your best by making an effort to be more sustainable, no matter the size of the act, can go a long way in making the world a cleaner place.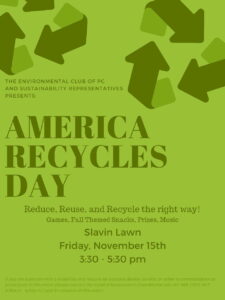 Bursting the PC Bubble: Arctic Blast
by The Cowl Editor on November 14, 2019
---
National and Global News
---
by Kyle Burgess '21
News Co-Editor
The weather outside is looking rather frightful for many east coast residents as they brace for an Arctic blast set to shatter nearly 300 cold temperature records, providing a winter wonderland atmosphere two weeks before Thanksgiving arrives.
The coldest winds of the season are to blame for this dramatic drop in temperature, rolling across the Great Plains and towards the Atlantic Ocean. These winds are causing sub-zero readings in Minnesota and temperatures barely reaching the teens in Texas before moving on to bombard New England, the Deep South, and everywhere in-between.
In anticipation of the freeze, CNN meteorologist Taylor Ward warned that some places in the East could experience temperatures on Wednesday afternoon up to 30 degrees below average. The National Weather Service echoed such sentiments, claiming that there was "potential for widespread record cold morning low temperatures and record low afternoon high temperatures" across the central and eastern United States.
Wintry conditions have already begun to take their toll in several states, like a fatal car crash in Osage County, KS that was the result of a driver losing control of their vehicle due to the icy highway and colliding head-on with an SUV, killing an infant and injuring three others. Missouri has also experienced its fair share of slip and slide conditions, leading to dozens of crashes.
Meanwhile, air traffic has been hit just as hard, with NBC reporting that around 2,000 flights at O'Hare International Airport had been delayed or canceled as of Monday afternoon with one plane sliding off a runway. Incoming flights experienced an average of six hours delayed with passengers for outgoing flights having to wait as long as 16 hours.
It just so happens that PC found itself in the bullseye of the storm's path, with the heaviest snowfall expected in New England and the Great Lakes region as of Monday evening. Some locations were told to prepare for more than a foot  of snow, although this was not entirely unexpected. Enhanced lake-effect snow was set to produce higher snow totals as freezing and windy conditions form over a not-so-cold lake, providing the perfect source for snowfall.
BOP Hosts Trip to Cycle Bar
by The Cowl Editor on November 14, 2019
---
Campus
---
by Eileen Cooney '23
News Staff
Because the month of October was Mental Health Awareness Month here at Providence College, PC's Board of Programmers (BOP) organized many fun activities promoting self-care and wellness. Though the month of October has ended and November is now upon us, BOP's message to students about the importance of taking care of themselves has not stopped. That is why on Wednesday, November 6 the club put on an event in conjunction with CycleBar in Providence.
In the past couple years, spin studios such as SoulCycle, CycleBar, Equinox, and many others have taken the fitness world by storm. Spin classes and studios are popular amongst the public because they offer an upbeat, positive environment for people to get a good workout and also feel a sense of community with others while doing so. 
CycleBar in particular boasts that its wide array of different spin classes will "calm your mind, elevate your mood, and revive your senses." Thus, the franchise promotes fitness as well as self-care and mental health.
This event was very well attended and very well-received by participants. Although at times travel events can be difficult to plan because people have to buy tickets in advance, the school usually provides transportation. This event "was definitely a hit and people seemed to really enjoy it," says Wini Kennedy '20. Students loved the upbeat, accepting environment, and first-time spinners had a blast. It is something that Kennedy says BOP will definitely be doing again in the future. 
 In addition to the trip to CycleBar, BOP has also organized many other fitness events this year. Back in September there was an event called "HIIT and Flow" that invited Crossfit Providence and Barre and Soul Yoga to teach a fitness class on Lennon Field. Additionally, last semester BOP also planned a "Silent Spin Event." 
Yoga, cycling, and other fitness classes are great ways for students to take care of themselves and have fun with friends while doing so. All of the fabulous fitness events that BOP organizes on campus, offer students a fun way to make sure that they are continually taking care of themselves and prioritizing their health and wellness. The trip to CycleBar was another great reminder of this.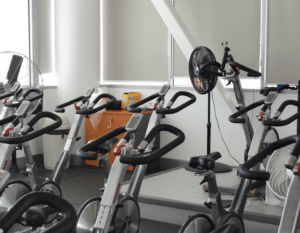 Self-Made Students: Exploring PC's Individualized Major Program
by The Cowl Editor on November 14, 2019
---
Campus
---
by Sienna Strickland '22
News Staff
Throughout our lives, we have repeatedly been asked the question, "What do you want to do when you grow up?" This has been asked by parents, school counselors, and even by the colleges we apply to when we are asked to declare a major. 
For Providence College students asked this question, they must consider over 50 major and minor programs before answering. Students are thus traditionally left with two options: either they can declare what resonates with them, or remain undeclared. 
However, what happens to that student stuck in the middle of these two choices? The student who possesses neither an enthusiasm to explore the official programs, nor the desire to enroll undeclared? What if they simply like something that is not offered here?
Luckily, students like these need not fear, stress, or transfer, as PC has a program designed to help accommodate them and their specialized interests. There exists a third option, a happy medium that allows them to attend PC while also studying what they want to—the individualized major program.
PC's Make-a-Major program requires a specific procedure to be followed, as Senior Associate Dean of Undergraduate Studies Wanda Ingram explains. First in their proposal, the student must "briefly explain why existing major programs within the College do not adequately meet their educational, professional, or personal goals. The student must then generally describe their proposed program and how it satisfies the College's mission," she states.
After the student has created the idea, all they need to come up with are the details. "The student must then separately list their major requirements and major electives, and briefly justify each selection by relating them to the major's themes and goals. Finally, the student must make a calendar listing the courses they have taken or are planning to take each semester up until their projected graduation date."
Students are not out of the woods just yet after completing these steps. After drafting a cohesive plan of their courses, curriculum, and schedule, they still must receive a stamp of approval, as Corrie Traverse '20 describes. "In order to create your own major, students have to submit their Individualized Major proposal to Father Mark Nowel, O.P., in the Office of the Dean of Undergraduate & Graduate Studies. Once submitted, the proposal is then considered by Fr. Nowel  and an executive subcommittee where they will either approve or deny your individualized major."
Traverse successfully underwent this process and is now a communications and media studies major. She discusses her trajectory here at PC, and how this choice changed it for the better.
"After my freshman year, I was considering transferring to another school because I could not find a program of study that I was interested in. During the summer before my sophomore year, I met with Peter Palumbo who introduced me to the program, and I began the process right away. My major got approved by Fr. Nowel, O.P., in June following my sophomore year. The application process took me about a year in total. Creating my own major allowed me to really have control over my academic experience at PC. I was able to design my own field of study and really be specific about the courses I wanted to take and was interested in pursuing. The process taught me perseverance, determination, and to keep going despite rejection," Traverse says.
In addition to general resistance students may face, they must also deal with the whole their-major-not-technically-existing-at-the-College-thing. This is especially true during the hectic registration season, as many individualized majors have explained.
As individualized majors, students do not get priority registration for several departments, including the business school, since they are not technically business majors. These students have to hope that the classes they have listed as requirements for graduation do not fill up before they can register; otherwise, they are out of luck. 
There is also the issue of planning when courses are offered, as many of the classes individualized majors put as requirements are only offered once a year and conflict with many other classes necessary to take for graduation.
Traverse, who also acknowledges the difficulty of participating in PC's individualized major program, concedes that the hard work is worth it.
"Although my proposal was approved in the end, it definitely was not easy getting to that point. I was required to get approval signatures from many advisors, and department heads who were skeptical at times. However, despite this I'm thankful for the experiences and those a part of PC faculty and administration that showed me support throughout the process and helped me make the appropriate edits to create the best individualized major," she says.
For those students who also find themselves in the middle, willing to take the path less traveled—PC has a plan for you—to pave one for yourself. And, if you are prepared to deal with the inevitable bumps along the way, it will make all the difference.
Friar Flashback with Dr. Mario DiNunzio: An Unofficial History of PC From a Student-Turned-Professor
by The Cowl Editor on November 14, 2019
---
Campus
---
by Julia Acquavita '22
News Staff
Providence College takes pride in the fact that the Friar Family runs deep, meaning current and past students will always have a special place in their hearts for PC. Dr. Mario DiNunzio '57, a history professor here at PC, is living proof of the impact can have on its past students.
DiNunzio graduated from PC in 1957 as an English major, after switching from a history major. After graduating from the College in 1957, DiNunzio claimed he did not plan on being a professor at all. He started as a radio announcer following college, but then decided to go to graduate school, earning a masters degree and PhD. It was attending graduate school that convinced him teaching was a good profession, causing him to return to his old stomping grounds at PC as a professor in 1960.
DiNunzio kick-started his teaching career as an American history professor, but when the Development of Western Civilization program began in 1971, he began to teach DWC, as well. 
Although DiNunzio has now been retired for 10 years, he continues to teach one class: an honors section of DWC. In this honors section, DiNunzio usually teaches the course alone or with one partner. Currently, for the fall 2019 semester, DiNunzio teaches his honors DWC course with Fr. David Stokes, O.P.
DiNunzio talked about how things have changed quite a lot since he was a student here. Back in the 1950s, PC was an all-boys school and the only dorm was Aquinas Hall. DiNunzio described the campus, saying, "The library was on the third floor of Harkins, the Dominicans lived on the fourth floor, the basement of Harkins was a gym. The dining hall was in a back room of the basement of Aquinas, and everyone stood around this table because there were no chairs." Picture the campus ending where the Aquinas building is, and that would be the PC campus DiNunzio attended. 
Next to PC, there was a women's reform school called the House of Good Shepard. What is now the president's house was once the home of the nuns that ran this reform school, and Feinstein and Saint Joseph Hall were the school and dorm for women. According to DiNunzio, "A chain-link fence separated the girls from the boys, separating PC from the reform school."
Having been in the PC community for over 50 years, DiNunzio has had his fair share of vivid memories, some he looks back on fondly, and others he looks back on with sadness. One very painful and tragic memory for DiNunzio was the fire in Aquinas in December of 1977. As the story goes, "Students had thrown a snowball party that day, and when they went back to dry off, apparently a hair dryer caught fire on the top floor." Only the top floor caught on fire, but seven women passed away. DiNunzio recounts this day as the "saddest day in the history of the College."
Despite having this painful memory, DiNunzio also has many exciting memories he will cherish forever. He has been able to witness the great changes that the school has undergone to transform PC into the school we know now. The biggest change for DiNunzio was going co-ed in 1971. "Enrollment had been declining, so we decided to go co-ed and that's been the most positive change here, as women at PC have done a great deal to elevate the academic and social level of the college." 
DiNunzio was a member of the faculty senate, and between the years of 1969-1971, the senate decided for the College to become co-ed, revising and revamping the curriculum in the process, ushering in the beginning of the Development of Western Civilization program. 
Another vivid memory for DiNunzio was the on-campus protests against the Vietnam War. "The students went on strike and the senate endorsed the student strike in protest of the Vietnam War right after students were killed at Kent State. Classes were canceled after the protest," said DiNunzio.
When asked why he decided to stay here for over 50 years, he responded, "I love teaching. That's why I kept doing it after retiring. I enjoy dealing with the students, classes, and seminars. Grading papers will always stay the worst part of what I do."
Outside of PC, DiNunzio has two grandchildren, Eli (eight years old) and Zoe (two years old), who currently live in Washington, D.C. "They love coming to campus and going with their grandpa to class," said DiNunzio. He hopes that one day they will follow in his footsteps and join the Friar Family when they begin to apply to colleges.
DiNunzio has been a member of the PC community since the 1950s, serving as an excellent professor and PC alum. Having dedicated almost 65 years to this school, he has been with the College through all of its ups and downs, good times and bad times, and improvements that make it the beautiful school we love and know today. 
One takeaway that any propsective student of Dr. DiNunzio should know is his famous saying,"Syllabi are largely works of fiction."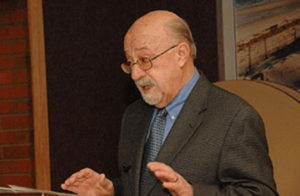 Campus Ministry Fundraises for Annual NOLA Trip
by The Cowl Editor on November 14, 2019
---
Campus
---
by Nicole Silverio '22
News Staff
On Tuesday evening, Campus Ministry hosted the 12th annual NOLA Immersion Meal Auction in McPhail's. The meal auction raised money to sponsor the students' trip to New Orleans, LA. 
The purpose of the trip is to follow the Gospel's call by helping communities affected by Hurricane Katrina. 
NOLA is a campus organization striving to repair New Orleans after Hurricane Katrina made landfall in 2005, which destroyed an estimated $81 million in property damages including many homes and businesses, leaving residents devastated. It destroyed about 90,000 miles of land in LA. 
Pamela Tremblay, director of service immersion and social justice at PC, stated, "We look into why New Orleans is still recovering from Hurricane Katrina after all of these years. A part of our research is to figure out why Hurricane Katrina has been so catastrophic." Tremblay and Fr. Peter Martyr Yungwirth, O.P., the chaplain of NOLA, have organized this student service trip to New Orleans.
This year's meal auction successfully raised $950 by auctioning off meals with about fifteen faculty and staff members. Students had the chance to bid on ten different dinners with their favorite faculty and staff members in order to raise money for the trip. 
Quincy Bevely offered to go out to dinner with four students while the dean of students offered to cook for ten students in the President's house. An estimated number of between 40 and 50 students attended the event. 
The goal of getting involved with NOLA on campus is to engage students in service and prayer by building a community that rebuilds the damage in New Orleans. The NOLA team meets every week to discuss the issues in New Orleans and discuss their services in the upcoming winter break. 
This month there was a NOLA retreat for all members of NOLA Immersion. The group partners with organizations such as the St. Bernard Project, the Harry Tompson Center, Greenlight New Orleans, and the Lower Ninth Ward Village. 
During winter break, 13 students participate in the immersion trip. The  NOLA Immersion trip costs about $200 per student, including all transportation and accommodations. 
Tremblay explained how they strive to keep costs low for students so that anyone interested in taking part in the service can do so. Back in 2005 when PC began this service, the main goal was to provide relief by helping to rebuild homes. Nowadays, Tremblay explained that socioeconomic status plays a significant role in the lack of repair in certain areas of the city. 
The Lower Ninth Ward of the city in particular struggles from the hurricane, therefore, the Lower Ninth Ward  is where students spend the majority of their service time.
"We are really grateful for the support from the university," Tremblay said. "And for the support to make this trip possible each year." 
Since the students on campus were very young when Hurricane Katrina took place, NOLA strives to educate students on campus about the scar Hurricane Katrina has left in New Orleans. NOLA wants to celebrate the community services the PC community does, being able to help other communities across the country and around the world heal from tragedy.