Featured Friar: Maggie McKenna '20
by Sarah McLaughlin '23
Editor-in-Chief
---
Campus
---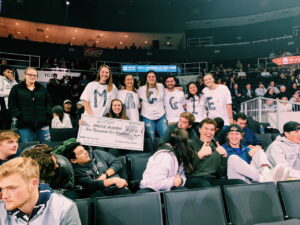 by Kyle Burgess '21
News Co-Editor
According to ESPN, the odds of making a half-court shot on a basketball court are roughly one in 100. However, for Maggie McKenna '20, all it took to be that one was her closest friends, her lucky sweater, and a dream.
The road to this moment began five years ago and almost 1250 miles away in her hometown of Orlando, FL. Having seen her older brother leave the Sunshine State to attend Syracuse University, McKenna wanted to follow in his footsteps to attend college out-of-state and set her sights on universities in the Northeast. She credits her father as the one who put Providence College on her radar, as he believed that her decision to enroll there would be based on the men's hockey team's success against Boston University for the championship title in 2015; the rest was history.
"In addition to the luck and destiny of the hockey team's success, I truly fell in love with PC after experiencing its culture of family, Dominican spirit, and all-encompassing curriculum at Accepted Students Day," McKenna added. "In the end, I chose PC because it was the only place that felt like home despite being over 1,000 miles from my hometown."
Since then, McKenna has made the most of her experience at her home away from home. She is extensively involved in many organizations such as Admissions Ambassadors, freshman orientation staff, and women's club basketball. McKenna is also a member of the liberal arts honors program and has travelled with fellow honors program students to the settings of her DWC books like Florence, Italy.
Aside from her club basketball commitments, McKenna boasts a growing collection of intramural t-shirts, already having won four this semester alone. Additionally, McKenna feels fortunate to have made so many friendships in her four years at Friartown and take in all it has to offer. "Some of my favorite PC memories include living on second floor Ray as a freshman, finding my accounting study squad as a sophomore, going to the Big East Tournament at the Garden as a junior, and living on Eaton Street with my six best friends as a senior."
McKenna plans to spend big this holiday season with her recent winnings. "The first thing I'm spending my $5,000 on is Christmas presents for all my family and friends. The rest is going into my postgrad savings account." 
When asked about potential strategies for future shot-takers, McKenna responded, "Wear your lucky sweater, imagine you're shooting anywhere but the Dunk, bring all your best friends to cheer you on (it helps a lot with the nerves), and, most of all, believe in yourself!"
While reflecting on her PC experience, she wished to offer underclassmen some sage advice to get the best out of their own four years. "My best pieces of advice for underclassman are to be patient and understand that while the four years can sometimes be tough (especially academically), as years go on everything gets so much better—friends, memories, possibilities, etc. I encourage all underclassmen to get involved in as much as you can and soak up every last experience as it goes by faster than you could imagine. "
Following her graduation from PC this May, McKenna plans to travel the world as well as her home state of Florida while preparing for her CPA exam. She will then trade in balmy beach days for northeastern winters once again when she moves to the tri-state area with her PC roommates in anticipation of working as a public accountant at RSM International.
EcoPC Hosts America Recycles Day
by The Cowl Editor
---
Campus
---
by Matthew Mazzella '20
News Staff
The Environmental Club of Providence College (ECOPC) and the Sustainability Representatives will be hosting an America Recycles Day Celebration on Nov. 15, which will take place on Slavin Lawn from 3:30–5:30 p.m. The event is in tangent with the nationwide celebration of "America Recycles Day," and will dedicate the day towards educating students about recycling and sustainability.
The event will host numerous activities to encourage students to stop by and learn more about making the Earth a cleaner place. The America Recycles Day Celebration will feature games and activities designed to educate the community about the importance, logistics, and benefits of recycling. The event will also offer snacks and prizes.
Payton Morse '20, co-president of ECOPC, has always been passionate about recycling and is really looking to improve environmental conciousness around campus. 
Morse stresses the importance of being environmentally conscious by saying, "We are focusing on recycling awareness at our event. We want the PC community to get a solid grasp on how to 'recycle right', because has an awesome and very accessible mixed recycling program that we want to take full advantage of."
Another serious issue on campus is the disposal of trash in designated recycling bins. If there is any trash in these bins, the products will end up in a landfill. 
Morse expresses her concern regarding this issue, stating, "Here at PC we often get truckloads of recyclables sent to the landfill because our recycling is so contaminated that it cannot be recycled. It is either contaminated with food or non-recyclables such as plastic bags and trash. This is why we want to raise awareness about recycling correctly!"
Lindsey Cartier '21, marketing executive for ECOPC, believes recycling can be easy for students to adopt and implement into their lives. 
In anticipation for the upcoming event, Cartier says, "The goal of the Environmental Club of Providence College is to spread awareness and educate our college community on ways to live a more sustainable life while on campus and post-grad! I think this event will be a great opportunity to spread awareness to PC students about how important and easy it is to recycle, and more importantly to recycle correctly!"
Jack Carson '20 has always taken sustainability seriously, and always makes an effort to cut back on using any resources he knows he can cut back on. 
Carson speaks on sustainability on campus by saying, "I always try do my part when it comes to helping out the environment. Whether it be turning off the water when I brush my teeth, separating my trash from recycling, or simply turning off the lights after I leave my room, I know even the smallest actions can make a big difference when it comes to sustainability. I admire the Earth we live on and its beauty, so I try to do my best to keep it that way by recycling and conserving resources, and I hope this event will teach others the importance in doing so."
ECOPC hopes to have a big turnout on Friday as they look to spread awareness about the environmental issues that are taking place on campus and will look to educate students on ways they can help. The club hopes attendees of the event will learn that doing your best by making an effort to be more sustainable, no matter the size of the act, can go a long way in making the world a cleaner place.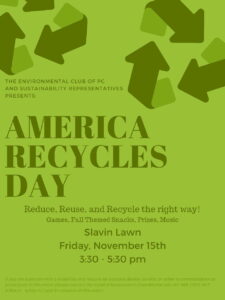 Bursting the PC Bubble: Arctic Blast
by The Cowl Editor
---
National and Global News
---
by Kyle Burgess '21
News Co-Editor
The weather outside is looking rather frightful for many east coast residents as they brace for an Arctic blast set to shatter nearly 300 cold temperature records, providing a winter wonderland atmosphere two weeks before Thanksgiving arrives.
The coldest winds of the season are to blame for this dramatic drop in temperature, rolling across the Great Plains and towards the Atlantic Ocean. These winds are causing sub-zero readings in Minnesota and temperatures barely reaching the teens in Texas before moving on to bombard New England, the Deep South, and everywhere in-between.
In anticipation of the freeze, CNN meteorologist Taylor Ward warned that some places in the East could experience temperatures on Wednesday afternoon up to 30 degrees below average. The National Weather Service echoed such sentiments, claiming that there was "potential for widespread record cold morning low temperatures and record low afternoon high temperatures" across the central and eastern United States.
Wintry conditions have already begun to take their toll in several states, like a fatal car crash in Osage County, KS that was the result of a driver losing control of their vehicle due to the icy highway and colliding head-on with an SUV, killing an infant and injuring three others. Missouri has also experienced its fair share of slip and slide conditions, leading to dozens of crashes.
Meanwhile, air traffic has been hit just as hard, with NBC reporting that around 2,000 flights at O'Hare International Airport had been delayed or canceled as of Monday afternoon with one plane sliding off a runway. Incoming flights experienced an average of six hours delayed with passengers for outgoing flights having to wait as long as 16 hours.
It just so happens that PC found itself in the bullseye of the storm's path, with the heaviest snowfall expected in New England and the Great Lakes region as of Monday evening. Some locations were told to prepare for more than a foot  of snow, although this was not entirely unexpected. Enhanced lake-effect snow was set to produce higher snow totals as freezing and windy conditions form over a not-so-cold lake, providing the perfect source for snowfall.
BOP Hosts Trip to Cycle Bar
by The Cowl Editor
---
Campus
---
by Eileen Cooney '23
News Staff
Because the month of October was Mental Health Awareness Month here at Providence College, PC's Board of Programmers (BOP) organized many fun activities promoting self-care and wellness. Though the month of October has ended and November is now upon us, BOP's message to students about the importance of taking care of themselves has not stopped. That is why on Wednesday, November 6 the club put on an event in conjunction with CycleBar in Providence.
In the past couple years, spin studios such as SoulCycle, CycleBar, Equinox, and many others have taken the fitness world by storm. Spin classes and studios are popular amongst the public because they offer an upbeat, positive environment for people to get a good workout and also feel a sense of community with others while doing so. 
CycleBar in particular boasts that its wide array of different spin classes will "calm your mind, elevate your mood, and revive your senses." Thus, the franchise promotes fitness as well as self-care and mental health.
This event was very well attended and very well-received by participants. Although at times travel events can be difficult to plan because people have to buy tickets in advance, the school usually provides transportation. This event "was definitely a hit and people seemed to really enjoy it," says Wini Kennedy '20. Students loved the upbeat, accepting environment, and first-time spinners had a blast. It is something that Kennedy says BOP will definitely be doing again in the future. 
 In addition to the trip to CycleBar, BOP has also organized many other fitness events this year. Back in September there was an event called "HIIT and Flow" that invited Crossfit Providence and Barre and Soul Yoga to teach a fitness class on Lennon Field. Additionally, last semester BOP also planned a "Silent Spin Event." 
Yoga, cycling, and other fitness classes are great ways for students to take care of themselves and have fun with friends while doing so. All of the fabulous fitness events that BOP organizes on campus, offer students a fun way to make sure that they are continually taking care of themselves and prioritizing their health and wellness. The trip to CycleBar was another great reminder of this.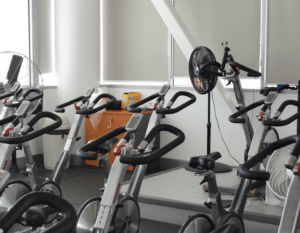 Self-Made Students: Exploring PC's Individualized Major Program
by The Cowl Editor
---
Campus
---
by Sienna Strickland '22
News Staff
Throughout our lives, we have repeatedly been asked the question, "What do you want to do when you grow up?" This has been asked by parents, school counselors, and even by the colleges we apply to when we are asked to declare a major. 
For Providence College students asked this question, they must consider over 50 major and minor programs before answering. Students are thus traditionally left with two options: either they can declare what resonates with them, or remain undeclared. 
However, what happens to that student stuck in the middle of these two choices? The student who possesses neither an enthusiasm to explore the official programs, nor the desire to enroll undeclared? What if they simply like something that is not offered here?
Luckily, students like these need not fear, stress, or transfer, as PC has a program designed to help accommodate them and their specialized interests. There exists a third option, a happy medium that allows them to attend PC while also studying what they want to—the individualized major program.
PC's Make-a-Major program requires a specific procedure to be followed, as Senior Associate Dean of Undergraduate Studies Wanda Ingram explains. First in their proposal, the student must "briefly explain why existing major programs within the College do not adequately meet their educational, professional, or personal goals. The student must then generally describe their proposed program and how it satisfies the College's mission," she states.
After the student has created the idea, all they need to come up with are the details. "The student must then separately list their major requirements and major electives, and briefly justify each selection by relating them to the major's themes and goals. Finally, the student must make a calendar listing the courses they have taken or are planning to take each semester up until their projected graduation date."
Students are not out of the woods just yet after completing these steps. After drafting a cohesive plan of their courses, curriculum, and schedule, they still must receive a stamp of approval, as Corrie Traverse '20 describes. "In order to create your own major, students have to submit their Individualized Major proposal to Father Mark Nowel, O.P., in the Office of the Dean of Undergraduate & Graduate Studies. Once submitted, the proposal is then considered by Fr. Nowel  and an executive subcommittee where they will either approve or deny your individualized major."
Traverse successfully underwent this process and is now a communications and media studies major. She discusses her trajectory here at PC, and how this choice changed it for the better.
"After my freshman year, I was considering transferring to another school because I could not find a program of study that I was interested in. During the summer before my sophomore year, I met with Peter Palumbo who introduced me to the program, and I began the process right away. My major got approved by Fr. Nowel, O.P., in June following my sophomore year. The application process took me about a year in total. Creating my own major allowed me to really have control over my academic experience at PC. I was able to design my own field of study and really be specific about the courses I wanted to take and was interested in pursuing. The process taught me perseverance, determination, and to keep going despite rejection," Traverse says.
In addition to general resistance students may face, they must also deal with the whole their-major-not-technically-existing-at-the-College-thing. This is especially true during the hectic registration season, as many individualized majors have explained.
As individualized majors, students do not get priority registration for several departments, including the business school, since they are not technically business majors. These students have to hope that the classes they have listed as requirements for graduation do not fill up before they can register; otherwise, they are out of luck. 
There is also the issue of planning when courses are offered, as many of the classes individualized majors put as requirements are only offered once a year and conflict with many other classes necessary to take for graduation.
Traverse, who also acknowledges the difficulty of participating in PC's individualized major program, concedes that the hard work is worth it.
"Although my proposal was approved in the end, it definitely was not easy getting to that point. I was required to get approval signatures from many advisors, and department heads who were skeptical at times. However, despite this I'm thankful for the experiences and those a part of PC faculty and administration that showed me support throughout the process and helped me make the appropriate edits to create the best individualized major," she says.
For those students who also find themselves in the middle, willing to take the path less traveled—PC has a plan for you—to pave one for yourself. And, if you are prepared to deal with the inevitable bumps along the way, it will make all the difference.
Friar Flashback with Dr. Mario DiNunzio: An Unofficial History of PC From a Student-Turned-Professor
by The Cowl Editor
---
Campus
---
by Julia Acquavita '22
News Staff
Providence College takes pride in the fact that the Friar Family runs deep, meaning current and past students will always have a special place in their hearts for PC. Dr. Mario DiNunzio '57, a history professor here at PC, is living proof of the impact can have on its past students.
DiNunzio graduated from PC in 1957 as an English major, after switching from a history major. After graduating from the College in 1957, DiNunzio claimed he did not plan on being a professor at all. He started as a radio announcer following college, but then decided to go to graduate school, earning a masters degree and PhD. It was attending graduate school that convinced him teaching was a good profession, causing him to return to his old stomping grounds at PC as a professor in 1960.
DiNunzio kick-started his teaching career as an American history professor, but when the Development of Western Civilization program began in 1971, he began to teach DWC, as well. 
Although DiNunzio has now been retired for 10 years, he continues to teach one class: an honors section of DWC. In this honors section, DiNunzio usually teaches the course alone or with one partner. Currently, for the fall 2019 semester, DiNunzio teaches his honors DWC course with Fr. David Stokes, O.P.
DiNunzio talked about how things have changed quite a lot since he was a student here. Back in the 1950s, PC was an all-boys school and the only dorm was Aquinas Hall. DiNunzio described the campus, saying, "The library was on the third floor of Harkins, the Dominicans lived on the fourth floor, the basement of Harkins was a gym. The dining hall was in a back room of the basement of Aquinas, and everyone stood around this table because there were no chairs." Picture the campus ending where the Aquinas building is, and that would be the PC campus DiNunzio attended. 
Next to PC, there was a women's reform school called the House of Good Shepard. What is now the president's house was once the home of the nuns that ran this reform school, and Feinstein and Saint Joseph Hall were the school and dorm for women. According to DiNunzio, "A chain-link fence separated the girls from the boys, separating PC from the reform school."
Having been in the PC community for over 50 years, DiNunzio has had his fair share of vivid memories, some he looks back on fondly, and others he looks back on with sadness. One very painful and tragic memory for DiNunzio was the fire in Aquinas in December of 1977. As the story goes, "Students had thrown a snowball party that day, and when they went back to dry off, apparently a hair dryer caught fire on the top floor." Only the top floor caught on fire, but seven women passed away. DiNunzio recounts this day as the "saddest day in the history of the College."
Despite having this painful memory, DiNunzio also has many exciting memories he will cherish forever. He has been able to witness the great changes that the school has undergone to transform PC into the school we know now. The biggest change for DiNunzio was going co-ed in 1971. "Enrollment had been declining, so we decided to go co-ed and that's been the most positive change here, as women at PC have done a great deal to elevate the academic and social level of the college." 
DiNunzio was a member of the faculty senate, and between the years of 1969-1971, the senate decided for the College to become co-ed, revising and revamping the curriculum in the process, ushering in the beginning of the Development of Western Civilization program. 
Another vivid memory for DiNunzio was the on-campus protests against the Vietnam War. "The students went on strike and the senate endorsed the student strike in protest of the Vietnam War right after students were killed at Kent State. Classes were canceled after the protest," said DiNunzio.
When asked why he decided to stay here for over 50 years, he responded, "I love teaching. That's why I kept doing it after retiring. I enjoy dealing with the students, classes, and seminars. Grading papers will always stay the worst part of what I do."
Outside of PC, DiNunzio has two grandchildren, Eli (eight years old) and Zoe (two years old), who currently live in Washington, D.C. "They love coming to campus and going with their grandpa to class," said DiNunzio. He hopes that one day they will follow in his footsteps and join the Friar Family when they begin to apply to colleges.
DiNunzio has been a member of the PC community since the 1950s, serving as an excellent professor and PC alum. Having dedicated almost 65 years to this school, he has been with the College through all of its ups and downs, good times and bad times, and improvements that make it the beautiful school we love and know today. 
One takeaway that any propsective student of Dr. DiNunzio should know is his famous saying,"Syllabi are largely works of fiction."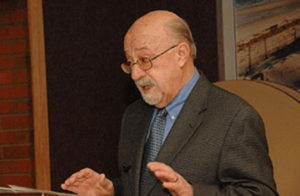 Campus Ministry Fundraises for Annual NOLA Trip
by The Cowl Editor
---
Campus
---
by Nicole Silverio '22
News Staff
On Tuesday evening, Campus Ministry hosted the 12th annual NOLA Immersion Meal Auction in McPhail's. The meal auction raised money to sponsor the students' trip to New Orleans, LA. 
The purpose of the trip is to follow the Gospel's call by helping communities affected by Hurricane Katrina. 
NOLA is a campus organization striving to repair New Orleans after Hurricane Katrina made landfall in 2005, which destroyed an estimated $81 million in property damages including many homes and businesses, leaving residents devastated. It destroyed about 90,000 miles of land in LA. 
Pamela Tremblay, director of service immersion and social justice at PC, stated, "We look into why New Orleans is still recovering from Hurricane Katrina after all of these years. A part of our research is to figure out why Hurricane Katrina has been so catastrophic." Tremblay and Fr. Peter Martyr Yungwirth, O.P., the chaplain of NOLA, have organized this student service trip to New Orleans.
This year's meal auction successfully raised $950 by auctioning off meals with about fifteen faculty and staff members. Students had the chance to bid on ten different dinners with their favorite faculty and staff members in order to raise money for the trip. 
Quincy Bevely offered to go out to dinner with four students while the dean of students offered to cook for ten students in the President's house. An estimated number of between 40 and 50 students attended the event. 
The goal of getting involved with NOLA on campus is to engage students in service and prayer by building a community that rebuilds the damage in New Orleans. The NOLA team meets every week to discuss the issues in New Orleans and discuss their services in the upcoming winter break. 
This month there was a NOLA retreat for all members of NOLA Immersion. The group partners with organizations such as the St. Bernard Project, the Harry Tompson Center, Greenlight New Orleans, and the Lower Ninth Ward Village. 
During winter break, 13 students participate in the immersion trip. The  NOLA Immersion trip costs about $200 per student, including all transportation and accommodations. 
Tremblay explained how they strive to keep costs low for students so that anyone interested in taking part in the service can do so. Back in 2005 when PC began this service, the main goal was to provide relief by helping to rebuild homes. Nowadays, Tremblay explained that socioeconomic status plays a significant role in the lack of repair in certain areas of the city. 
The Lower Ninth Ward of the city in particular struggles from the hurricane, therefore, the Lower Ninth Ward  is where students spend the majority of their service time.
"We are really grateful for the support from the university," Tremblay said. "And for the support to make this trip possible each year." 
Since the students on campus were very young when Hurricane Katrina took place, NOLA strives to educate students on campus about the scar Hurricane Katrina has left in New Orleans. NOLA wants to celebrate the community services the PC community does, being able to help other communities across the country and around the world heal from tragedy. 
Friars Partake in Sales Showcase
by The Cowl Editor
---
Campus
---
by Brian Garvey '20
News Staff
This Wednesday, the Ryan Center for Business Studies hosted the Friars Sales Showcase. Featuring 12 of the leading business-to-business sales companies in the country, students were given the opportunity to network, gain information, and apply for jobs and internships.
The showcase provided something for everyone: major or non-major, freshmen or upperclassmen, job seekers or those looking for internships—this event was designed to give students a chance to learn more about business-to-business selling and build their network of business contacts. Joe McDonald '20, a member of the American Marketing Association Board, said, "This is a really important opportunity for marketing majors. I feel like accounting and finance jobs dominate the career fair, and this showcase gives more people the opportunity to take the next step towards their future career."
Many students took advantage of this fantastic opportunity and felt that the showcase was a really important guiding opportunity for them. Peter Chin '20 said, "I attended this showcase to really gain more insight into the sales field. It has definitely made me more interested in pursuing a career in this area, particularly with the company Toast."
One aspect of the showcase that people were most excited for was the discussion panel with other PC alumni. Students were able to pick the brains of those who once walked in their shoes and learned more about how to transition from college to the workforce. McDonald said, "This part of the showcase is what I found to be most valuable. It was very cool to see freshmen and sophomores learning from graduates, and I think that this advice is more valuable than anything from a textbook."
The visiting companies were impressed with the turnout of students. PC students spent their afternoon filtering in and out of different company tables, and showed a real enthusiasm for the showcase. There were many non-business majors as well, eager to learn more about a potentially exciting field. Dylan Holmes '20, a political science major, said, "I've never really been interested in a finance or accounting degree, but I found that I love the relationships that drive sales. This showcase definitely makes me think more positively about this field, and is definitely something I'll consider while I start my job search."
The success of this event has opened the door to more career-specific events in the future. McDonald said, "We love being able to promote these fantastic events. Anything that can help out students during such a stressful process is something that is very important to the student body." The event provided networking opportunities and valuable career information for students.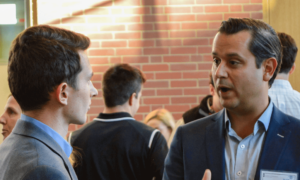 Featured Friar: Victoria Haak '20
by The Cowl Editor
---
Campus
---
by Hannah Langley '21
News Co-Editor
Looking back four years ago, Victoria Haak '20 probably would have never guessed she would end up becoming so involved at Providence College. Haak knew early on she wanted to be a biology major, but where she was going to pursue this interest, she was not sure. "Throughout the college process, I knew what I wanted to do, but I had no idea where I wanted to go. I applied to Providence College before I visited and did not expect it to be my final decision."
However, Haak now ultimately knows why she decided to come to PC. She said"I chose Providence College because of the Friar Family," and she has been an extremely active part of the Friar family ever since.
Since that decision four years ago, Haak has become involved in various clubs and organizations on campus, including working as a residence assistant (RA), orientation leader (OL), and the editor-in-chief of the PC yearbook since her sophomore year. She works as a social media ambassador for PC, and as a lab manager in Fr. Nicanor Austriaco's, O.P., research lab. Haak is also the president of the American Medical Student Association (AMSA), a member of the pre-health honors society (Alpha Epsilon Delta), and a member of the research honors society (Sigmi Xi).
When asked what Haak loves most about being an RA, she says it has been one of the most rewarding experiences of her life. As a hall RA in Meagher Hall, Suites Hall, and currently McVinney Hall, Haak stated, "Being an RA has given me the opportunity to be an advisor to first year students, to be a support system, and to grow as a person. I have seen some of the lowest and hardest times in a student's time at Providence College, but I have been able to see the growth that results from these experiences." She said she feels blessed to see her residents grow and is proud to even call some of her former residents' friends.
Not only has Haak become great friends with her residents, but she has also formed connections with her fellow RAs over the years. "The countless people I have met through being an RA is one of my favorite things, those being the residents and the other RAs," Haak stated. "No one quite understands what you have to deal with as an RA except for other RAs, so it brings us extremely close. I want to thank all of those RAs who have been there for me."
As an OL, Haak has also formed close connections and bonds with students and leaders. When talking about the various great qualities her fellow leaders have, Haak stated, "My fellow orientation leaders all have different styles and personalities which taught me the love and acceptance among the orientation staff. You want students to feel welcomed and supported once they stand on campus."
Haak acknowledges that many people dread orientation, but she does not mind it, saying, "As an orientation leader, you have the opportunity to make something mandatory into something extraordinary," which is something she is very proud of as in being an OL.
Haak leads a busy lifestyle as a biology major and RA during the year, but she still finds time to partake in activities she is passionate about. Haak began working on the PC yearbook, Veritas, in her freshman year and became the editor-in-chief during her sophomore year. "Coming into college, I knew being a biology major would take a lot of my time," said Haak. "Something I did not want to lose was my creative side. Yearbook became my creative outlet."
Haak also uses her free time by giving tours around campus as a member of the Friars Club. Joining Friars Club in her junior year, Haak is appreciative of the fact that it allows her to not only interact with students already at PC, but to meet and talk with perspective students and families, as well. "I have so much pride and excitement every time I put on my jacket to give a tour or stand at a post," stated Haak. 
"This club has allowed me to share my love for our school and show prospective students what it means to be a Friar. Being able to show someone the place where they belong and where they can be at home surrounded by the people they love is something that I am blessed to be a part of."
As Haak closes in on her final semester here at PC, she talked about how she is not ready to leave the Friar Family yet. However, she is thankful and appreciative of all the memories she has been able to make over the past four years. Between Late Night Madness, Black and White Ball, Senior Ring Weekend, the spring concerts, and even working late nights in Fr. Nic's lab, Haak would not take any of it back.
As Haak departs from PC in May to pursue a job in research before attending medical school for pediatrics, Haak is looking forward to seeing "who takes over after me, who will follow in my footsteps." When asked to give advice for  freshmen, and especially biology majors, Haak responded, "Find your passion and find people who share that same passion. Never give up. Not every path is the same, but we can all accomplish what we set our minds to."
Since she is from Buffalo, NY, Haak is extremely appreciative and thankful that she has found a home in PC. "Having my family close to eight hours away," Haak stated, "I would not have been able to survive college without the love and support of the Friar Family. Providence College has become my home, and I love meeting past Friars, current Friars, and prospective Friars. I am grateful and blessed to be able to call Providence College home, and those who are here, my family. "
Haak would like to thank her family in Buffalo, her friends, and all those who have pushed her to do more and to continue working hard.
Bursting the PC Bubble: Impeachment Investigations Continue
by The Cowl Editor
---
National and Global News
---
by Maura Campbell '22
News Staff
On Sept. 24, Speaker of the House Nancy Pelosi announced a formal impeachment inquiry into President Donald Trump. This inquiry came as a result of allegations of a quid pro quo involving the president withholding aid from Ukraine until they agreed to investigate former Vice President and Democratic presidential candidate Joe Biden's business dealings there.
Quid pro quo, a situation in which one party offers an advantage or favor to another party in return for something else of value, is generally considered to be politically unfavorable and unethical. In particular, the Constitution of the United States says that "treason, bribery, or other high crimes and misdemeanors"—which is generally considered to encompass the concept of quid pro quo —are impeachable offenses.
These allegations, put forth originally by an unnamed whistleblower, resulted from a phone call between President Trump and Ukrainian President, Volodymyr Zelensky, during which President Trump encouraged Zelensky to investigate Biden in return for dispersing U.S. aid to Ukraine. This has been largely defined as a quid pro quo in which the President withheld aid in an attempt to tarnish his opponent and therefore advance himself politically.
President Trump has denied the existence of a quid pro quo during this phone call, releasing a rough transcript of the conversation and stating that he wanted Ukraine to investigate Biden due to worries regarding corruption in Ukraine, not in an attempt tarnish his political opponent. 
Despite this, Pelosi said on Sept. 24, "The actions taken to date by the President have seriously violated the Constitution," and that House committees would begin investigating these actions.
Over the next several weeks, six committees in the House of Representatives will investigate the allegations put forth against President Trump, and the Judiciary Committee will determine whether there is adequate evidence of wrongdoing. 
If the Judiciary Committee finds sufficient evidence of wrongdoing by the President, they will produce a list of articles of impeachment, about which the House of Representatives will then hold a vote on. If a majority of the House votes to impeach, the proceedings will move to the Senate, which will then hold a trial. In the end, the Senate would require a two-thirds majority vote in order to remove President Trump from office.
Since Pelosi's announcement of the impeachment inquiry, reactions from media and citizens have been mixed and largely divided across partisan lines. 
A recent poll by NBC and the Wall Street Journal found that 49 percent of Americans are in favor of impeaching and removing President Trump from office. In particular, 88 percent of Democrats support impeachment and removal from office, whereas 90 percent of Republicans oppose impeachment and removal from office.
This is a developing story, with new polls and updates being released daily. Students interested in keeping up to date with this process should be aware that the Phillips Memorial Library offers free student subscriptions to the New York Times and the Wall Street Journal, which can be accessed through their respective websites.