NFL Draft
by npatano on April 21, 2022
---
Professional Sports
---
Joseph Quirk '23
Sports Staff
For two teams every year, the Superbowl is the most exciting date on the NFL calendar. For everyone else, who were not quite good enough or fell just short of making the big game, the offseason represents a time of hope. It provides a clean slate, a chance for a team to get better and address weaknesses, and a time for rivals to get worse. And the pinnacle of hope and talent acquisition is the NFL Draft.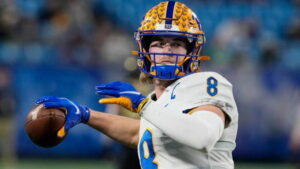 The 2022 NFL Draft, which begins Thursday, April 28, features a particularly deep class of rookies alongside a weak class of quarterbacks. Combine that with the fact that eight teams have two first round picks (16 picks, or half of the first round, is controlled by a quarter of the league), this year's draft is shaping up to be as interesting as ever. So, what do you need to know before April 28?
First off, if you are in the market for a quarterback (looking at you, Carolina Panthers), then this is not the best year to take one in the first round. The class has some solid players featuring University of Pittsburgh product Kenny Pickett, Liberty University dual threat Malik Willis, and University of Cincinnati veteran Desmond Ridder. All of these guys, along with Sam Howell and Matt Corral, have the potential  to be fine pros. However, their talent and ability do not seem to be equivalent to being seen as a "future star." There are some interesting guys later, such as Carson Strong, who has a cannon of an arm but is very raw. Bailey Zappe is also interesting as he is coming off a historic season numbers wise but played at Western Kentucky University which did not face much strong competition in Conference-USA.
While QB's may not be going early, offensive linemen and pass rushers certainly are available in abundance. Typically considered the two most important positions outside of the QB, those who pressure and protect the QB, if your team needs an EDGE or OT, this is the class for you. 
Evan Neal out of the University of Alabama is a tried-and-true product that has started multiple years, at multiple positions, in the rigorous SEC conference for Nick Saban's Crimson Tide. Right up there alongside him is NC State product Ikem Ekwonu, who is nasty and physical, especially in the run game. Mississippi State University's Charles Cross, however, is the better pass blocker of the two. 
In terms of pass rushers, you can pick your poison. University of Michigan Heisman finalist Aidan Hutchinson provides a good blend of pass rush talent and athleticism. However, his athletic ceiling isn't comparable to the University of Georgia EDGE Travon Walker who is an athletic freak, even if his role in college didn't translate to stunning pass rush numbers. The University of Oregon's Kayvon Thibodeaux was the consensus number one overall pick going into and throughout the year. Athletically, he has all the tools and dominates on the field, but off the field, concerns and consistency issues may allow him to drop a little further than he should. Jermaine Johnson from Florida State University and George Karlaftis from Purdue University also provide solid depth to the position in the first round.
All of this does not mention receivers, of which the first round has many. If you are the New York Jets or Green Bay Packers, both of whom have multiple first round picks and needs a receiver, this is draft is key. You can get speed with Alabama's Jameson Williams, route running and star potential in both Garrett Wilson and Chris Olave from the Ohio State University, or a jump ball threat in the University of Southern California's Drake London.
There are many names to watch out for in this year's draft. These are just a few that everyone should know before the festivities begin. But one thing is for sure: this year's draft is shaping up to be very exciting and promises a lot of unexpected moves, picks, and trades.
PCI: Josh Allen will be the First Pick in the 2018 NFL Draft
by The Cowl Editor on April 26, 2018
---
PCI
---
By Sullivan Burgess '20
Sports Staff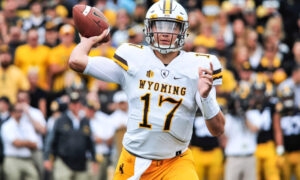 In this upcoming NFL Draft, the first pick selected by the Cleveland Browns will be University of Wyoming quarterback, Josh Allen.
In a draft class filled with amazing talent at all positions, some standouts are in the quarterback, class of this draft. Despite all their talents, the one who stands out among the rest is Allen. The 6'5", 223-pound junior is being compared to Philadelphia Eagles quarterback Carson Wentz, and has the skills and character to potentially be one of the NFL's most elite quarterbacks.
At the NFL combine, Allen ran a 4.75 second 40-yard dash, and showed a vertical jump of 33.5 inches. One of his most notable abilities is his arm strength. At his pro-day, it was clear his strength was off the charts. Despite some reports and instances of inaccuracies, Allen has taken the offseason to work with QB coach Jordan Palmer to improve his footwork and focus, allowing scouts to put those inaccuracy reports behind him and focus on what he could bring to a team.
His anticipation when throwing the ball is still a bit rusty. As training camp and preseason progress, however, he will soon find what he needs to do in-game during the NFL season.
Compared to University of Oklahoma quarterback and Heisman Trophy winner Baker Mayfield, who is another potential first pick by Cleveland, Allen has showed his ability to work harder and improve the weaker parts of his game.  Mayfield's off-field drama with the law shows he may not have the character to survive in this social media world, while Allen has shown that he does.
The Browns shocked the world this offseason with ground-breaking trades for players such as wide receiver Jarvis Landry, quarterback Tyrod Taylor, and cornerback Damarious Randall.
If they were to add Allen alongside this roster, the Browns would be doing themselves a favor, which could eventually allow them to win a game or reach playoffs. Taylor, the former starting quarterback for the Buffalo Bills, would have to compete for the starting position against Allen. It is likely that Allen will win the starting role due to his arm strength.
For a team that has been through so many losses the last few seasons, things will begin to turn around on April 26 when NFL Commissioner Roger Goodell announces that the Browns will take University of Wyoming quarterback Josh Allen.
PCI: Sam Darnold will be the First Pick in the 2018 NFL Draft
by The Cowl Editor on April 26, 2018
---
PCI
---
By Sam Scanlon '19
Sports Staff
Draft Day is just around the corner. In recent history the 2018 NFL Draft has one of the most highly anticipated drafts due to the skill and athleticism of most of the prospects, but also because it is focused heavily on quarterbacks. However, there is no clear answer as to who will be the first overall selection.
For the second consecutive season, the Cleveland Browns will be making the first overall selection. The Browns finished the 2017 season with a record of 0-16, following a 2016 campaign that landed them at 1-15.
With a plethora of good quarterbacks on the table, along with some exceptional athletes, the Browns have several options. When Roger Goodell takes the stage for the first time on Thursday night, he will be joined by University of Southern California Quarterback Sam Darnold as the first overall pick in the 2018 NFL Draft.
It is hard to not select Saquon Barkley, who spent the last three seasons as the running back for Pennsylvania State University, shattering numerous school records in the process. However, based on the Browns' immediate needs, Darnold makes more sense than Barkley. The Browns recently filled their running back void during the offseason by acquiring Carlos Hyde, so a franchise quarterback is now absolutely imperative for the Browns, and Darnold is their guy.
The Browns have had terrible luck trying to find their starting quarterback, as seven different players have started a game under center over the last three seasons. The Browns have to pick a quarterback. Darnold has proven to be the most NFL-ready quarterback as he possesses the necessary qualities that successful NFL quarterbacks have had historically. He is an extremely precise pocket passer who can also be very mobile and evade defenders with his excellent footwork. Darnold has all the intangibles that it takes to be a successful quarterback in the NFL and jumpstart the future of the Cleveland Browns.
In his two seasons as a starter for the USC Trojans, Darnold threw for 7,229 yards and 57 touchdown passes. His size, arm strength, and precision have shown to be exactly what the Cleveland Browns need as their former failed starting quarterbacks such as Johnny Manziel and DeShone Kizer have been smaller and more mobile.
Darnold checks nearly every box based on what it takes to be successful in the NFL and what the Browns should be looking for in a franchise quarterback, so it should be a no-brainer to select Sam Darnold for the first overall pick.