Off-Campus Beat: The Arkansas Executions
by thecowl.news on April 27, 2017
---
National and Global News
---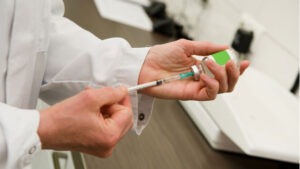 by Meaghan Dodson '17
News Co-Editor
Best used by: April 30, 2017. Or so it probably says on the back of Arkansas' supply of lethal injection drugs. 
Arkansas became the first state in 17 years to perform back-to-back executions this past Monday night. The drugs are set to expire by the end of the month and, thus, the state is attempting to execute eight death row inmates over the span of 11 days.
The "Death Cocktail." What's in it?
The lethal injection formula is a combination of three drugs. Midazolam sedates the inmate, vecuronium bromide paralyzes and stops his breathing, and potassium chloride stops his heaxrt.
Midazolam is the most controversial ingredient as it has not been approved by the FDA as a stand-alone anesthetic.
The cocktail is administered via multiple IVs.  In many states, only one of the IVs will give the inmate the drugs while the other three are "dummy" cocktails so the prison staff do not know who precisely administers the drugs.
Execution #1
In 1996, Jack Harold Jones was convicted of raping and murdering one of his co-workers as her daughter looked on. He then beat and strangled the daughter with a coffee pot cord, leaving her for dead.
"The victim's family has waited patiently for justice during this time. The jury sentenced Jack Jones to death, and his sentence was upheld by judges and reviewed thoroughly in courts of appeals at each level," stated Governor Asa Hutchinson.
According to witnesses, in his final statement Jones specifically addressed and apologized to the daughter.
Jones was administered the lethal injection at 7:06 p.m. and was declared dead by 7:20 p.m. The process was held up for 45 minutes, however, as staff members were unable to place a line in Jones' neck.
Execution #2
Less than three hours after Jones was pronounced dead, Marcel Wayne Williams received his sentence. He was administered the drugs at 10:16 p.m. and was declared dead at 10:33 p.m.
Williams was convicted of robbing, kidnapping, raping, and murdering a woman in 1994. The victim's mother expressed relief at news that Williams' sentence was finally being carried out, stating, "It'll give me peace that he's gone and can't ever get out and do this again, because he will."
Williams' lawyer attempted to stay the execution as Williams' medical issues could possibly result in his feeling severe pain. KARK 4 Nes Reporter Jesi Turnure, however, who attended the execution, stated that she did not witness anything akin to cruel and unusual punishment. "Once it did happen, once it started, it was not horrible to watch, to be fair. It didn't look like he was struggling that much…but on the inside you don't know how they are feeling."
What Comes Next?
Debates about the death penalty rage on as 31 states currently have the death penalty on their books.
April 24 was a "shameful day," according to Amnesty International, as the state of Arkansas treated human lives "as though they have a sell-by date."
At the same time, however, the daughter of Jones' victim breathed a sigh of relief after the events, stating, "I'm glad that chapter is closed."
Four of Arkansas' eight proposed executions have occurred, with the most recent one taking place on Thursday, April 27.  The remaining four prisoners are going through the final appeals process and, as such, their cases are currently on hold.
With only a few days remaining in April, Arkansas is hard-pressed to meet its sell-by date.
Off-Campus Beat: Crisis in Colombia
by The Cowl Editor on April 6, 2017
---
Features
---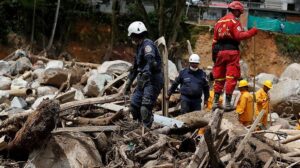 by Tait Becker '19
News Staff
The lives of 254 Colombians have been claimed after a mudslide, followed by torrential rain that tore through many towns in southern Colombia. The most affected area was the province of Mocoa and its surrounding towns, as many rivers in the area began to flood the streets, sending a forceful surge of mud through the area. The storm that caused this widespread damage came in the middle of the night, so many had no idea what was actually happening.
According to The New York Times, one survivor recalled, "People were running and yelling the names of family members. Others were screaming at God."
A state of emergency was declared earlier this week by President Juan Manuel Santos as resources and available personnel are both quickly diminishing.  The number of deaths continues to rise as more rubble is uncovered from the mud.
Many have argued that this disaster, along with the widespread flooding also occurring in Peru, is a result of climate change in the region. Furthermore, several leaders have spoken in favor of continuing and expanding the conversation on climate change in the hemisphere. Climate change, which has been indicated by heavy rain and potentially caused by high levels of deforestation, has begun to make many communities extremely vulnerable to further natural disasters.
While this is a topic that will continue to be at the forefront of hemispheric security concerns, the situation in Mocoa continues to deteriorate with each passing day.
Water, supplies, food, and medical equipment have been cut by the mudslide.  The Red Cross has been working to try and transport these essentials to the community; however, the isolated and mountainous location has created complications in accessibility. The latest hardship that the community has faced is the lack of room to store the deceased bodies, which are beginning to pile up in the streets. "You smell it for hundreds of feet," one observer noted. "There are people who faint when they open the bags and the bodies are putrefied."
Any assistance in the form of  food or labor is greatly appreciated as rescue volunteers continue to work day and night to help those affected by this disaster.
Off-Campus Beat: Updates on the Trump Administration
by The Cowl Editor on March 17, 2017
---
News
---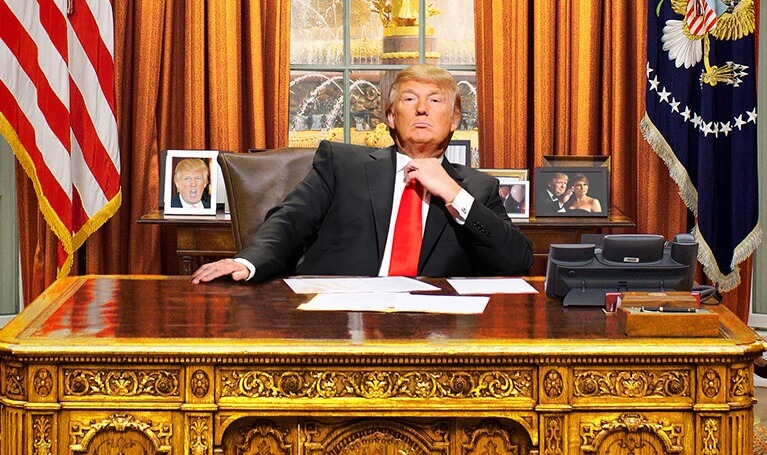 by Sarah Gianni '18
News Staff
President Trump Accuses Barack Obama of "Wire Tapping"
Donald Trump posted a string of tweets in the early morning of March 4, claiming that former President Barack Obama had "wires tapped" in Trump Tower prior to Trump's victory. There is no official evidence to support Trump's claims of any Obama surveillance.
Obama administration spokesman Kevin Lewis dismissed these allegations stating "a cardinal rule of the Obama Administration was that no White House official ever interfered with any independent investigation led by the Department of Justice. As part of that practice, neither President Obama nor any White House official ever ordered surveillance on any U.S. citizen. Any suggestion otherwise is simply false.
U.S. Attorney Preet Bharara Fired by Trump Administration
Preet Bharara, the U.S. attorney for the Southern District of New York, said in a tweet that he was fired after refusing to resign as requested by the Trump administration. This request made by Trump was an effort to remove remaining Obama administration prosecutors at the Justice Department, as 46 U.S. attorneys were asked to resign immediately.
According to CNN, Bharara said he felt blindsided by the request for his resignation, as he had been told in a meeting with Trump back in November that he would be able to keep his position. Sarah Isgur Flores, a Justice Department spokeswoman, stated that this action was taken in order to "ensure a uniform transition."
Meetings between Trump Advisors and Russian Ambassador Disclosed
Jared Kushner, senior aid to President Trump, met with the Russian Ambassador to the United States along with former National Security Advisor Michael Flynn. The meeting between Kushner, Flynn, and Ambassador Sergey Kislyak occurred in December, during a time of concern regarding the relationship between the Trump administration and Russia.
An additional national security advisor J.D. Gordon also disclosed that he had met with Kislyak back in July, along with Attorney General Jeff Sessions. Sessions told Fox News, "I don't recall any discussion of the campaign in any significant way," adding, "I don't believe anybody that was in the meeting would have seen or believed I said one thing that was improper or unwise."
Trump's New Budget Projected to Be "Historic"
President Trump shared his budget proposal today. It was predicted to cover projected cuts to housing, foreign aid, and environmental programs, among others. Homeland security and military spending were also predicted to be prioritized in the budget.
These cuts in the planned proposal are also expected to lead to layoffs among federal workers. As the Washington Post reports, "Trump's proposal comes at a time when the federal budget is facing massive structural shifts in society and the economy."
Intruder Breaches White House Grounds
A man carrying a backpack with two cans of mace and a letter for President Trump was arrested on Friday, March 10, breaching White House grounds. The incident occurred just before midnight while the President was inside of the White House.
The intruder, who was identified as Jonathan T. Tran, is a 26-year-old from California. He "jumped the fence" to enter. When approached by an officer, Tran stated that he was a "friend of the President" who "had an appointment."
Tran, who is facing unlawful entry charges, appeared in a Washington federal court on Monday where it was ruled he will remain free while awaiting his April 13 trial. Tran, unemployed and allegedly living in his car, must wear a GPS monitor, stay within 100 miles of his hometown, and undergo a mental health evaluation in the meantime. After security breaches in recent years, the White House plans to expand the perimeter fence from seven to twelve feet in 2018.
Off-Campus Beat: Environmental Spotlight
by The Cowl Editor on March 3, 2017
---
News
---
by Tait Becker '19
News Staff
The deep-rooted partisan issue of the scientific validity of climate change has yet again surfaced as New England continues to experience an unusually mild February.  Record high temperatures throughout the region have begun to raise questions as to whether or not climate change is beginning to impact the United States in new ways
Several environmental activist groups have begun to express concerns about the future of the energy and environmental programs in the U.S. under the Trump administration. President Trump's recent selection of Mike Catanzaro as top energy aid, paired with his selection of former Oklahoma Attorney General Scott Pruitt to head the Environmental Protection Agency, has raised red flags for many involved in this sector.
Pruitt, who was confirmed by the Senate with a 52 to 46 vote, has led or been part of 14 lawsuits aimed at blocking EPA regulations and Barack Obama's climate change initiatives. Pruitt has also been under scrutiny for his close ties with oil and gas industries. Trump has been both praised and under fire for his plan to scale back and reduce the power of the EPA.
In the absence of a national policy regarding this issue, many local and state leaders have started to speak out in favor of developing a national plan to grapple with this issue. The past few months have indicated that the scientific projection which shows that global warming will continue to increase might be accurate. This information comes in as states in the midwest continue to struggle with droughts, reducing the availability of water and other energy-related resources.
The Trump administration's eagerness to expand development and infrastructure in the fossil fuels sector seems to be a top priority. The recent approval of access to the Dakota Pipeline, which was granted by the Army, will begin to be implemented. This may end the longtime standoff between the Standing Rock Sioux Tribe and other activists protesting the pipeline.
Aside from the alleged disruption of ancient burial grounds, several environmental activists, politicians, and other officials have claimed that the project would create immense environmental harm to the surrounding areas. The 1,170 mile long pipe would cross four states, carrying crude oil from North Dakota into the Midwest.
President Trump has spoken at great lengths about the importance of developing a more effective infrastructure that would support the acceleration of domestic energy production.
This new fight for the prohibition of this construction has sparked a more generalized push for the Trump administration to address the broader issue of climate change. Despite Trump's previous claims that he is committed to improving infrastructure projects, it still remains unclear if these projects will be energy-related.
Off-Campus Beat: North Korea Launches Missile
by The Cowl Editor on February 17, 2017
---
News
---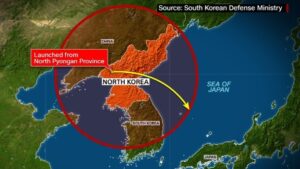 by Daria Purdy '19
News Staff
Tension increased this past week between North Korea and the United States and its allies as North Korea successfully tested a new nuclear missile.
The new missile is called the Pukguksong-2, and it was launched Sunday about 310 miles into the Sea of Japan. The distance is short of the estimated rage of the missile, which is around 1,864 to 3,417 miles.
The development of the Pukguksong-2 missile has caused the United States and its allies anxiety because the new technology of the missile makes it much harder to have a preemptive warning of a missile launch.
The new missile is a solid-fuel rocket, meaning it does not require the long process of fuel-loading in order to function properly. It can be stored on mobile launchers, rolled out, and prepared for launch within minutes, if the North Korean reports are to be believed.
This would make it much harder to receive warning of a missile launch through satellite technology. North Korea's leader, Kim Jong-Un, claimed, "Now our rocket industry has radically turned into a high-thrust solid-fuel-powered engine from liquid-fuel rocket engine and rapidly developed into a development and creation-oriented industry, not just copying samples."
Defense officials in the area say that North Korean missiles do not yet have the ability that Kim Jong-Un claims, but that the launch of the Pukguksong-2 represents significant advances in the stealth and range of these missiles.
The test took place while a state dinner  was being held between  President Donald Trump and Prime Minister of Japan Shinzo Abe. Aides interrupted the dinner at the Mar-a-Lago resort in Florida to bring both leaders reports of the missile test.
Abe called the missile test "absolutely intolerable." Japan's Chief Cabinet Secretary Yoshihide Suga, meanwhile, echoed Abe's words, stating that the test was a "clear provocation to Japan and the region."
A United Nations Security Council meeting was requested by the United States, Japan, and South Korea in response to the missile launch.
The United States Security Council responded that it plans to hold consultations on an "urgent basis." Tokyo has lodged protests against North Korea through its embassy in Beijing.
Despite being allies of North Korea, both China and Russia also spoke out against the missile launch. China denies the need to take any greater responsibility in curbing the actions of North Korea, but the Foreign Ministry said that China is opposed to launch activities that are in violation of UN resolutions.
China is North Korea's most important ally, and helps to keep it afloat economically amidst crippling sanctions. Yet, the recent rhetoric concerning the launch of the Pukguksong-2 reflects a trend in which China has begun to take a tougher stand on the North Korean nuclear program.
The Foreign Ministry of Russia, another important North Korean ally, said that the missile launch was in "defiant disregard" of UN resolutions.
This missile test is the first since Trump's inauguration, and it can be seen as the first foreign challenge to the Trump administration.
So far, the response of President Trump has been to issue a joint statement with Abe, in which he said that he had "100  percent support" for Japan, and called them "a great ally."
Off-Campus Beat: Judges & Judicial Review
by The Cowl Editor on February 10, 2017
---
News
---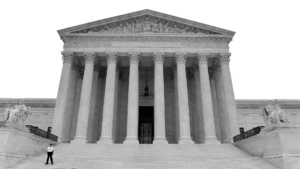 By Tait Becker '19
News Staff
The Intramural Athletic Board (IAB) is an organization that allows students to get involved with running the intramural sports program. There are 18 current members of the board, and four who hold executive positions: Kaitlin Koste '17, president; Joe DeChirico '17, vice president of operations; Robert Taranto '17, vice pesident of administration; and Kaitlyn Dempsey '17, vice president of marketing.
DeChirico says the task of the IAB "is to make sure the intramural program runs as smoothly as possible and to make sure that students have a great overall experience." The executive board meets with the Assistant Director of Intramurals, Nick Sweatt, to run day-to-day operations and to discuss big-picture goals.
The board members supervise the sporting events, and many of them are also officials. The IAB also completes administrative tasks, such as putting together equipment, creating scoresheets, and inputting statistics.
Along with supervising the 23 sports offered, the board runs some late night programming events, such as the basketball tournament that is held after Late Night Madness. The entire board meets together once a week.
DeChirico says "IAB is one of the smallest clubs on campus, so we always consider ourselves family." The members of the board, along with running intramural sports, also participate in many of these sports.
DeChirico says, that since becoming a member of the board, he has participated in almost all the 23 intramural sports offered. The members of the IAB also get paid for their work. The application for new members will be sent out shortly before spring break. Information about the IAB can be found on their Instagram, via @pc_iab.