Providence College Investigates
by npatano on February 7, 2022
---
PCI
---
Which is the Better Olympics?
Will Murphy '23
Sports Staff
Summer
The Summer and Winter Olympic Games allow the best athletes in the world to showcase their talents while representing their country. Although both are extremely fun to watch, the summer games beat out the winter games in terms of excitement. 
The wide array of sports to choose from during the Summer Olympic Games, ranging from archery to water polo ensures that there will be something for everyone. The track and field events that take place during the Summer Olympics are can't-miss T.V. The races combine mesmerizing star power with incredible pace. Battles between Jamaica's Usain Bolt and the rest of the field have been consistently breathtaking for nearly the past two decades, often with Bolt coming out on top. The relays also add another layer to watch during the track and field events, often resulting in chaotic finishes. 
The swim events are another aspect of what makes the Summer Olympic Games so fun to watch. The United States' Michael Phelps' run of dominance in swimming can be compared to Bolt's in sprinting, as he is the all-time leader in medals in the Summer Olympic Games, at a whopping 28 medals. 
Beach volleyball is another event that adds to the excitement of the games. The beach volleyball matches are fast-paced and never fail to amaze the crowd. Another fan favorite is table tennis, as it is incredible to watch the coordination displayed throughout the matches. 
Some of the recently added events have also been rapidly growing in popularity. Skateboarding and surfing were both added as events to the games, and each continue to reach a broader audience. Each sport has polarizing athletes who continue to grow the fanbase for the Olympics. 
The Summer Olympic Games also have widely popular sports such as basketball and soccer. Both  have consistently provided competitive matchups, with three-versus-three basketball being a recent addition to the games on top of five-versus-five. The great variety of events that provide something for everyone combined with the star power of the Summer Olympic Games pushes them ahead of the Winter Olympic Games. 
Overall, both the Summer and Winter Olympic Games are great opportunities for every country around the world to band together and appreciate the hard work that each athlete puts in to reach the levels of greatness required to participate in the Olympics.
Joseph Quirk '23
Sports Staff
Winter
When it comes to the Olympic games, it always seems to feel like the summer games get much more love and attention than their winter counterparts.  In all fairness, the summer games are exciting and have been full of iconic moments, athletes, and events. Usain Bolt and the Jamaican 4×100 meter relay team beating the U.S. team after both squads beat the previous world record time in the same race, for example, are some exciting moments in Olympic history. Similarly, Michael Phelps is one of the most decorated Olympians of all time. And, the cultural significance of the USA Dream Team in the basketball tournament has had an impact to this day. Whatever it may be, winter sports are  just as good, and perhaps even better.
The winter games can answer the summer games in terms of star power and iconic moments themselves.  Look at Lindsey Vonn, one of the greatest female skiers of all time, or, Shaun White, who makes even the most difficult snowboarding tricks look easy. And, few moments in sports are more iconic than the 1980 Olympic Men's Ice Hockey Tournament when the United States beat the USSR in the semi-finals and went on to win gold. Needless to say, the winter games are right up there with summer in terms of iconic moments, athletes, and overall enjoyability. However, not notoriety. 
Maybe it is because the summer games have more recognizable and exciting sports.  After all, it is much easier to get excited about a race when the racers are competing head-to-head and not against a clock like some winter events, but the winter games are vastly underrated in this area too. 
For fans of technique and grace, perhaps gymnastics in the summer games is a favorite event. But, figure skating is just as beautiful and graceful and arguably more difficult than gymnastics. And if it resembles "dancing" too much for your taste, half pipe and freestyle skiing and snowboarding are just as technical and dramatic. For fans of speed, speed skating or ski jumping may be interesting. And, of course, the exhilarating  downhill skiing events. Anyone who has ever skied or snowboarded knows the rush of flying down a mountain and it is no different here. The hockey tournament, which could be less popular in the United States, is nonetheless incredibly entertaining and intense as the talent is spread evenly worldwide. 
The winter games have many great aspects and advantages over its summer counterpart, and it is time we gave these games the respect they deserve.
The Grand Stage of All: The Olympics
by The Cowl Editor on September 3, 2021
---
Professional Sports
---
Two Providence College alumni, Emily Sisson '14 and Ben Connor '15 competed in the 2020 Tokyo Summer Olympics. Sisson, one of the most decorated Friars of all-time, competed in the women's 10,000-meter competition while Connor competed in the men's marathon.
A lot of hard work and preparation went into both competitors' journeys to the Olympics. Sisson, a resident of Phoenix, AZ, was a former All-American and NCAA Champion in Friartown.
In 2015, Sisson competed at the NCAA Outdoor Track and Field Championships in Eugene, OR where she became an NCAA Champion in the 5000-meter race with a time of 15:34.10. She then went on to do the same thing in the NCAA Indoor Track and Field Championships in Fayetteville, AR where she won the 5000-meter race with a time of 15:32.15.
Sisson, now 29 years old, was also part of the Friar cross country team in 2013 which won the NCAA Championship.
After graduating in 2015, Sisson's first major appearance was at the World Championships in London, United Kingdom in 2017. There she would race in the 10,000 meter race and finish 9th with a time of 31:26.36.
In the buildup to the Olympics, Sisson was required to race in the U.S. Olympic Trials in Eugene, Oregon on June 26, 2021.
Sisson had originally entered the U.S. Olympic marathon trials and was the favorite in the event in Atlanta back in 2020. She would endthe race in heartbreak; after 22 miles she dropped out of the competition.
In a later interview, Sisson said "That really broke my heart. I went all in on that, and it really didn't work out. I was very confused after."
She would then race in the 10,000 meter event in Eugene, Oregon and won the race in an Olympic Trials record time of 31:03.82. After taking the lead in the fifth of 25 laps, Sisson never looked back and dominated the event in hot conditions.
Then came the 2020 Summer Olympics in Tokyo. In an interview after the race, Sisson said her goal was to finish sixth to eighth in therace which would be her Olympic track debut.
In the end, she placed 10th in the event with a final time of 31:04.46.
Sisson is still coached by Friar head coach Ray Treacy who has continued to help athletes in his time. She and coach Treacy thought the start of the race may go out a little faster than it did and Treacy told Sisson to "go with the second pack and reel people in and win the race that you're in."
In the end, Sisson said "It was a grind, but I'm proud of my effort. Another learning experience."
The second Providence alumni, Ben Connor, competed in the Men's Marathon. Connor, from Derby, England had a successful four years in Friartown.
His senior year from 2014-15 would be his most complete year. In Cross Country, Connor placed eighth at the BIG EAST Championships with a time of 23.59.9. A couple of weeks later, he finished second at the NCAA Northeast Regionals with a time of 30:29.2 and collected an All-Regional honor.
At the NCAA Cross Country Championships that same season, Connor placed 30th with a time of 30:48.6 which earned him All-American honors. He would not compete in indoor or outdoor track in his final year as he did his sophomore and junior years.
Connor's personal best records in his Providence stint was 8:12.18 in the 3,000 meter event, 14:08.11 in the 5,000 meter event, and 29:18.62 in the 10,000 meter event.
After graduating, Connor would head back to the United Kingdom to train and compete. Just like Sisson, Connor trained with coach Ray Treacy in the United States and in Manchester, United Kingdom. However, since 2019, Connor has self- coached.
In 2017, Connor would compete in the English National Cross Country Championships where he won the event. In 2019, Connor won the British Championships Night of 10K PBs event and the Podium 5k event. In 2020, he ran a half-marathon personal best time of 1:00:55 in Antrim where he finished third but was the fourth fastest half marathon time by a Briton.
Connor's first marathon was the 2020 London Marathon. He finished the race as the second highest finishing Briton, at 10 seconds better than the Olympic qualifying time. He would finish 15th in the event.
In the 2021 British Athletics Marathon, Connor met the qualification time and finished second at the trial event to qualify for the 2020 Summer Olympics.
The Gold Standard Panel
by The Cowl Editor on February 15, 2018
---
Professional Sports
---
Former Gold Medal Olympians Talk at PC
by Meaghan Cahill '20
Sports Co-editor
It has been 20 years since a women's hockey team from the United States has won a gold medal. And this past weekend, on Saturday, February 10, three members of 1998 Women's Olympic Hockey Team were present at Providence College to speak on a panel called The Gold Standard.
"I wish I could be there," Cammi Granato '93 said as she kicked off the panel in a prerecorded video that played after a video montage of highlights featuring the gold-medal round game. The montage brought player Lisa Brown-Miller '88 to to "tears" and "gave [her] goosebumps."On it being 20 years since winning, Granato, captain of the only gold-medal winning, commented, "I can't believe it."
So, why did PC put together this panel during Alumni, Family, and Accepted Students weekend? The answer to this question is that the first ever Women's Olympic Hockey Team consisted of seven PC alum, and  three were able to speak on behalf of their team and the remarkable feat they accomplished: Vicki Movsessian '94, Sara DeCosta '00, and Brown-Miller. "Thank you to the College for inviting us back to be remembered," Brown-Miller started once Granato's video had finished.
Hosted by current Providence College Women's Hockey Coach Bob Deraney, the panel consisted of the three women reflecting on both of their Olympic experiences, PC experiences-all of which they said was "the best," and how they formed their lives today.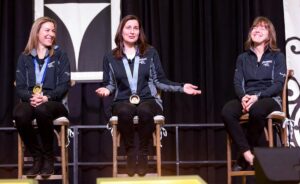 "Every aspect of PC shaped me for the Olympic games…even Western Civ!" DeCosta said with a laugh when asked how PC helped her in her Olympic success.Movsessian was quick to bring up how seven members of the 20 member team came from PC. "A championship environment…that PC built. [The] identity of what women's hockey became was transformed at PC." Movessian's point really kicked off what became the main topic of discussion of the panel: women's hockey then and now. "We really were the pioneers [of women's hockey]," Granato stated in her video. "And that is a bond we'll have forever."
As mentioned, the 1998 women's hockey team, a team that Movessian said was made up of "20 people who wanted so badly to do well for each other and collectively win," was one of the first ever female hockey teams to compete in the Olympics. They also remain the only U.S. women's team to ever win a gold medal in the Olympic Games.
Prior to 1998, outside of New England, women's hockey was still almost unheard of. "Growing up…I didn't know any other girls who played," Brown-Miller, a Michigan native, stated. "There were not a lot of opportunities back home. PC opened the doors and just as the doors were opening, I was able to step through."Even DeCosta recognized how small the women's hockey world was just 20 years ago. "I wasn't aware of what women's hockey…was at the time," she said.
However, Movessian, a Massachusetts native, had a different experience with hockey growing up, stating, "There were tons of opportunities in Mass to play girls and boys hockey." But even with all of her opportunities to play, Movessian still commented, "We didn't know about the Olympic games [and the efforts to put a female team together]. We weren't playing for that reason; we were playing because we loved to play."
Twenty years after the victory that started a hockey phenomenon, DeCosta stated, "[It has been] an amazing experience to see the growth of women's hockey…amazing to see the skills and the talent."
The talent that they spoke of, can be seen in the current PC Women's Hockey Team, which is currently ranked second in Hockey East, as well as the current 2018 Women's Olympic Hockey Team. As for this year's Olympic team, Granato is convinced that the women "are riped to win." Of course, it has been 20 years since the U.S. has won a gold medal, but Granato stated, "I have a strong feeling this year's team [will win]," and her sentiments were echoed by all three of her teammates.
"I Forever Lost My Childhood Due to His Abuse"
by The Cowl Editor on February 1, 2018
---
Professional Sports
---
Larry Nassar Found Guilty of Sexually Abusing Over 200 Gymnasts
By Meaghan Cahill '20
Sports Co-Editor
It was a trial that was almost 25 years in the making and has become the greatest sexual abuse scandal in sports history. According to a 2016 lawsuit, in 1994 an unidentified gymnast, who would later go on to medal at the Olympics, stated that Larry Nassar had sexually abused her for six years. She would be the first of over 250 women who would come forward over the years claiming Nassar sexually assaulted them when he was supposed to be acting as their trainer.
Nassar's career began in 1978 when he became a student athletic trainer at North Farmington High School, outside of Detroit. A graduate of the University of Michigan, he began working with the football and track and field teams at UM in 1985. A year later, he signed onto the medical staff as an athletic trainer for the USA Gymnastics' national team.
His career only went up from this point. He received an osteopathic medical degree from Michigan State University in 1993, was appointed national medical coordinator for USA Gymnastics in 1996, became a team physician and assistant professor at MSU in 1997, and during all of this time, he began attending the Olympic Games as a member of the gymnastics team's staff. He had the picture perfect career, yet underneath it all, it was anything but perfect.
According to a lawsuit filed in 2017, a concern about Nassar was brought to John Geddert of John Geddert's Twistars gymnastics club for his behavior in 1997. The claim was overlooked and never brought to police attention. A year later in 1998, according to court records, Nassar began sexually abusing the six-year-old daughter of a family friend, and he acted inappropriately with her "every other week for five years." That same year, a student-athlete at MSU reported Nassar to the other trainers and coaches, but no action was taken by the university following the claims.
The lack of action on behalf of USA Gymnastics and MSU did not stop the accusations against Nassar. In 2000, a second MSU student-athlete came forward with claims that Nassar was acting inappropriately, as well as gymnast Rachel Denhollander, who stated she was sexually abused by Nassar when she was fifteen while he was treating her for lower back pains.
Flash forward to 2014 and all accusations against Nassar while he was at MSU were cleared by the university. That same year, he retired as USA Gymnastics' medical coordinator, but stated he would remain as the team doctor for the artistic gymnasts.
It was not until 2016 that an official investigation was opened into how USA Gymnastics handled the sexual abuse cases, including those with Nassar. Once again, Denhollander came forward with the same claims that he assaulted her when she was 15 and she filed a criminal complaint against Nassar.
Later that year, MSU fired Nassar from all clinical and patient duties. And then, the floodgates opened and Nassar's career came crashing down around him. After he was fired, complaint after complaint came through against him. Denhollander was one of the main accusers on every case and collaborated with others who had worked with Nassar.
On Tuesday, November 22, 2016, Nassar was officially charged in Ingham County with three counts of first degree criminal sexual conduct with a person under the age of 13. In a press conference, it was revealed that over 50 victims had come forward with complaints against Nassar. Less than a month later, Nassar was indicted on federal child pornography charges. On January 10, 2017,  18 more gymnasts filed a federal law suit against Nassar, MSU, USA Gymnastics, and John Geddert's Twistars gymnastics club alleging sexual assault, battery, molestation, and harassment between 1996 and 2016.
There was never a cease in accusations against Nassar, and they all led up to his 2018 sentencing, where most of his victims took to the stand and testified against him face to face. Some of his more well-known victims include Simone Biles, McKayla Maroney, and Aly Raisman.
The statements were powerful. Each victim took the stand and detailed just how much Nassar impacted their lives—and not in a positive way.
"You used my body for six years for your own sexual gratification. That is unforgivable," Kyle Stephens stated.
"I…developed an intense fear of male hands, like a PTSD response…This fear changed the way I grew up and how I related to boys…I couldn't just be a normal girl anymore, and I have forever lost a big piece of my childhood due to his abuse," Jessica Thomashow reflected while on the stand.
One mother even came forward and blamed Nassar's abuse for her daughter's suicide, "For my daughter it became a serious, serious bout of depression. So in 2009 she took her own life because she couldn't deal with the pain anymore." Donna Markham's daughter Chelsea claimed Nassar "hurt [her]" after he wrongfully touched her without medical gloves on.
After all of the witness statements, he was sentenced to 175 years in prison with the "hero" judge Rosemarie Aquilina stating "I've just signed your death warrant." The only questions that remains now are 'why?' and 'how?'
How could this abuse have gone on for so long with no one doing anything about it?
As Olympic gold medalist Aly Raisman stated in her witness statement, "It's easy to put out statements talking about how athlete care is the highest priority. But [USA Gymnastics] has been saying that for years, and all the while, this nightmare was happening."
Joan Ryan, author of Little Girls in Pretty Boxes, a book about the physical and psychological toll gymnastics takes on girls and young women, states, "There is no other sport in which this could have happened…These girls are groomed from an incredibly young age to deny their own experience."
"Gymnastics and the U.S. Olympic Committee didn't want to scare off sponsors and they didn't want to risk the piles of Olympic medals. So they covered it up," 1986 U.S. National Champion Jennifer Sey stated.
In a letter written by Champion Women, an advocacy group for girls and women in sports chaired by former Olympic gold medalist Nancy Hogshead-Makar, demanded that laws should be passed to protect young athletes from people like Nassar. The letter asserted, "Research shows that the more elite the athlete, the more likely they are to be sexually abused by someone within their own entourage."
So, what is the solution? According to Ryan, "We need change to come from the lawmakers, not organizations. There needs to be government oversight with hard and fast rules, because these girls are children, and if they win fewer medals, so be it."
In wake of the trial, the remaining members of the USA Gymnastics board of directors have all resigned due to the pressure from the United States Olympic Committee. According to USA Today, "The United States Olympic Committee threatened to decertify the organization if it didn't take more strident steps towards change."
In a statement issued amid the scandal and remaining board members stepping down, USA Gymnastics claimed that they support "an independent investigation that may shine light on how abuse of the proportion described so courageously by the survivors of Larry Nassar could have gone undetected for so long and embraces any necessary and appropiate changes. USA Gymnastics and USOC have the same goal-making the sport of gymnastics, and others, as safe as possible for athletes to follow their dreams in a safe, positives, and empowered environment."
While words are being exchanged on making the sport safer and better for our country's gymnasts, it is still up in the air if there will be any concrete changes made in the future of gymnastics.